Crockpot recipes are really so simple to make. You just prep a few ingredients, dump it in your crockpot and forget it.
You can make SO many things in a crockpot – from soup to brownies.
Crockpot Recipes
Below we've rounded up 30 yummy crockpot recipes. These crockpot recipes contain 27 lunch or dinner recipes, and 3 dessert recipes.
To view the full instructions for any of these crockpot recipes, please follow the link below the picture.
1. Crock Pot Chicken Fajitas
The flavors are incredible with the bell peppers, onion and an assortment of Mexican spices.
The fresh lime juice and honey you throw in at the end make these extra good, so don't skip that part!
From: life-in-the-lofthouse.com
2. Crustless Pizza
Looking for a Slow Cooker Keto or Low Carb Recipe that will knock your socks off?
Try this delicious Crockpot Crustless Pizza Recipe!
From: momswithcrockpots.com
3. Chicken Taco Soup
Dump and go (no chopping) easy slow cooker chicken taco soup recipe.
A family favorite, made in your crock pot!
From: kristineskitchenblog.com
4. Chicken Curry With Coconut Milk
This curry chicken recipe is naturally gluten-free and makes a delicious lunch or dinner when served with rice.
From: evolvingtable.com
5. Asian Crockpot Meatballs
A rich and sweet appetizer these Asian Crockpot Meatballs are quick to throw together and a crowd favorite recipe.
From: tornadoughalli.com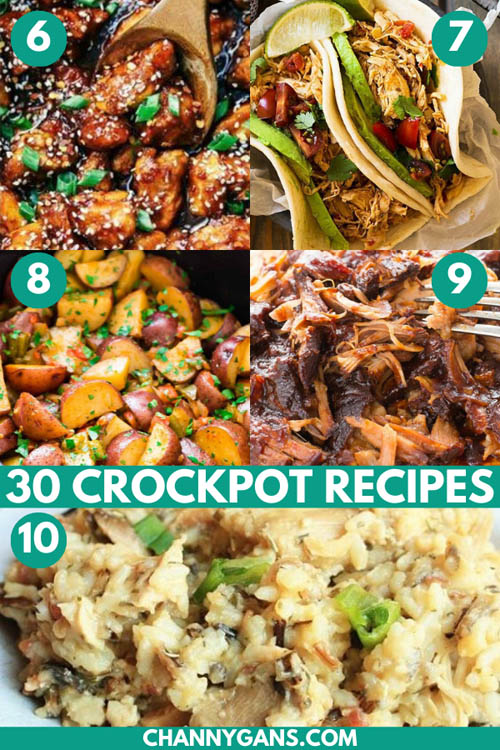 6. General Tso's Chicken
Slow Cooker General Tso's Chicken is a super easy meal with an amazing sweet and savory sauce with a little bit of heat!
This is way better than takeout!
From: therecipecritic.com
7. Shredded Mexican Chicken
This easy Slow Cooker Shredded Mexican Chicken is a great base recipe to use for tacos, enchiladas, nachos, burritos, salads or just serve it over rice.
From: countrysidecravings.com
8. Breakfast Potatoes
Crockpot Breakfast Potatoes are perfect for weekend brunch or busy mornings.
Crisp, tender potatoes made EASY in a slow cooker, this is easily the best crockpot recipe for serving a crowd!
From: wellplated.com
9. Pulled Pork
A Slow Cooker Pulled Pork recipe that makes AMAZING, fork-tender pork!
Slow Cooked to perfection in Homemade Jack Daniel's BBQ sauce.
From: artandthekitchen.com
10. Chicken and Wild Rice Casserole
This classic comfort food casserole is prepared in the slow cooker!
Chicken, wild rice, mushrooms, and seasonings – the perfect Crockpot recipe for a busy weeknight!
From: mostlyhomemademom.com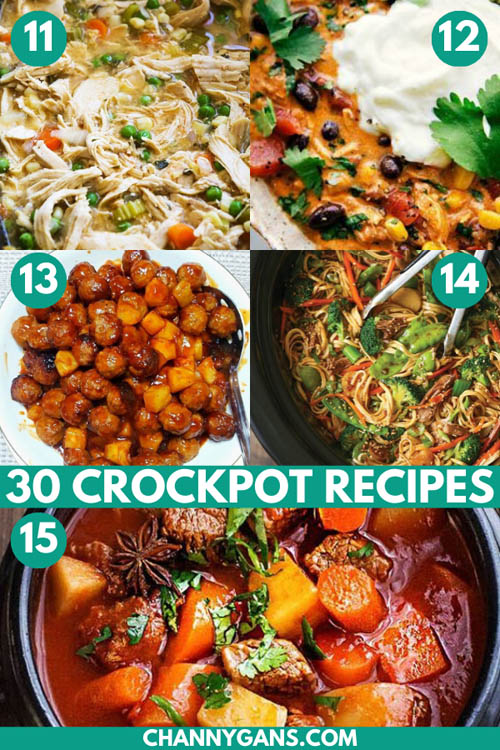 11. Chicken Pot Pie
Chicken Pot Pie simplified with a crockpot!
My family LOVES this version of the classic comfort food and I love how easy it is to prepare.
Let your slow cooker make dinner for you!
From: pipandebby.com
12. Creamy Chicken Enchilada Chili
The absolute BEST Crockpot Creamy Chicken Enchilada Soup.
It is a dump it and forget about it meal!
From: chelseasmessyapron.com
13. Pineapple BBQ Meatballs
This recipe is both sweet and tangy that will leave you to want more.
From: thehandyfoodie.com
14. Lo Mein
Skip delivery and try this veggie-packed takeout favorite for a healthy dinnertime meal.
It is easy to make right in your crockpot!
From: damndelicious.net
15. Beef Stew
Slow Cooker Beef stew is the perfect comforting dish on a cold day.
Best of all, this homemade beef stew recipe is made easily and simmers in a crock-pot for the most tender meat with carrots, potatoes, and celery.
From: lifemadesweeter.com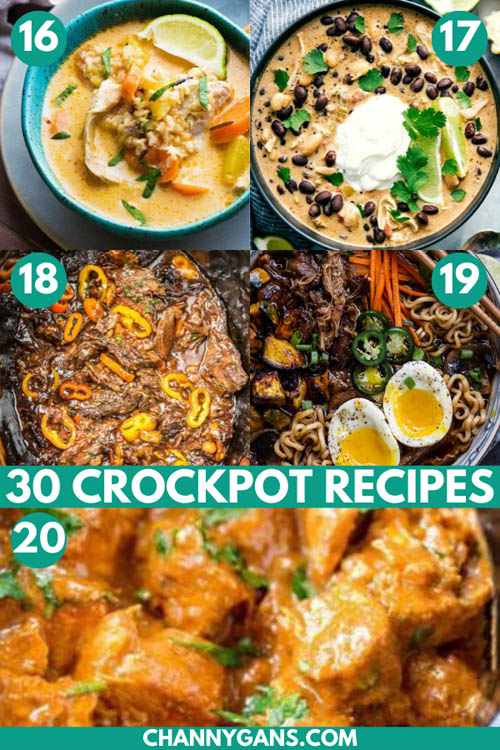 16. Thai Chicken and Wild Rice Soup
This Thai Slow Cooker Chicken and Wild Rice Soup is a twist on a classic comfort recipe.
A bit spicy, savory and sweet, and completely comforting!
From: sweetpeasandsaffron.com
17. Green Chile Chicken Enchilada Soup
Delicious green chile chicken enchiladas in a creamy soup form.
Dump it and forget about it slow cooker meal!
From: chelseasmessyapron.com
18. Korean Beef with Sweet Baby Peppers
This recipe uses flank steak and sweet peppers to create a fresh meal using your slow cooker that's simple and quick to make!
From: slowcookergourmet.net
19. Crispy Caramelized Pork Ramen Noodle Soup
This crockpot crispy caramelized pork ramen noodle soup with curry roasted acorn squash is some real deal Ramen.
From: halfbakedharvest.com
20. Indian Butter Chicken
This is made with spices you already have in your cabinet with all the creamy deep flavors you'd expect from your favorite restaurant.
From: dinnerthendessert.com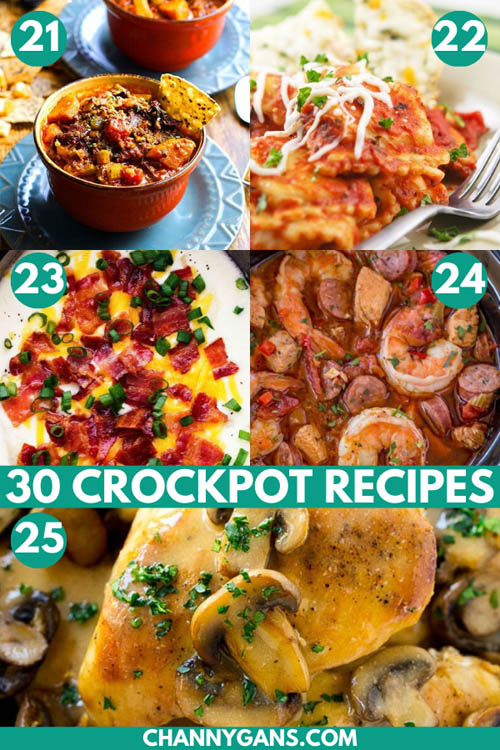 21. Sweet Potato Chipotle Chili
Crock Pot Paleo Sweet Potato Chipotle Chili!
This beanless chipotle chili recipe is healthy but hearty, with an extra kick of spice!
Made with simple ingredients you probably already have in your fridge!
An easy whole 30 and paleo friendly chili made in the crockpot so you can be ready to serve with little effort.
From: cottercrunch.com
22. Crockpot Ravioli
Six ingredients, your crockpot, three hours and a delicious pasta dinner is on your table!
Dinner does not get easier than this!
From: pipandebby.com
23. Loaded Baked Potato Soup
Hands down the best loaded baked potato soup that I have ever had!
Creamy and delicious with all of the goodness of a baked potato and made right in your slow cooker!
From: therecipecritic.com
24. Jambalaya
Slow Cooker Jambalaya with andouille sausage, chicken and shrimp.
It's cooked low and slow with bold spices and vegetables with just 10 minutes of prep.
From: therecipecritic.com
25. Chicken Marsala
This slow cooker chicken marsala is tender chicken breasts cooked in a mushroom and marsala wine sauce.
It's a delicious meal option that the whole family is sure to love!
From: dinneratthezoo.com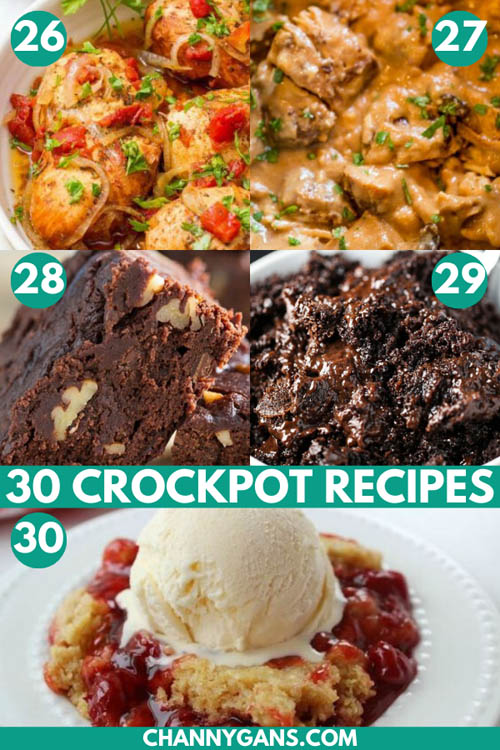 26. Balsamic Chicken
Slow cooker balsamic chicken is easy to prep with just a few ingredients for a simple weeknight dinner that has big flavor!
From: familyfoodonthetable.com
27. Thai Peanut Chicken
This is an easy weeknight meal made with coconut milk, lime juice, peanut butter, ginger, and garlic.
Skip the delivery!
From: dinnerthendessert.com
28. Triple Chocolate Brownies
Three kinds of chocolate and chopped pecans add loads of flavor to these slow cooker triple chocolate brownies.
From: spicysouthernkitchen.com
29. Chocolate Lava Cake
A slow cooker version of the traditional chocolate lava cake.
From: tabsandtidbits.com
30. Cherry Dump Cake
This Cake is easily thrown together with ingredients you probably already have in your kitchen.
It is also a great way to free up your oven for cooking dinner when company is coming over!
From: lifeloveliz.com
Related Posts
Enjoyed these crockpot recipes? Then pin it for later!
Pin these crockpot recipes to your Crockpot Recipes or Crockpot Meals boards on Pinterest so that you can easily view them later.