The worst thing about having a small bedroom is not having enough space for all your things. Ample storage space is a necessity for all bedrooms – where else will you put all of your stuff?
If you know that you do actually have too much stuff in your room, check out this article about how to declutter your bedroom.
But back to the problem – here I rounded up 11 clever ways to maximize space in small bedrooms. These ideas will help you in achieving a more organized room and how to use the small space to your advantage.
Storage under your bed
Your bed is not only useful for sleeping – it can also be utilized as a storage space!
There are loads of great beds out there that are already designed for this purpose, but you can easily DIY this and use some sturdy containers with wheels that can shut properly, and just simply slide them underneath your bed. This is also a great place to store suitcases.
Check out this one from IKEA
Downsize your bed
I know we all love stretching out on a big bed, but if space is limited it makes sense to downsize. Rather than using a spacious king size bed, go with a queen or even a double. And if you are only one person using the bed, go for a twin to save as much space as possible.
Get multipurpose furniture
If you are already short on space, why would you get multiple pieces of furniture, when you can rather get one that has multiple uses.
A great idea is to get a bedside table that also acts as a bookcase. Another great example is using an ottoman as a chair, while storing things inside the ottoman.
This ottoman from wayfair would work perfect as a chair for your vanity
Use the back of the door
A great space that sometimes goes unnoticed and unused is the back of your bedroom door.  You can easily use a hanging organizer and store purses, accessories or even shoes on there.
Another great space saver is a shoe organizer that hangs on the inside of your closet door.
From Better Homes & Gardens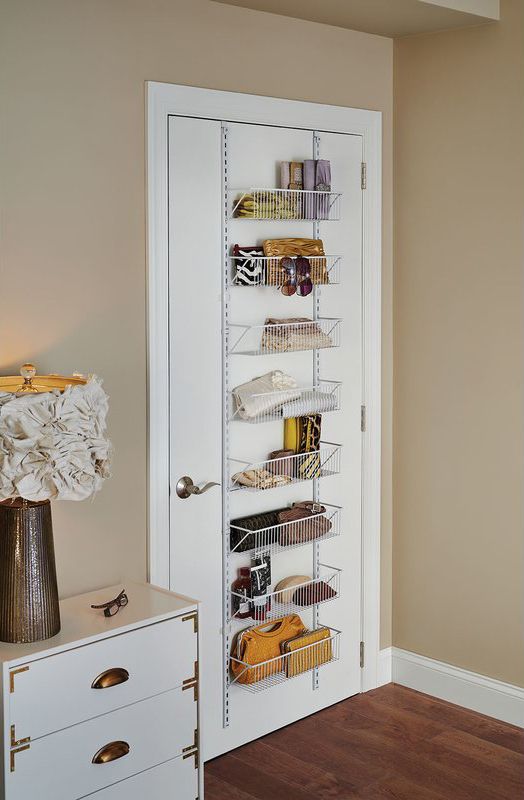 From wayfair
Use the space on the walls
If you have no room on the floor – use the walls. Floating shelves are ideal for displaying all of your photos and housing some plants. They can also be used for shoe storage and a place to house handbags and purses.
Just make sure you don't put too much on them, otherwise they will start to look too messy and cluttered.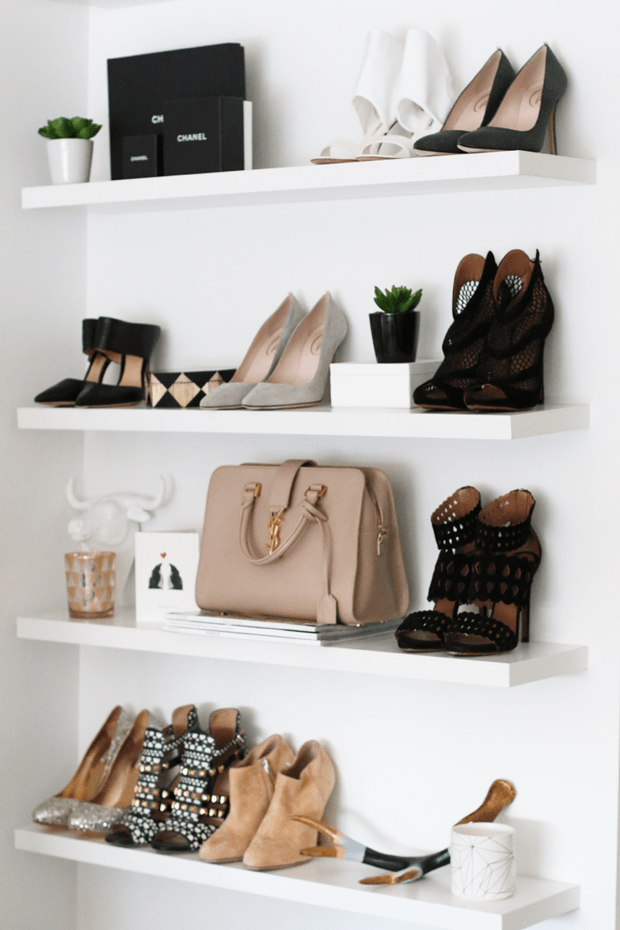 From Style MBA
Use a simple colour scheme
When you use lighter colours on the walls, the room will feel much larger as opposed to using dark colours. So it is best to stick with a lighter colour on the walls. If you find this to be too boring you can always add some colour with pillows and your bed sheets.
Add mirrors
Well placed mirror are a small bedroom's best friend. Mirrors can help small spaces appear much larger than they actually are. You can use floor length mirrors to help your bedroom feel taller.
You can also use mirrors to fake another window, which a excellent to maximize space. Simply place a big mirror across from or next to the actual window, and enjoy your new "bigger" space.
Another way to fake a window is to use small square mirrors laid out to look like a window and thus giving the illusion of an actual window, which will open up the space.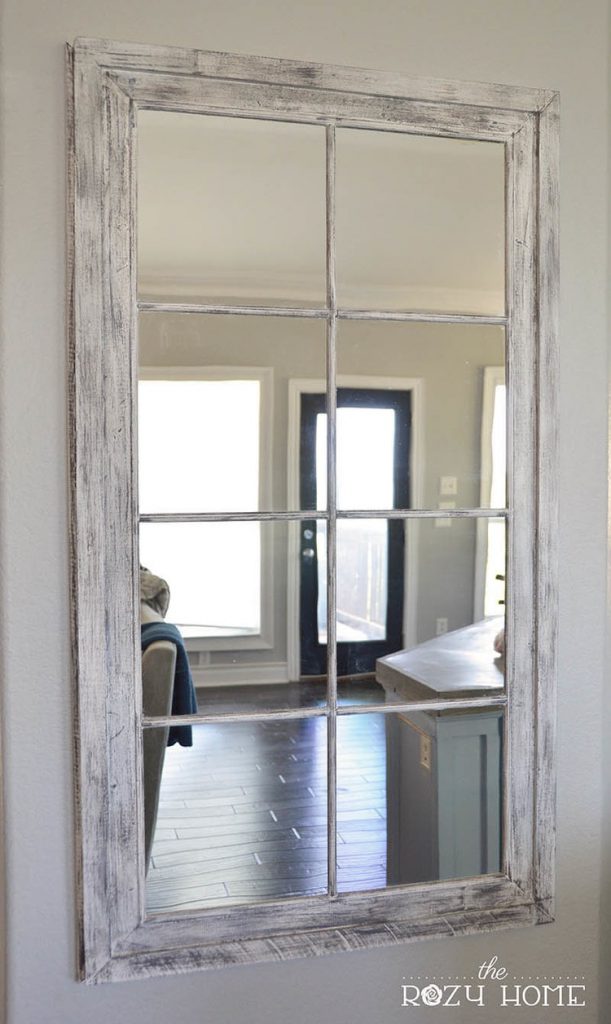 From The Rozy Home
Let natural light in
Ween your room is filled with natural light it will not only make the space feel more airy and spacious, but will also make you feel more positive and happy.
Hanging heavy and dark curtains in your small bedroom is a no-no. Rather have curtains in a light color and made from a lightweight fabric.
If you want to really maximize space in your room, you can always go without curtains and just use plain white roller blinds for privacy.
Organize your closet
This one is obvious, but will really help you out. Organize your closet and get rid of things you don't use or don't need.By doing this you create more space in your closet where you can store other things.
Place artwork at the correct level
Hanging artwork above the eye level will give the illusion of taller walls and higher ceilings, thus helping to maximize space.
Make use of corners
Don't forget about the corners. Corners are great for maximizing space. Use corner desks as a work-space or use corner shelves for all of your miscellaneous items.
Here is a great one from wayfair