In need of some keto instant pot recipes for dinner-ASAP? Break out the pressure cooker and get ready to whip up a meal that's low carb, family-friendly and fast!
20 Keto Instant Pot Recipes
Today, I'm sharing 20 keto instant pot recipe ideas. They're not only keto-friendly but convenient as well.
1. Keto Creamy Garlic Tuscan Chicken Thighs
This is a quick and easy healthy, pressure cooker recipe that can be made using fresh or frozen bone-in or boneless chicken thighs.
You can pair these with your favorite veggies!
From: staysnatched.com
2. Instant Pot Turkey Breast Recipe
You can cook this turkey in an instant pot in under an hour and be ready for the holidays!
By using an instant pot, the turkey is quick to make, easy, and always juicy!
From: thecookierookie.com
3. Loaded Keto Cauliflower Bowl
This loaded keto cauliflower bowl is a rich and flavorful, filling meal that will remind you of a baked potato!
From: heyketomama.com
4. Easy Instant Pot Cheesy Steak Taco Soup Recipe
Hearty, rich and delicious Easy Instant Pot Cheesy Steak Taco Soup Recipe is bursting with creamy cheesy flavors and hearty steak cubes.
This makes for an unforgettable one pot dinner that takes under 30 minutes start to finish!
From: sweetcsdesigns.com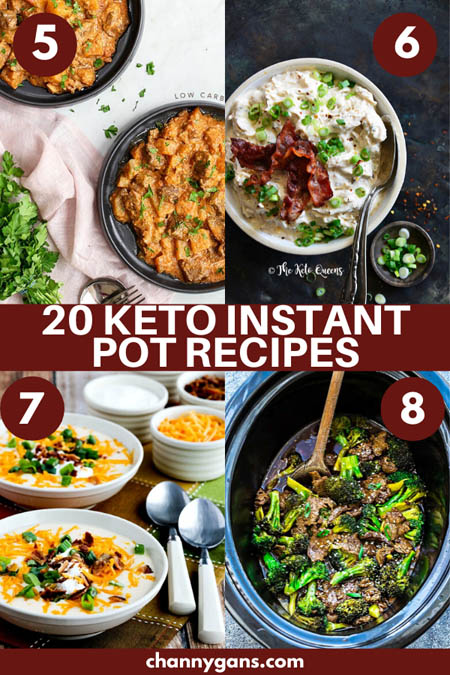 5. Low-Carb Instant Pot Beef Stew
From: ketodietapp.com
6. Keto Instant Pot Crack Chicken Recipe
Rich, creamy, and full of flavor, this Keto Instant Pot Crack Chicken Recipe is sure to be a favorite family dinner.
From: theketoqueens.com
7. Instant Pot Low-carb Loaded Cauliflower Soup
Instant Pot Low-Carb Loaded Cauliflower Soup is a soup recipe you'll make over and over, and this tasty soup is even a hit with people who say they don't like cauliflower!
From: kalynskitchen.com
8. Instant Pot Beef And Broccoli
This is an easy low carb Chinese takeout favorite perfect for busy weeknights. Best of all, instructions to make this classic Chinese dish in the pressure cooker and slow cooker.
From: lifemadeketo.com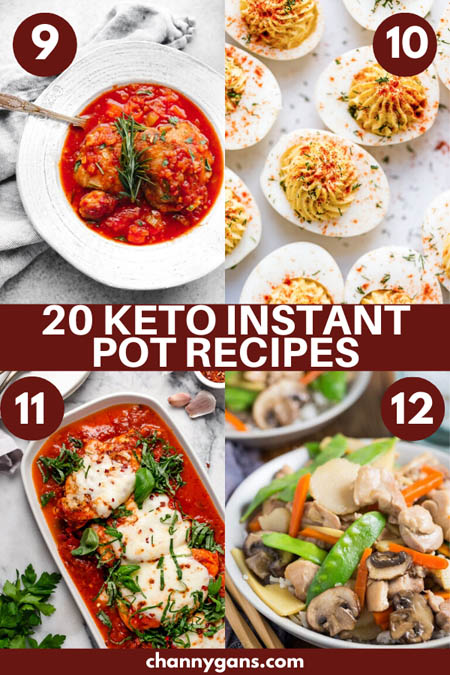 9. Braised Chicken With Tomatoes And Rosemary
Pollo in Potacchio is an Italian braised chicken dish made with tomatoes, rosemary and garlic.
The chicken cooks until it's fork tender, which is great served with pasta, noodles, spaghetti squash or polenta.
From: skinnytaste.com
10. Instant Pot Deviled Eggs
Making hard boiled eggs in the Instant Pot will give you perfect, easier to peel eggs every time.
From: skinnytaste.com
11. Instant Pot Chicken Parmesan
This quick and easy Instant Pot Chicken Parmesan is the answer to your weeknight dreams!!
And since it's made in the Instant Pot, it's ready in minutes!
From: skinnytaste.com
12. Pressure Cooker Moo Goo Gai Pan
This Pressure Cooker Moo Goo Gai Pan is so easy to cook, your whole family will love this easy Chinese takeout made at home!
From: noshtastic.com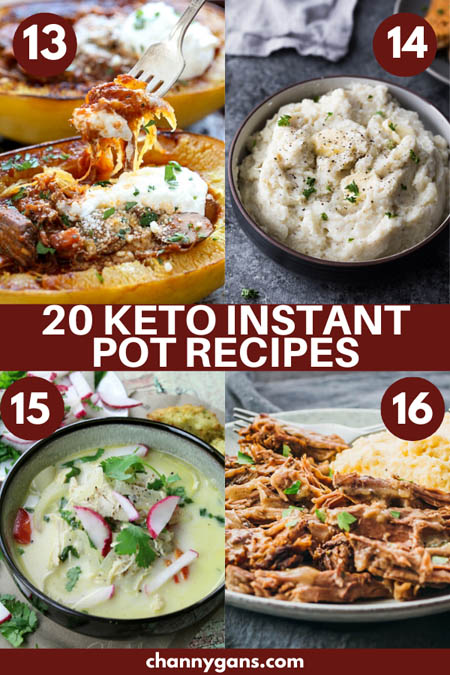 13. Beef And Mushroom Ragu With Spaghetti Squash
From: skinnytaste.com
14. Creamy Parmesan Instant Pot Mashed Cauliflower
Creamy parmesan Instant Pot mashed cauliflower is a healthier, low carb alternative to mashed potatoes.
Prep it ahead in the Instant Pot for an easy holiday side dish!
From: sweetpeasandsaffron.com
15. Simple Low-carb Chicken Soup
This yummy, low-carb chicken soup comes together quickly with simple ingredients. It can be easily made in the Instant Pot or stove top!
From: rebootedmom.com
16. Instant Pot Leg Of Lamb With Gravy
Save time by using the Instant Pot pressure cooker – this boneless leg of lamb with gravy is cooked to fall-apart tenderness in less than half the time it would take to roast it. Low carb recipe.
From: savorytooth.com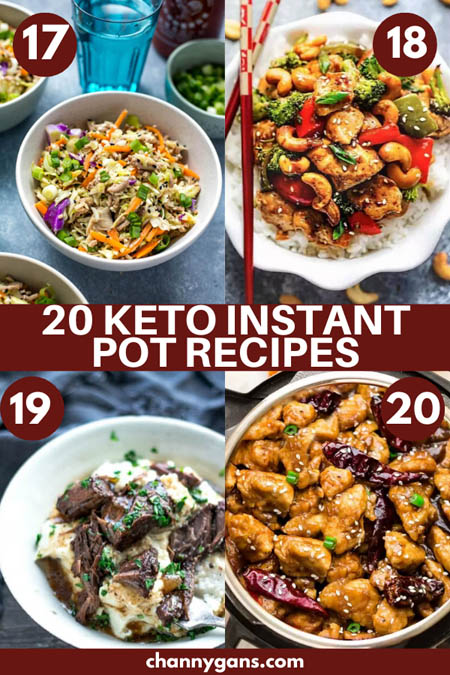 17. Low Carb Instant Pot Egg Roll In A Bowl
This Low Carb Instant Pot Egg Roll in a Bowl with ground chicken and coleslaw mix is a delicious Chinese takeout-inspired dinner idea that comes together in less than 30-minutes!
From: thegirlonbloor.com
18. Instant Pot Cashew Chicken
A popular Chinese takeout favorite made easily in the pressure cooker in under 30 minutes!
Easy chicken dinner to customize, and perfect for busy weeknights.
From: lifemadesweeter.com
19. Easy Keto Balsamic Beef Pot Roast
This super easy and delicious low carb beef pot roast recipe can be made on the stove, in the slow cooker, or even in your Instant Pot!
Keto, Atkins and Paleo friendly!
From: ibreatheimhungry.com
20. General Tso's Chicken
A simple weeknight chicken dinner made in the pressure cooker.
This homemade recipe is a healthier keto version of this popular takeout dish, that has the same amazing flavors as your local Chinese restaurant.
From: lifemadesweeter.com
Enjoyed these keto instant pot recipes? Then pin it for later!
Pin these keto instant pot recipes to your Food Ideas or Keto Recipes boards on Pinterest.
That way you can easily view them later!