Skip takeout with these delicious homemade pizza recipes. There is something for everyone in these 35 homemade pizza recipes!
35 Homemade Pizza Recipes
Below we've rounded up 35 yummy pizza recipes.
To view the full instructions for any of these pizza recipes, please follow the link below the picture.
1. Prosciutto, Fig, and Arugula Pizza Recipe
Savory prosciutto, fig, and arugula pizza topped with freshly sliced mozzarella cheese, fig jam, and fresh arugula.
From: kitchenswagger.com
2. Spicy Sausage Pizza
Skip take-out pizza and make it at home instead!
Spicy Sausage Pizza is loaded with so much flavor that will be a hit with everyone in your family.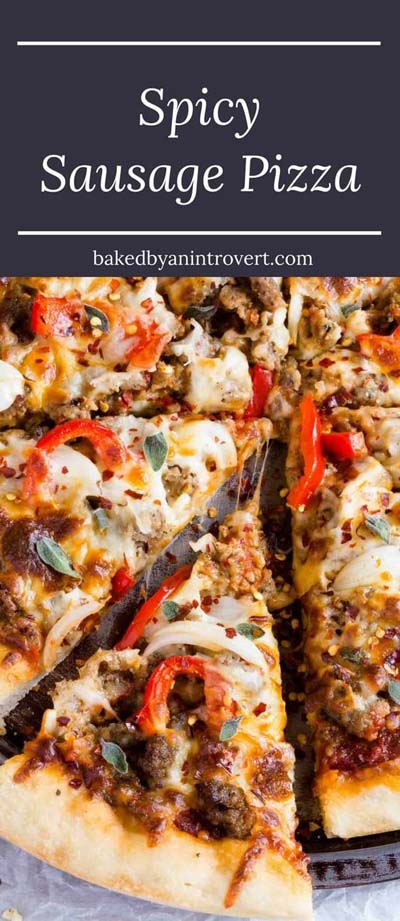 From: bakedbyanintrovert.com
3. Shrimp Scampi Pizza
A quick, easy and divinely tasty shrimp pizza in a garlic butter sauce!
You really just can't go wrong with shrimp in a butter and garlic sauce and it's so quick and easy to make!
Usually, it's served over pasta but it's also great in pizza form!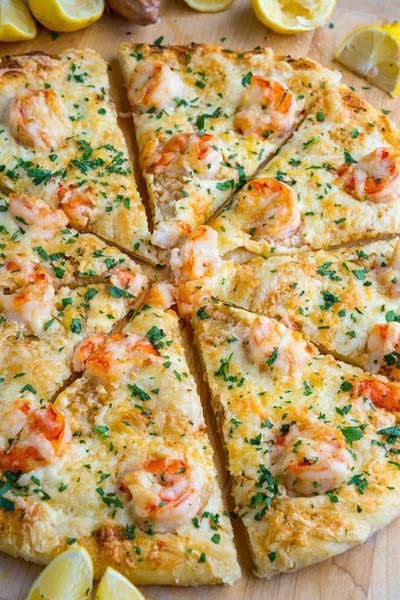 From: closetcooking.com
4. Pesto, Feta, And Veggie Pizza
Treat yourself to this Pesto, Feta, and Veggie Pizza … it's loaded with amazing flavors that are impossible to resist!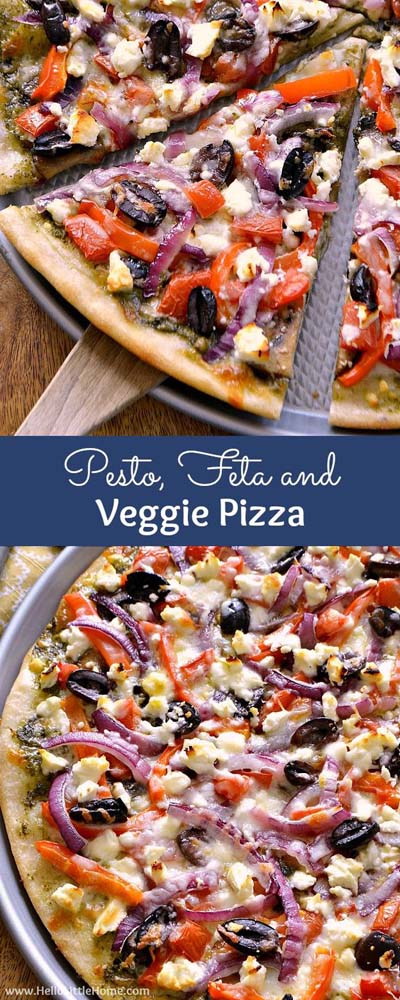 From: hellolittlehome.com
5. Chicken Pesto Pizza
Homemade chicken pesto pizza with the crispiest crust, loads of walnut pesto and a kick from pepper jack cheese.

From: ciaoflorentina.com
6. Olive Pizza Appetizer
This Olive Pizza Appetizer is such an easy and fantastic appetizer for a party or get-together.
This appetizer recipe is an olive lover's dream!

From: wineandglue.com
7. Best Homemade Margherita Pizza
You'll want to make this homemade pizza recipe over and over again.
If you want to save time this pizza dough can be prepared and frozen ahead of time.

From: abeautifulplate.com
8. Caramelized Onion, Bacon and Spinach Pizza
This is a topping combination you simply have to try!
Even if you don't love onions you will most likely still love this pizza.
Since the onions are caramelized it really just tones down that harsh bite they can have.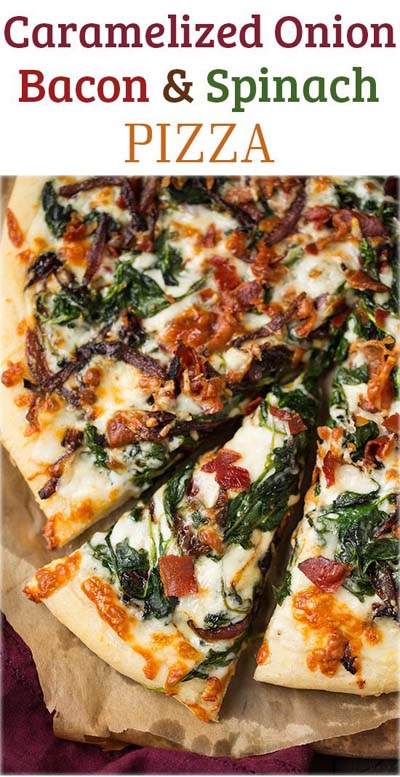 From: cookingclassy.com
9. Blackberry Basil Ricotta Pizza
Dress up your pizza with something a little different in this Blackberry Basil Ricotta Pizza.
It's elegant. It's simple. And it's totally delicious!

From: thestayathomechef.com
10. Vegan Pesto Zucchini And Pineapple Pizza
Are you looking for the ultimate summer pizza recipe to round out the summer?
Well, look no further because here it is. Say hello to this delicious Vegan Pesto Zucchini and Pineapple Pizza.

From: twospoons.ca
11. Grilled Pizzas
This Grilled Pizzas recipe and tutorial is for homemade pizzas (including homemade pizza crust) that are cooked on the grill!
They take traditional pizza to a whole new level!

From: tastesbetterfromscratch.com
12. Just Peachy Pizza
This Just Peachy Pizza uses summer peaches to the best advantage with goat cheese, basil, gorgonzola, and a balsamic drizzle that ties everything together.

From: megiswell.com
13. Bruschetta Chicken Alfredo Pizza
This Bruschetta Chicken Alfredo Pizza is a little taste of Italy, right in your own kitchen!
Packed with delicious flavor and ready in under 30 minutes, this pizza is perfect for family night, date night, or a fun night with friends!
From: lemontreedwelling.com
14. Hummus Pizza With Veggies
Instead of tomato sauce, you spread hummus on the pizza dough.
You then added spinach, cherry tomatoes, mushrooms, artichokes, olives, and red onion.

From: veganheaven.org
15. Supreme Breakfast Pizza
Pizza for breakfast doesn't have to mean cold leftovers.
This easy 30-minute Supreme Breakfast Pizza recipe is built on a buttery crescent crust and is loaded with anything and everything your hungry morning belly can imagine!

From: thecrumbykitchen.com
16. Cast Iron Pizza
Making homemade pizza has never been easier.
Cooking in cast iron gives the pizza a crunchy outer crust.
From: afarmgirlskitchen.com
17.  Vegan Jalapeno Popper Pizza
Fresh sliced jalapenos, smoky, salty, sweet mushroom bacon, vegan mozzarella, and cheddar.
Hot and bubbly and amazing!
From: rabbitandwolves.com
18. Vegan Jamaican Jerk Pizza
Pizza topped with crispy tempeh sausage tossed in jerk sauce, pineapple, red onion, and vegan cheese.
From: rabbitandwolves.com
19. Spinach & Tomato Ranch Pizza
Easy Homemade Pizza is the perfect weeknight meal or game day appetizer!
Load it up with Spinach, Tomatoes, and Ranch for a delicious pizza!

From: domesticsuperhero.com
20. Barbecue Chicken Pizza
Switch up pizza night with this homemade bbq chicken pizza recipe!
With barbecue sauce, mozzarella cheese, chicken, bacon, and cilantro, this barbecue chicken pizza will be a new family favorite.
Best of all, it's made in less than 20 minutes!

From: lilluna.com
21. Tandoori Lamb Pizza
This pizza is loaded with fantastic tandoori flavor and ground lamb, giving it an authentic edge and creating one big burst of flavors all on one pizza.
From: myrecipes.com
22. Butternut Squash Pizza
This is a vegan and gluten-free recipe.
A colorful and healthy recipe that's simple enough for a weeknight dinner (with time-saving shortcuts included!).

From: thecolorfulkitchen.com
23. Sweet & Spicy Pulled Pork BBQ Pizza
Whip up this beyond-words-delicious Sweet-&-Spicy Pulled Pork BBQ Pizza the easy way for your next pizza party.

From: thekitchenismyplayground.com
24. Pear, Prosciutto and Gorgonzola Pizza
Pears, prosciutto, and Gorgonzola are the perfect sweet and salty pairings in this grown-up pizza!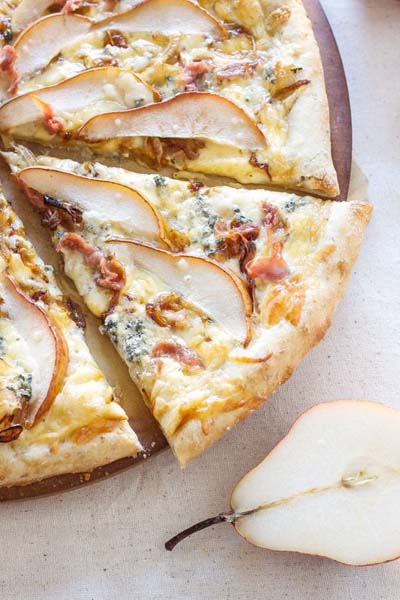 From: tastykitchen.com
25. Thai Chicken Pizza
This copycat of California Pizza Kitchen's Thai Chicken Pizza will be a hit with lovers of sweet and spicy food.
It has diced chicken tossed in a spicy peanut sauce flavored with ginger, honey, sesame oil, and oyster sauce.
From: spicysouthernkitchen.com
26. Buffalo Chicken Pizza
Buffalo chicken pizza made with fresh mozzarella and buffalo sauce.
You can use crispy fried chicken slices, grilled chicken, or simply sauté chicken on the stove top in a little buffalo sauce.

From: kitchenswagger.com
27. Grilled Chicken Teriyaki Pizza
Hot sizzling Grilled Chicken Teriyaki Pizza with fresh pineapple and bacon… Heaven!
This pizza consists of chopped chicken, fresh pineapple chunks, crisp salty bacon, and scallions.
This simple blend of flavors creates and fusion of intrigue for your taste buds with very little effort.

From: aspicyperspective.com
28. Pretzel Crust Pizza
Chewy pretzel-crust pizza is all the rage!
This recipe is very easy to make and makes better-than-delivery pizza you'll make again and again.
Warning: you may never go back to traditional pizza crust after trying this!

From: lecremedelacrumb.com
29. White Mushroom Pizza
The BEST pizza for all cheese and mushroom lovers!
Loaded with 2 types of cheese and garlic herb sautéed mushrooms!! AMAZING.

From: damndelicious.net
30. Chicken Cordon Bleu Pizza
Midweek meals just easier and tastier with this chicken cordon bleu pizza.
Made with a Stonefire crust, Jones Dairy Farms Canadian Bacon, pre-cooked grilled chicken, alfredo, mozzarella, and parsley.
It is easy, tasty, and something the whole family will love.

From: eazypeazymealz.com
31. Crab Rangoon Pizza
This crab wonton pizza with sweet & sour drizzle is Chinese food and pizza in 1!
From: dinnerthendessert.com
32. Grilled BBQ Lentil Pizza
No matter the time of year, pizza always hits the spot!
What better way to get your BBQ and pie cravings covered, than with this Grilled BBQ Lentil Pizza?
From: veganyackattack.com
33. Smoked Beef Brisket Pizza
A perfect use for leftover smoked beef brisket. Smoked Brisket Pizza.
A great treat for parties or a fun dinner.
From: vindulge.com
34. Honey Chipotle Chicken Pizza
This delicious homemade honey chipotle chicken pizza is perfect for using leftover baked chipotle chicken, or just because you want a gourmet pizza to share with friends.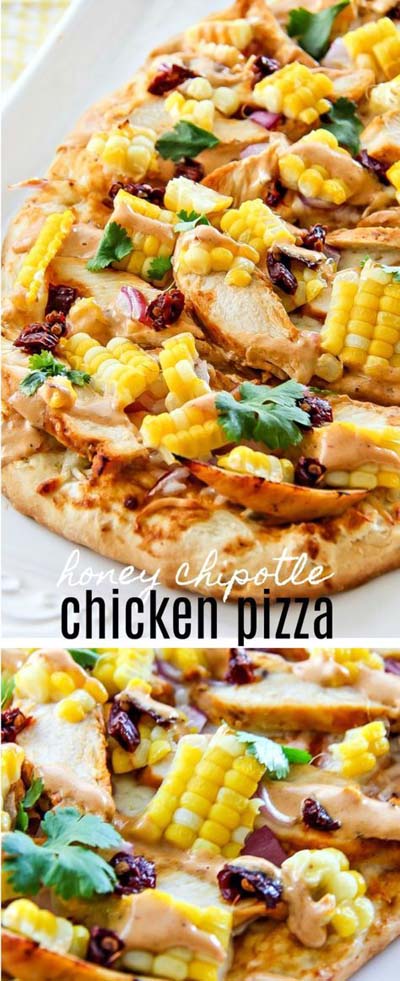 From: tonyastaab.com
35. Chicken Taco Pizza
Chicken Taco Pizza will steal the dinner time show! Loaded with seasoned chicken, refried beans, cheese and more.
This pizza will always be a hit whenever you serve it!

From: life-in-the-lofthouse.com
Enjoyed these Pizza Recipes? Then pin it for later!
If you enjoyed these pizza recipes, we would love you forever if you would take a moment to share this post to your dinner and recipes Pinterest boards!