Bark recipes are probably one of the easiest desserts you can make and requires only a few ingredients.
Easy Dessert Bark Recipes
Below we've rounded up 50 easy to make bark recipes.
To view the full instructions for any of these bark recipes, please follow the links below.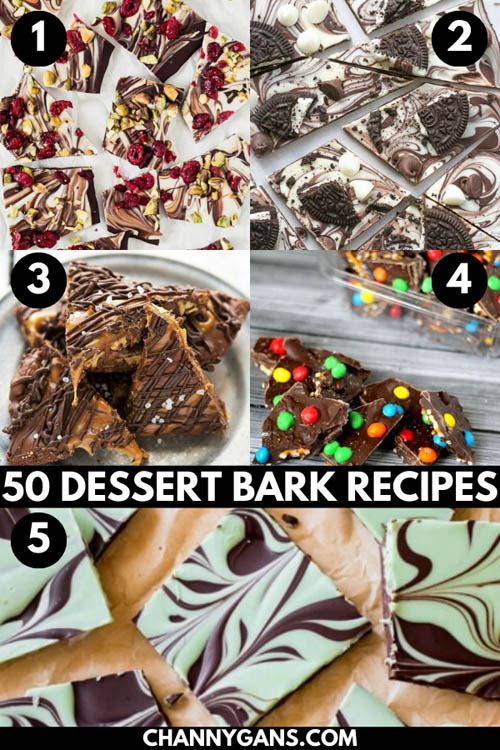 1. Cranberry Pistachio Chocolate Bark
This cranberry pistachio chocolate bark is so easy to make it would take you just about 5 minutes.
It is a very simple dessert to make and extremely versatile, as you can add any toppings of your liking.
From: eatgood4life.com
2. Black and White Bark
This dark chocolate bark recipe includes white chocolate, too.
It's sure to be one of your favorite chocolate bark recipes!
From: jensfavoritecookies.com
3. Easy Turtle Bark
This turtle bark is delicious, simple, and the perfect Christmas gift.
If not for Christmas – it is perfect for any occasion as well!
From: chelseasmessyapron.com
4. M&M'S Crispy Pretzel Bark
Delicious milk chocolate mixed with salty pretzels and M&M's Crispy snacks – easy and delicious!
From: domesticsuperhero.com
5. Mint Chocolate Swirl Bark
Easy chocolate bark swirled with mint-flavored white chocolate.
It's made quickly, requires few ingredients, and is economical.
One batch of bark can fill several bags or boxes if you're gifting it.
From: sallysbakingaddiction.com
6. Unicorn Bark
This recipe for unicorn bark is awash with pastel swirls and all kinds of colorful, sparkling candy pearls and sprinkles.
Serve it at a shower, gift it as a party favor, or use it to decorate cakes or cupcakes.
From: thespruceeats.com
7. Potato Chip Bark
If you are a lover of salty & sweet then this Potato Chip Bark is your perfect easy dessert recipe.
Chocolate & potato chips make a tasty treat. I'm telling you- bark recipes top the easy list.
But then adding salty potato chips makes it over the top delicious too.
Creamy sweet chocolate & crunchy, salty potato chips are heavenly!
From: kleinworthco.com
8. Melted Snowman Chocolate Bark
A super easy holiday dessert.
Chocolate candy melts, Reese's Peanut Butter Cups, Red Hots and a few other easy ingredients are all you need!
A great option for Christmas cookie swap parties or a perfect holiday gift!
From: princesspinkygirl.com
9. Peanut Butter Cup Bark
The perfect way to use leftover Halloween candy!
Even if you don't have these exact candies on hand, feel free to use whatever candy you do have!
From: sixsistersstuff.com
10. Dark Chocolate Rosemary Bark
This ultra-thin dark chocolate rosemary bark is loaded with sea salt, roasted almond pieces, and chopped fresh rosemary.
From: contemplatingsweets.com
11. Coffee Salted Pecan Chocolate Bark
This pecan chocolate bark recipe hits all the requisite salty, bitter and sweet notes plus a hint of roasted coffee beans.
Cap off your meal with a little something sweet and feel good about it.
From: midlifecroissant.com
12. Rainbow Marble Chocolate Bark
White chocolate bark is so much fun to make, and this recipe adds a fresh blush of color to any snack.
Rainbow Marble Chocolate Bark is a delicious snack on-the-go and is equally appreciated as a gift for neighbors and friends.
From: tipbuzz.com
13. Vegan Chocolate Sea Salt Pretzel Bark
This homemade vegan chocolate sea salt pretzel bark is made with just 5 ingredients and comes together in minutes.
This snacking bark makes for an indulgent, but healthy dessert that everyone will love!
From: buildyourbite.com
14. Sweetheart Swirl Bark
Super simple chocolate bark swirled with pink white chocolate and lots of candy hearts.
From: sallysbakingaddiction.com
15. Chocolate and peanut butter bark
This chocolate bark is a fun and easy treat.
Made by melting chocolate and swirling peanut butter through it to create a pattern.
From: recipes.sainsburys.co.uk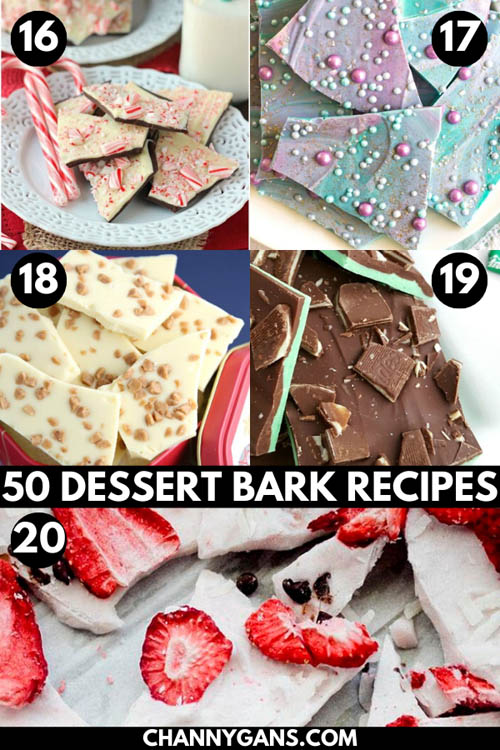 16. Easy Peppermint Bark
Only 5 ingredients and perfect for the holidays.
This Easy Peppermint Bark will be a hit on your Christmas table.
From: mykitchencraze.com
17. Mermaid Bark Recipe
This fun and colorful Mermaid Bark recipe is perfect for birthday parties and pool parties alike.
It's an easy treat that will brighten any day!
From: breadboozebacon.com
18. White Toffee Bark
White Toffee Bark recipe using only two ingredients.
Easy holiday baking that can fit any busy schedule, perfect for a quick dessert or baking exchange.
From: myorganizedchaos.net
19. Grasshopper Chocolate Bark
This Grasshopper Chocolate Bark recipe features the irresistible combination of Mint and Chocolate.
This melt-in-your-mouth treat is love at first bite!
From: simplyshellie.com
20. Frozen Yogurt Bark
This healthy treat is topped with freeze-dried strawberries and mini chocolate chips.
From: recipe-diaries.com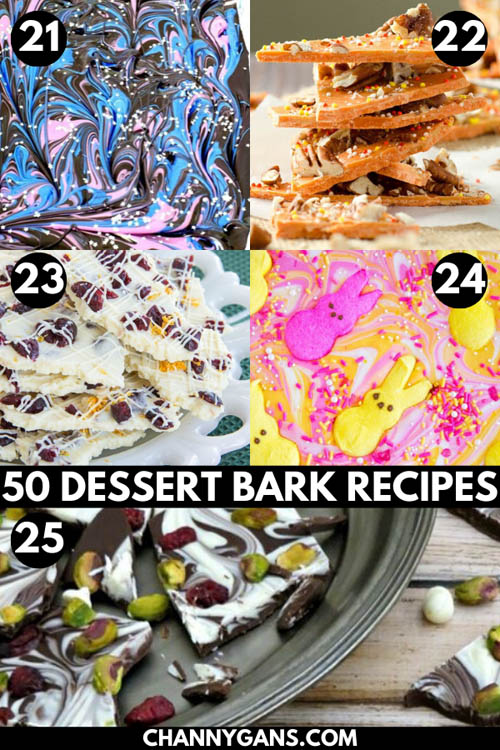 21. Galaxy Bark Recipe
Want to impart a scientific lesson with your kids? Have a space themed birthday party? Just looking to eat something tasty?
This Galaxy Bark recipe is as easy as it is delicious.
From: momdot.com
22. Pumpkin Butterscotch Bark
An easy bark made with pumpkin spice candy melts, butterscotch chips, and chopped nuts.
From: freshaprilflours.com
23. Cranberry Bliss White Chocolate Bark
Cranberry Bliss White Chocolate Bark is a simple chocolate candy recipe with only five ingredients.
If you are looking for chocolate bark ideas to give out as edible gifts, this recipe is super easy to make and pretty, too.
From: cupcakesandkalechips.com
24. Peeps Bunny Bark
This fun and easy Peeps Bunny Bark is perfect for Easter and is a fun twist on the colorful unicorn bark trend!
From: lovefromtheoven.com
25. Pistachio Cranberry Chocolate Bark
Some bark recipes are complex, requiring a lot of stirring and careful melting, but not this one.
This chocolate bark is quick and easy to put together, only requiring a microwave and your fridge.
If you want a simple chocolaty treat, you have to make this Pistachio Cranberry Chocolate Bark!
From: acultivatednest.com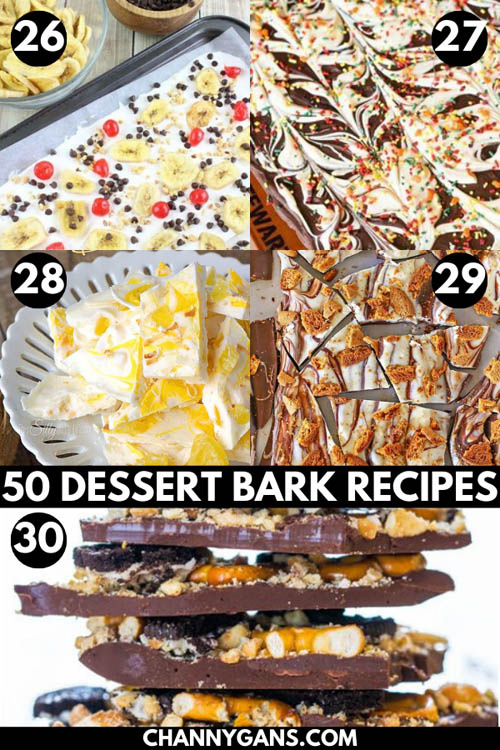 26. Banana Split Candy Bark
This recipe is unbelievably quick and easy to make and contains all of the delicious flavors of the ice cream sundae.
This dessert recipe makes a tasty treat!
The white chocolate bark candy is topped with dried banana slices, cherries, and chocolate chips, and chocolate sauce.
From: premeditatedleftovers.com
27. Brownie Batter Bark
If you like brownie batter, whip up this quick chocolate and white chocolate brownie batter bark.
No bake and just 3 ingredients.
From: tastesoflizzyt.com
28. Pina Colada Bark
Pina Colada Bark, a delicious and easy candy bark made with toasted coconut and dried pineapple.
A tropical escape you can take with you anywhere!
From: thissillygirlskitchen.com
29. Gingerbread Cookie Bark
Milk chocolate topped with a layer of white chocolate & gingerbread cookie crumbles makes this easy Gingerbread Cookie Bark that's a wonderful holiday gift.
From: kleinworthco.com
30. Cowboy Bark
Trader Joe's Copycat Recipe – Just like the real thing & ready in 5 minutes.
Salty, sweet & supremely good!
From: averiecooks.com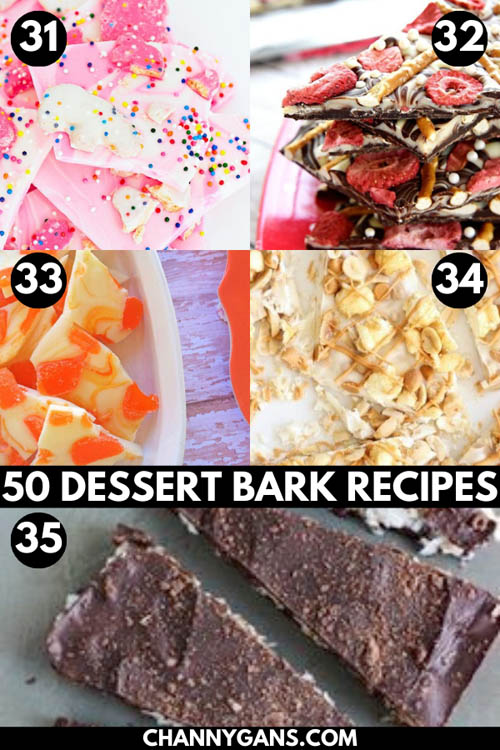 31. Frosted Circus Animal Bark
This bark recipe might be the most colorful and simple recipe you make this Spring, and it's perfect for Easter treats!
From: sugarandcloth.com
32. Strawberry Pretzel Chocolate Swirl Bark
This bark features semi-sweet and white chocolate, pretzel sticks, strawberries, and sprinkles for a fun and tasty homemade treat!
From: fivehearthome.com
33. Orange Creamsicle Bark
This orange creamsicle bark is beyond delicious and couldn't be any easier to make!
Takes me right back to my childhood!
From: sarahtitus.com
34. Salted Peanut Butterscotch & Caramel Corn White Chocolate Bark
This Salted Peanut Butterscotch Caramel Corn White Chocolate Bark is sweet, salty, and super quick to make!
It's got a little bit of everything, and it's ready in minutes!
This Salted Peanut Butterscotch Caramel Corn White Chocolate Bark is must-try!
From: thegoldlininggirl.com
35. Almond Joy Bark
Enjoy the candy bar favorite in a new way with this Almond Joy Bark!
Chewy, almond-flavored coconut flakes and almonds are covered with melted chocolate.
A no-bake dessert that'll be your warm weather favorite!
From: mysequinedlife.com
36. Rocky Road S'mores Bark
Layers of graham crackers, chocolate, toasted marshmallows, and walnuts make this delicious treat.
This easy recipe is great for parties and gifts.
From: apumpkinandaprincess.com
37. Strawberry Cake Batter Bark
White chocolate is infused with Funfetti cake mix, and strawberry cake mix, for a pretty strawberries-and-cream layered candy bark!
From: thegoldlininggirl.com
38. White Chocolate Peanut Butter Bark
Lots of sprinkles and candy make this White Chocolate Peanut Butter Bark a fun treat to share at any party.
From: insidebrucrewlife.com
39. Cookies and Cream Bark
This bark is so simple to make and is packed with that yummy cookies and cream flavor.
It whips up in minutes and is SO delicious!
From: chef-in-training.com
40. S'mores Marshmallows Chocolate Bark
Make a batch of S'mores Chocolate Bark for a camping themed party treat or rustic wedding party favor.
Easy marshmallow recipe!
From: seevanessacraft.com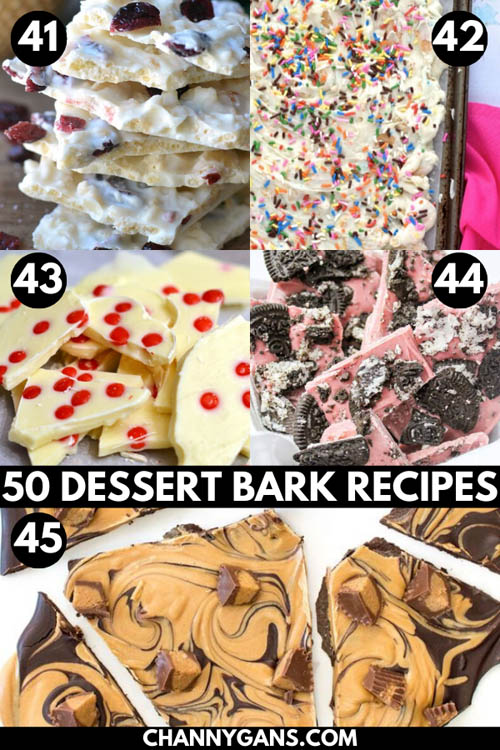 41. White Chocolate Macadamia Cranberry Bark
White Chocolate Macadamia Cranberry Bark makes a delicious 5 minute holiday treat.
A classic combination in a crispy bark, finished off with a touch of sea salt.
So delicious!
From: lemontreedwelling.com
42. Birthday Cake Bark
This Birthday Cake Bark is really easy to make, but irresistible!
From: wineandglue.com
43. Cinnamon Bark
This Bark is an easy Valentine's day recipe that can be made to be used to make the holidays feel a little bit more festive.
With every bite, you get sweet with a little spicy kick from cinnamon candies.
From: savoryexperiments.com
44. Red Velvet Bark
White chocolate, red velvet bark is so easy and perfect for Valentine's Day – or any day really.
From: whatmollymade.com
45. Chocolate Peanut Butter Cup Bark
Pure dark chocolate and peanut butter chips topped with chopped Reese's cups makes for perfect Peanut Butter Cup Bark.
From: crumbkitchen.com
46. Mickey and Minnie Mouse Chocolate Bark
Transform plain chocolate bark easily into Mickey and Minnie Mouse Bark by adding chocolate chips and dark chocolate wafers.
Be sure to add a pop of color by tossing on lots of sprinkles too.
From: hungryhappenings.com
47. Star Wars Inter Galactic Chocolate Bark
Its a simple melt pour on parchment paper.
Melt the colored melts pour on black melted candy and SWIRL!
Then sprinkle with the star candies and the pearl candies it is a beautiful galaxy on a cookie sheet!!
From: pinkcakeplate.com
48. Mango & Pistachio Chocolate Bark
Mango and pistachio dark and white chocolate bark. Need a last-minute gift idea for a friend or family member?
Or something nice to take along to a dinner party? This chocolate bark is perfect!
From: scrummylane.com
49. Chocolate Chip Cookie Bark
Chocolate chip cookie bark… who doesn't love cookies on top of another dessert?
From: cookiesandcups.com
50. Tropical White Chocolate Bark
White chocolate bark, topped with dried pineapple chunks, coconut chips, and a few extra fun additions.
From: sugarsalted.com
Related Posts
Enjoyed these bark recipes? Then pin it for later!
Be sure to pin these bark recipes to your Bark Recipes or Dessert boards on Pinterest.