This post contains affiliate links. See my affiliate disclaimer here.
When I was an au pair, my host family had a Nutribullet and I always made Nutella, strawberries and banana smoothies for the little boy I looked after. Since then I always wanted a Nutribullet. Well almost 4 years later and it happened – we recently got one. And I have to say that I am in love!
We've had other blenders before but they just didn't work like I wanted them to. We couldn't crush ice, it was harder to clean up, and it was more difficult to store away.


The Nutribullet does all of that EASILY. It crushes ice into an almost snow cone like texture (you have to include some liquid with the ice though) and the cups and blades are super easy to clean. So far I have made banana smoothies, iced coffee, and iced hot chocolate. And they were all DELICIOUS!
Things I like about the Nutribullet:
It is compact
Super easy to use
Easy to clean (the cups are dishwasher safe)
It is fast and does a great job of blending frozen fruit and ice
It doesn't have any buttons – you have to push the cup down, and for me this is kind of fun
Some Nutribullet "cons":
Can't crush ice on its own – some type of liquid has to be included
If you have weak wrists then the pushing down action might be difficult
Overall the Nutribullet is a definite winner in my book and I highly recommend it. We have the Nutribullet Pro which has a better motor and a little more power than the normal Nurtibullet, which is 600 watt.
Here's where you can get yours:
Amazon – Nutribullet Pro 13 pc
Kohl's – NutriBullet Pro 900-Watt Blender
Okay so let's move on to the smoothie recipes. I've decided to round up some healthy Nutribullet smoothie recipes that I still want to try.
1. Blueberry Muffin Smoothie
Recipe From Iowa Girl Eats
2. Mango Peach and Strawberry Smoothie
Recipe From Cooking Classy
This recipe makes 3 smoothies so if you want to make only 1 serving be sure to divide the ingredients by 3.
3. Kale and Berry Green Smoothie
Recipe From All Nutribullet Recipes
4. Grapefruit Peach Raspberry Smoothie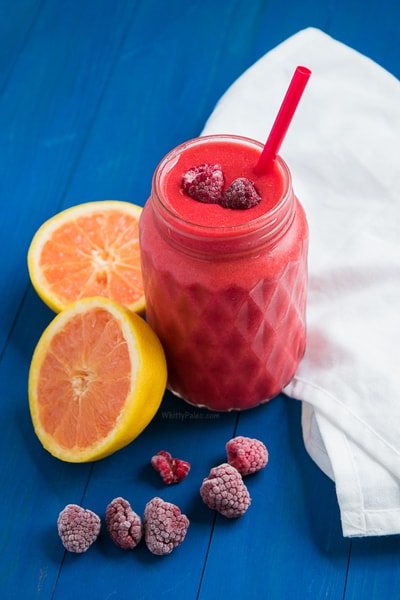 Recipe From Whitty Paleo
5. Orange Smoothie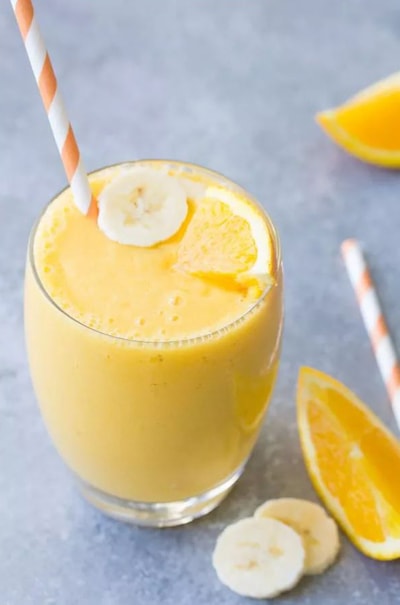 Recipe From Kristine's Kitchen
6. Triple Berry Kiwi Smoothie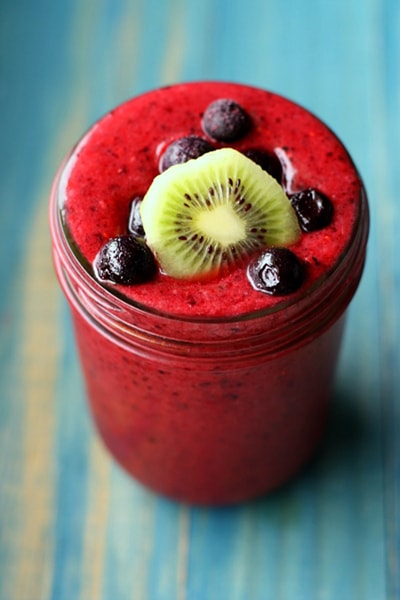 Recipe From The Pretty Bee
---
And those were the healthy Nutribullet smoothie recipes. Don't they all look great? I can't wait to try them!
If you have any other go to smoothies you make with your Nutribullet let me know in the comments and I might try it out.