Pinwheel appetizers are the perfect party food to feed a crowd. They are simple and easy to make, and they always taste delicious!
25 Pinwheel Appetizers Perfect For A Party
Below we've rounded up 25 delicious pinwheel appetizers.
To view the full recipe and instructions for any of these pinwheel appetizers, please follow the links below.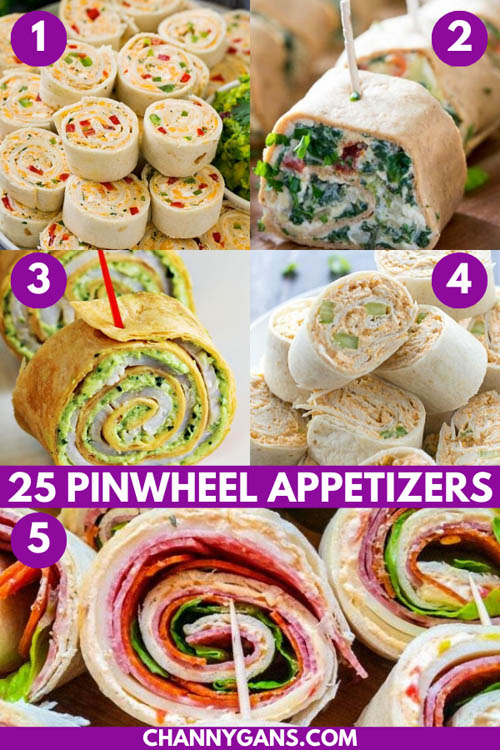 1. Taco Pinwheels
These taco pinwheels are made with chicken, taco seasoning, cream cheese, and peppers, all rolled up inside tortillas.
An easy make-ahead party appetizer!
From: dinneratthezoo.com
2. Spinach Artichoke Pinwheels
Tender flatbread filled with creamy spinach and artichoke dip and rolled into bite sized pinwheels.
This easy appetizer is the perfect addition to your next party, family gathering or luncheon!
From: spendwithpennies.com
3. Pesto Tortilla Pinwheels
This Pesto Tortilla Pinwheels recipe is an easy party food that can be put together in no time!
Perfect for any fun event – including holiday parties, baby showers, and more!
From: homecookingmemories.com
4. Buffalo Chicken Pinwheels
An easy recipe and video for Buffalo Chicken Pinwheels made with shredded chicken and everything you love about Buffalo Chicken in one tasty appetizer.
From: motherthyme.com
5. Italian Pinwheels
A deliciously fun appetizer for your game day, holiday or party needs, these Italian Pinwheels are tasty, fast and a fun addition to your meal!
From: tornadoughalli.com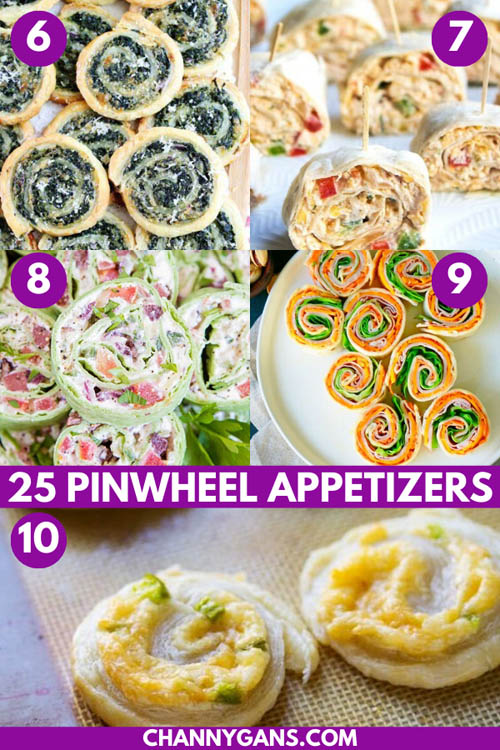 6. Cheesy Spinach Roll-ups
Spinach, cream cheese, and white cheddar cheese rolled up in buttery, flaky pastry and baked until they puff up and turn golden brown with gooey centers.
From: cinnamonspiceandeverythingnice.com
7. Mexican Pinwheels Recipe
This easy Mexican Pinwheels Recipe is a party favorite that's full of bright, bold flavors you'll crave!
Your guests will ask for seconds and thirds!
From: breadboozebacon.com
8. Greek Salad Pinwheels
These Creamy Greek Salad Pinwheels are a delicious appetizer any time of the year and everyone loves them!
A creamy Greek yogurt and Feta cheese base is spread onto soft spinach tortillas and topped with all your favorite Greek Salad flavors, like salty Kalamata olives, crunchy cucumbers, and juicy tomatoes.
Add a bit of oregano and a splash of red wine vinegar and you have pinwheel perfection!
From: yellowblissroad.com
9. Turkey Ranch Pinwheels
These pinwheels will rock the lunch table! They are filled with turkey, cheddar, carrot and lettuce for easy, quick and healthy school lunch!
From: kitchenathoskins.com
10. Smoked Gouda Puff Pastry Pinwheel
These smoked gouda puff pastry pinwheel appetizer couldn't be simpler to prepare. Perfect as an appetizer, or party snack!
From: sweetpeasandsaffron.com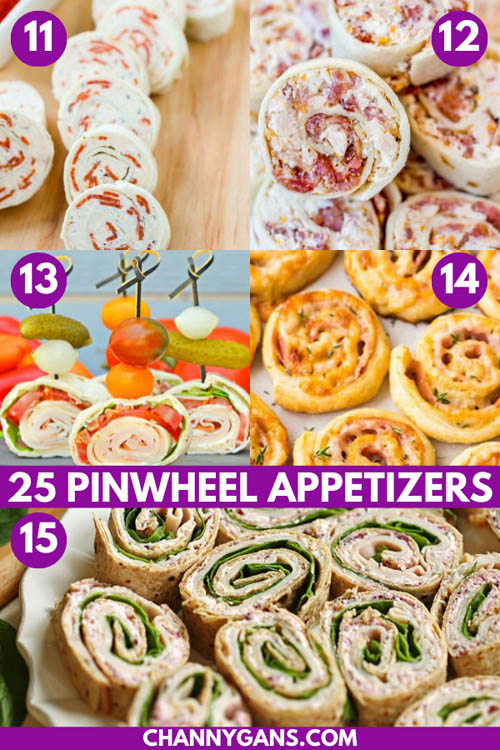 11. Pepperoni Pizza Tortilla Pinwheels
These fun pepperoni pizza tortilla pinwheels make a great appetizer or school lunch.
Your kids will think they have hit the jackpot when they open their lunchbox and see these!
From: rachelcooks.com
12. Chicken Bacon Ranch Pinwheels
Chicken Bacon Ranch Pinwheels are perfect as a lunch, after school snack or appetizer and taste wonderful both cold and hot.
From: therecipecritic.com
13. Club Sandwich Pinwheels
Club sandwich pinwheels use the traditional club sandwich ingredients, but wrap them in a tortilla. Easy to make and fun to eat!
From: realhousemoms.com
14. Ham and Cheese Pinwheels
Ham and Cheese Pinwheels with Puff Pastry. Just FOUR ingredients!
From: wellplated.com
15. Turkey Pinwheels With Cranberry Spread
Healthy turkey pinwheels layered on a sweet yet spicy cranberry spread with fresh spinach wrapped all together on a whole wheat tortilla!
From: eatyourselfskinny.com
16. Jalapeno Popper Pinwheels
These Jalapeno Popper Pinwheels are a spicy appetizer that can be served hot or cold!
Cream cheese, cheddar, bacon, and jalapeno all rolled up in a little pinwheel. These are always a crowd pleaser.
From: the-girl-who-ate-everything.com
17. Thai Peanut Chicken Wraps
Soy marinated juicy chicken, spicy chili-lime peanut sauce coated crunchy vegetables wrapped in spinach tortillas and sliced in party-style pinwheel bites.
From: chefdehome.com
18. Roast Beef Tortilla Roll Ups
The great thing about tortilla roll ups is that you can make them before the game even starts and slice them up when you are ready to serve.
These are filled with roast beef, horseradish, cheese and cream cheese, basically the perfect football snack.
From: foodlovinfamily.com
19. Pizza Pinwheels
A quick and easy appetizer! Pizza dough filled with marinara sauce, mozzarella, parmesan, and pepperoni and baked until golden brown.
The ultimate pinwheel recipe!
From: mildlymeandering.com
20. Cranberry Feta Pinwheels
Cranberry Feta Pinwheels are the perfect make ahead holiday snack or appetizer.
A creamy filling with feta cheese and sweet dried cranberries rolled in tortillas and sliced.
These are the hit of every party!
From: spendwithpennies.com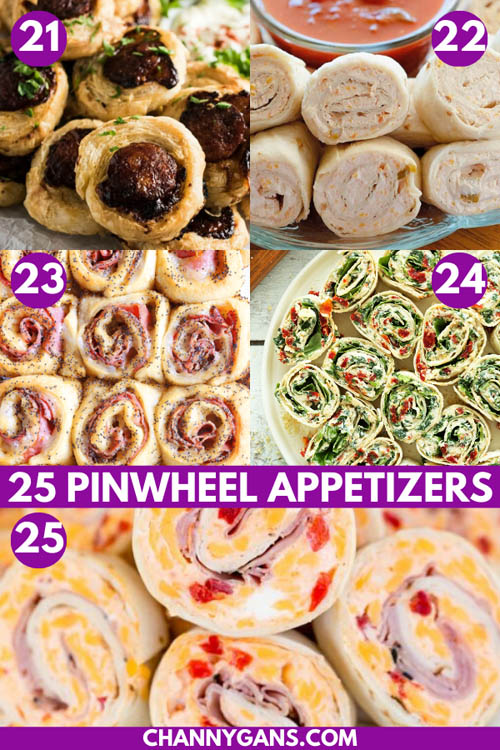 21. Cheddar Chorizo Pinwheel Bites
These delicious cheddar chorizo pinwheel bites are one of my favorite easy appetizers!
They can even be made a day ahead so you can enjoy the party!
From: realhousemoms.com
22. Salsa Roll Ups
Tortillas filled with a creamy cheese and salsa mixture, rolled up and then sliced.
These can be made in just minutes. Serve with salsa for dipping! Perfect for Cinco de Mayo!
From: thecountrycook.net
23. Baked Ham And Cheese Rollups
These Baked Ham and Cheese Rollups, are an easy appetizer or dinner recipe that are always be a crowd favorite.
They are made with crescent dough, Boar's Head SmokeMaster™ Black Forest Ham, swiss cheese, and then topped with a delicious mustard glaze.
From: highheelsandgrills.com
24. Sun-dried Tomato And Basil Pinwheels
This recipe is simple, requiring just 8 ingredients and 15 minutes to prepare!
Just stir filling ingredients, spread into a tortilla, roll and slice!
From: minimalistbaker.com
25. Ham & Pimento Cheese Pinwheels
Cream cheese, cheddar, parmesan cheese, garlic salt, pimentos, mayonnaise and ham wrapped in a tortilla.
You can make these ahead of time and refrigerate until they are ready to eat. Perfect for parties and tailgating!!
From: plainchicken.com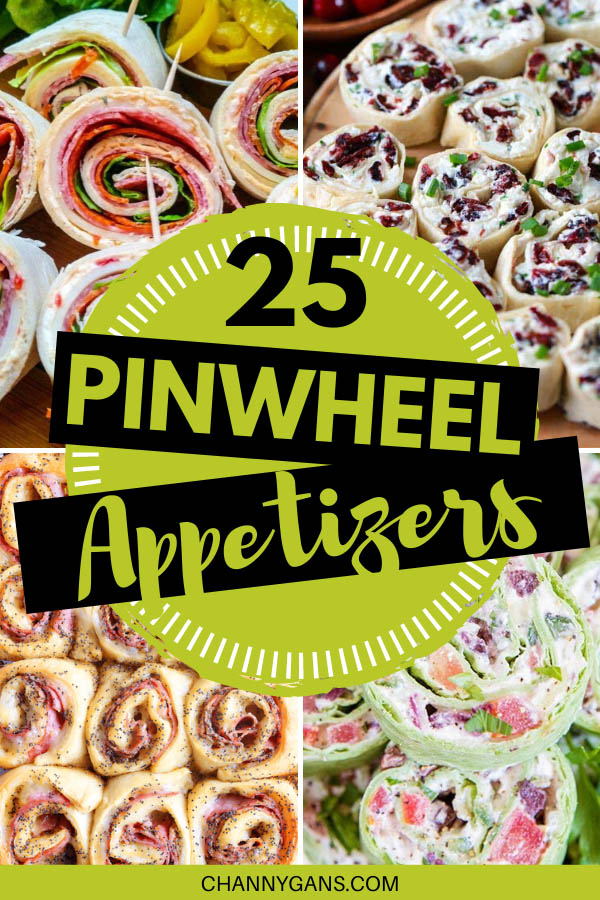 Enjoyed these Pinwheel Appetizers? Then pin it for later!
Pin these pinwheel appetizers to your Food Ideas or Recipes boards on Pinterest.
That way you can easily view them later!