Make the most of the holiday season by trying some of these cranberry dessert recipes!
They are perfect for an after dinner treat.
Cranberry Dessert Recipes
Below we've rounded up 30 yummy cranberry dessert recipes.
To view the full instructions for any of these cranberry dessert recipes, please follow the links below.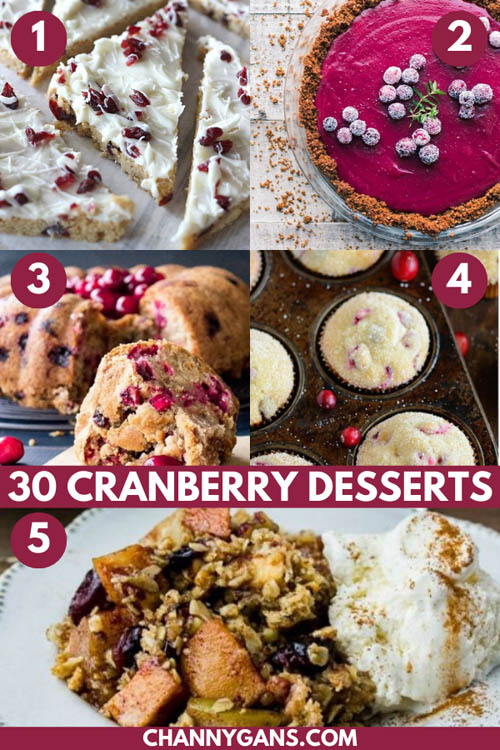 1. Cranberry Bliss Bars
Cranberry Bliss Bars – a homemade version of the popular Starbucks treat!
These taste just like the original, and are easy to make right at home!
From: belleofthekitchen.com
2. Cranberry Gingersnap Pie
This Cranberry Pie with its spicy gingersnap crumb crust and silky cranberry curd filling brings a little va-va-voom to the traditional dessert table ~ this vibrant pie going to be everybody's holiday favorite!
From: theviewfromgreatisland.com
3. Orange-Cranberry Cake
This Orange-Cranberry Cake is sweet, flavorful and the perfect treat to please your friends.
Orange-Cranberry Cake is a flavorful, sweet cake that is simply delicious no matter what time of day.
From: vegetarianmamma.com
4. Vanilla Cranberry Sugar Muffins
These Vanilla Cranberry Sugar Muffins store great for the week in an airtight container at room temperature.
They make such an easy grab and go breakfast or snack.
From: thenovicechefblog.com
5. Apple Cranberry Crisp
Apples and cranberries combine with spices and a crispy topping for a deliciously easy dessert recipe!
Serve warm with vanilla ice cream to sweeten the deal even more! This recipe can easily be made gluten-free.
From: deliciouslittlebites.com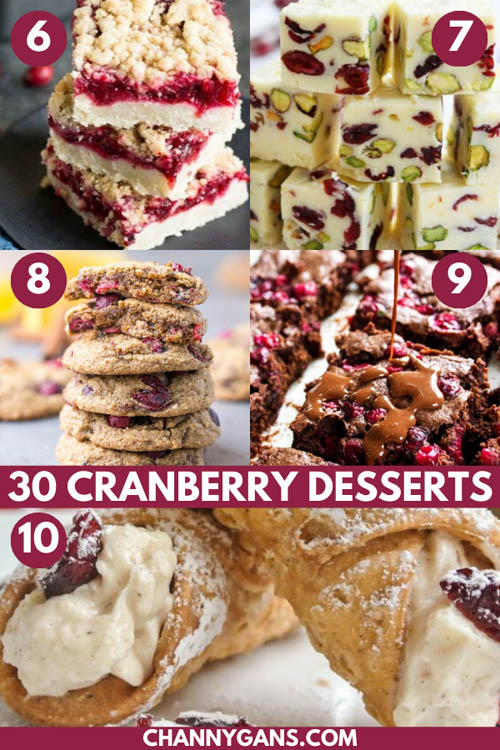 6. Cranberry Shortbread Bars
You are going to love how easy these Gluten Free Cranberry Shortbread Bars are to make!
Sweet and tart at the same time, these bars are just bursting with holiday flavors!
From: fearlessdining.com
7. Simple Orange Cranberry Pistachio Fudge
Mildly sweet, beautifully festive, and bursting with the fresh flavor of citrus.
Simple Orange Cranberry Pistachio Fudge is a wonderful addition to your Holiday table.
From: thefedupfoodie.com
8. Cranberry Orange Cookies
These Gluten-Free Cranberry Orange Cookies are soft, chewy and bursting with flavor!
They're loaded with cinnamon, orange zest, fresh tart cranberries, and chewy dried cranberries. Perfect for the holidays!
From: bakerita.com
9. Cranberry Brownies
Cranberry brownies with chocolate-orange drizzle are rich and soft brownies with a silky chocolate drizzle that's pure decadence with a touch of holiday spirit!
From: realhousemoms.com
10. White Chocolate Cranberry Cannolis
White Chocolate Cranberry Cannolis are a new way to eat an old favorite.
The cream cheese filling with sweet Craisins and white chocolate chips in a crispy cannoli shell sounds amazing, doesn't it?
It's unique and elegant with that snowy powdered sugar on top. Who could say no?
From: noplatelikehome.com
11. Cranberry Palmiers
Cranberry Palmiers are an elegant cookie made with puff pastry and a cranberry sauce.
It will make a nice addition to your dessert table!
From: thebittersideofsweet.com
12. Cranberry and Walnut Pinwheels
Welcome your guests with this delicious take on dessert pinwheels filled with cranberries and nuts.
Pie dough wrapped around a rich cranberry & walnut filling.
From: diethood.com
13.  Cranberry Orange Custard Pie
Cranberry Orange Custard Pie is a festive and unique dessert recipe to add to your holiday menu.
A flaky pie crust is filled with silky sweet custard laced with orange zest and tart cranberries for a special treat you won't forget!
From: thecreativebite.com
14. Mini Cider Spiced Cranberry Apple Pies
These Mini Cider Spiced Cranberry Apple Pies are so perfect for fall — you can make them in pre-made tart shells for an easy holiday dessert that will impress your guests!
From: thereciperebel.com
15. Cranberry Orange Sweet Rolls
Cranberry Orange Sweet Rolls are the perfect holiday brunch or make-ahead breakfast.
Each Soft, homemade roll is flavored with orange blossom water and filled with sweet cranberry filling.
From: bakedbyanintrovert.com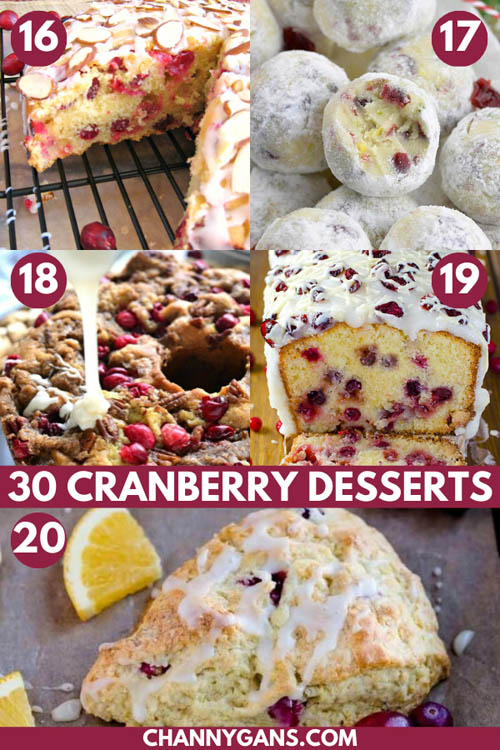 16. Cranberry Almond Coffee Cake
This sweet, moist coffee cake is bejeweled with fresh cranberries and topped with crunchy slivered almonds.
The perfect breakfast cake!
From: delightfulemade.com
17. Cranberry Pistachio White Chocolate Truffles
Cranberry Pistachio White Chocolate Truffles are super cute and festive no-bake dessert!
They look like little snowballs and when you take a bite, you'll realize it's seriously tasty stuff!!!
This is the tastiest Christmas dessert recipe ever!!!
From: omgchocolatedesserts.com
18. Cranberry-Pecan Coffee Cake
Cranberry-Pecan Coffee Cake is packed with fresh cranberries, pecans, and brown sugar streusel, then topped with a creamy vanilla glaze.
Make this coffee cake recipe for breakfast or dessert….either way, it's perfect for the holidays!
From: lemontreedwelling.com
19. Christmas Cranberry Pound Cake
Thinking about Christmas recipes?
Then you should think about tasty pound cake with cranberries and white chocolate and a beautiful white glaze.
You simply have to try this heavenly Christmas Cranberry Pound Cake!
From: omgchocolatedesserts.com
20. Cranberry Orange Scones
These Cranberry Orange Scones are the best fall scones you'll ever have! This recipe yields tender, flaky, and ultra-moist scones.
Orange juice and orange zest add loads of flavor.
Each bite is speckled with tart fresh cranberries. Serve these scones for breakfast with a warm cup of coffee.
From: bakedbyanintrovert.com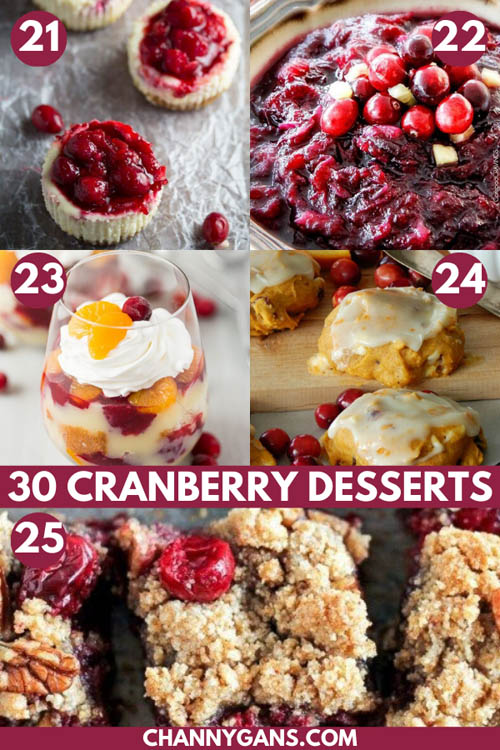 21. Cranberry Sauce Mini Cheesecakes
Leftover cranberry sauce is swirled into this mini cheesecake recipe.
The most delicious way to enjoy Thanksgiving leftovers!
From: sweetpeasandsaffron.com
22. Pineapple Cranberry Sauce
This sweet and tangy homemade Pineapple Cranberry Sauce is so much better than canned, incredibly easy, stress-free and make ahead!
From: carlsbadcravings.com
23. Cranberry Orange Trifle
Vanilla cake, vanilla pudding, oranges and cranberry sauce layered together for the perfect holiday dessert — this Cranberry Orange Trifle is great for potlucks!
From: thereciperebel.com
24. Pumpkin Cranberry Cookies
The pumpkin and cranberries might sound weird, but trust me, once you try them you will be hooked.
The orange glaze on top acts like the cookies wingman by rounding out the flavors and make them pop.
It is like a Christmas party in your mouth.
From: myrecipeconfessions.com
25. Cranberry Crumb Bars
These Paleo Cranberry Crumb Bars use leftover cranberry sauce to make an irresistible gluten-free, refined sugar-free, and vegan dessert.
The crumb mixture doubles as the crust and crumb topping.
From: bakerita.com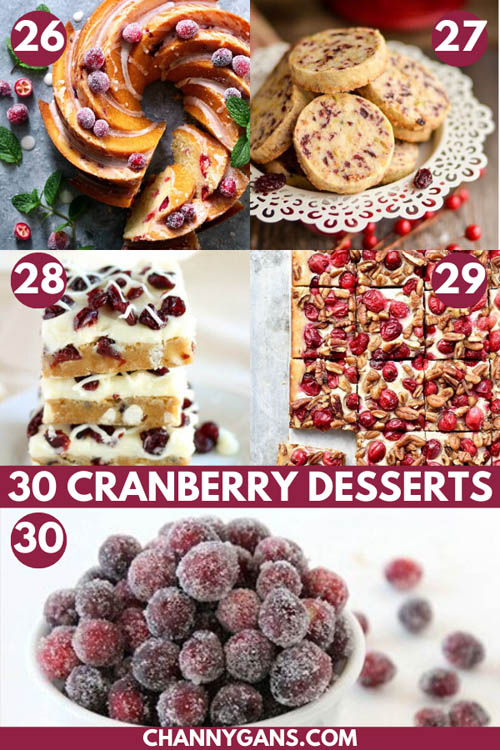 26. Cranberry Orange Bundt Cake
Golden and finely crumbed, bursting with citrus and jeweled cranberries, this cranberry orange bundt cake is meant for the holiday season.
From: tutti-dolci.com
27. Cranberry Pistachio Shortbread Cookies
Buttery, crumbly shortbread cookies get a red and green Christmas makeover with the addition of cranberry and pistachio-the perfect holiday dessert recipe!
From: thehappierhomemaker.com
28. Cranberry White Chocolate Bars
Do you love Starbucks Cranberry Bliss Bars?
This recipe is for you! Soft blondies, white chocolate chips, and dried cranberries. Wait until you see what's in the frosting!
From: celebratingsweets.com
29. Nutty Oatmeal Cranberry Bars
These Nutty Oatmeal Cranberry Bars are made with fresh cranberries, oatmeal, and pecans for an easy sweet little bite or main dessert for any holiday occasion.
From: shewearsmanyhats.com
30. Sugared Cranberries
This Sugared Cranberry Recipe is so super simple, requiring just 2 ingredients.
You will find them both tangy and sweet, perfect for snacking or garnishing your holiday treats.
From: cincyshopper.com
Enjoyed these Cranberry Dessert Recipes? Then pin it for later!
If you enjoyed these cranberry dessert recipes, we would love you forever if you would take a moment to share this post to your desserts and recipes Pinterest boards!