With these easy keto snacks on the go, you have no excuse not to stick to your keto diet. Below we've listed 30 keto snacks that you can easily make ahead to grab and go on busy days.
30 Keto Snacks On The Go
Hopefully, you enjoy these healthy quick and easy keto snacks on the go.
To view the full recipe and instructions for any of these keto snacks on the go, please follow the links.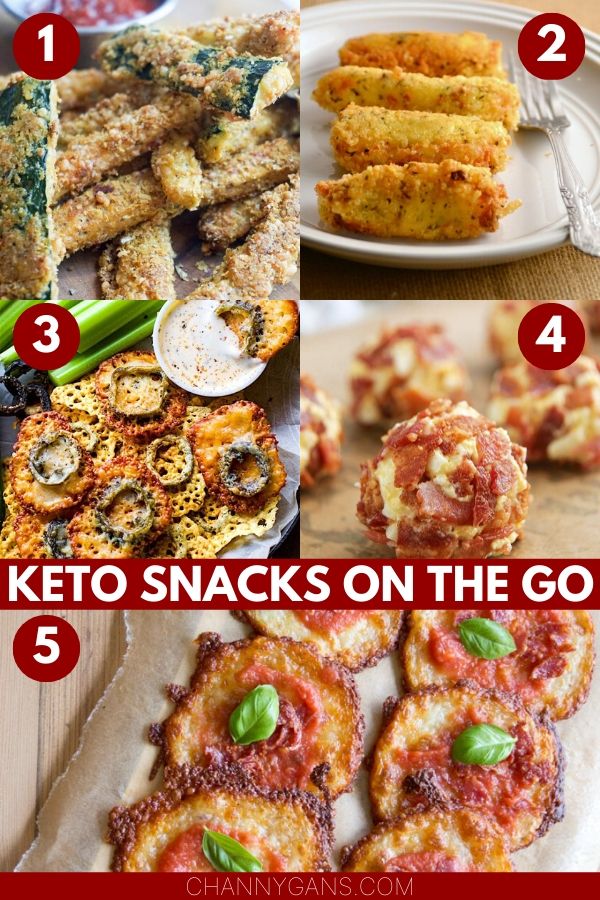 1. Zucchini Fries
We've changed the fry game with these zucchini fries! Pair them with a burger for dinner or make them as a low carb appetizer for your next party!
From: ketoconnect.net
2. Low Carb Mozzarella Sticks
These low carb mozzarella sticks are breaded with parmesan cheese instead of breadcrumbs, but they're still delicious. They're also easy to make!
From: gluesticksgumdrops.com
3. Easy Baked Jalapeno Cheese Crisps
Cheese crisps are a fantastic appetizer or snack!
Low carb, gluten free cheese crisps with a Tex Mex, jalapeno flare.
These healthier baked crisps are simple to make with minimal ingredients. Can be made mild or super spicy. You choose!
From: cottercrunch.com
4. Bacon & Egg Fat Bombs
Eat immediately or store in the fridge in an airtight container for up to 5 days.
From: ketodietapp.com
5. Crispy Keto Low Carb Pizza Bites
All the taste of pizza without the carb overload!
These Keto low carb pizza bites have a crust entirely made out of mozzarella. Crispy, easy and ready in no time at all!!
From: sugarfreelondoner.com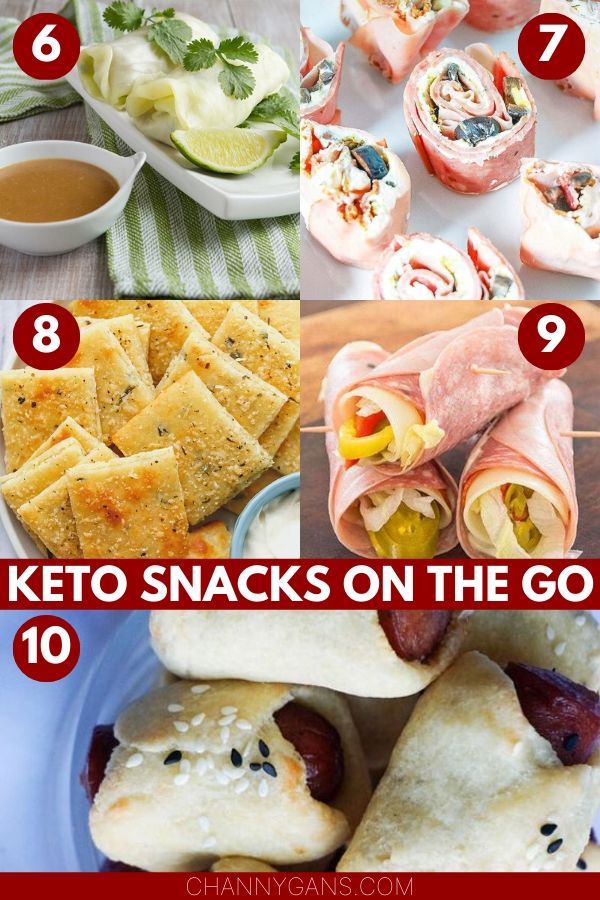 6. Low Carb Keto Spring Rolls
Low-carb, keto spring rolls made with cabbage leaves instead of rice wraps. Filled with keto tender pork pieces, cilantro coleslaw, and MCT oil.
From: healthfulpursuit.com
7. Low Carb Pinwheels With Bacon And Cream Cheese
This is a relatively quick and easy recipe that you can customize to your own tastes.
I believe bacon makes everything better, but you can use another type of lunch meat in place of the bacon if you prefer.
Layer your favorite ingredients on top of a grid of lunch meat, roll and enjoy!
From: 730sagestreet.com
8. Low Carb Cheese Crackers
Low Carb Cheese Crackers – EPIC!
So good, so crunchy, these low carb and keto-friendly crackers will pair with anything from veggie dip to almond butter.
From: eatwell101.com
9. Italian Sub Roll-Ups
Bread is the least important ingredient of a really delicious Italian sub, so skip it altogether. Get all the flavor of the classic sandwich in these low-carb rolls.
From: ourpaleolife.com
10. Keto Pigs In A Blanket
We've put a new spin on our favorite childhood snack with these Keto Pigs In A Blanket! No one, including your kids, will know they are low carb!
From: ketoconnect.net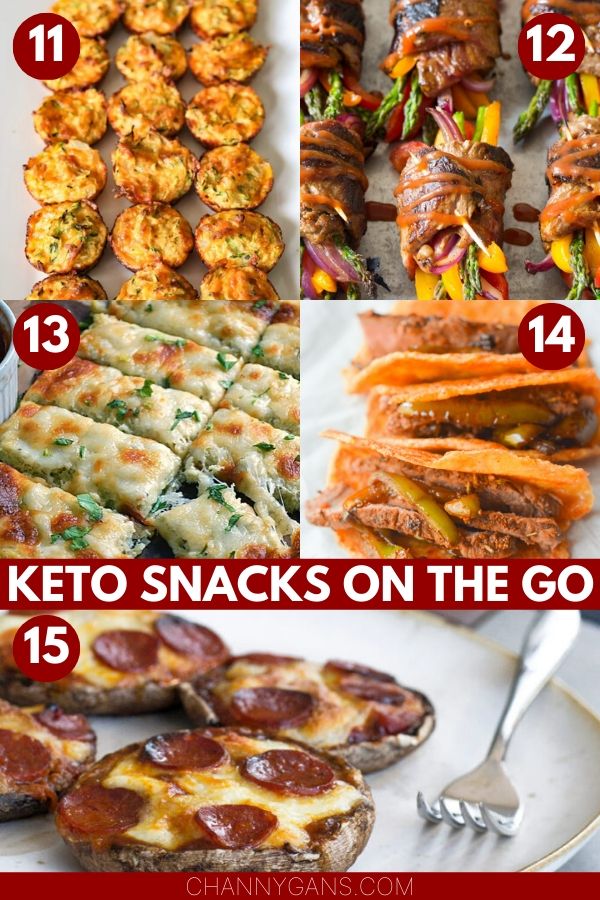 11. Zucchini Tots
These simple keto Zucchini Tots make a great low-carb snack or side dish. They are a delicious way to eat your veggies.
From: southernkissed.com
12. Low Carb Steak Fajita Roll-Ups
Quick and zesty Low Carb Steak Fajita Roll-Ups, a fresh healthy main dish (or finger food) no one can resist!
From: aspicyperspective.com
13. Low Carb Cauliflower Breadsticks
Low carb cauliflower breadsticks with fresh herbs, garlic, and lots of ooey gooey cheese atop a cauliflower crust looks and tastes like cheesy bread!
From: realhousemoms.com
14. Keto Steak Tacos On Pork Rind Tortillas
The best part about these Keto Steak Tacos on Pork Rind Tortillas is they are extremely low carb.
With so few ingredients, they are sure to become a fast favorite!
From: heyketomama.com
15. Portobello Mushroom Mini Keto Pizza
These quick and easy mushroom mini keto pizzas are a great low carb alternative to the classic dough pizza base, and 10 times easier to make.
From: ieatketo.com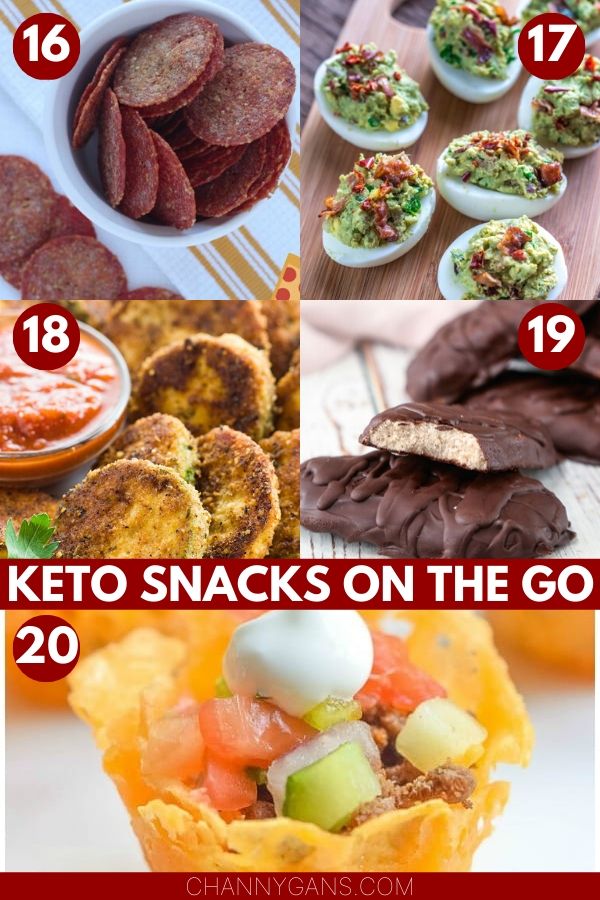 16. Keto Pepperoni Chips
Making low carb pepperoni chips is easy when you're making microwave pepperoni chips! These easy no carb keto pepperoni chips only take 1 minute to cook.
From: wholelottayum.com
17. Bacon Guacamole Deviled Eggs
The perfect keto appetizer – Bacon Guacamole Deviled Eggs. Full of delicious healthy fats. They will keep you full for hours.
From: peaceloveandlowcarb.com
18. Healthy Pan Fried Squash And Zucchini Recipe
This easy pan fried squash recipe (or fried zucchini recipe) is crispy & delicious. Learn how to make fried squash and zucchini the healthy way! Naturally low carb and gluten-free.
From: wholesomeyum.com
19. Keto Maple Pecan Protein Bars
They are filling and nutritious enough to be used as a meal replacement.
Keep them in the fridge (or freezer) and use as a quick source of energy when you have no time to cook or need a quick post-workout ketogenic meal.
From: ketodietapp.com
20. Low Carb Taco Bites
These Low Carb Taco Cups are an easy low carb recipe that can be a low carb appetizer for Christmas or New Year's!
From: homemadeinterest.com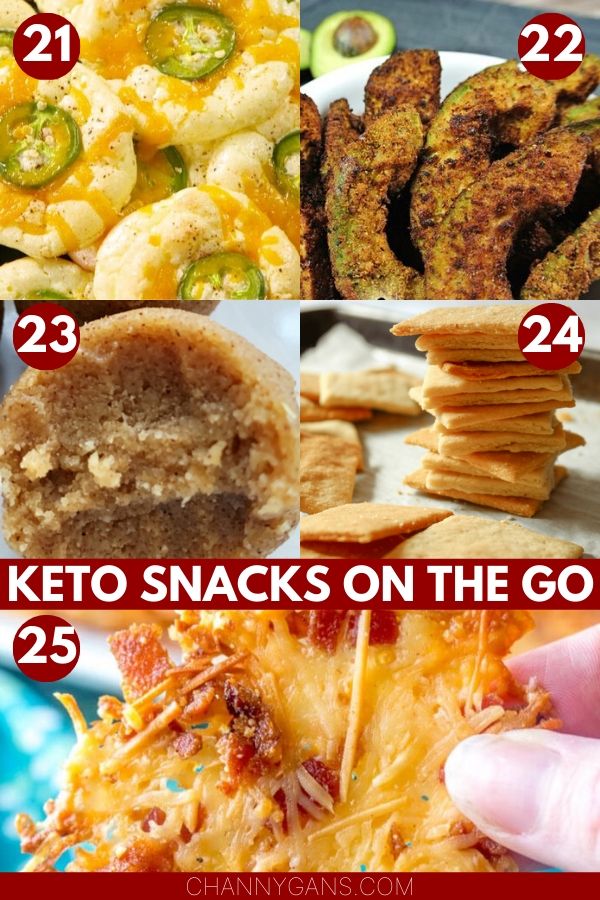 21. Keto Jalapeño Popper Bread
No carbs needed in this Keto Jalapeño Popper Bread from Delish.com.
From: delish.com
22. Avocado Fries
Have you been searching for a delicious keto snack? Have you been craving fries with lots of fat, but nearly 0 carbs?
Avocado fries are the answer! They're simple to make and can be enjoyed by anyone.
From: tasteaholics.com
23. Keto Gingerbread Fat Bombs
When does a gingerbread fat bomb double as a delicious cookie treat? Always. What I love about having fat bombs on a ketogenic diet is that I feel like I'm having a cheat treat, but I'm not.
From: linneyville.com
24. Keto Butter Crackers
These Keto Butter Crackers are the perfect canvas for your favorite dips, spreads, and toppings. They are buttery and super flaky plus they come together in a snap with only 4 ingredients!
From: thismomsmenu.com
25. Bacon Parmesan Crisps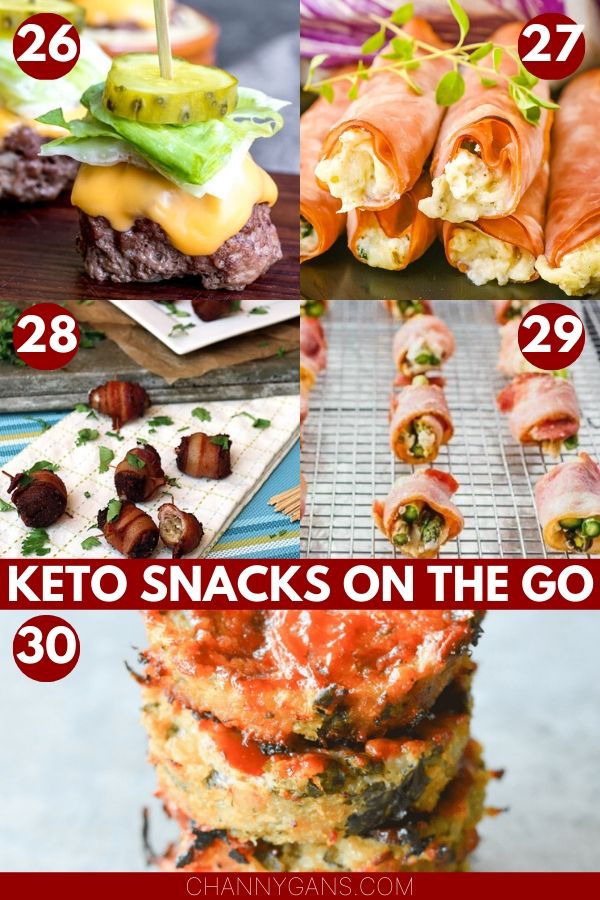 Crispy, crunchy and cheesy these Bacon Parmesan Crisps are a delicious low carb snack that aren't only addicting but quick and easy to make!
From: tornadoughalli.com
26. Low Carb Big Mac Bites
These Low Carb Big Mac Bites are a keto recipe for mini bunless burgers that make a great low carb appetizer or game day food that everyone will love!
From: homemadeinterest.com
27. Low Carb Ham Roll Ups With Ricotta Cheese
These low carb ham roll ups are a gluten free, keto friendly appetizer recipe you can whip up in less than 30 minutes. Super easy, delicious & versatile.
From: 730sagestreet.com
28. Cheesy Bacon Bombs
These little morsels are just divine. It's like biting into bacon wrapped cheesy bread that's soft and gooey in the middle and nice and crunchy on the outside.
From: ruled.me
29. Bacon Wrapped Asparagus Bites
These are bite-sized, so conveniently easy to eat and serve at parties (you won't need a fork and knife for this), and they're stuffed with a tasty cream cheese filling that's low carb and keto friendly.
From: savorytooth.com
30. Keto Chicken Meatloaf Cups
These Keto Chicken Meatloaf Cups are one of the easiest Low Carb Dinners I've ever made! Want to add some extra flavor? Wrap them in bacon!
From: heyketomama.com
Enjoyed these Keto Snacks On The Go? Then pin it for later!
Share these keto snacks on the go to your Keto Recipes board on Pinterest. That way you can easily view them later! Also, don't forget the follow our keto board on Pinterest for more great keto recipes!