Start celebrating the holidays and make some delicious Christmas cookies for your family!
These Christmas cookies are not only delicious but also very festive – perfect to put you in the holiday spirit!
50 Yummy Christmas Cookies
We've rounded up 50 festive Christmas cookies to make this year, down below.
Follow the link below each recipe title for the full recipe and ingredients.
1. Peppermint Meltaway Cookies
Meltaway Cookies now in a new, special Christmas Edition – in a little more festive suit, with a touch of Peppermint  Buttercream Frosting and crispy little candy cane crumbs.
And YES they DO melt in your mouth…do I need to say more?
From: cakescottage.com
2. Stained Glass Cookies
Cookie and candy all in one! Learn how to make stunning stained glass cookies with this detailed tutorial.
Perfect for holiday cookie exchanges or hanging on your tree!
From: livforcake.com
3. Candy Cane Sugar Cookies
This recipe for Candy Cane Sugar Cookies uses candy canes that are ground very finely into a sugar consistency.
The candy cane sugar replaces some of the sugar usually found in sugar cookie recipes.
From: artandthekitchen.com
4. Chocolate Dipped Oreo Snowflakes
Chocolate Dipped Oreo Snowflakes …adorable and easy treats the whole family can help make!
'Tis the season to be making (and eating! oh my goodness, the eating!) treats to share with family and friends.
From: iheartnaptime.net
5. Grinch Christmas Cookie Recipe
It's cookie season! Delight your kids by serving Grinch Christmas Cookies with this ultra fun and adorable "3 sizes too small" green heart cookies.
From: momdot.com
6. Santa Oreos
Looking for a sweet homemade Christmas treat to take to classroom parties and other gatherings?
These darling Santa Oreos are a cinch to make (truly!), and they are sure to be a hit with kids of all ages.
From: positivelysplendid.com
7. Christmas Pinwheel Sugar Cookies
Christmas Pinwheel Sugar Cookies are fun festive and incredibly easy to make.
This simple recipe will have you enjoying these tasty treats in no time.
From: theslowroasteditalian.com
8. Brownie Roll-Out Cookies
Combining the fudgy texture and deep taste of a brownie with a classic sugar cookie cut-out, these treats will bring so much chocolaty happiness to your winter baking.
From: foodal.com
9. Sugar Cookie Christmas Wreath
Creating a Sugar Cookie Christmas Wreath is fast, easy, and fun for everyone!
From: iambaker.net
10. Christmas Peanut Blossom Cookies
Classic Peanut Blossoms all decked out for Christmas. Make Reindeer, Santa Hats & Christmas Trees by adding a few simple decorations.
From: chocolatewithgrace.com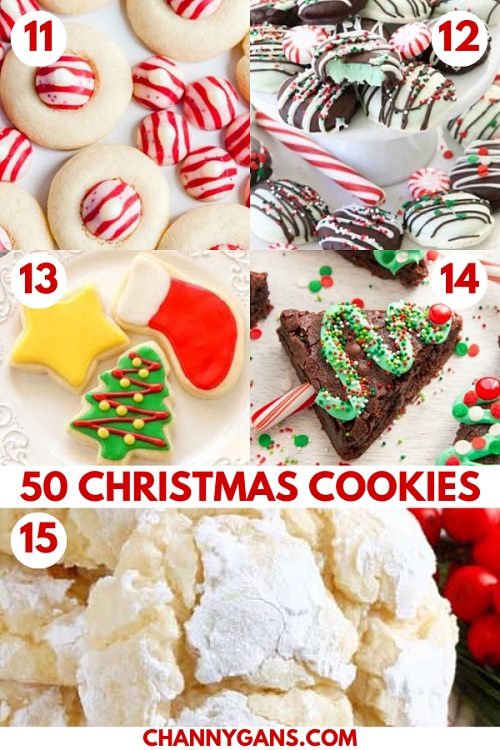 11. Candy Cane Kiss Cookies
These little morsels are so addicting and they're the perfect little bit of peppermint and chocolate that melts in your mouth.
It pairs so well with this cookie recipe too.
From: hotbeautyhealth.com
12. Christmas Peppermint Patties
Christmas Peppermint Patties made easy with few ingredients!
Perfect fun & festive dessert for holiday parties & gifts. They taste so much better homemade!
From: butterwithasideofbread.com
13. Soft Christmas Cut-Out Sugar Cookies
Super soft cut-out sugar cookies decorated with an easy icing.
These Christmas Cut-Out Sugar Cookies are so fun to decorate and perfect for the holidays!
From: livewellbakeoften.com
14. Easy Brownie Christmas Trees
These easy chewy Christmas Brownie Trees are easy to make and add a festive touch to your holiday table!
Kids of all ages will enjoy this tasty treat!
Technically this is a brownie, but we'll pretend it's a cookie!
From: lilluna.com
15. Eggnog Gooey Butter Cookies
Melt-in-your-mouth Eggnog Gooey Butter Cookies at their finest and from scratch.
Buttery, light and tender-crumbed, sweetened just right and full of the classic eggnog flavors of rum or bourbon and nutmeg with a whisper of cinnamon.
There's no need to add eggnog to this particular cookie recipe as the cream cheese and extra egg yolk provide ample creaminess.
From: wickedgoodkitchen.com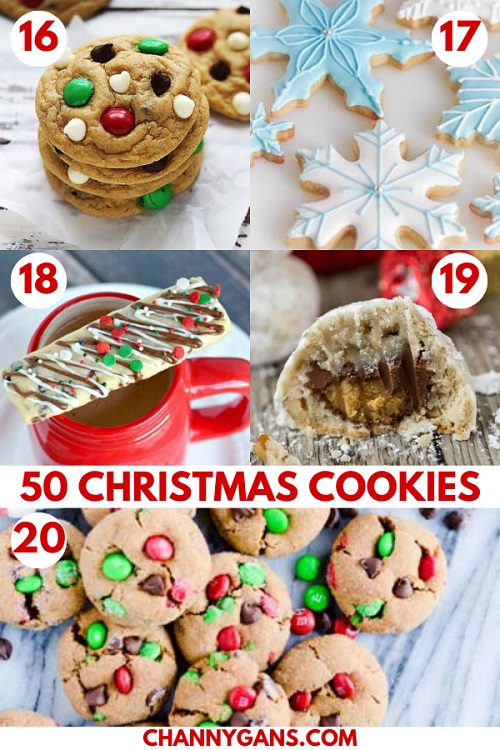 16. Santa's Cookies (Double Chocolate Chip M&M Cookies)
Santa's favorite cookies! Soft and chewy double chocolate chip pudding cookies with M&M candies.
The ultimate holiday cookie!
From: lecremedelacrumb.com
17. Snowflake Cookies
Snowflake sugar cookies decorated with blue and white icing make a sweet holiday display.
From: whatshouldimakefor.com
18. Chocolate Drizzled Christmas Cookie Sticks
These Chocolate Drizzle Christmas Cookie Sticks are pretty and festive, and they are so easy to make!
They start with a simple chocolate chip cookie dough. But the magic happens when you roll them out and cut them into little strips.
From: creationsbykara.com
19. Stuffed Snowballs
The Snowball just got stuffed! These Stuffed Snowballs are filled with Reese's Peanut Butter Cups!
If you're looking for an easy Christmas cookie, look no further!
From: crazyforcrust.com
20. Soft Batch Gingerbread M&M Cookies
Soft and chewy gingerbread cookies with lots of M&Ms!
They are crackly on the outside, soft and chewy and perfectly spiced on the inside, and chock full of my all-time favorite cookie mix-in: M&Ms!!!
From: somethingswanky.com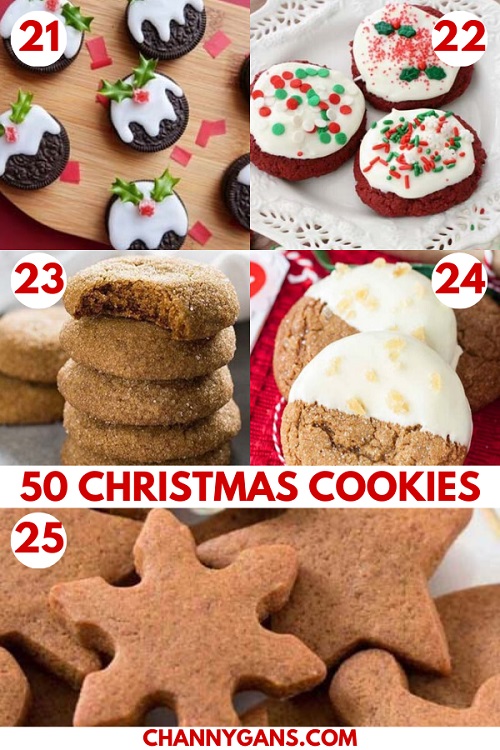 21. Oreo Christmas Pudding
These make the most perfect little Night Before Christmas cookies for Santa…or as sweet snacks between opening gifts on Christmas morning.
From: blog.nikkimcwilliams.com
22. Red Velvet Christmas Cookies
Red Velvet Christmas Cookies are buttery and rich, topped with cream cheese icing and holiday sprinkles to make these festive cookies irresistible!
From: butterwithasideofbread.com
23. Old Fashioned Soft Molasses Cookies
Old Fashioned Soft Molasses Cookies – These molasses cookies are an old-fashioned holiday favorite! Super soft and packed with the amazing, rich flavors of molasses, ginger, and cinnamon.
Just like Grandma used to make!
From: thesaltymarshmallow.com
24. Snow Capped Gingersnaps
These snow-capped gingersnaps are the perfect Christmas cookies!
Chewy gingerbread cookies dipped in white chocolate and topped with crystallized ginger.
From: livforcake.com
25. Chewy Gingerbread Cookies
Get in the holiday spirit with some spicy, chewy gingerbread cookies!
They keep their shape when cut with cookie cutters and they stay soft and delicious!
They're the ultimate Christmas cookies.
From: pinchmeimeating.com
26. Blizzard Cookies
These are made with half a brick of cream cheese in addition to butter. These winter-sprinkle infused cookies studded with white chocolate chips are super soft cookies that belong in your yearly Christmas cookie rotation.
From: sugarspunrun.com
27. Decorating Ornament Sugar Cookies
Looking for a new way to decorate your sugar cookies this Christmas?
Try decorating ornament sugar cookies using Rolos, M&M's and some frosting!
All you need is a simple circle cookie cutter to get started!
From: yourcupofcake.com
28. Holly Cookies
It seems like the holiday season is flying by, so this year I'm trying to embrace simpler cookie designs.
Rustic wet-on-wet holly cookies look great and are sure to please.
From: sweetsugarbelle.com
29. White Chocolate Dipped Ginger Cookies
These White Chocolate Dipped Ginger Cookies are the best ginger cookies around!
They'll quickly become a new favorite holiday cookie!
From: cookingclassy.com
30. Chocolate Crinkle Cookies
These cookies are not only beautiful and so wintery, but they are incredibly delicious.
They're fudgy and chewy and sweet. They're basically a brownie in cookie form.
From: stuckonsweet.com
31. Christmas Lights Cookies
Christmas Lights Cookies with a small batch of royal icing and mini M&Ms as Christmas Lights.
From: dessertfortwo.com
32. Peppermint Mocha Cookies
Thick and chewy Peppermint Mocha Cookies are the ultimate Christmas Eve treat!
Because who doesn't need an extra caffeine boost, right?!
From: bakerbynature.com
33. Reindeer Oreo Balls
Oreo balls are the perfect Christmas treat because they only require 3 ingredients, along with being very simple no-bake treats that anyone can make!
They're perfect for you to make for a Christmas party you're holding or attending, or to package up and take to your neighbors as a holiday gift.
From: lmld.org
34. Cranberry Orange Shortbread Cookies
A delightfully easy cookie recipe that yields sensational results!
Make sure to add these easy shortbread cookies to your holiday baking list this season!
From: momontimeout.com
35. Gingerbread Christmas Tree Cookies
These easy Gingerbread cookies are made with a fraction of the butter – yet they still have the same great flavor and texture.
Perfect for your Holiday baking!
From: skinnytaste.com
36. Marble Sugar Cookies
These marble cookies look amazing and taste great too!
You will need sugar cookie dough and some food coloring.
From: twosisterscrafting.com
37. Chocolate Kiss Cookies
Chocolate Kiss Cookies-decadent chocolate cookies rolled in sprinkles and topped with a chocolate kiss.
A fun cookie for the holidays or any occasion!
From: twopeasandtheirpod.com
38. Eggnog Cheesecake Cookie Cups
These eggnog cheesecake cookie cups are the best treat for the holidays!
Chewy gingerbread cookie cups filled with a fluffy eggnog cheesecake.
From: livforcake.com
39. Peppermint Shortbread Cookies
These festive Peppermint Shortbread Cookies are the perfect addition to your holiday cookie trays this year!
With only five ingredients, they are quick and easy to make and look so gosh darn pretty!
From: momontimeout.com
40. Reindeer Poop Cookies
What is more fun than making Christmas cookies with your kids?
How about making a NO BAKE Christmas cookie? Wouldn't your kids love making a cookie and pretending it was Reindeer Poop?
From: lifeissweeterbydesign.com
41. Christmas Wreath Cookies
No bake Christmas wreath cookies made with corn flakes and marshmallows!
These only take 20 minutes to make!
From: thefirstyearblog.com
42. Marshmallow Roll Cookies
Marshmallow Roll Cookies. Easy, no-bake & freezer friendly!
These cookie confections will be popular with all ages, especially around the Christmas season.
From: rockrecipes.com
43. Eggnog Frosted Chai Snickerdoodle Snowmen
If there was ever a cookie that screamed Christmas, it's these Eggnog Frosted Chai Snickerdoodle Snowmen.
From: halfbakedharvest.com
44. Hot Chocolate Meltaway Cookies
Buttery, Hot Chocolate Meltaway Cookies topped with chocolate ganache, mini marshmallows, and crushed peppermint sticks!
Everything you love about hot chocolate in a melt-in-your-mouth cookie!
From: lecremedelacrumb.com
45. Andes Mint Cookies
Andes Mint Cookies are a soft-baked chocolate cookie loaded with Andes Mint pieces and spread with an extra layer of mint goodness.
They're amazing straight from the oven.
From: chocolatewithgrace.com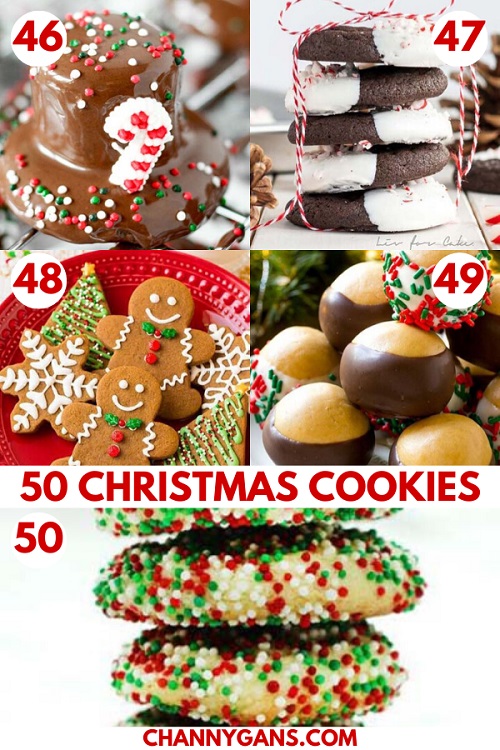 46. Snowman Top Hat Christmas Cookies
I'm so excited to share these adorable Snowman Top Hat Cookies.
I just love how cute they turned out and they are such a fun Christmas cookie!
From: number-2-pencil.com
47. Dark Chocolate Candy Cane Cookies
The classic combination of chocolate and peppermint make these dark chocolate candy cane cookies the perfect treat for the holidays!
From: livforcake.com
48. Gingerbread Cookies
This recipe makes perfectly soft and chewy cookies and they have the perfect amount of gingery molasses flavor.
From: cookingclassy.com
49. Buckeye Balls (Peanut Butter Balls)
This recipe for buckeye balls is the classic peanut butter balls dipped in dark or white chocolate.
An easy no-bake holiday dessert!
From: dinneratthezoo.com
50. Soft Batch Christmas Sprinkle Cookies
Soft Batch Christmas Sprinkle Cookies are a super easy holiday sugar cookie – no rolling the dough required!
Packed with red and green sprinkles, perfect for the holidays!
These sprinkle sugar cookies are the best, easiest, Christmas cookies around!
From: thesaltymarshmallow.com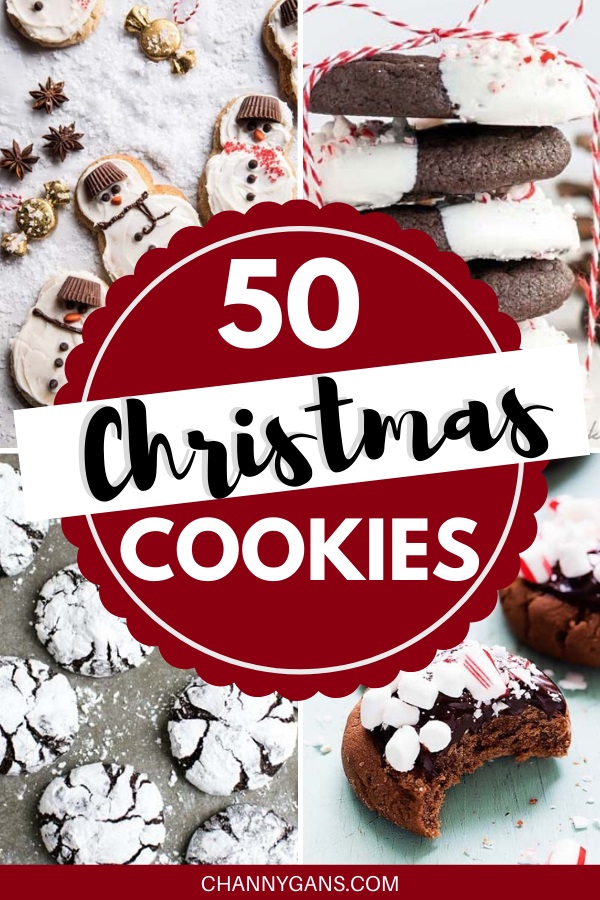 Related Posts
Enjoyed these Christmas Cookies? Make sure to pin it for later!
Be sure to pin these Christmas cookies to your Christmas board on Pinterest!