Quesadillas are SO simple and easy to make, and here you have 30 scrumptious quesadilla recipes to try!
30 Easy Quesadilla Recipes
We've rounded up 30 quesadilla recipes down below, and 3 of them are dessert quesadillas – yum!
To view the full instructions for any of these quesadilla recipes, please follow the links below.
1. Chicken Fajita Quesadillas
Sautéed onions, red and green peppers, perfectly seasoned chicken breast, melted cheese, between two tortillas. Simply yummy.
From: jocooks.com
2. Roasted Sweet Potato and Black Bean Quesadillas
Roasted Sweet Potato and Black Bean Quesadillas are the best vegetarian quesadillas you'll ever taste.
So easy to make and most importantly incredibly delicious and filling!
From: dontgobaconmyheart.co.uk
3. Shrimp Quesadillas
A tasty mixture of spicy shrimp, sautéed onions & bell peppers, garlic, and melted cheese crisped in a tortilla.
These quesadillas are simple and a delicious way to enjoy shrimp!
From: gimmedelicious.com
4. Greek Quesadillas
All the best Greek flavors come together in this EPIC cheesy quesadilla. It is topped with an easy homemade Greek yogurt tzatziki sauce!
From: damndelicious.net
5. Loaded Veggie Quesadillas
Healthy, filling quesadillas stuffed with spiced roasted sweet potatoes, peppers, black beans, avocado, cream cheese & cheddar.
From: domesticgothess.com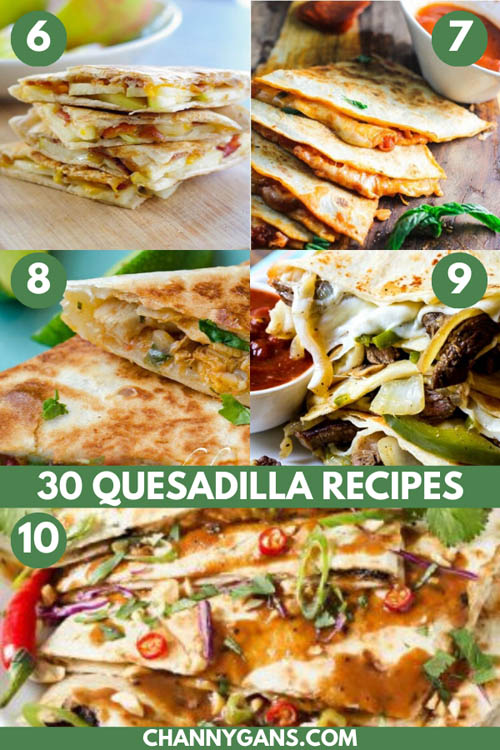 6. Honeycrisp Apple Quesadillas
Sometimes a sandwich for lunch can get pretty boring, don't you think? Try something new.
Enjoy sweet fall Honeycrisp apples by pairing them with salty, crisp bacon and sharp cheddar cheese in these lunchtime quesadillas.
From: homeandplate.com
7. Margarita Pizza Quesadilla
Margarita pizza quesadilla combines two of the most popular Italian and Mexican dishes – pizza and quesadillas. Listen, if 1 is good…2 is better!
From: eatingeuropean.com
8. Chipotle Chicken Quesadillas
Crisp tortillas filled with gooey melted cheddar and shredded chicken in a sweet and smoky chipotle sauce.
From: onceuponachef.com
9. Philly Cheese Steak Quesadillas
Philly Cheese Steak Quesadillas are filled with melted provolone cheese, tender-crisp onions and peppers, fresh mushrooms, and seared steak slices.
If you love a Philly Cheese Steak sandwich, you will love these quesadillas.
From: spicysouthernkitchen.com
10. Thai Peanut Chicken Quesadillas
Up your quesadilla game with these fun and tasty Thai peanut chicken quesadillas!
You'll love the tender marinated chicken, smooth melted cheese, crisp cabbage and carrots, and savory peanut sauce!
From: thechunkychef.com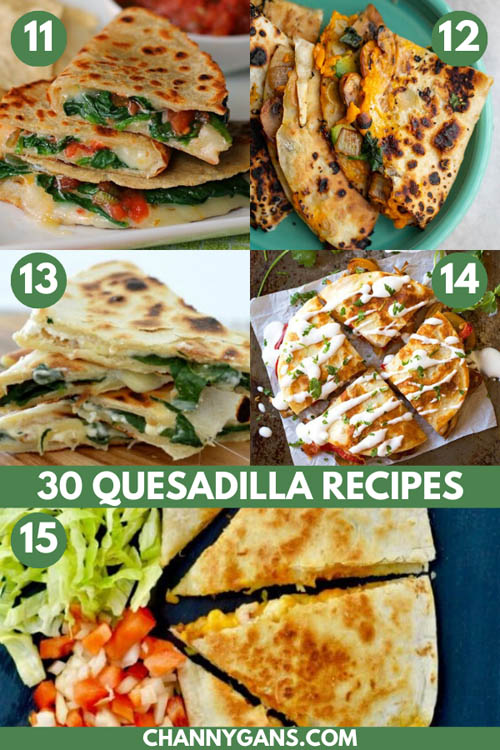 11. Spicy Spinach Quesadilla
Dig into a cheesy, easy Mexican dinner with this Spicy Spinach Quesadilla Recipe!
From: wearychef.com
12. Mushroom Avocado Quesadillas
If you are looking for a fast, flavorful and fun meal or snack, try these Mushroom Avocado Quesadillas.
Pair them with a bit of salsa or hot sauce, maybe a side salad or veggie of choice.
They are super fast to whip up and include healthy whole foods like avocado and savory mushrooms.
From: kblog.lunchboxbunch.com
13. Spinach Pesto And Cheese Quesadillas
Since trying these Spinach Pesto and Cheese Quesadillas, they've been making an appearance at least once a week on my dinner plate.
From: createbakemake.com
14. Smoked Gouda Mushroom Quesadillas
This quesadilla is filled with delicious smoked gouda cheese en mushrooms!
Perfect for a Mexican lunch or dinner!
From: pinchofyum.com
15. Taco Bell Chicken Quesadilla
Make this Copycat Taco Bell Chicken Quesadilla recipe right in the comfort of your own home.
It is so easy to throw together and makes a perfect and easy weeknight dinner.
From: wineandglue.com
16. Pulled Pork Quesadilla
This Pulled Pork Quesadilla recipe is the perfect sweet and savory appetizer.
Filled to the brim with juicy and flavorful pulled pork, sweet caramelized onions and topped with tangy BBQ sauce.
From: iamhomesteader.com
17. Monte Cristo Quesadillas
Traditionally Monte Cristo sandwiches are ham and swiss cheese sandwiches grilled on french toast, sprinkled with powdered sugar and served with jam.
Kind of a crazy mix of sweet and savory that's absolutely delicious.
The quesadilla version starts with a milk and egg wash brushed onto just one side of a large flour tortilla.
From: cookswellwithothers.com
18. Roasted Red Pepper and Spinach Quesadilla
This quesadilla is stuffed with tasty, healthy ingredients like spinach, roasted red peppers, and avocado.
Creamy Kite Hill cream cheese is blended with roasted red peppers to create a queso-like spread that melts over the vegetables.
Refried red lentils are packed with protein and spiced with smoky paprika.
From: purplecarrot.com
19. Caramelized Pineapple Quesadillas
These whole wheat tortillas are stuffed with the caramelized pineapple, some grilled chicken, tons of cheese and some fresh herbs.
From: howsweeteats.com
20. Grilled Chicken Quesadillas
Grilling ALL the ingredients makes for a much more flavorful quesadilla.
Try it, and you won't want to make them any other way!
From: delish.com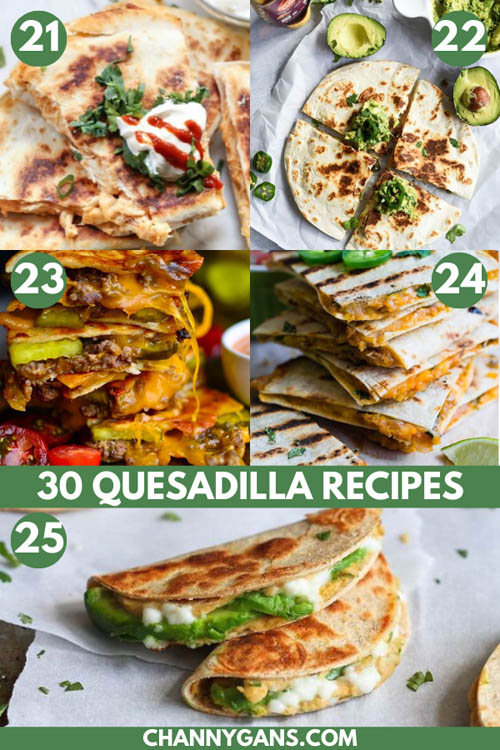 21. Spicy Chicken Quesadilla
This recipe features an amazing combination of shredded chicken, cheese, mayo, and sriracha sauce in a tortilla and cooked.
From: valentinascorner.com
22. Jalapeño Chicken Quesadilla
Seasoned with honey, garlic, lime juice and jalapeños, this Jalapeño Chicken Quesadilla topped with Honey Guacamole takes lunchtime to a whole new level.
From: isabeleats.com
23. Cheeseburger Quesadillas
This cheeseburger quesadilla is made with ingredients you probably already have around.
From: yammiesnoshery.com
24. Grilled Lentil Quesadillas
This quick and easy grilled lentil Mexican Quesadilla recipe is a tasty summer dinner for meatless Monday!
Make them for a weeknight meal that everyone will love!
From: foodfaithfitness.com
25. Mini Avocado & Hummus Quesadilla
This mini quesadilla recipe will make snack time fun (and healthy!) Stuffed with hummus and avocado, they're a breeze to make!
From: cookincanuck.com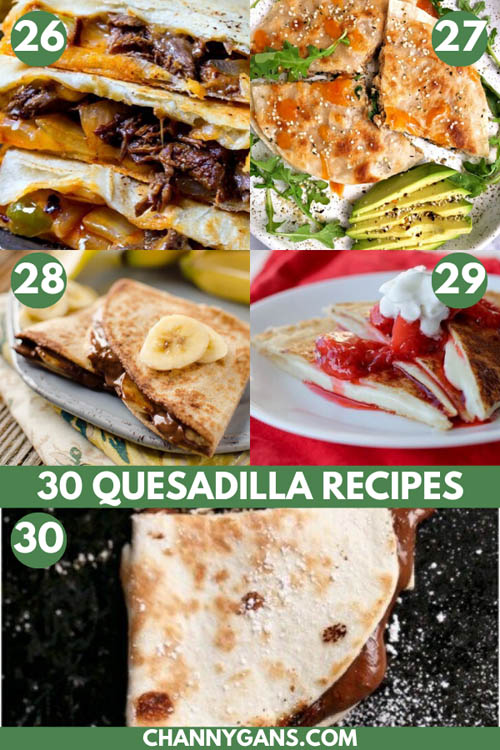 26. Spicy Beef Quesadillas
Spicy Beef Quesadillas are an easy and delicious meal of gameday food to make with leftover short ribs or brisket.
Caramelized onions and peppers are combined with chipotle peppers and crushed red pepper flakes to flavor and spice these crispy, cheesy quesadillas.
Quesadillas don't get any meatier or better than this.
From: spicysouthernkitchen.com
27. Super Simple Spicy Salmon Quesadilla
Super Simple Spicy Salmon Quesadilla made with gluten-free ingredients for a healthier quesadilla recipe!
From: rachlmansfield.com
28. Healthy Chocolate & Banana Quesadilla
This is a quick and simple, 3-ingredient recipe that will fill you up and leave your sweet-tooth satisfied!
This crispy tortilla is filled with bananas and Almond Butter for an amazing breakfast or snack that the whole family will love.
From: thecreativebite.com
29. Cheesecake Quesadillas
Stuffed with a creamy cheesecake filling and topped with warm strawberry syrup. These Cheesecake Quesadillas are a quick and easy treat for the family!
From: simpleandseasonal.com
30. Simple Nutella Quesadillas
Warmed and golden flour tortillas filled with warm and melted Nutella in under 5 minutes. Does it get any better? No.
From: cafedelites.com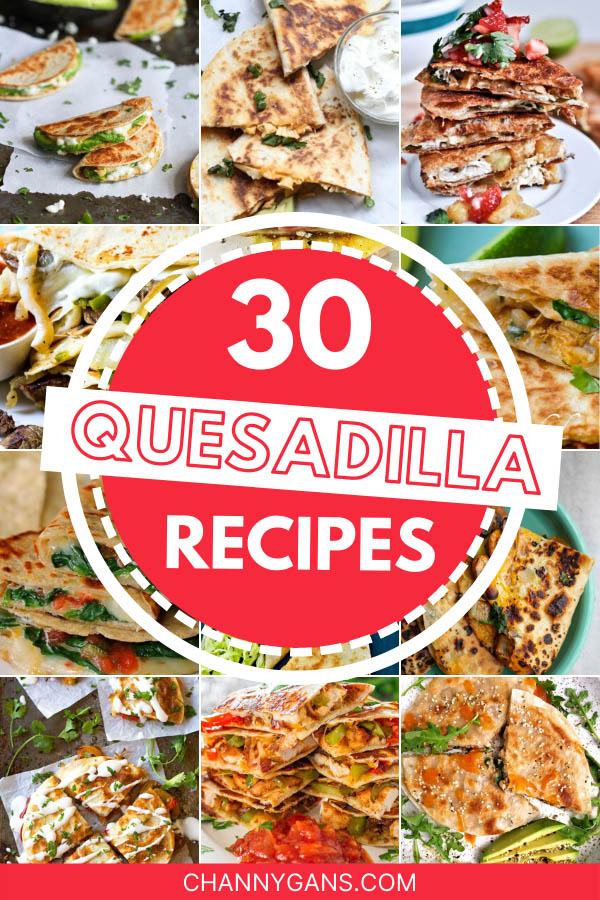 Related Posts
Enjoyed these easy Quesadilla Recipes? Pin it for later!
Be sure to pin these quesadilla recipes to your quesadilla board on Pinterest to view it later.