It's that time of the year again (well, almost)! Ah, Christmas, the most wonderful time of the year. It is time to get all of those Christmas decorations out of their storage space and get your home ready for the holidays!
If you don't have any Christmas decorations and don't know where to start, or just want to add a few new ones, I've got you covered! I've rounded up some beautiful ideas for Christmas decorations that'll put you (and your home) in the Christmas spirit!
Thumbtack Candles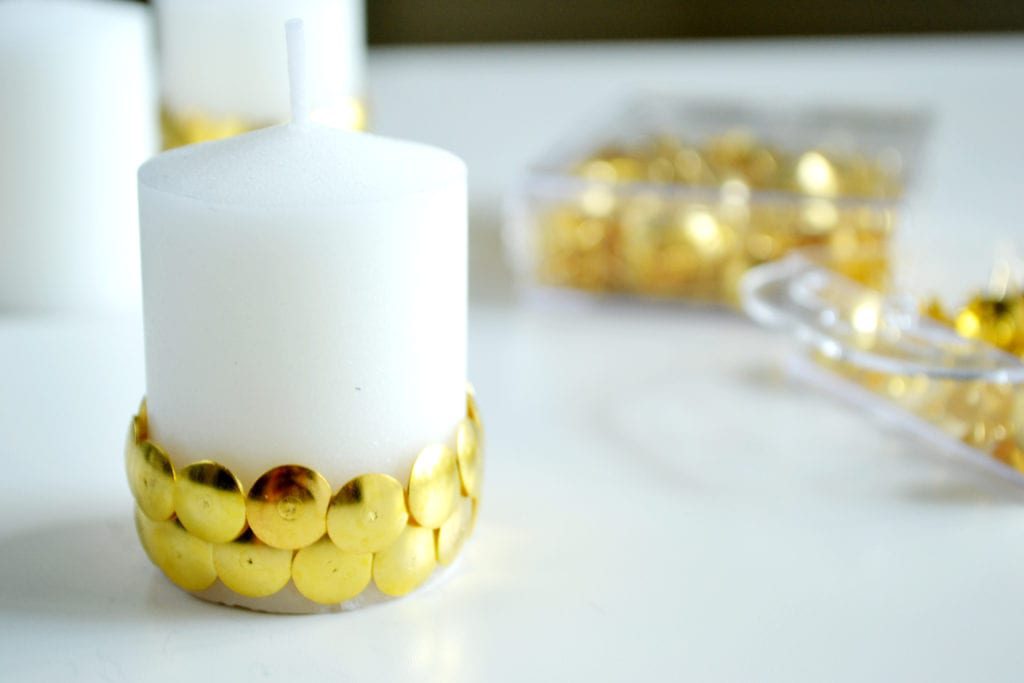 From Spark and Chemistry
Decorating candles could not be any easier. This is a very easy and inexpensive Christmas decoration. It may take a few attempts to get it just right, but once you do it is very straightforward.
Simply push the thumbtacks into the candle to create a scalloped effect. You can do the entire candle or just the bottom to create a border.
Buy some cheap candles and thumbtacks from the dollar store to do these simple but pretty DIY candles for Christmas.
DIY Snow Globe
From Under The Sycamore
Snow globes just scream Christmas so why not make your own. You will need mason jars, some mini trees and reindeer and of course some fake snow.
They are super adorable and quite fun to make!
Glitter Wreath Place Cards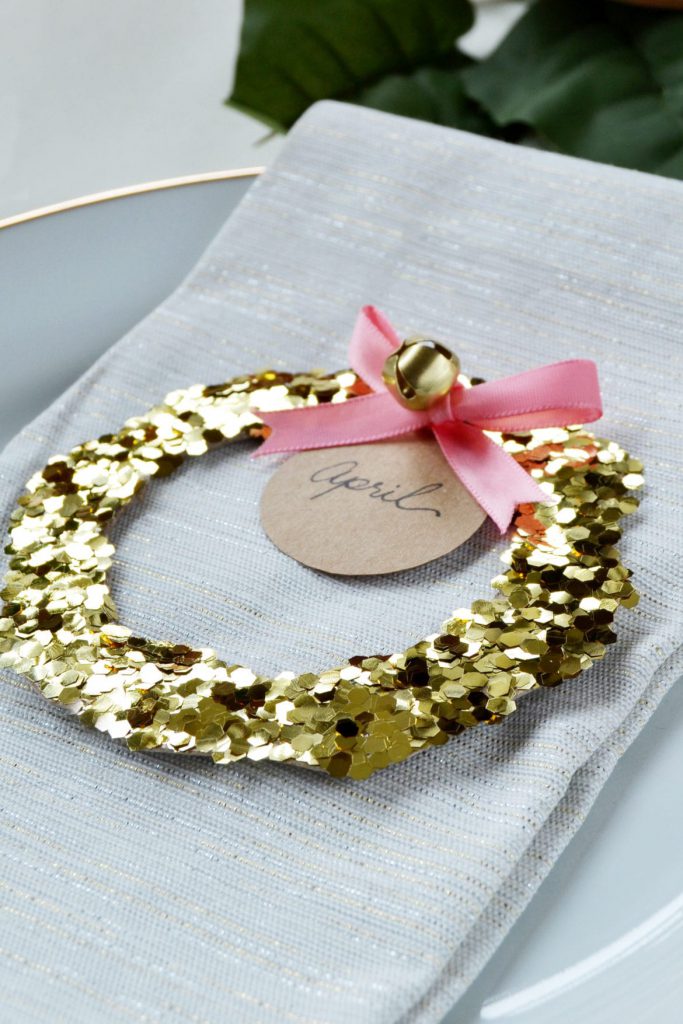 From Spark and Chemistry
Add some glam to your Christmas table with some chunky glitter wreaths. Not only do they look super adorable, they are not that difficult to make either.
They do take up to an hour to make though – but it is totally worth it.  The guests at your dinner party will love them!
DIY Coffee Filter Tree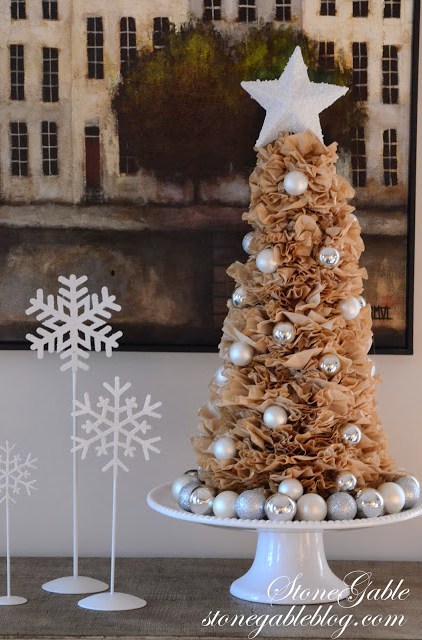 From Stone Gable
You can make this tree with items that you can find in the dollar store. That means that this tree is super affordable AND easy to make.
Use unbleached coffee filters to achieve the look or go with bleached coffee filters if you want a beautiful white tree. This will look great on any counter or table in your home!
DIY Winter Vases
From Taryn Whiteaker
Here is another dollar store DIY for you! All you will need to make the actual vases are some cylinder glass vases and some paint to create the snowy look and texture.
The great thing about these vases is that you can fill them with whatever you want! They will look great with any accent color.
Snowman Wreath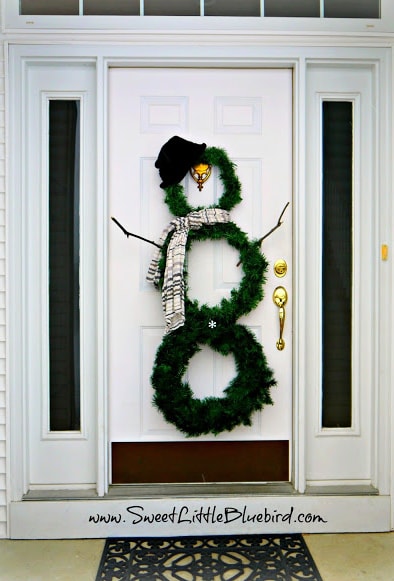 From Sweet Little Bluebird
How cool is this wreath?! All you need for this fun DIY is three wreaths of different sizes, sticks and a hat and scarf. You will also need some green crafting wire and a wreath hanger to hang it on the door.
The great thing about this wreath is that you can change it up. Use different scarves and hats to give your snowman a new look.
Gold Ribbon Wreath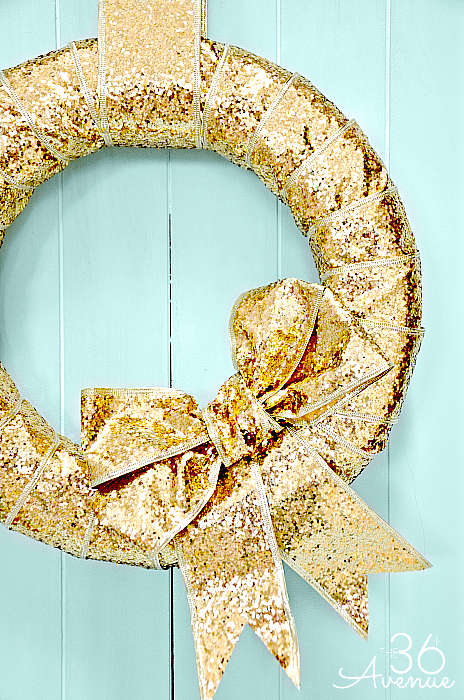 From The 36th Avenue
Here we go straight into another wreath. This one is pretty simple to make and you can customize it to your liking.
For this awesome wreath, you will need a foam wreath and a roll of sparkly gold ribbon. You can create a big bow to add to the wreath and even add some fun ornaments!
Bow-tie Garland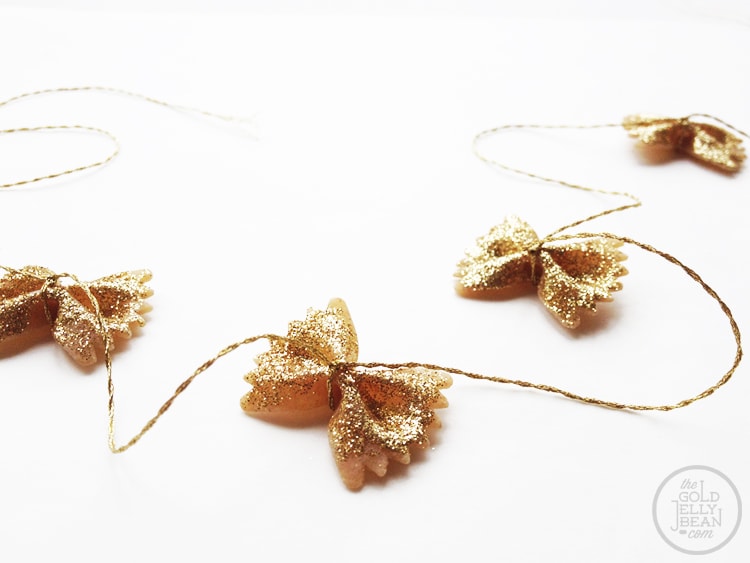 From The Gold Jellybean
I love pasta and I love glitter. This garland combines the two. All you will need is bow-tie pasta, glue, string, glitter, and a paintbrush.
Simply paint one side of the bow-tie with the glue and cover it with glitter. Once the glue is dry flip it over and do the other side. When you have all of the bow-ties complete tie them onto the string and you are done!
You can use glitter of any color for this cheap and easy garland.
Snow Covered Pinecones
From Ella Claire
These pinecones are awesome and so versatile. You can use them to make a wreath, ornaments, and garland. Of course, you can just display them around your home as well.
Simply dip the pinecone into the glue and then roll it around in the fake snow. That's it. Easy huh?
DIY Stick Star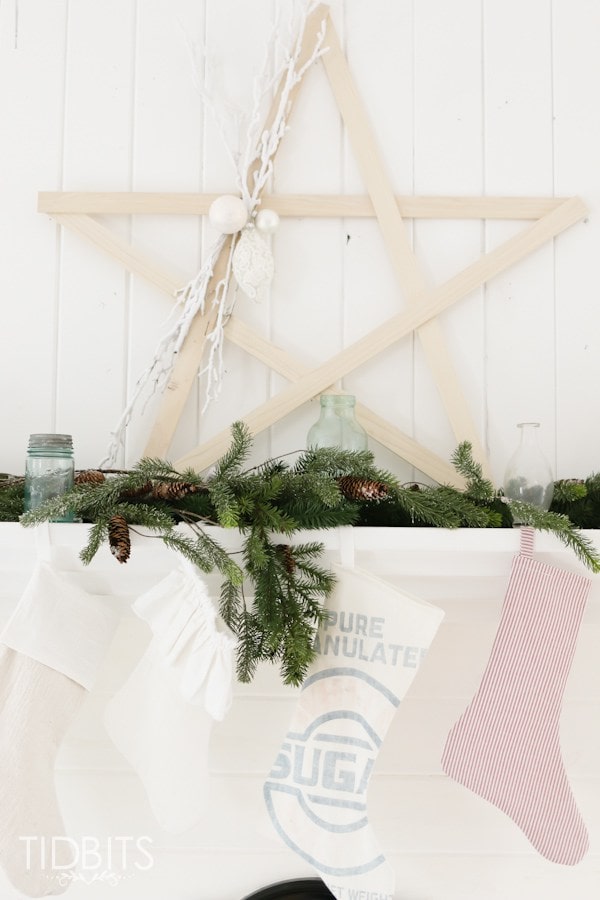 From Tidbits
For this DIY project, you will need some sticks (you can use paint stirring sticks), and a hot glue gun. This star will look great as a mantelpiece and can be customized with Christmas ornaments and branches.
---
I hope these Christmas decorations were helpful and gave you lots of great ideas to get your home ready for the holidays!
Enjoyed these DIY Christmas decorations? Then pin it for later!
Pin these DIY Christmas decorations to your Christmas Ideas or DIY Decor Ideas boards on Pinterest.
That way you can easily view them later!