There is no need to stress about what to make for dessert this Christmas. These Christmas trifle recipes are here to save the day.
Trifle is so easy to make and it always looks great – even with minimal effort.
30 Christmas Trifle Recipes To Make This Holiday Season
Below we've rounded up 30 delicious Christmas Trifle recipes you can try out this Christmas in order to impress all your friends and family.
Be sure to follow the links below to view the ingredients and directions.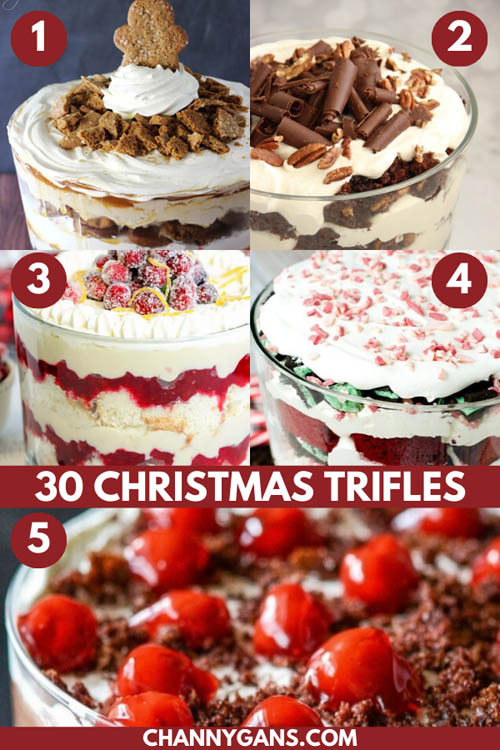 1. Gingerbread Cheesecake Trifle
This Gingerbread Cheesecake Trifle is the perfect no bake, easy and festive holiday dessert!
It has layers of thick gingerbread cookies, no-bake gingerbread cheesecake, caramel, and whipped cream.
Perfect for a crowd and all those holiday parties!
From: lifeloveandsugar.com
2. Chocolate Praline Trifle
A delicious dessert filled with layers of chocolate cake, praline pecans, and whipped cream make a perfect dessert for a crowd!
From: diaryofarecipecollector.com
3. Cranberry Trifle
This easy cranberry trifle features soft cake layered with sweet-tart cranberries and homemade custard.
This beautiful dessert is perfect for any time of year!
From: spendwithpennies.com
4. Peppermint Cheesecake Trifle
Red velvet cake layered with peppermint cream cheese filling, mint Oreos, Cool Whip and peppermint crunch candies fills this peppermint cheesecake trifle.
This festive, layered, holiday dessert will serve (and wow!) a crowd.
From: tastesoflizzyt.com
5. Black Forest Trifle
The layers in this Black Forest Trifle all combine into an amazing combination of chocolate and cherry and cream.
You get a double dose of chocolate from the chocolate cake and chocolate pudding.
Then a generous layer of sweet cherry pie filling and it is all topped with creamy whipped cream.
From: thenovicechefblog.com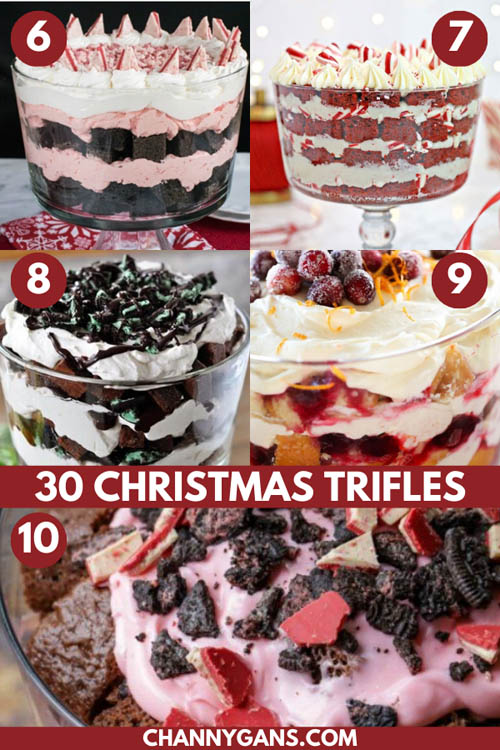 6. Peppermint Brownie Trifle
Layers of homemade brownies and a no-bake peppermint cheesecake make this Peppermint Brownie Trifle an impressive dessert to bring to holiday parties.
From: insidebrucrewlife.com
7. Red Velvet Trifle & Peppermint Cream Cheese Frosting
This Red Velvet Trifle with Peppermint Cream Cheese Frosting is a pretty, festive Christmas dessert!
It features cubes of gorgeous red velvet cake and lots of cream cheese frosting with candy cane bits.
From: sugarhero.com
8. Mint Brownie And Oreo Hot Fudge Trifle
Mint brownies are topped with luscious cream cheese mint whipped cream followed by mint Oreos and a very healthy drizzle of hot fudge sauce.
From: melskitchencafe.com
9. Cranberry Orange Cream Trifle
The secret about this trifle, the longer it sits in the fridge, the BETTER it gets.
The cake just sponges up all the amazing cranberry orange flavor and each bit is bursting with perfection.
From: chef-in-training.com
10. Christmas Trifle
This trifle is a delicious combo of chocolate cake pieces, Oreos, peppermint cheesecake filling, and Peppermint Andes.
It is cool, creamy and screams holiday goodness. It takes time to make, but it is still simple and great for upcoming holiday gatherings.
From: lilluna.com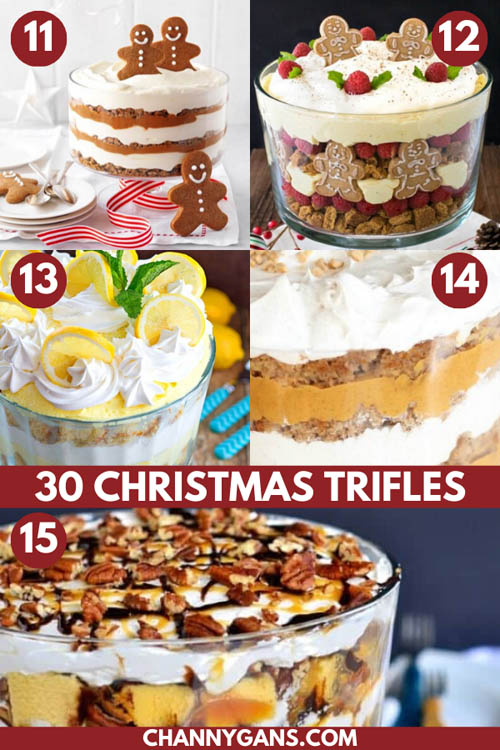 11. Gingerbread And Caramel Trifle
This gingerbread and caramel trifle takes only 25 minutes to make but needs a further 40 minutes to chill.
From: myfoodbook.com.au/
12. No Bake Eggnog Cheesecake Trifle
Add this No Bake Eggnog Cheesecake Trifle to your holiday party plans.
The layers of creamy cheesecake, crunchy cookies, and juicy berries will impress everyone as they dig in.
From: insidebrucrewlife.com
13. Outrageous Lemon Lovers Trifle
his outrageous lemon lovers trifle is a dessert filled with citrus deliciousness.
It starts with a lemony pound cake that's brushed with a lemon laced simple syrup.
The pound cake is layered with fluffy lemon cream and whipped cream then crowned with lemon slices. It's outrageously delicious!
From: melissassouthernstylekitchen.com
14. Pumpkin Butterscotch Spice Cake Trifle
This Pumpkin Butterscotch Spice Cake Trifle is an easy and elegant trifle with layers of pumpkin butterscotch pudding, cinnamon-spiced maple whip cream, and spice cake!
From: thegoldlininggirl.com
15. Turtle Cheesecake Trifle
This Turtle Cheesecake Trifle is filled with layers of caramel, chocolate, pecans, no-bake cheesecake, and delicious pound cake!
From: momontimeout.com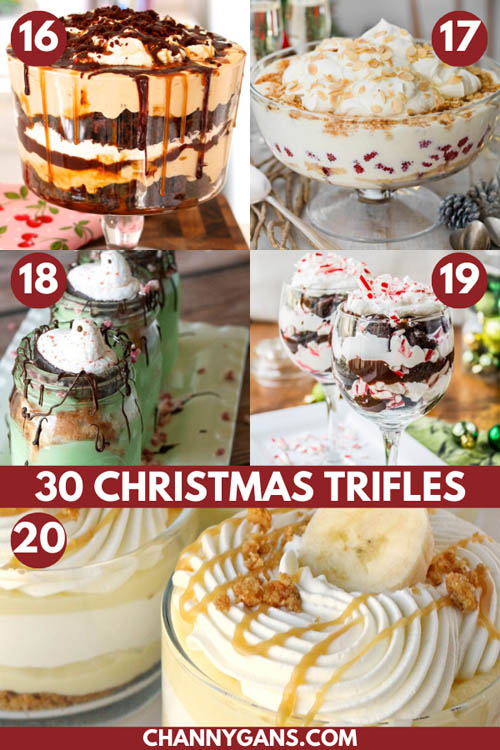 16. Salted Caramel & Chocolate Brownie Trifle Recipe
What better way to make a trifle recipe than to have loads of salted caramel and brownies?
It's an over-the-top recipe I hope you'll love with layers of homemade salted caramel sauce, fudge brownies, caramel mousse, whipped cream & a rich chocolate sauce.
From: biggerbolderbaking.com
17. Amaretti Trifle
The amaretti biscuits add a lovely texture and flavor to a classic trifle recipe.
It's a perfect boozy way to conclude your Christmas day feast.
From: olivemagazine.com
18. Pistachio Christmas Trifle
This recipe has simple, easy ingredients.
Jello pudding Pistachio Cake recipes are very low-key and take literally no skill in the kitchen to throw together.
From: allshecooks.com
19. Candy Cane Brownie Trifle
You can't get more decadent than brownies topped with Chocolate Peppermint Sauce and whipped cream.
This rich trifle is an impressive dessert to serve after Christmas dinner.
From: thefoodcharlatan.com
20. Banana Caramel Cream Dessert
This recipe starts with delicious homemade pastry cream, then fresh bananas, whipped cream, caramel sauce, and a graham cracker crust.
Each element is pretty tasty on its own, but when layered together they create a truly amazing dessert!
From: glorioustreats.com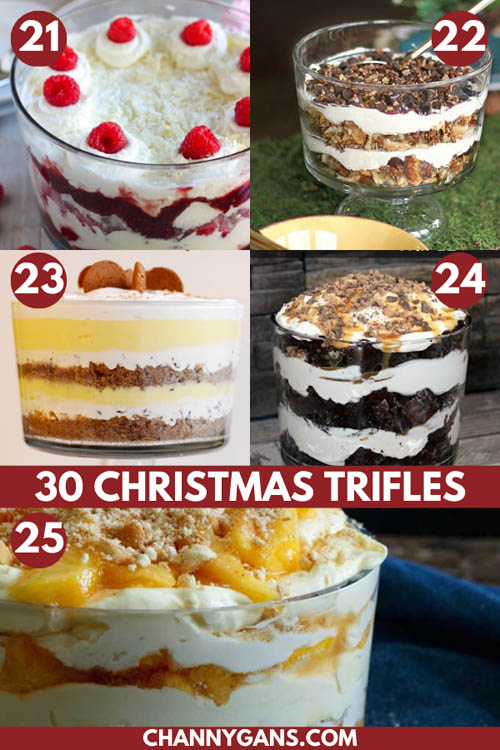 21. White Chocolate Raspberry Trifle
A White Chocolate Raspberry Trifle made from layers of cake, white chocolate mousse, whipped cream, raspberry jam, and fresh raspberries.
A beautiful and surprisingly easy dessert.
From: celebratingsweets.com
22. Pecan Pie Trifle
This Pecan Pie Trifle Recipe is an easy and delicious dessert to make for the holidays or any time you entertain.
A great fusion of pie and a layered trifle!
From: celebrationsathomeblog.com
23. Everything Christmas Trifle
This Everything Christmas Trifle has layers of Gingerbread Shortbread, EggNog Pudding, and Cheesecake to give it the taste of the holidays!
From: sprinklesomefun.com
24. Scoop of Heaven Trifle
This dessert is definitely not for the faint of heart!
You must be a dedicated lover of all things sweet to be able to survive this flawless combination of deliciousness.
With rich Devil's Food cake, smooth whipped cream, sweet caramel, and crunchy toffee…this Scoop of Heaven Trifle is simply perfection.
From: inspirationalmomma.com
25. Peach Vanilla Cheesecake Trifle
Quick and easy snacks and desserts are best, aren't they?
This Peach Vanilla Cheesecake Trifle is simple to whip up and will be sure to impress all your family and friends!
From: sharedappetite.com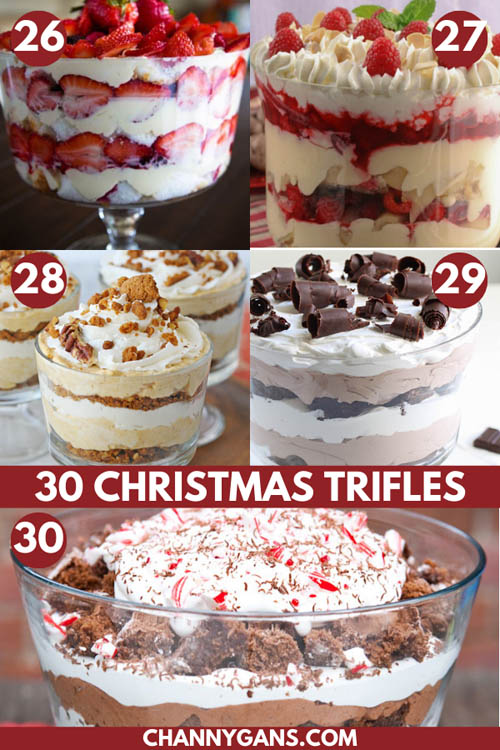 26. Mixed Berry and Angel Food Trifle
This Angel Food Berry Trifle is a no-bake cake and takes very little effort.
You can even use frozen berries for this cake when they are out of season and too expensive otherwise.
The flavors just zing and pop and wisp your taste buds; it's basically amazing.
From: natashaskitchen.com
27. English Christmas Trifle
This holiday trifle uses raspberries and poached pears, making it as delicious as it is beautiful.
From: whatagirleats.com
28. Pumpkin Cheesecake Trifle
This pretty treat starts with a simple, no-bake, pumpkin cheesecake filling, then is layered with a crunchy cookie crumble and fresh whipped cream!
From: glorioustreats.com
29. Chocolate Brownie And Mousse Trifle
This chocolate brownie and mousse trifle recipe is exactly what you want to make for all of your chocolate lovin' friends!
It feeds a crowd, has a very cool presentation, and is super easy using your favorite brownie mix and whipped topping.
From: fabfatale.com
30. Chocolate Peppermint Trifle
This recipe uses peppermint baking chips in the pudding part of the trifle and it is then garnished with crushed candy canes.
From: eclecticrecipes.com
Related Posts
Enjoyed these Christmas trifle recipes? Pin it for later!
Be sure to pin these Christmas trifles recipes to your Christmas Desserts board on Pinterest!