The best part of the time leading up to Christmas is decorating the Christmas tree! There are a lot of different ornaments available but it is more fun to make your own DIY Christmas ornaments.
Some of these DIY Christmas ornaments are quick easy and simple to make, and others are a little bit more time consuming. But either way, these ornaments will look great hanging in your tree this Christmas!
This post contains affiliate links.
Wine Cork Angels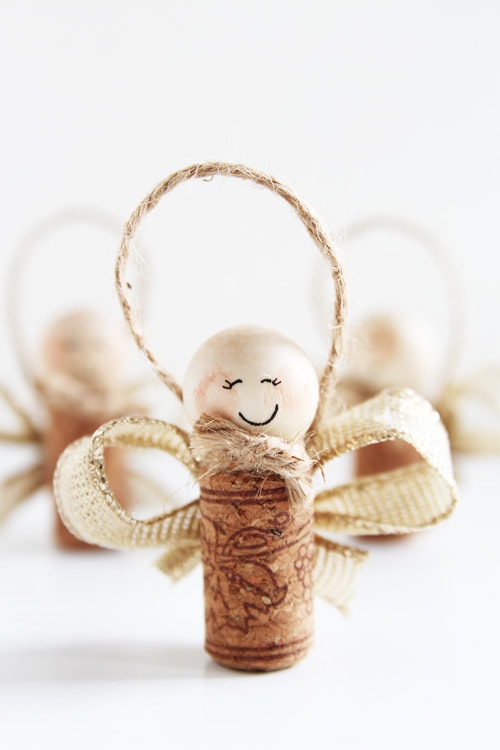 From One Little Project
Get some use out of all those wine corks you are saving. If you don't have any wine corks laying around you can easily get some from your local craft store.
These wine cork angels are very cute and are not at all difficult to make.
CD Mosaic Ornament
From Creme De La Craft
Make some sparkly ornaments from any old CD's that you no longer use. You will need glass ornaments, some CD's, ribbon (to stuff inside the ornament), a glue gun and scissors.
When choosing CD's make sure they are silver underneath instead of having a blue or purple tint. Just be careful when cutting the CD's since it is kind of difficult to cut them into small pieces.
Disney Princess Ornaments
From As The Bunny Hops
These cute ornaments are inspired by Disney princesses. You will need some clear plastic ornaments, glitter in different colors, and some acrylic finish or baby oil (this is to make the glitter stick to the inside of the ornament).
You can really get creative with these ornaments and use all of your favorite Disney princesses as inspiration!
Cinnamon Stick Trees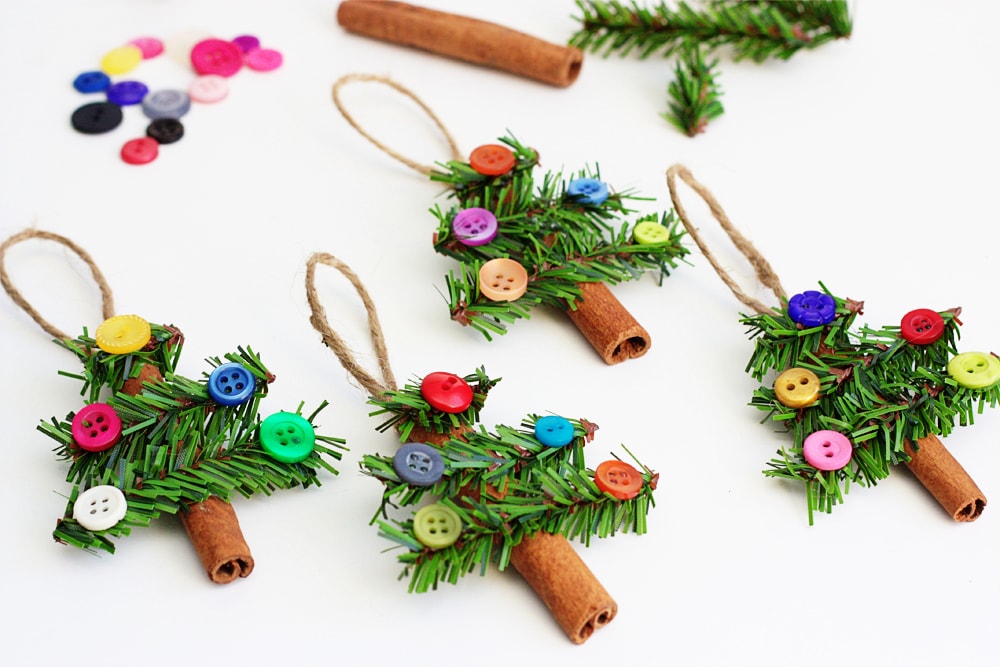 From Crafts Unleashed
Not only will these cinnamon stick trees look great on your tree – they will make it smell great too! For the actual tree you will need cinnamon sticks, pine garland (not too thick) and buttons.
The buttons add a fun pop of color to these tree ornaments.
Chalkboard Wooden Slices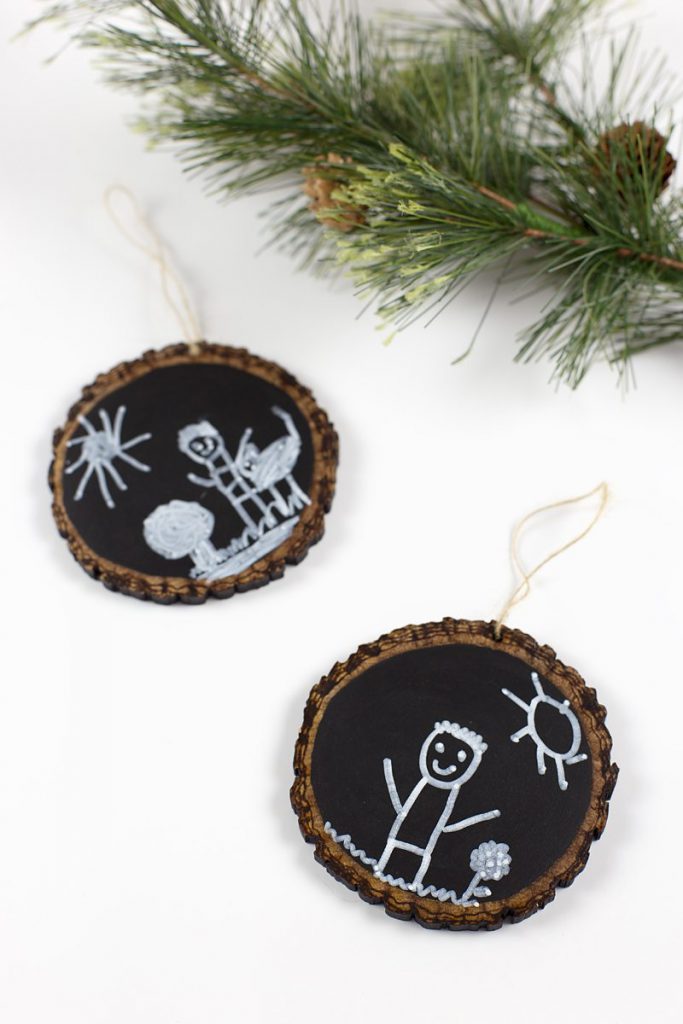 From Fireflies & Mud Pies
These chalkboard ornaments are super easy to do. Simply paint the chalkboard paint onto the wooden slice and wait for it to dry. Ta-Da, it is that easy. You are now free to draw or write on them with a chalkboard marker or regular chalk.
Let your kids do some nice drawings on them or write down the names of your family members.
You can get wood slices here.
Pom Pom Pinecones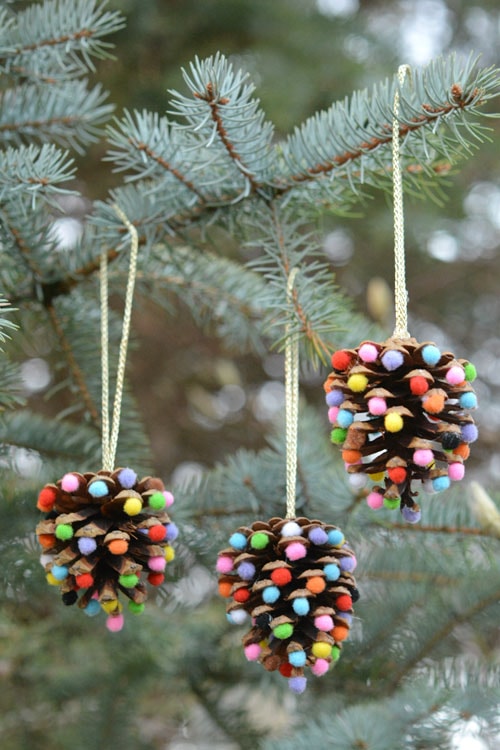 From One Little Project
If you want to make really ornaments that are really easy to make, definitely consider these.  You will need pinecones, tiny pom poms, string and a glue gun.
Use the glue gun to add a blob of glue to the underside of the pinecone "branch". Next stick the tiny pom pom onto the glue. Repeat the steps for the entire pinecone.
Unicorn Ornaments
From Posh Little Designs
Add some magic to your Christmas tree with these adorable DIY unicorn ornaments. You'll need some clear ornaments, glitter, glue, modelling clay, acrylic paint and a fine tip paint brush.
The modelling clay is used to create the horn and ears of the unicorn and the acrylic paint is used to paint them.
Snow Globe Ornament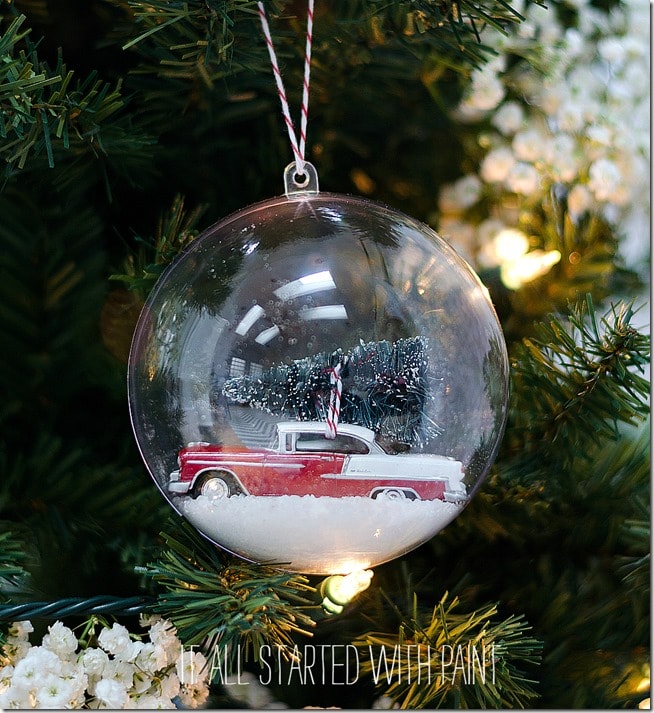 From It All Started With Paint
Snow globes are great for Christmas decorating, and they are great for decorating your tree as well. For these cool snow globes you will need large clear plastic ornaments, fake snow, a tiny tree and a tiny car.
Fill the ornament with some fake snow and add the little car and tree to complete the snow globe.
You can get artificial snow here.
Cinnamon Salt Dough Ornament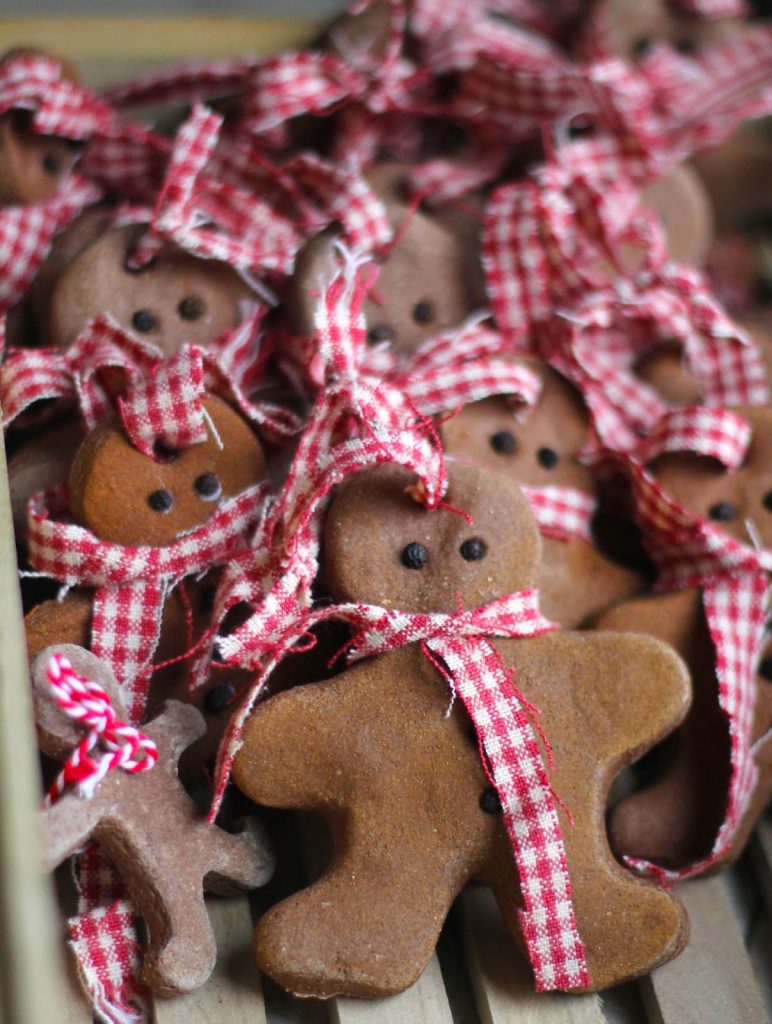 From Where Your Treasure Is
Salt dough is a great way to make inexpensive ornaments. It is also so versatile since you can basically make any shape or form. This is also a fun activity to do with kids or on your own.
When the dough is complete use a cookie cutter in the shape of a gingerbread man and then bake the ornament until it is hard. Be sure to use a toothpick to make a hole for the string before you bake the ornaments.
Ornaments Filled With Glitter Dust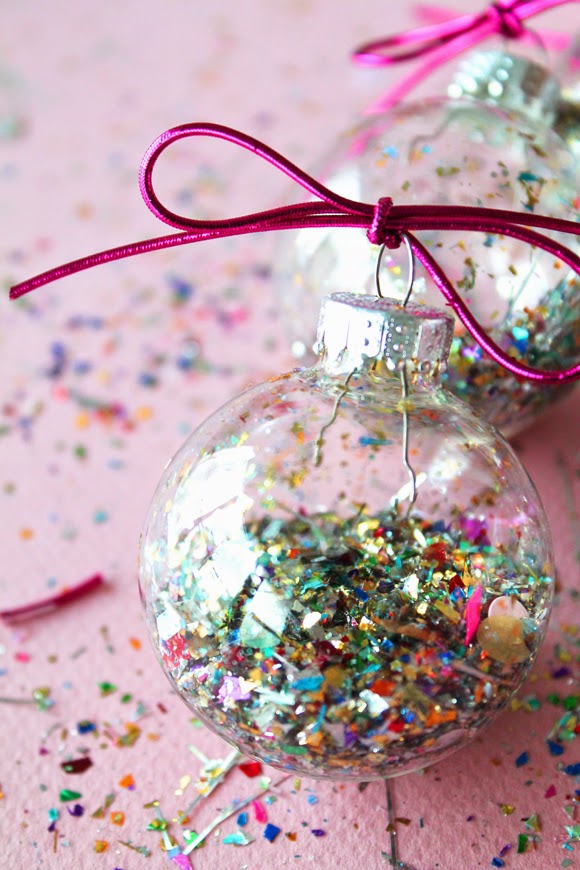 From The Vault Files
This one can get a little messy but it looks fantastic. You will need some clear ornaments, ribbon, glitter dust, confetti, and a sparkly garland.
Simply fill the clear ornament with the glitter dust, confetti and cut up garland. Be sure to use a funnel in order to avoid a glittery mess.
You can get clear plastic ornaments here.
---
I absolutely love all of these DIY Christmas ornaments. They just make your Christmas that much more personal and magical.
If you are still looking for ideas on how to decorate your home for Christmas, be sure to check out this post for DIY Christmas decorations.