If you have family or friends who love to bake then this baker gift guide is for you! I've collected some cool and useful items that any baker will love and appreciate – all in one place.
*This post contains affiliate links. See the affiliate disclaimer here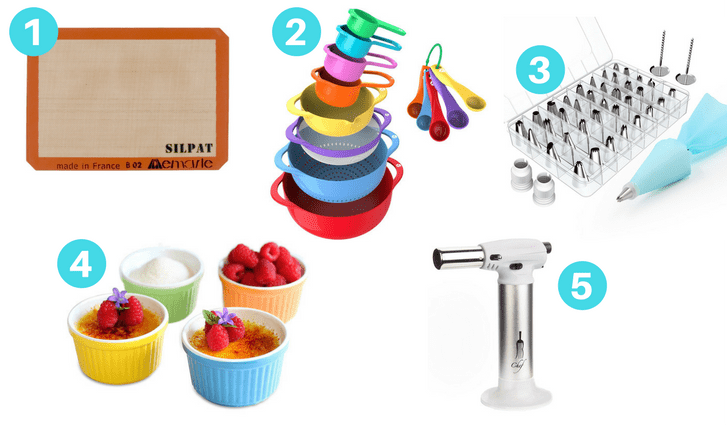 1.  Silpat Non-Stick Silicone Baking Mat — This mat is super handy and turns any pan into a non-stick surface. By using this silicone mat NO butter, grease or oil is needed. This saves a lot of time cleaning up!
2. 13 Piece Mixing Bowl Set — This awesome set is such a great gift because it contains so many items! It has mixing bowls, measuring cups, measuring spoons, a colander and a sifter. And it is all stackable so it will save a ton of space. And they look pretty cool too.
3. 42 Piece Cake Decorating Supplies Kit — This is go to for all of those who love cake decorating.  It comes with reusable silicone pastry bags and a whole variety of icing tips. What makes it even better is that all of the tips come in a container so they won't get lost easily.
4. Colorful Ramekins —  Why have boring white ramekins when there are cute colorful ones? These colorful ramekins will be a great addition for any baker and they dishwasher save.
5.  Kitchen Blow Torch —  blow torch = creme brulee! Pair this with the cute ramekins above and you are set.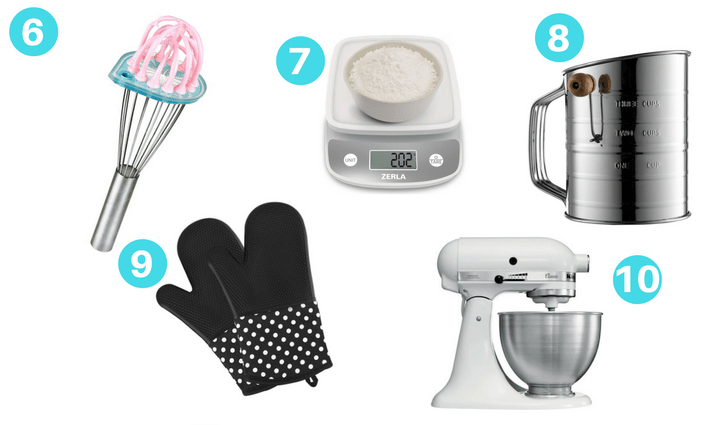 6. Whisk Wiper  —  How cool is that! A whisk wiper can be used to clean a whisk and even a bowl in mere seconds. This nifty tool allows you to use all of the batter and let nothing go to waste.
7. Digital Scale —  Sometimes a digital scale is needed to get accurate measurements. This scale can easily change measuring units and can be used for liquids and dry ingredients. Win!
8. Stainless Steel Sifter —  Baking is made a lot more easier with sifter. It can hold up to 3 cups of flour or any dry ingredient, which won't get stuck in the sifter during sifting.
9. Silicone Oven Mitts —  I know I'm always looking for durable oven mitts and these are it. They are heat resistant up to 572 °F and have a strong grip.
10. KitchenAid Classic Stand Mixer —  This kitchen staple will last for years and is raved about by just about everyone.
Pin For Later