Cupcakes are one of my favorite desserts. They are easy to make and are a perfect size. These Christmas cupcakes are so much fun to make this holiday season, as they are delicious and look absolutely amazing.
28 Christmas Cupcakes To Make This Christmas
We've rounded up 28 creative Christmas cupcake you can try this year.
To view the full instructions for any of these Christmas cupcakes, please follow the links below.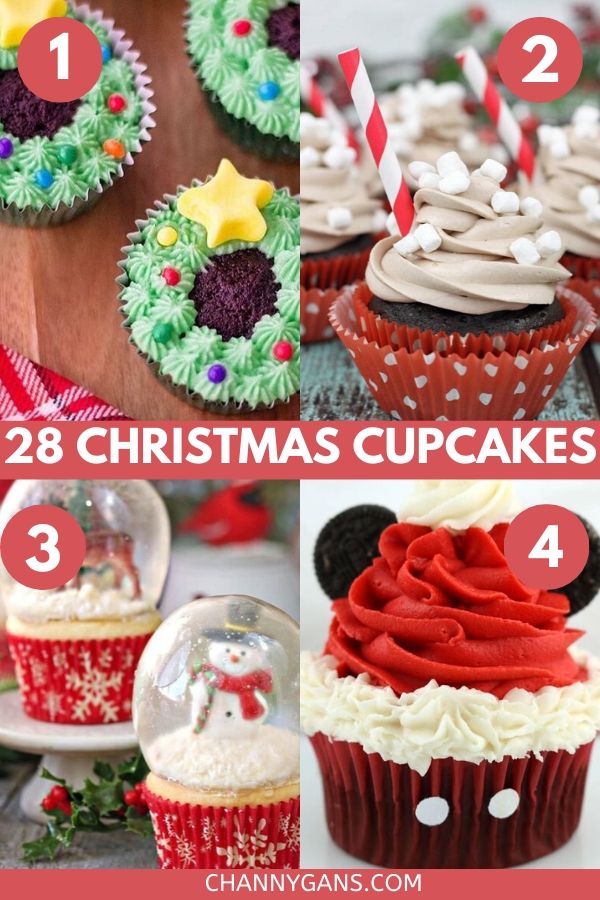 1. Christmas Wreath Cupcakes
Christmas Wreath Cupcakes are a sweet treat everyone will love this merry season.
They're a festive addition to any holiday party and make a great edible gift.
From: onionringsandthings.com
2. Hot Cocoa Cupcakes
It's hard to beat a great cup of hot cocoa, and it's hard to beat a great cupcake. But combining the two is pure heaven.
From: momtastic.com
3. Snow Globe Cupcakes With Gelatin Bubbles
These gorgeous Snow Globe Cupcakes are topped with edible gelatin bubbles.
That's right–you can eat both the cupcakes AND the globe! They look so amazing and impressive, and are perfect for the holidays!
From: sugarhero.com
4. Mickey Mouse Santa Hat Cupcakes
These cupcakes are super simple to make and you can use chocolate cake mix!
From: twosisterscrafting.com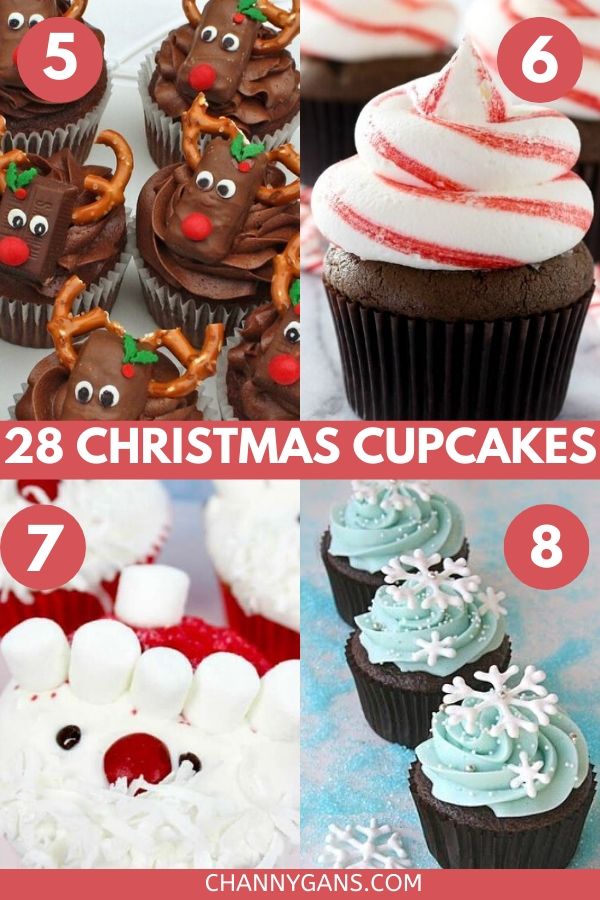 5. Reindeer Cupcakes
These CUTE and easy Reindeer Cupcakes are so simple and fun for the holidays!
We're combining mini candy bars, sprinkles, and pretzels into the most adorable reindeer candy bar cupcake toppers.
From: mycakeschool.com
6. Chocolate Candy Cane Cupcakes
Moist chocolate candy cane cupcakes with striped peppermint buttercream frosting.
A festive dessert for Christmas and all winter long!
From: bakedbyrachel.com
7. Funky Father Christmas Cupcakes
I really do hope you like these Father Christmas cupcakes and enjoy decorating these cupcakes for the kids, with the kids or for an upcoming Christmas party.
From: theinspirationedit.com
8. Snowflake Cupcakes
These are Chocolate cupcakes with Vanilla Cream Cheese frosting, made extra special with some royal icing snowflakes.
From: glorioustreats.com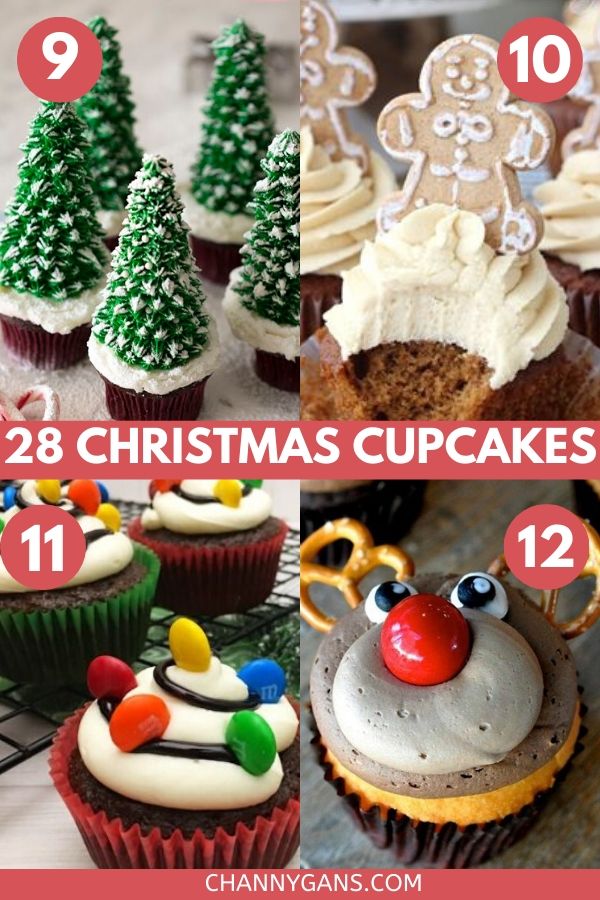 9. Christmas Tree Cupcakes
Rich, moist chocolate cupcakes topped with easy to make and quite festive Christmas trees made from ice cream cones, some buttercream and a dusting of powdered sugar for snow!
From: preppykitchen.com
10. Gingerbread Cupcakes With Caramel Molasses Cream Cheese Icing
These Gingerbread Cupcakes are some of my moistest cupcakes and they are topped with my new favorite icing.
The cupcake is light and fluffy and the icing is a mix of some awesome flavors – caramel, molasses, and cream cheese! Yum!
From: lifeloveandsugar.com
11. Christmas Light Cupcakes
This Christmas cupcake idea is relatively quick and (thanks to that store-bought cake mix) easy.
From: freebiefindingmom.com
12. Adorable Rudolph the Reindeer Cupcakes
These reindeer cupcakes are just adorable for Christmas.
From: craftymorning.com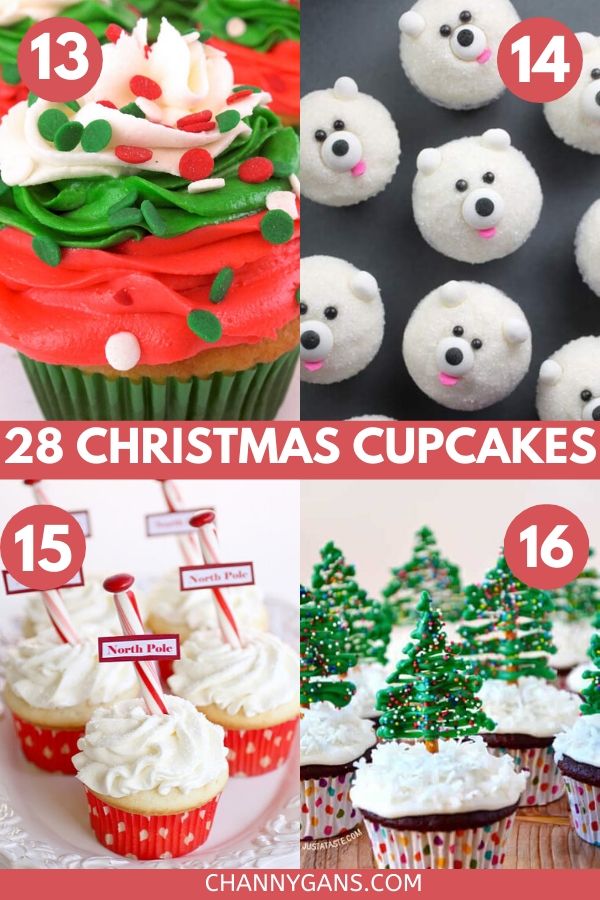 13. Christmas Swirl Cupcakes
These cupcakes use delicious buttercream frosting dyed different colors to create a beautiful swirl.
From: twosisterscrafting.com
14. Mini Polar Bear Cupcakes
Now, I love these. They'd be super cute served at a winter wonderland party.
From: bakerella.com
15. North Pole Cupcakes
These North Pole Cupcakes are simple and easy Christmas cupcakes that are so festive!
From:  the-girl-who-ate-everything.com
16. Chocolate Christmas Tree Cupcakes
These cupcakes have edible cupcake toppers made with pretzels, candy melts and your choice of sprinkles.
From: justataste.com
17. Santa Hat Cupcakes
Here is another fun Christmas Cupcake decorating idea!
These Santa Hat Cupcakes really easy to pull off, even with minimal piping skills making them a great option for just about anyone!
From: frugalmomeh.com
18. Sweet Snowman Cupcakes
The heads of these snowmen consist of powered donuts rolled in icing sugar.
The hats are made of waffle cones.
From: bakerella.com
19.  Christmas Cupcake Wreath
This Christmas wreath is made with cupcakes!
This is a pull-apart cake made with lots of yummy cupcakes.
From: thecakeblog.com
20. Grinch Who Stole Christmas Cupcakes
The Grinch Who Stole Christmas Cupcakes, complete with a heart inside. They say his heart grew three sizes that day.
From: bakedbree.com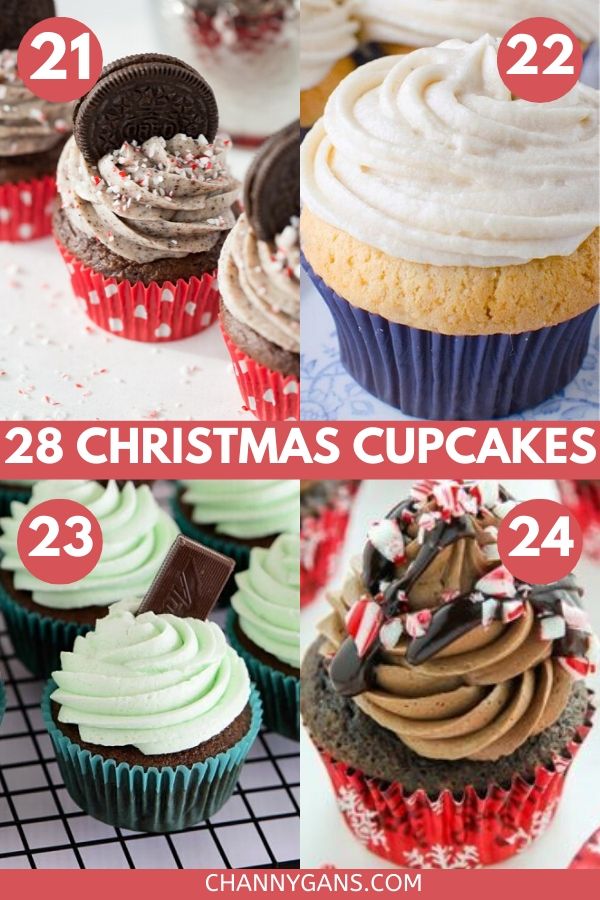 21. Candy Cane Oreo Cupcakes
These Chocolate Candy Cane Oreo Cupcakes are the perfect combination of cookies and Christmas!
Let's be honest, Oreos go with just about anything but adding the candy cane crunch is just what Santa wants for Christmas!
From: yourcupofcake.com
22. Eggnog Cupcakes
With an eggnog cake and eggnog frosting, Eggnog Cupcakes is one Christmas cupcake recipe that is tasty all over – yet not too strong and overwhelming.
From: myorganizedchaos.net
23.  Andes Mint Cupcakes
Andes Mint Cupcakes are the best homemade chocolate cupcakes topped with thick and creamy mint frosting.
These cupcakes taste just like the Andes mint candy!
From: bakedbyanintrovert.com
24. Peppermint Mocha Chocolate Cupcakes
Supremely moist and decadent chocolate cupcakes topped with peppermint mocha frosting, a drizzle of chocolate ganache, and crushed candy canes.
Can you think of a sweeter way to kick off the holiday season?
From: bakerbynature.com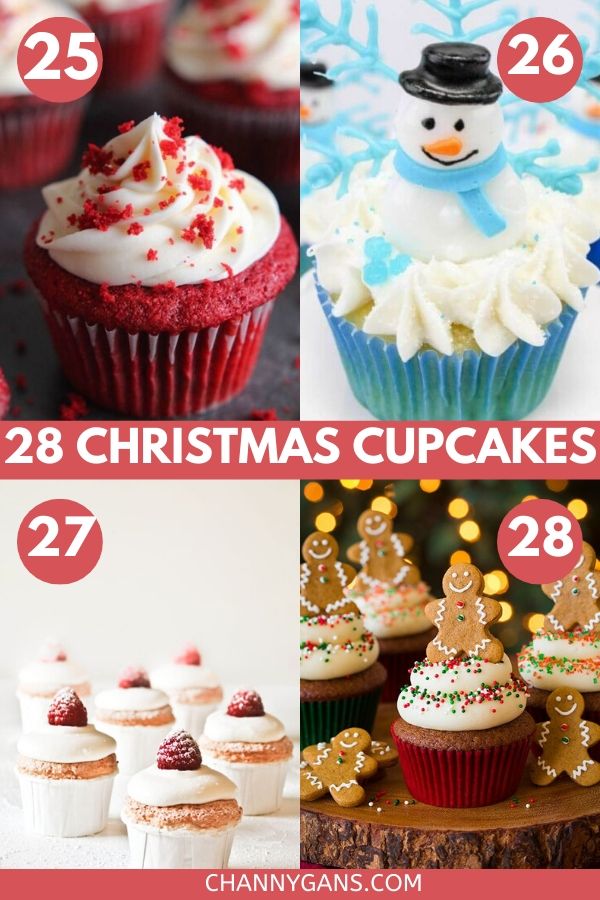 25. The Best Red Velvet Cupcakes
The BEST Red Velvet Cupcakes are a light cake with a beautiful red color and a slight chocolate flavor with a little tang from the buttermilk.
They are perfectly moist and topped with cream cheese frosting.
You will agree that these are the best!
From: therecipecritic.com
26. Winter Snowman
Baking with kids can be such fun and making fun and cute Christmas party food buns can be a great activity to get the kids baking, having fun and enjoying the winter season.
From: theinspirationedit.com
27. Snow Angel Cupcakes
Angel food cake is one of my all time favorites. It's light and sweet and totally unexpected around the holidays.
The greatest thing about these cupcakes? They look impressive but they could not be easier to make.
From: thecakeblog.com
28. Gingerbread Cupcakes with Cream Cheese Frosting
These cupcakes are so festive and they are packed with that irresistible gingerbread flavor!
Plus, when you pair the flavor of gingerbread with a decadent cream cheese frosting you know good things are bound to happen.
From: cookingclassy.com
Related Posts
Enjoyed these Christmas Cupcakes? Then pin it for later!
Be sure to pin these Christmas cupcakes to your Christmas Cupcakes or Christmas Desserts boards on Pinterest!