If you are looking for something to satisfy your sweet tooth or looking for a sweet treat to gift to someone, these fantastic fudge recipes are for you!
Fudge is just a great dessert since you can customize it however you like!
25 Delicious Fudge Recipes
Below we've rounded up 25 recipes for fudge.
To view the full recipe and directions for any of these fudge recipes, please follow the link below the picture.
1. White Chocolate Caramel Fudge Recipe
Looking for holiday fudge recipes?
Look no further than this beautiful & delicious 7 ingredients white holiday fudge recipe!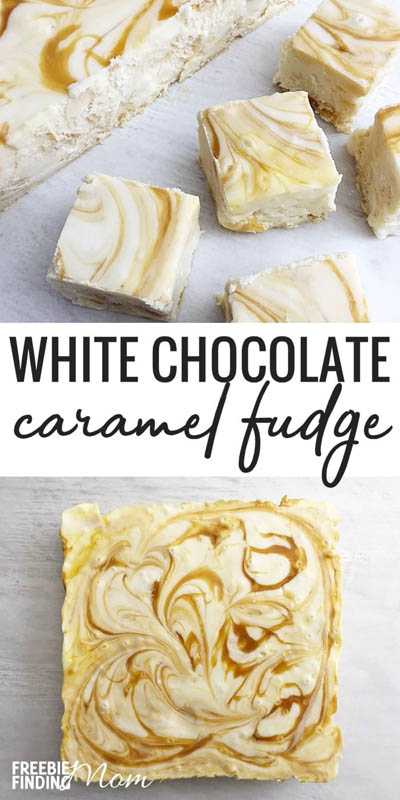 From: freebiefindingmom.com
2. Unicorn Fudge
This easy unicorn fudge is super simple to make!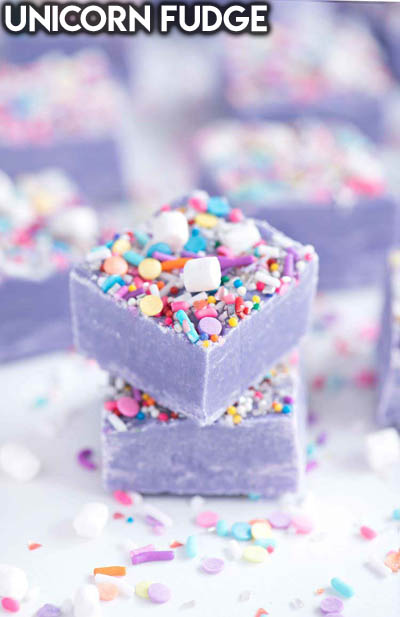 From: sprinklesforbreakfast.com
3. Baileys Fudge With Caramel And Vanilla Bean
This boozed up Baileys Fudge Recipe has the perfect balance of vanilla bean, white chocolate and Irish cream with a sweet caramel swirled in!
This vanilla fudge is easy to prepare and turns out super creamy.
From: tidymom.net
4. Easy Fireball Fudge Recipe
This easy Fireball Fudge Recipe is the perfect recipe to make for the holidays or anytime!
An easy fudge recipe made with condensed milk and a few other ingredients that are perfect for the cinnamon whiskey lover in your life!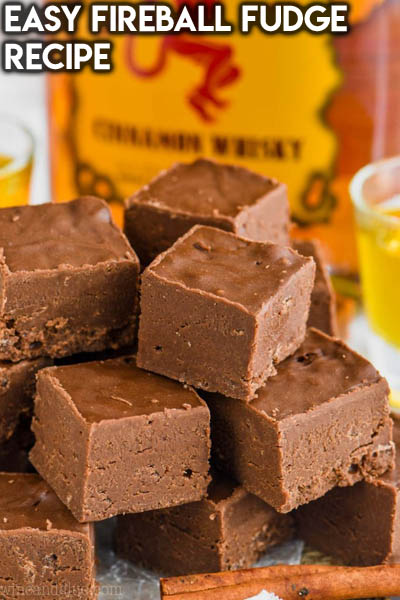 From: wineandglue.com
5. Easy White Chocolate Cranberry Fudge
This White Chocolate Cranberry Fudge is made with sweetened condensed milk and dried cranberries!
With beautiful Christmas colors, this super easy and quick dessert is a great treat for the busy holiday season!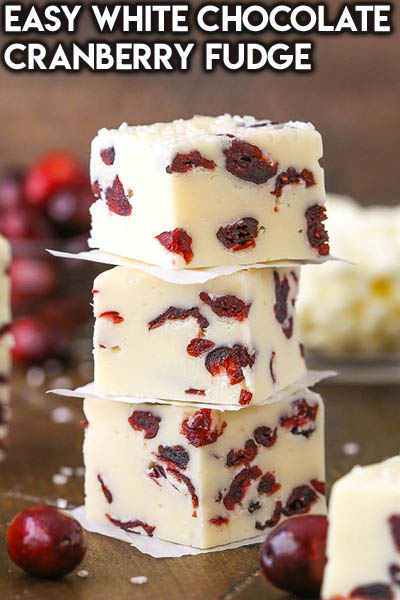 From: lifeloveandsugar.com
6. Rocky Road Fudge
Rocky Road Fudge is a good fudge recipe to make for the holidays and add to holiday treat platters.
It also makes a nice fudge for gifting to friends and relatives.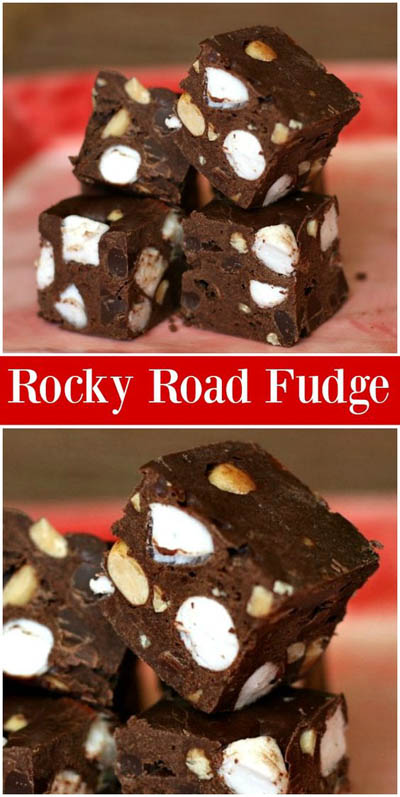 From: recipegirl.com
7. Simple Orange Cranberry Pistachio Fudge
Mildly sweet, beautifully festive, and bursting with the fresh flavor of citrus.
Simple Orange Cranberry Pistachio Fudge is a wonderful addition to your Holiday table.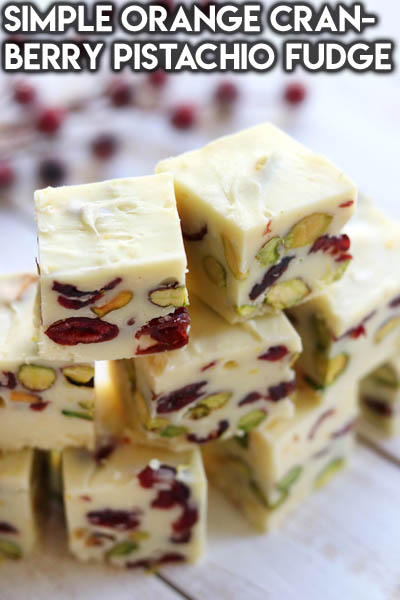 From: thefedupfoodie.com
8. Caramel S'mores Fudge
This easy Caramel S'mores Fudge is loaded with marshmallows, graham crackers, and chocolate.
It makes a great treat to package up and gift to friends and family.
From: insidebrucrewlife.com
9. Butter Pecan Fudge
This butter pecan fudge is extra creamy with a deliciously sweet, buttery flavor.
Toasted pecans give it a nutty flavor and add tons of texture.
It only takes 20 minutes to make, and it makes a great gift too!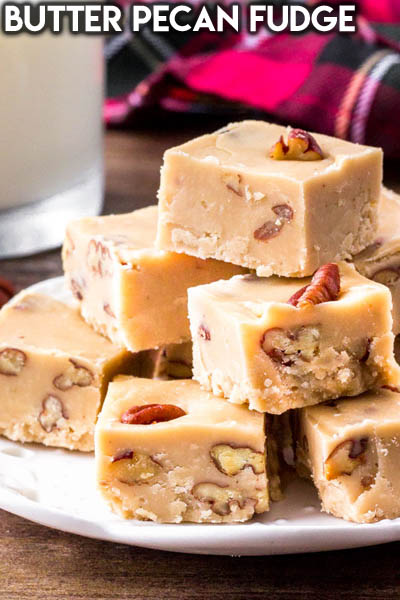 From: justsotasty.com
10. 2-Ingredient Strawberry Fudge Recipe
Make this yummy 2 ingredient strawberry fudge for a Valentine's Day treat!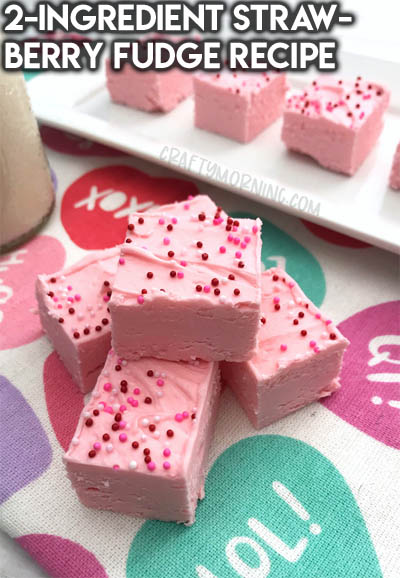 From: craftymorning.com
11. Caramel Rolo Fudge
Simple, easy, and utterly delicious 4 ingredient caramel rolo fudge!
No sugar thermometers, no boiling, just quick & easy!
From: janespatisserie.com
12. Christmas Fudge Recipe
Chocolate chips, mini marshmallows & M&M holiday bits make your Christmas Fudge recipe mouthwatering and your friends and family will love it.
From: plumcrazyaboutcoupons.com
13. Caramel Coffee Fudge
Caramel and coffee layers come together in a fun new fudge recipe.
This Caramel Coffee Fudge is perfect for making and eating when you need a special treat.
From: insidebrucrewlife.com
14. Cookies And Cream Fudge
Only 4 ingredients needed for this insanely delicious Cookies and Cream Fudge.
It is loaded with chopped Oreo cookies for a holiday treat the kids will love!
From: spicysouthernkitchen.com
15. Maple Nut Fudge
This Creamy Maple Nut Fudge is a breeze to make!
Crunchy toasted walnuts add amazing texture and flavor to this decadent fudge!
From: momontimeout.com
16. Key Lime Pie Fudge
A quick and tasty recipe for fudge with all the flavors of a Key Lime Pie.
This easy recipe requires no candy thermometer and is ready to eat in under ninety minutes!
From: anniesnoms.com
17. Salted Caramel Millionaire's Fudge
This Salted Caramel Millionaire's Fudge recipe is inspired by the popular Millionaire's Shortbread.
Replacing the shortbread is a layer of dark rich fudge, topped with salted caramel, and finished with a layer of semi-dark chocolate.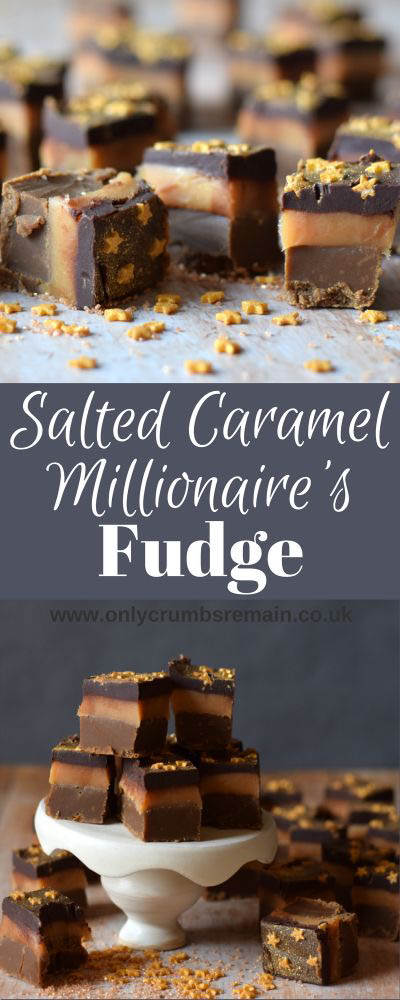 From: onlycrumbsremain.co.uk
18. White Chocolate Reese's Peanut Butter Cup Fudge Bites
If you need a holiday treat that will impress your friends and family you need to try these White Chocolate Reese's Peanut Butter Cup Fudge Bites!
They are easy to make, use a few simple ingredients and will be a huge hit at all of your parties this year!

From: thebestblogrecipes.com
19. Blueberries And Cream Fudge
This amazing blueberries and cream fudge is a creamy white chocolate fudge swirled with sweet blueberry sauce throughout.
It's made in the microwave and only 7 ingredients!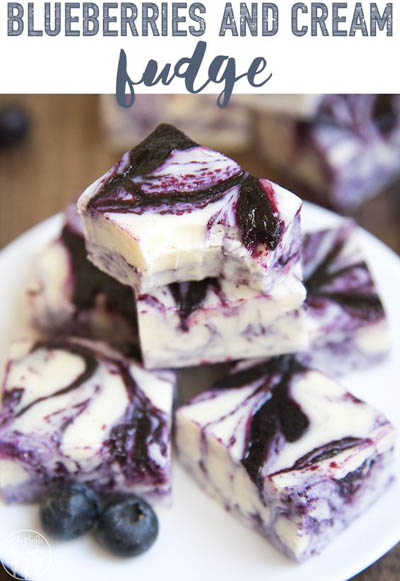 From: lmld.org
20. Cookie Monster Fudge
Smooth and creamy fudge packed with chocolate chip cookies and Oreo cookies.
Oh– and it's BLUE! Just like Cookie Monster.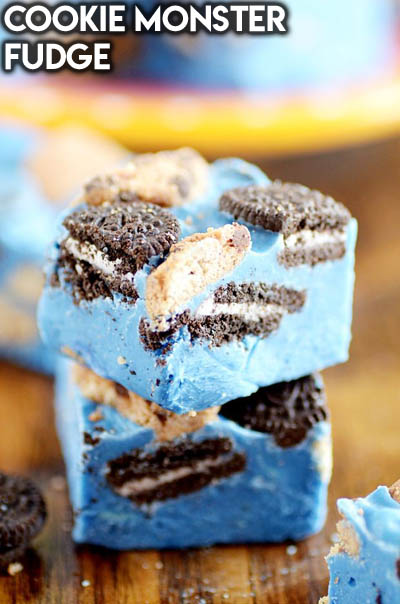 From: somethingswanky.com
21. Mint Oreo Fudge
Mint Oreo fudge loaded with chopped mint Oreo cookies in a smooth & creamy white chocolate fudge.
Takes just minutes to prepare! Cut into small pieces and serve a crowd or give plates to your neighbors for a delicious Christmas treat.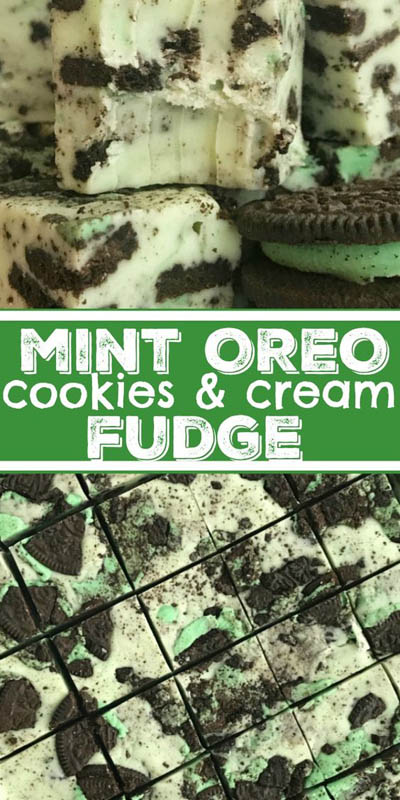 From: togetherasfamily.com
22. Bailey's Strawberries & Cream Fudge
Easy, five ingredients bailey's strawberries & cream fudge!
From: janespatisserie.com
23. Triple Chocolate Turtle Fudge
This decadent Triple Chocolate Turtle Fudge features three different types of chocolate and an ooey, gooey caramel center that is hard to resist!
Great for gift giving and the holidays!
From: momontimeout.com
24. Orange Creamsicle Fudge
This Orange Creamsicle Fudge tastes like a childhood summer day.
It tastes like the Orange Creamsicle Bars, that the ice cream truck would sell.
You have to try this delicious fudge. You won't regret it.
From: sixsistersstuff.com
25. Salted Caramel Fudge
This Salted Caramel Fudge is a smooth and creamy easy caramel fudge with a sea salt topping.
Fudge is also perfect for food gifts.
From: sugarsaltmagic.com
Enjoyed these fudge recipes? Then pin it for later!
Pin these fudge recipes to your Dessert Ideas or Recipes boards on Pinterest.
That way you can easily view them later!