It is always a great feeling when your home is neat and organized – especially the kitchen.  Sometimes it can get a little crazy in the kitchen while you are busy cooking and can't find the things you are looking for. But fear not, I have you covered with these kitchen organization ideas.
Here you will get great hacks and tips to organize your entire kitchen, and hopefully keep it that way. Lets begin.
Quick note – this post may contain affiliate links. See the affiliate disclaimer here.
Use any wasted side spaces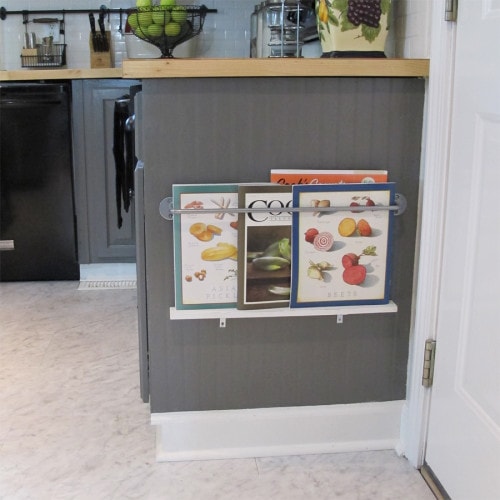 From WhiteTulipDesigns
Use some of the wasted side space of cabinets to keep your cookbooks organized.
Use a pan organizer rack
From Amazon
You can easily get an adjustable rack here to fit both pots and pans, or this one that you can install vertically or horizontally.
File your water bottles
From BetterHomesAndGardens
Easily store your water bottles by using a magazine holder.
Create magnetic spice jars
From OneLuckyPickle
You can easily stick them onto the side of your fridge.
Use a pegboard as a wall organizer
From ApartmentTherapy
Use pegboard hooks to store basically anything on your DIY pegboard wall.
Keep your fridge clean and organized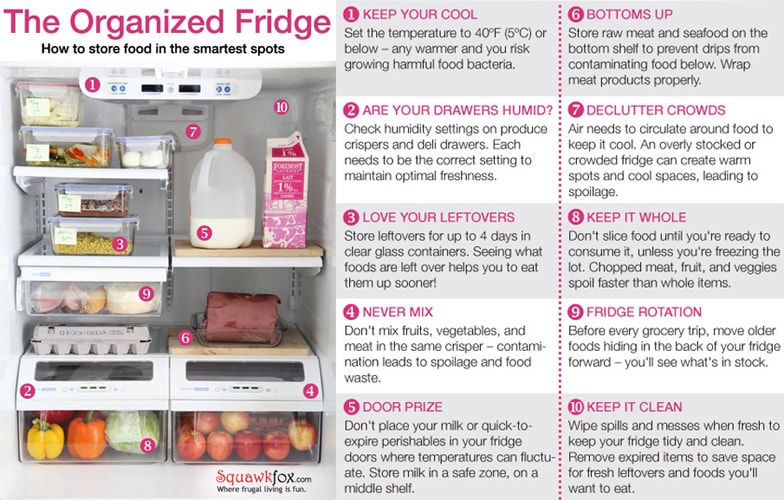 From SquawkFox
This is a great guide on where to store what in your fridge.
Have a central space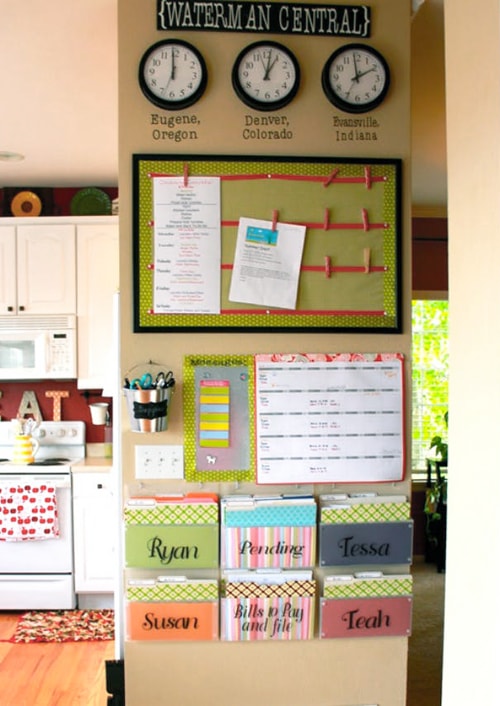 From AchievingCreativeOrder
Having a central space to keep calendars, notes, clocks and reminders will keep your counter-tops clear.
Use the space under the sink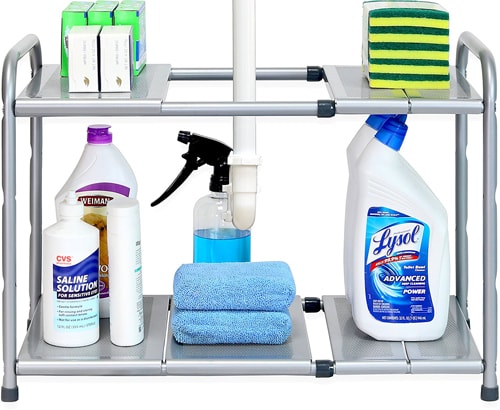 From Amazon
You can easily get an under the sink expandable organizer rack here.
Use book bins to divide Tupperware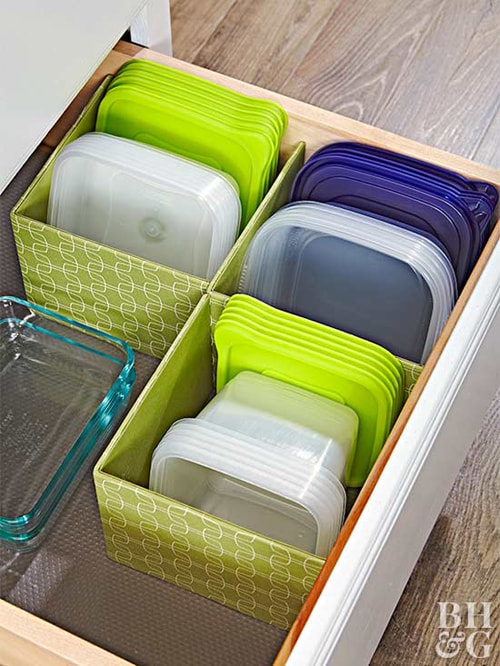 From BetterHomesAndGardens
Tupperware is always a pain to store – for me anyway. With these book bins you can easily divide and store your Tupperware.
Make a DIY utensil organizer
From KevinAndAmanda
This cheap and easy DIY will drastically improve your utensil drawer.
Use vertical storage for mugs
From AFarmHouseReborn
Organize and show off your coffee mugs with this DIY vertical storage.
Build a canned food organizer
From ClassyClutter
This organizer can easily slide in next to your fridge to maximize space in your kitchen.
---
Now that you have all of these great kitchen organization ideas what are you waiting for? Get to organizing.
If you have any other genius kitchen organization ideas that are not included, feel free to let me know in the comments.
For more organization ideas, tips, and tricks check out these posts:
---
Pin these kitchen organization ideas for later!