You go grocery shopping and get home and stuff all your purchases in the pantry without a second thought. Later in the week you want to make some yummy pasta and you could have sworn you bought penne but you cant find it anywhere. Sound familiar? That is why you need these pantry organization ideas in your life.
The pantry is normally the most storage you have in a kitchen and unfortunately it can become messy quite fast.  That is why I've rounded up 10 brilliant pantry organization ideas just for you – so you can get your kitchen organized easily.
Add a Lazy Susan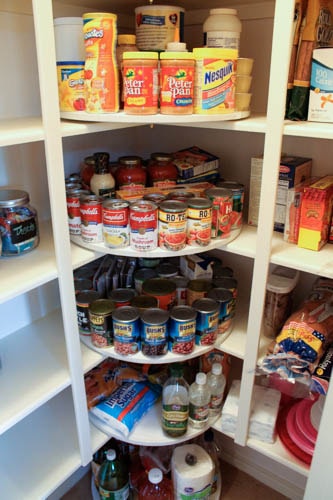 From Decor Chick
Ah the good old lazy susan. This rotating , turntable system is a must have for storage in any pantry. If you have any hard-to-reach corners in the pantry the lazy susan will help you out.
Since this is used only in corners it won't take up that much space. But it will actually create more space in your pantry.  Get ready to be able to reach any items way back in the corner – simply rotate your lazy susan and there you have it.
You can DIY your own lazy susan or go ahead and buy one to install.
Use Clear Containers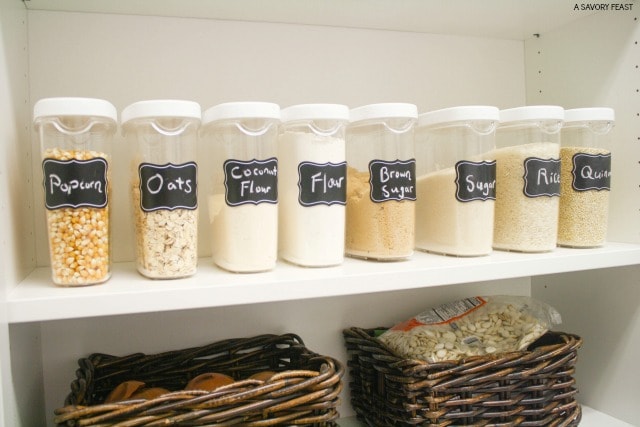 From A Savory Feast 
Clear containers are great for storing any dry goods such as sugar, flour, cereal and rice. Add some chalkboard labels to the containers so you'll be able to label them easily.
Go for skinny and tall containers that you can pack close to each other in order to fit more on the shelf. Not only will this help you save some space in the pantry – it looks beautiful too!
Organize Cans
From Honeybear Lane
Canned food is always difficult to store in a pantry. I always stack them on top of one another and hope for the best. You can of course store them in a lazy susan like I mentioned above or go for something else – like a wire rack or bin.
Wire racks are great for storing any canned goods since you will be able to see exactly what you have and you can rotate them easily. You can stack a bunch of racks on top of each other to save space.
Storage Bins for Like Items
From HGTV
A great idea for organizing your pantry is to store like items together. Get some inexpensive storage bins, label them and use them to store all the items of a similar category.
You can have a storage bin for baking that contain all the items you normally use when you bake. You can also have a storage bin dedicated to all dry pasta products.
By making use of this storage system you won't ever have to go looking for something – you will know exactly where everything is.
Hanging Storage Bins
From Lil Blue Boo
Use up any open wall space in your pantry by hanging some storage bins. These storage bins will works great as a snack station for kids – just be sure to hang them low enough.
Make sure to label them with chalkboard labels.
Use a Door Rack On The Inside of Your Pantry Door
From Amazon
The back of a door is usually wasted space,but it doesn't have to be. An adjustable rack will work perfectly on the back of the pantry door and will free up a lot of space.
You can use it to store basically anything – from snacks to cereal and canned goods. And since it is adjustable you will be able to easily customize it to your needs.
Use Under Shelf Storage Baskets
From Amazon
These storage baskets or racks easily slip onto a shelf and can create some extra space to store small items. This will be ideal to store bread, cans, packets or even pasta boxes.
---
There is no need to have a struggle every time you open the pantry door, fearing cans will fall out onto you. With these pantry organization ideas you will have your pantry decluttered in no time!