To me, nothing is worse than a messy car, if you feel the same then you need to check out these car organization ideas ASAP!
And really, it's not THAT hard to keep such a relatively small space organized, is it? Well actually, I guess it can be difficult, especially if you have lots of small things just lying around with no place of their own.
Sometimes my car is filled with random receipts and flyers someone handed to me – but no more! If you use some of these car organization ideas in your car you will have a neat and organized car in no time!
10 Awesome Car Organization Ideas You Need To Try ASAP
1. Use a cereal dispenser as a trash can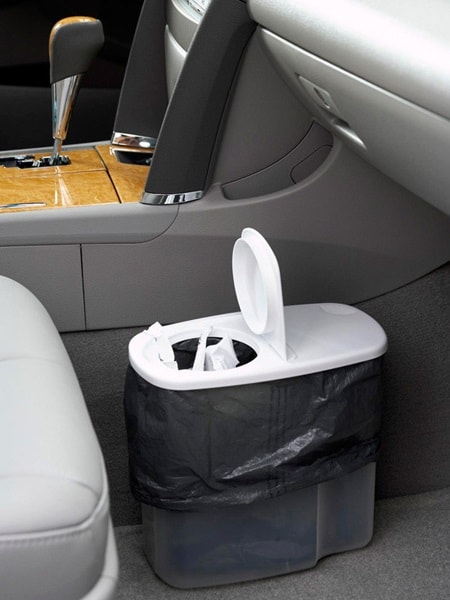 From Better Homes & Gardens
If you have any old cereal dispensers lying around this a great way to make use of them!
You can easily convert a plain cereal dispenser into a trash can for your car.
And you will only need two things to do so – the dispenser and a plastic bag, how easy is that.
Now you have no more excuse to not have a tidy car.
2. Organize the trunks space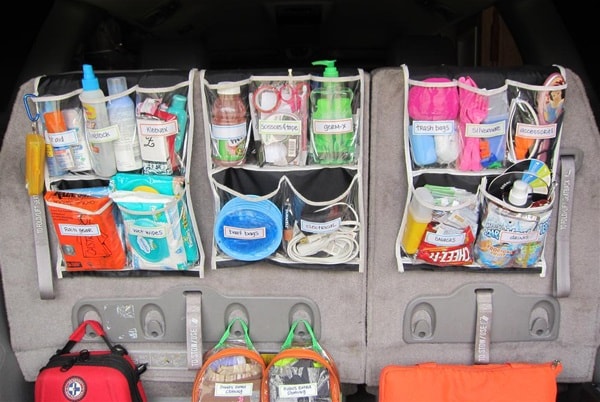 From The Castro Family
You can keep the trunk space of your organized by hanging a shower caddy on the back of the car seats (a shoe caddy will work too).
This is a great way to store and organize all necessary things from sunblock, extra sunglasses, snacks, and first aid.
3. Use climbing carabiners as hooks
From HGTV
Climbing carabiners are great to use as hooks in your car – simply attach them to the headrest.
This way you can easily transport your handbag, gym bag, groceries and even umbrellas.
And if you've arrived at your destination simply detach the carabiners and use it to carry all your things at the same time – no more double trips!
4. Use an empty container for loose change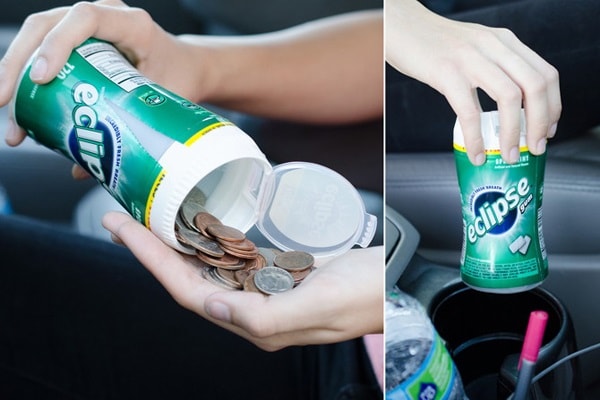 From The Krazy Coupon Lady
I know I always have spare change lying around my car – especially in that little door handle space.
A great way to keep all coins together is by using s a small empty container to store them.
And you don't even need to buy one – simply use an empty gum container or pill bottle.
5. Create a DIY car kit
From IHeart Organizing
Keep all of your essential car items together by creating your very own car kit.
You can use it to store a tire repair kit, flashlights, duct tape, rope and even a small blanket – anything you want really.
A car kit is must have for any emergencies.
6. Create a pop-up trunk shelf
From Instructables
This DIY takes a bit more time but it is so worth it, this is a great option to fully optimize all trunk space of your car.
Not only is it an excellent way to keep grocery items safe and smash free, it can also keep muddy shoes away from other items and hide valuables from prying eyes outside.
You can pop it up when you need the extra trunks space, and fold it away when you are done!
7. Use silicone cupcake liners in cup holders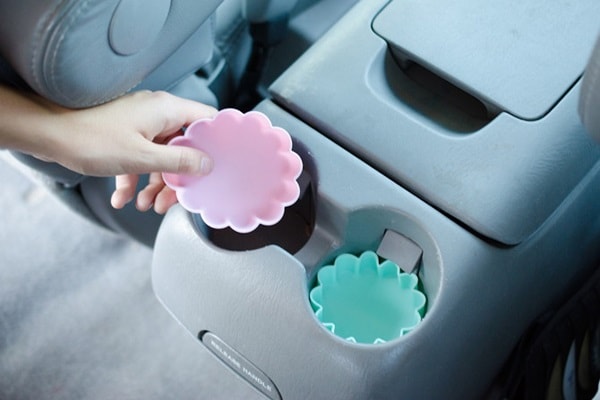 From The Krazy Coupon Lady
Say goodbye to gross and dirty cup holders! The best way to keep cup holders clean is by putting cupcake liners in them – and better yet, use silicone cupcake liners.
This way, all icky spills, dust, and crumbs will gather in the liner which you can easily remove and clean. You can also use them to store any small items.
8. Keep important car documents together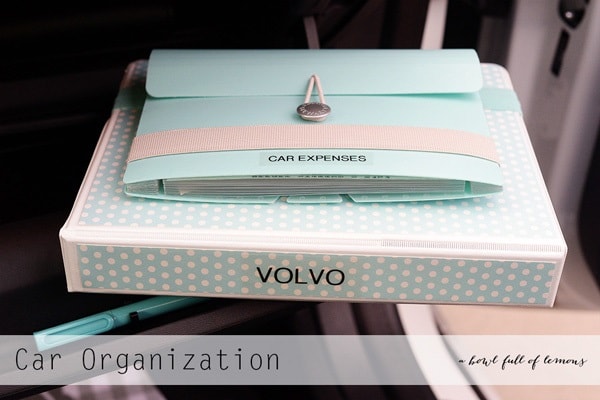 From A Bowl Full of Lemons
Get yourself a nifty binder to keep all important car documents neat and organized.
You can have a binder of all receipts related to car expenses, and use labels to create the different categories.
You can also have another binder that contains the insurance and registration papers of the car.
9. Use a shower caddy for lunch on the go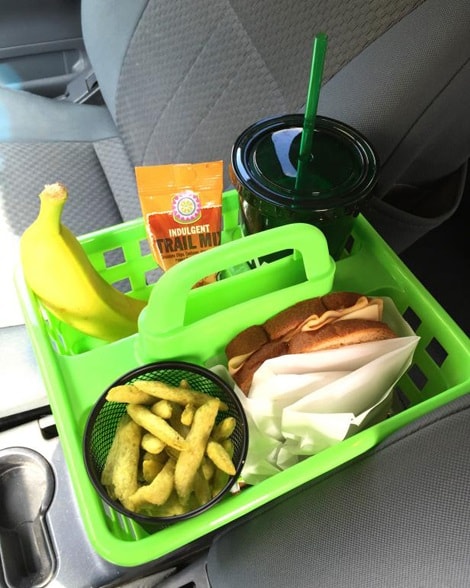 From HGTV
Okay so I know we don't always eat in our cars, but for road trips, this is a must!
A shower caddy is a handy way to keep your food (be it fast food, snacks, or whatever) all in one place.
And when you're done, use your cereal dispenser trash can to throw away the trash.
10. Store plastic bags in a tissue box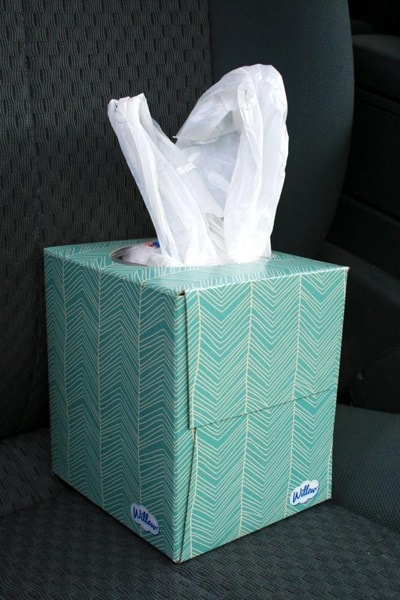 From HGTV
You never know when you might need a plastic bag. Use an empty tissue box to store some plastic bags to keep in your trunk or glove compartment.
This way you easily have plastic bags at your disposal at all times.
---
There you have it, 10 super easy car organization ideas to keep your car from being a messy, cluttered war zone! As you can see, with only a few simple tricks you can say you can say hello to an organized car.
Which idea is your favorite? Mine is definitely the cereal dispenser trash can. Let me know down in the comments.
Looking for more awesome organization ideas? Then you'll love these:
Make sure to pin these ideas for later!