In need of some food ideas for your party? These 30 party appetizers are perfect for your next party, from a New Years Eve party to game day – these party appetizers won't disappoint!
30 Delicious Party Appetizers
Below we've rounded up 30 party appetizers to feed a crowd.
To view the full instructions for any of these party appetizers, please follow the links.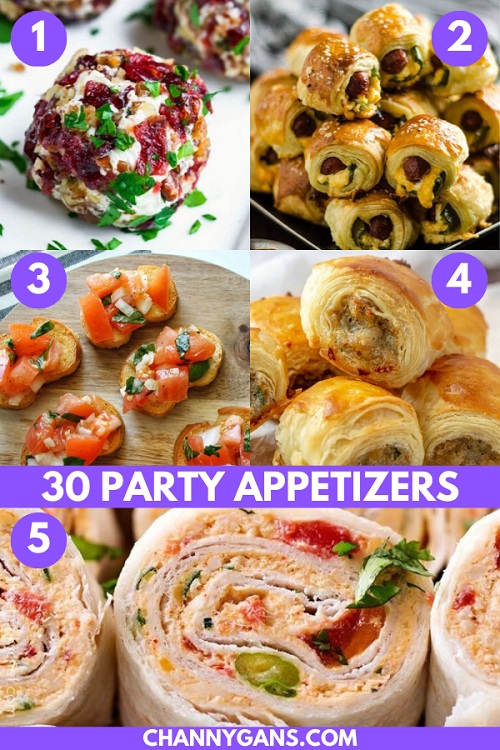 1. Mini Candied Pecan Cranberry Goat Cheese Balls
Quick, easy, and totally delicious, these Mini Candied Pecan Cranberry Goat Cheese Balls make a tasty party appetizer for a fancy yet fuss-free entertaining!
Ready in 15 minutes.
From: peasandcrayons.com
2. Jalapeno Popper Pigs In A Blanket
If you can't decide between pigs in a blanket and jalapeno poppers, why not combine them?
These spicy, cheesy appetizers are perfect for your next party or game day!
From: hostthetoast.com
3. Tomato Bruschetta With Garlic and Basil
Tomato bruschetta is always a crowd favorite over the holidays, at parties or even as a quick appetizer before dinner.
Quick and super easy to make!
From: lifeshelives.com
4. Sausage Rolls
Easy, filling and perfect for parties these Sausage Rolls are savory, meaty and full of just the right amount of spices that they are a hit among party guests!
From: tornadoughalli.com
5. Chicken Taco Mexican Pinwheels
A creamy filling made with chicken taco flavors is spread over a soft flour tortilla and rolled up to make the most delicious Mexican pinwheels ever!
From: thechunkychef.com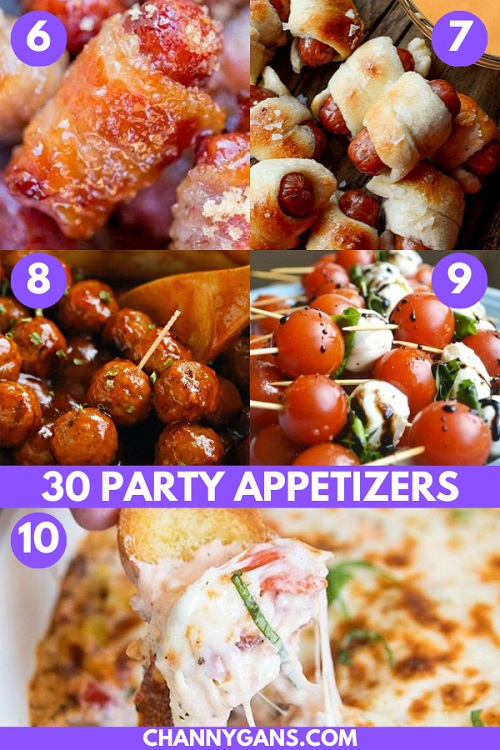 6. Bacon Brown Sugar Smokies
Bacon brown sugar smokies are the quintessential party food that everyone fights over even though they're so easy to make!
Just three ingredients plus there are five flavor add-in options for you!
From: dinnerthendessert.com
7. Easy Pretzel Bites
The easy pretzel bites recipe is the perfect way to make your own pretzels without surrendering your kitchen and your day.
From: aprilgolightly.com
8. Pepper Jelly Glazed Meatballs
20-Minute Pepper Jelly Glazed Meatballs are the easiest appetizer recipe for your party or celebration.
Great for game time tailgating too! Quick & YUMMY!
From: kleinworthco.com
9. Caprese Salad Skewers
Caprese Salad Skewers are such a pretty appetizer to make.
They are also incredibly easy to make and they have a ton of delicious, fresh flavor!
From: stuckonsweet.com
10. Spicy Italian Sausage Dip
This Spicy Italian Sausage Dip is so creamy and delicious, made with spicy sausage and 3 types of cheese and lots of spicy elements.
This is the perfect appetizer for game day or holiday parties.
From: yellowblissroad.com
11. Cajun Shrimp Guacamole Bites
Cajun Shrimp Guacamole Bites, the perfect appetizer for your next game day party!
Gluten-free & paleo, with only 70 calories a serving and amazing flavor.
From: joyfulhealthyeats.com
12. Italian Sausage Stuffed Mushrooms
With the entertaining season upon us if you're looking for an easy but tasty party appetizer these Italian Sausage Stuffed Mushrooms are a perfect fit!
Stuffing mushrooms filled with Italian sausage, cream cheese, cheddar cheese, minced garlic, spinach, and herbed dressing.
These can be prepped ahead and popped into the oven just before your guests start knocking on the door!
From: mondayismeatloaf.com
13. Sticky BBQ Slow Cooker Meatballs
This recipe for Sticky BBQ Slow Cooker Meatballs uses barbecue sauce to make a delicious homemade party appetizer!
They are easy to make as the crockpot does most of the work for you.
From: savorynothings.com
14. Honey Garlic Chicken Skewers
I'm excited to share this EASY Honey Garlic Chicken Skewer recipe with you all.
It's perfect for an appetizer that everyone will enjoy.
From: soberjulie.com
15. Baked Southwestern Egg Rolls
Baked southwestern egg rolls with chicken, black beans and cheese make a perfect game day or party appetizer – these are always a hit!
From: familyfoodonthetable.com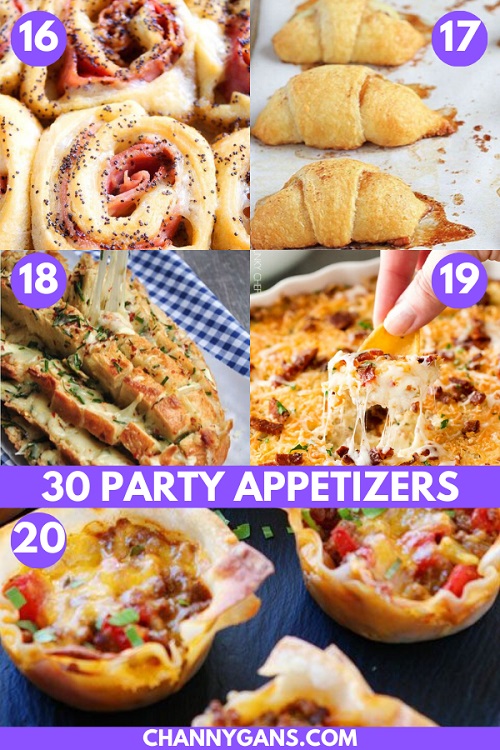 16. Baked Ham And Cheese Rollups
These Baked Ham and Cheese Rollups, are an easy appetizer or dinner recipe that are always a crowd favorite.
They are made with crescent dough, Boar's Head SmokeMaster™ Black Forest Ham, swiss cheese, and then topped with a delicious mustard glaze.
From: highheelsandgrills.com
17. Apple Pie Bites
These Apple Pie Bites are Delicious, quick & easy mini apple pies made with Pillsbury crescent rolls in less than 30 minutes!
From: theblondcook.com
18. Garlic Pull-Apart Bread
Looks impressive?
It's really easy to make. 6 ingredients and 30 minutes are all you need for this cheesy garlic pull-apart bread.
Serve it as a side, an appetizer, or a snack. Bring it to a potluck or tailgate party to knock everyone's socks off!
From: streetsmartkitchen.com
19. Cheesy Bacon Jalapeno Popper Dip
This warm, spicy, cheesy jalapeno popper dip is loaded with all the familiar flavors from your favorite appetizer, in an easy to make dip form!
From: thechunkychef.com
20. Crunchy Taco Cups
How fun are these little Taco Cups made in a muffin tin?
They have double layers of crunchy taco shell, seasoned beef, spicy tomatoes, and gooey cheese all in one perfect bite!
From: kevinandamanda.com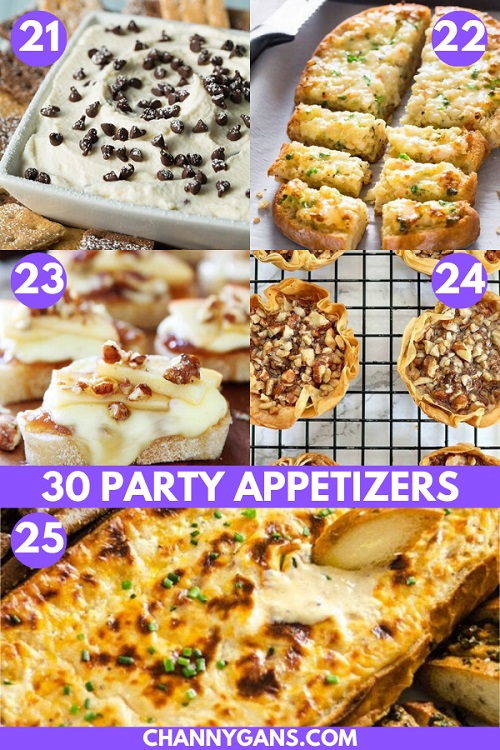 21. Cannoli Dip
Who doesn't love Cannoli? They are an amazingly delicious and widely popular dessert but it's a process to make cannoli.
This dip is so much easier to prepare and definitely faster, and of course another wonderful thing about it – fewer dishes.
From: cookingclassy.com
22. Easy Baked Shrimp Toast
This baked shrimp toast features rich and creamy shrimp mixture on top of crispy bread.
If you are looking for a quick and easy appetizer for your next party, give this a try.
From: delightfulplate.com
23. Brie, Apple, and Honey Crostini
Brie, Apple, and Honey Crostini-this easy appetizer is perfect for holiday parties!
It takes 15 minutes to make and everyone loves it!
From: twopeasandtheirpod.com
24. Easy Baklava Bites
No time for the traditional baklava recipe or maybe you want a small batch? This Easy Baklava Recipe is perfect for that!
From: howtothisandthat.com
25. Bacon Beer Cheese Bread Bowl
A flavorful, fondue-like beer cheese studded with crumbled bacon is baked inside of Italian bread and served with garlic and herb crispy bread slices.
From: hostthetoast.com
26. Mini Bacon Cheeseburger Bites
These Mini Bacon Cheeseburger Bites are perfect for your next game day party, neighborhood soiree or kid sleepover!
They are so easy and absolutely delectable.
You make a small batch or a huge batch for a crowd.
From: smalltownwoman.com
27. Buffalo Chicken Celery Sticks
Buffalo chicken celery sticks are loaded up with spicy chicken and then covered in ranch dressing for the perfect party snack or Super Bowl appetizer!
From: evolvingtable.com
28. Crab Stuffed Mushrooms
These easy peasy crab stuffed mushrooms make an awesome holiday appetizer; perfect for your next party!
From: peasandcrayons.com
29. Cranberry Brie Bites
Cranberry Brie bites – a simple appetizer or party snack.
These Cranberry and Brie Bites always gets polished off in minutes!
Super easy to make, five ingredients in the oven and ready in 21 minutes! – that's my kind of recipe.
From: kitchensanctuary.com
30. Salted Chocolate-Dipped Mandarin Slices
The most amazing afternoon snack or party appetizer.
Juicy and sweet mandarin slices dipped in dark chocolate and sprinkled with sea salt – Yum!
From: deliciouslyyum.com
Enjoyed these party appetizers? Then pin it for later!
Pin these party appetizers to your Party Food or Food Ideas boards on Pinterest.
That way you can easily view them later!