You can never go wrong with any of these pasta recipes!
These pasta recipes are perfect if you are looking for a filling meal.
Perfect Pasta Recipes
Below we've rounded up 20 delicious pasta recipes you can make for lunch or dinner.
To view the full instructions for any of these pasta recipes, please follow the link below the picture.
1. Creamy Garlic Penne Pasta With Chicken
Tender pasta and chicken smothered in a creamy, garlicky sauce.
This Creamy Garlic Penne Pasta with Chicken is a delicious and easy meal for any night of the week!

From: yellowblissroad.com
2. Garlic Butter Tuscan Shrimp
This pasta is coated in a light and creamy rich garlic parmesan sauce filled with sun-dried tomatoes and spinach!
Guaranteed to impress!

From: cafedelites.com
3. One Pot Chicken Parmesan Pasta
All the great chicken parmesan flavors, combined in one easy one-pot pasta dish that's ready in 30 minutes!
Fewer dishes, but a meal with maximum flavor!

From: thechunkychef.com
4. Italian Ravioli With Spinach
Italian ravioli with spinach, artichokes, capers, sun-dried tomatoes.
The vegetables are sautéed in olive oil.
Meatless, refreshing, Mediterranean style pasta recipe that doesn't need any meat – this meal will keep you full!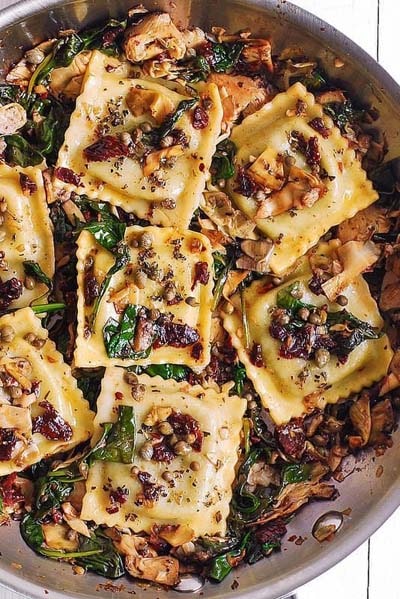 From: juliasalbum.com
5. Butternut Squash Roasted Broccoli Alfredo Penne Skillet
Nobody is ever going to guess there's butternut squash hiding in this UNBELIEVABLY-creamy alfredo penne skillet!
Ready for the dinner table in only 30 minutes with super-basic ingredients.

From: wholeandheavenlyoven.com
6. One-Pot Creamy Mushroom Chicken Pasta
One-pot creamy mushroom chicken pasta is lightened up and a carb lovers dream!
All cooked in one pot with no heavy cream and half the fat of regular creamy kinds of pasta!

From: cafedelites.com
7. Creamy Italian Sausage Pasta
Creamy Italian Sausage Pasta is a family favorite Italian pasta recipe!
This easy pasta dish is full of savory sausage and a delicious, creamy, parmesan sauce and ready in 20 minutes!
From: thesaltymarshmallow.com
8. Mushroom Asparagus Pasta
This Mushroom Asparagus Pasta recipe is the perfect recipe for those days when you just want something simple.
It is made with everyday ingredients, vegetarian and quick aka ready in only 20 mins!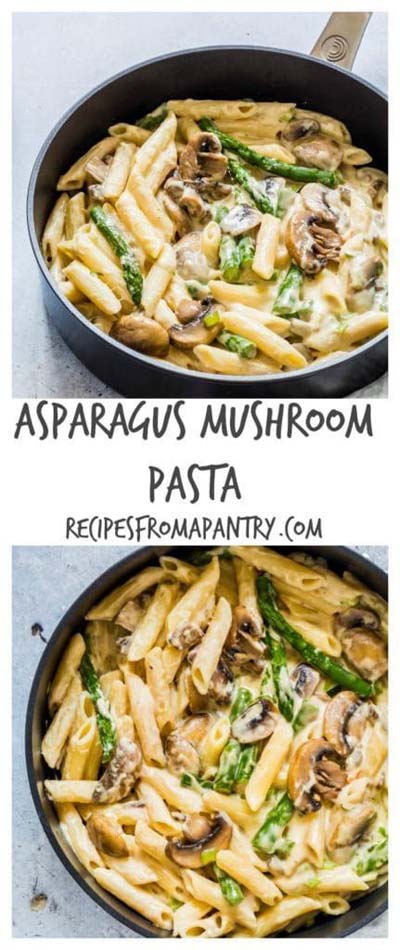 From: recipesfromapantry.com
9. Easy Spinach Ricotta Pasta
This quick and luxurious Spinach Ricotta Pasta boasts a creamy and garlicky spinach sauce made easy with ricotta cheese.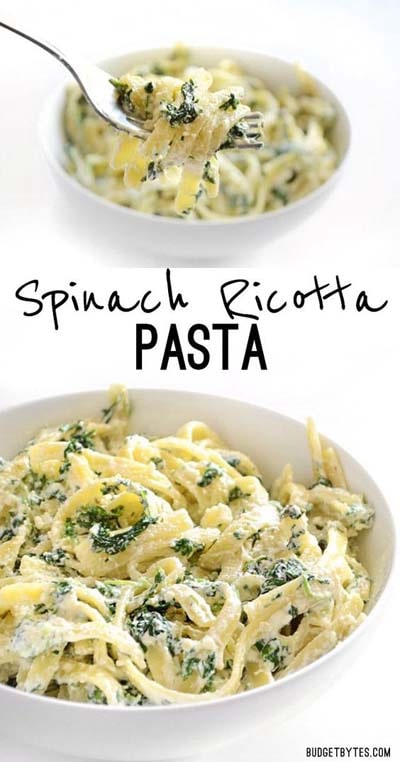 From: budgetbytes.com
10. Creamy Tuscan Chicken With Spinach and Sun-Dried Tomatoes
Creamy Tuscan chicken with fresh garlic, spinach, and sun-dried tomatoes.
This is a meal worthy of entertaining or special occasions, yet it can be on your table in under 30 minutes.

From: nourish-and-fete.com
11. Penne Alla Vodka
Skip the restaurant and make the best penne alla vodka at home.
This recipe has enough tomato to give the sauce a nice kick without overpowering the cream!

From: homemadehooplah.com
12. Garlic Mushroom Spaghetti With Bacon
Garlic mushroom spaghetti with bacon is an easy weeknight dinner, made with just a handful of ingredients.
This mushroom pasta is packed with flavor and takes just 20 minutes from start to end.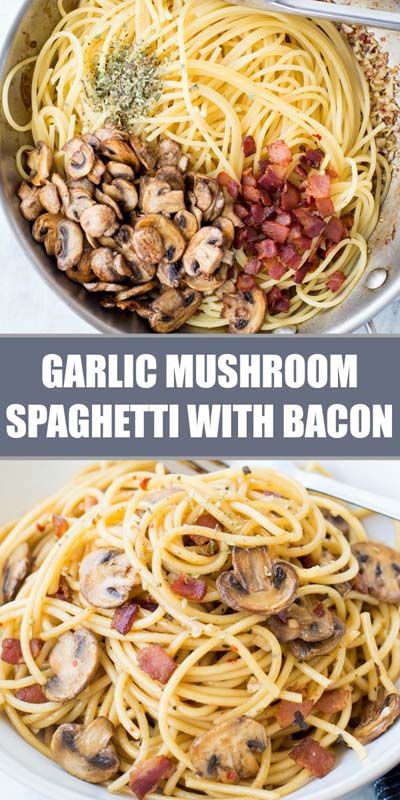 From: theflavoursofkitchen.com
13. Red Pepper Cashew Pasta With Roasted Cauliflower
This is too good to even be true.
This sauce is a three-ingredient game-changer!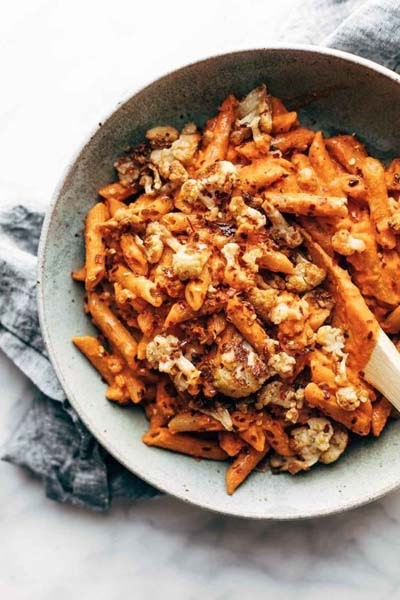 From: pinchofyum.com
14. Black Pepper & Parmesan Spaghetti
This delicious pasta dish is complemented with garlic roasted cherry tomatoes and fresh basil.
An easy meal option that's ready in 30 minutes!
From: yayforfood.com
15. One-Pot Creamy Chicken Pot Pie Noodles
The comfort of a chicken pot pie without all of the work!
My one-pot creamy chicken pot pie noodles are creamy, flavorful and best of all, filling!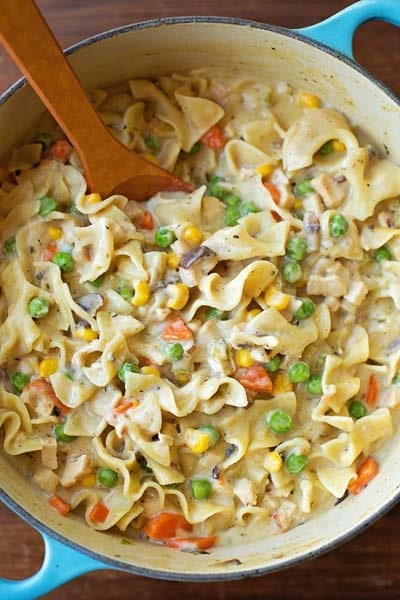 From: lifemadesimplebakes.com
16. Vegan Pesto Pasta With Kale
This vegan pesto pasta has homemade kale pesto and spring vegetables.
It makes for a quick and delicious mid-week meal that can be prepared in minutes.
It can be gluten-free too!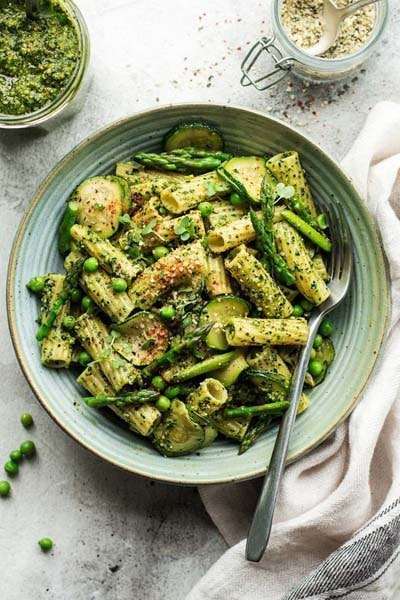 From: lazycatkitchen.com
17. Pasta Primavera
Pasta Primavera isn't just for spring and summer, this is a veggie-packed pasta dish that's perfect year round!
It has such a satisfying flavor and it's versatile recipe so you can add different kinds of vegetables you might already have on hand.
From: cookingclassy.com
18. Spicy Sausage Rigatoni
Your whole family will love this recipe!
Real food ingredients like whole wheat rigatoni, San Marzano tomatoes, and red wine.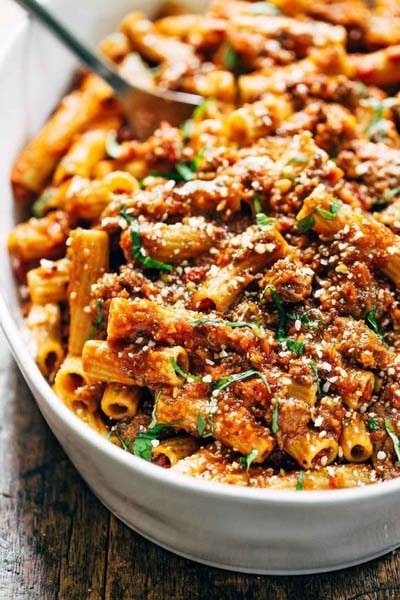 From: pinchofyum.com
19. Taco Filled Pasta Shells Recipe
This recipe for taco filled pasta shells is an easy one.
It's the perfect meal the whole family will love.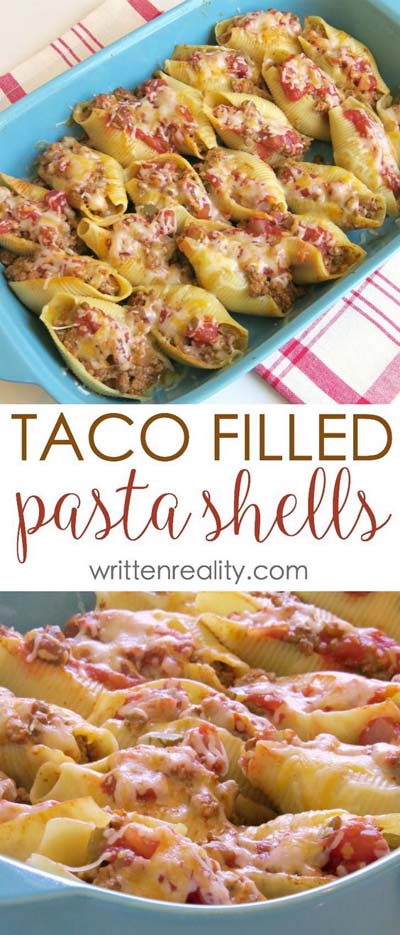 From: writtenreality.com
20. Spicy Tomato Cream Pasta
A fast and flavorful Spicy Tomato Cream Pasta that's perfect for a weeknight meal.
Red pepper flakes really give this sauce some heat.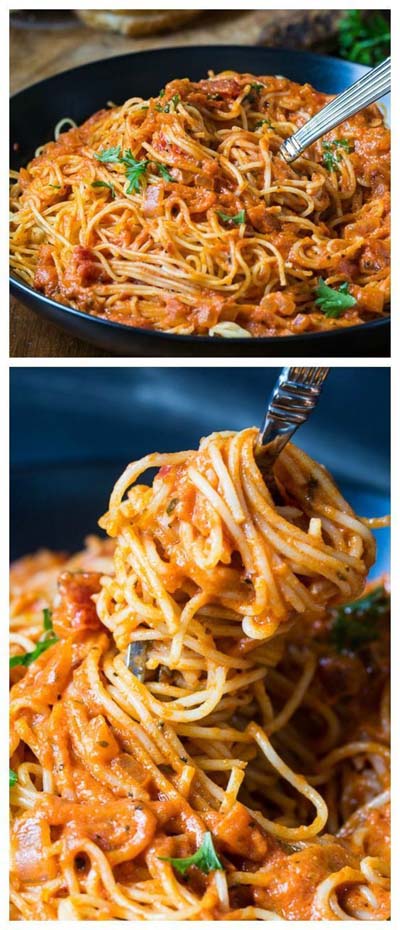 From: spicysouthernkitchen.com
21. Lemon Feta Linguine With Garlic Asparagus
Enjoy this delicious lemon linguine pasta with pan-fried garlic asparagus and creamy feta cheese.
A fast and easy vegetarian meal ready in under 30 minutes!
From: yayforfood.com
22. Creamy Spinach Parmesan Orzo
While practically all pasta dishes can be deemed "family-friendly," this one might just win the prize.
I think it has something to do with the way orzo appeases everyone at the table.
It's got all the cheesy goodness you crave at the end of a busy day.

From: thekitchn.com
23. Vegan One Pot Pasta
This Vegan One Pot Pasta comes together quickly and leaves very little mess to clean up!
A gluten-free pasta simmers in a delicious creamy tomato pasta sauce, that is perfectly complimented by sautéed peppers, onions, garlic, and sun dried tomatoes.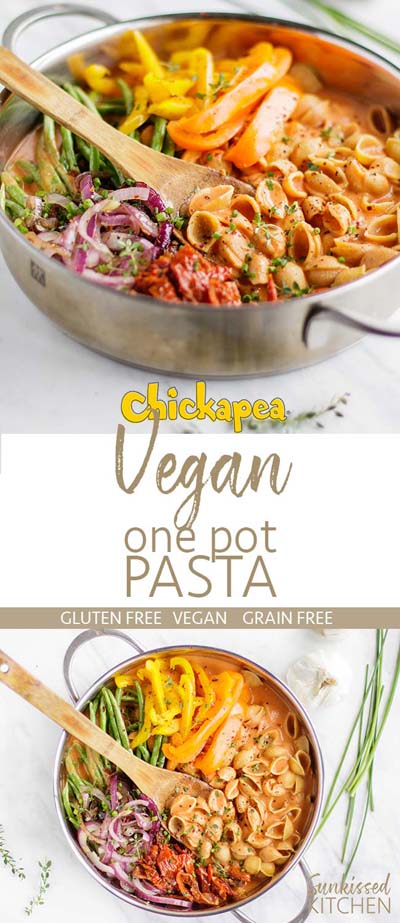 From: sunkissedkitchen.com
24. Shrimp Pesto Pasta With Spinach And Mushrooms
This Shrimp Pesto Pasta with Spinach and Mushrooms features tender pasta swirled with pesto, veggies, and perfectly sauteed shrimp.
Everyone in my family loves this easy, yet impressive, weeknight dinner!
This is a guaranteed winner!

From: peasandcrayons.com
25. Tuscan White Bean Pasta
This Tuscan White Bean Pasta is a fast and flavorful dish that is perfect for weeknight dinners.
The caramelized garlic, basil, and Parmesan pack a huge flavor punch!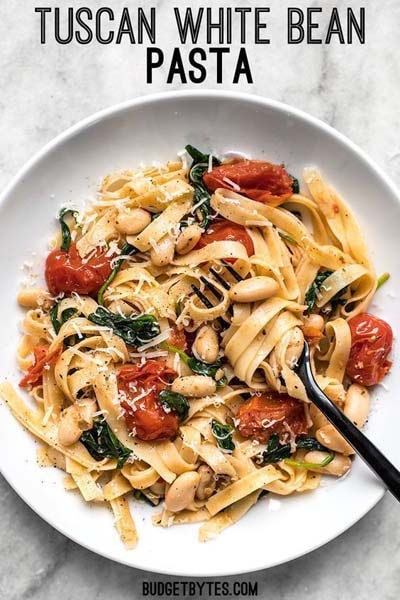 From: budgetbytes.com
Related Posts
Enjoyed these pasta recipes? Then pin it for later!
Pin these pasta recipes to your Dinner Recipes or Dinner Ideas boards on Pinterest.
That way you can easily view them later!