I've been searching high and low for some keto chicken recipes to try out, so I thought why not round up some delicious keto recipes in a post, because if I'm looking – no doubt someone else is as well.
I have tried one of these dishes before, the one dish chicken bake, and just that recipe alone is so versatile – you can create so many variations of it! I cannot wait to try the others!
Please note that this post contains affiliate links, which means if you buy from my link I receive a small commission at no extra cost to you.  For more information, please check out my full affiliate disclaimer here.
7 Mouthwatering Keto Chicken Recipes for Lunch or Dinner
These keto chicken recipes can be enjoyed on their own (which is how I like them) or you can serve them with some cauliflower rice or even with homemade keto tortillas.
---
P.S. If you are new to the keto diet and want to know what the hype is about, I highly recommend checking out this keto beginner ebook. It provides you with all the resources you need and includes numerous delicious recipes! 
---
1. Chicken Parmesan
Found from Wholesome Yum
It is actually super easy to make chicken parmesan keto – by simply using pork rinds instead of breadcrumbs.
This recipe also calls for using protein powder for dredging, instead of flour.
Get the recipe here.
Per Serving:
Calories: 621
Fats: 34g
Protein: 67g
Carbs: 6g TOTAL, 5g NET
2. One Dish Chicken Bake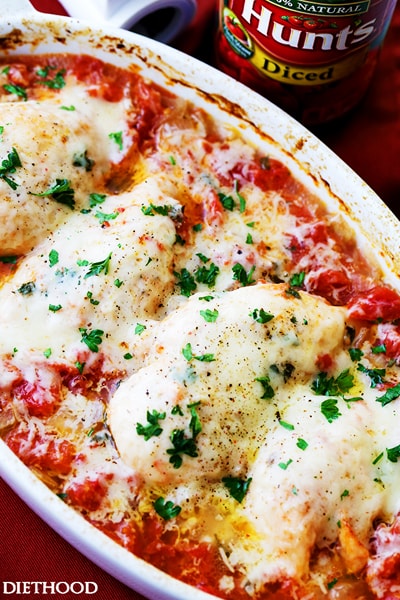 Found from Diethood
I've made this dish twice and it always turns out great! The chicken is baked on a bed of tomatoes (you can use a can of diced tomatoes) and is then covered in cheese!
Get the recipe here.
Per Serving:
Calories: 297
Fats: 14g
Protein: 32g
Carbs: 8g
3. Jalapeno Chicken Popper Casserole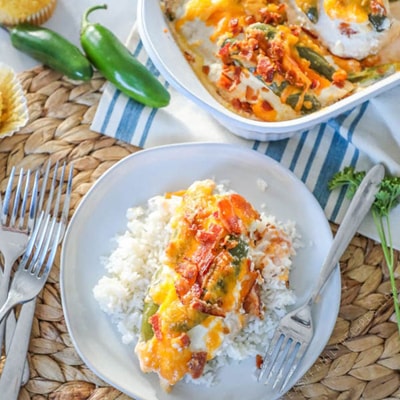 Found from Easy Family Recipes
For this recipe, chicken breasts are smothered in cream cheese and then topped with jalapenos, cheddar cheese, and bacon bits.
You will need to make sure the chicken breasts aren't too thick, so be sure to cut it in half if needed.
Get the recipe here.
Per Serving:
Calories: 401
Fats: 27g
Protein: 37g
Carbs: 3g
4. White Chicken Chili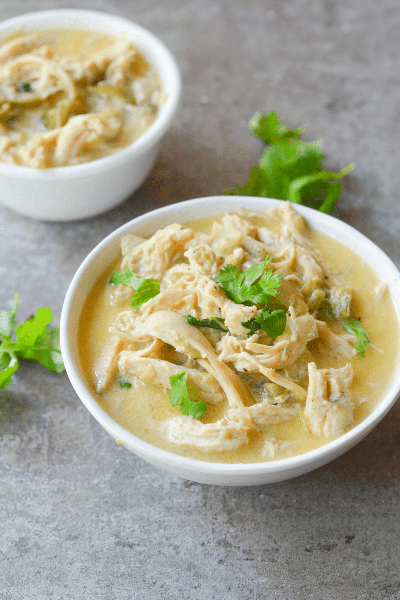 Found from Hey Keto Mama
If you are craving some comfort food then look no further!
This keto chili can easily be made in a crockpot and contains shredded chicken, peppers, and cheese.
Get the recipe here.
Per Serving:
Calories: 481
Fats: 30g
Protein: 39g
Carbs: 5g total, 4g NET
5. Chicken Parmesan Meatballs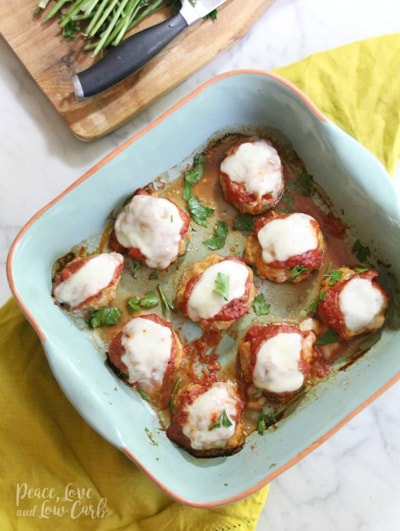 Found from Peace, Love and Low Carb
These meatballs contain no breadcrumbs as a binding agent but use parmesan cheese instead.
P.S. You can also use ground beef or ground pork for these meatballs, which will up the fat.
Get the recipe here.
Per Serving (3 meatballs) :
Calories: 257
Fats: 15g
Protein: 26g
Carbs: 4g
6. Bacon Wrapped Jalapeno Popper Stuffed Chicken
Found from Closet Cooking
This recipe is similar to the one above, but this time the chicken breast is stuffed with the jalapeno and wrapped in bacon!
If you are someone that doesn't like spicy food, I recommend that you simply omit the jalapenos, and add more cheese.
Get the recipe here.
Per Serving :
Calories: 382
Fats: 18.4g
Protein: 49.8g
Carbs: 1g
7. Chicken Cordon Bleu Casserole
Found from Wholesome Yum
This chicken cordon bleu casserole is a simple and quick meal to prepare, with a prep time of only 10 minutes!
It is filled with delicious ham, swiss cheese, dijon mustard, and of course chicken.
Get the recipe here.
Per Serving :
Calories: 232
Fats: 14g
Protein: 24g
Carbs: 2g TOTAL, 1g NET
---
If you are struggling with knowing what meals to make on your ketogenic diet, these balanced keto weekly meal plans might just be for you. Meal plans will be delivered straight to your inbox, filled with delicious and easy keto recipes.
---
You might also want to check out these keto recipes if you're on a keto diet:
---
Pin these Keto Chicken Recipes for later!