If you are looking for a light meal that packs a ton of flavor, these salad recipes are for you!
Salad Recipes
Below we've rounded up 40 of the most delicious salad recipes. We hope you enjoy them!
Please follow the links below for the full recipe and directions for each of these salad recipes.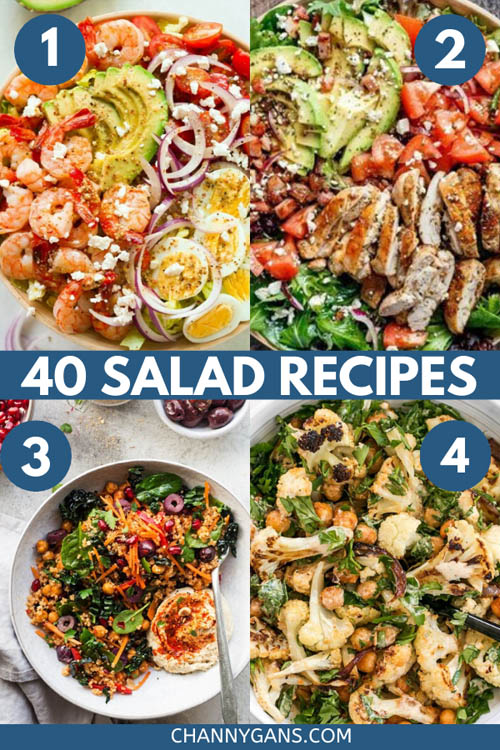 1. Shrimp Avocado Tomato Salad Recipe
Looking for a high-protein salad?
This delicious Shrimp Avocado Tomato Salad recipe is fresh, healthy, and quick and easy to make!
From: primaverakitchen.com
2. BLT Balsamic Chicken Avocado & Feta Salad
BLT balsamic chicken avocado & feta salad is a delicious twist to a BLT in salad form, with a balsamic dressing that doubles as a marinade!
You won't even miss the bread in this mega loaded salad.
From: cafedelites.com
3. Carrot And Harissa Salad
Carrot harissa salad is a delicious bowl full of seasonal produce that makes for a gorgeous lunch or appetizer.
It's naturally vegan and gluten-free too.
From: lazycatkitchen.com
4. Roasted Cauliflower Salad
This Roasted Cauliflower Salad combines sweet roasted red onions, spiced chickpeas, tender cauliflower, and a tangy lemon tahini dressing.
From: budgetbytes.com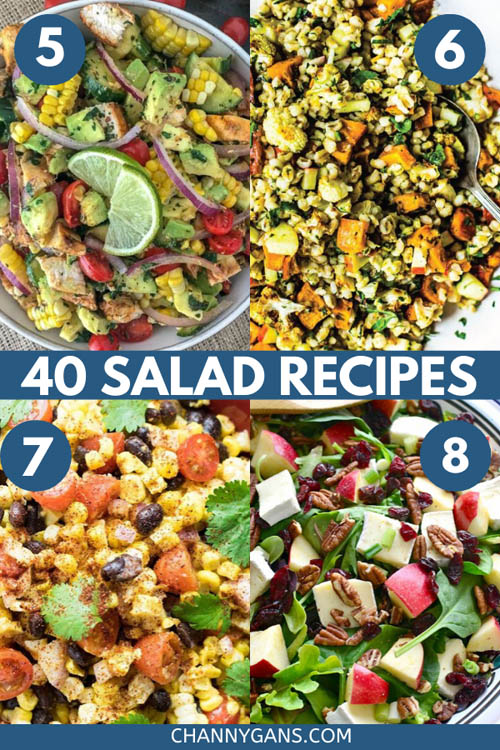 5. Cajun Lime Chicken Avocado Corn Salad
This salad has so much flavor! Creamy, light, and drizzled with a cilantro lime dressing.
It is quick and easy to make and perfect for your next barbecue or get together.
Light on the calories – coming in at only 202 calories per 1 cup serving.
From: withpeanutbutterontop.com
6. Autumn Glow Salad
It's got sweet potato, crispy apple, roasted cauliflower, fresh parsley, grains of choice, and an appropriate zippy lemon dressing that brings everything together.
From: pinchofyum.com
7. Mexican Corn And Black Bean Salad
This is a super easy and refreshing summer salad full of black beans, corn, and tomatoes!
This black bean and corn salad comes together in a snap and has the most flavorful chili lime and garlic dressing!
From: thesaltymarshmallow.com
8. Apple Brie Salad
A combination of the crispness of apples with the creaminess of Brie cheese makes this a delicious salad that's perfect anytime.
This fresh and crisp salad will make an easy side dish or a meal all on its own.
From: lemontreedwelling.com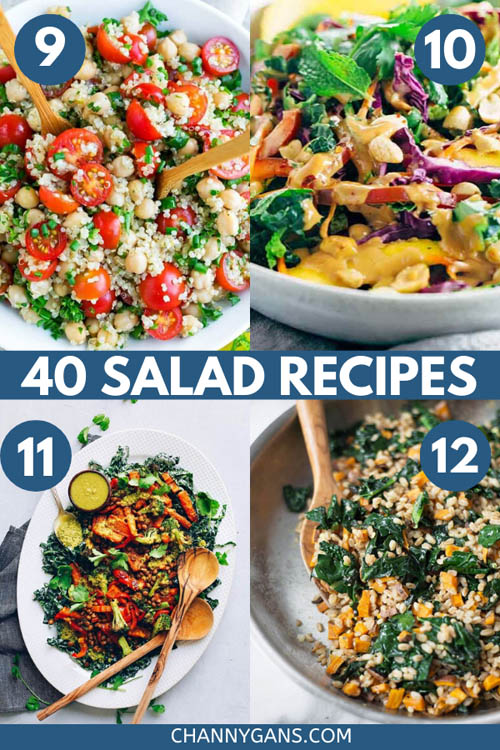 9. Tomato Quinoa Salad
This Tomato Quinoa Salad is fast, flavorful, and easily made in advance for speedy lunches and sides for work, school, or home!
From: peasandcrayons.com
10. Crunchy Thai Salad With Creamy Peanut Dressing
Irresistibly crunchy Thai salad with creamy peanut dressing will be your new vegetable obsession!
Each bite packs a powerhouse of fresh superfoods.
From: jessicagavin.com
11. Curry-Roasted Vegetable & Lentil Kale Salad
Crunchy kale with lentils and a creamy tahini sauce, roasted curry vegetables, and a tangy green curry dressing.
The ultimate plant-based salad is happening. You need this recipe in your life.
From: minimalistbaker.com
12. Warm Farro And Kale Salad With Orange Miso Dressing
This simple salad really doesn't have much of a recipe. Roast the sweet potatoes, cook the farro, then saute together.
From: delishknowledge.com
13. Caprese Salad Recipe
This Caprese Salad Recipe is a great way to use up tomatoes from the garden or pop over to a local farmers market to get that homegrown tastes.
From: ohmy-creative.com
14. Vegan Fall Pasta Salad
Roasted Fall veggies, tossed with pasta and the most amazing vegan creamy poppy seed dressing!
From: rabbitandwolves.com
15. Israeli Salad
Israeli Salad is a must make Middle Eastern Recipe that is full of flavor!
This side dish salad is also known as Shirazi Salad (Persian Cucumber and Tomato Salad).
From: knowyourproduce.com
16. Chopped Broccoli Salad
This chopped broccoli salad is tossed in a sweet sauce full of balsamic vinegar, maple syrup and a bit of almond butter.
It is finished with toasted walnuts, dried cranberries and pumpkin seeds for a healthy, gluten-free side dish recipe!
From: evolvingtable.com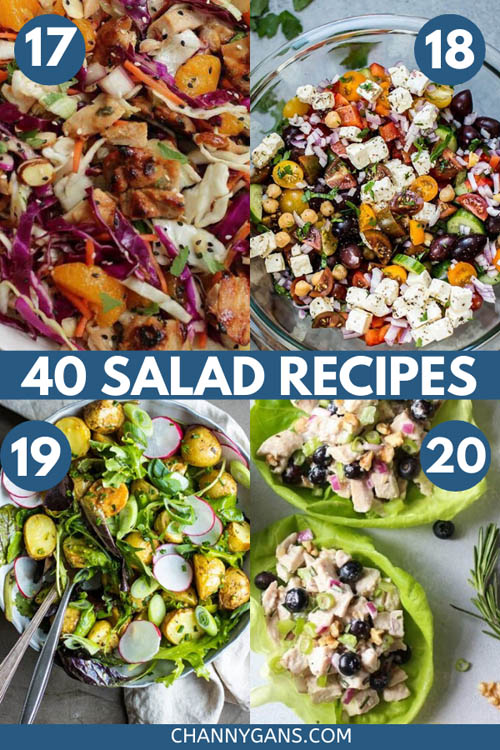 17. Healthy Sesame Chicken Chopped Salad
This salad is always a crowd pleaser. It's also a pretty quick one to make in a large batch.
And it is Paleo and Whole30 too!
From: wholekitchensink.com
18. Mediterranean Chickpea Salad
This Mediterranean chickpea salad has all the flavors of a classic Greek salad.
Hearty chickpeas and fresh oregano and parsley for an extra pop of flavor.
A wonderful light meal or side dish!
From: saltandlavender.com
19. Vegan Potato Salad with Maple Mustard Dressing
A light, spring vegan potato salad with a delicious maple mustard dressing!
This potato salad will make you feel like summer is right around the corner!
From: laurencariscooks.com
20. Blueberry Chicken Salad
Blueberry Chicken Salad with Rosemary is easy enough for quick lunches, yet fancy enough for special occasions.
From: therealfoodrds.com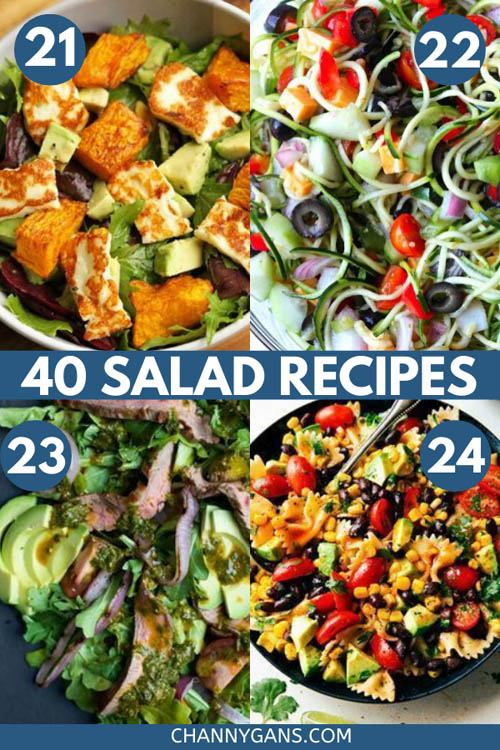 21. Pumpkin, Halloumi And Avocado Salad
Gone are the days of bland and boring salads!
This pumpkin, halloumi and avocado salad makes for a perfect weeknight dinner – minimal effort, maximum taste.
From: beforeverhealthier.com
22. Zoodle Spaghetti Salad
Trying to eat more healthy? This is the perfect salad to bring to a BBQ! It is full of vegetables and tastes delicious!
From: sixsistersstuff.com
23. California Steak Salad
A paleo California Steak Salad filled with grilled onions, arugula, avocado, asparagus, charred Steak and covered in zesty Chimichurri Dressing.
Fresh, light, high in protein and freakin delicious! You need this!
From: joyfulhealthyeats.com
24. Easy Tex Mex Pasta Salad
A delicious and super simple Tex Mex Pasta Salad with corn, black beans, cherry tomatoes, cilantro, and avocados.
An easy Catalina dressing tops this salad.
From: chelseasmessyapron.com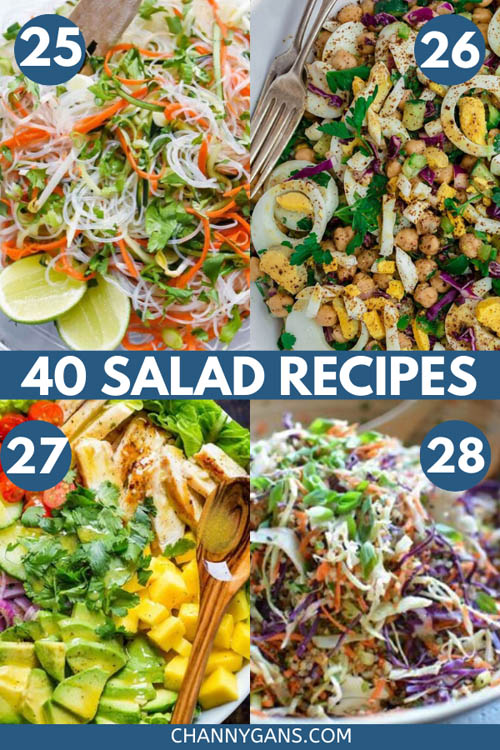 25. Vietnamese Noodle Salad
This salad has fresh slivered veggies in a tangy Vietnamese rice vinegar dressing, making it a simple side dish to serve with grilled meats and chicken.
From: foodiecrush.com
26. Mediterranean Chickpea Egg Salad Recipe
Simple and satisfying chickpea egg salad recipe prepared Mediterranean-style!
Tons of texture and flavor.
From: themediterraneandish.com
27. Chicken Mango Avocado Salad
This salad is loaded with juicy chicken, creamy avocado and that sweet pop of mango flavor take this mango salad over the top.
A Cheesecake Factory recipe (copycat).
From: natashaskitchen.com
28. Asian Slaw Quinoa Salad
It's loaded with cabbage, quinoa, carrots, onion, cilantro, cashews, and sesame seeds.
It's the perfect "make once eat all week" salad.
From: thekitchengirl.com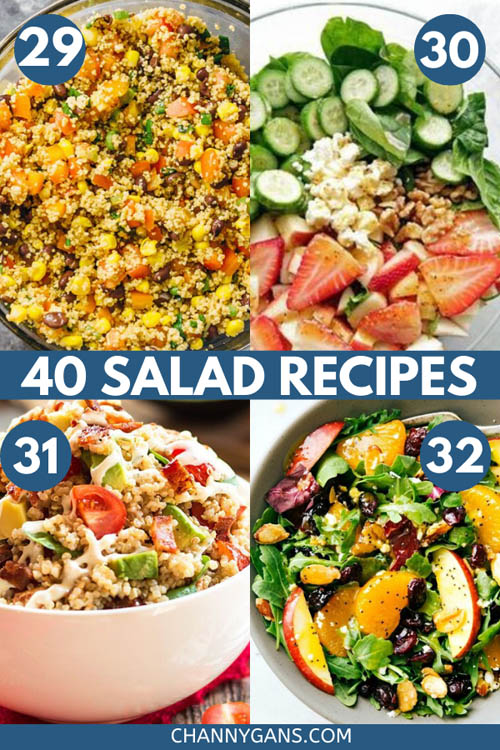 29. Southwest Couscous Salad
This is the best couscous salad I've ever had.
It's easy to make, vegan and has a summery southwestern vibe.
From: savorytooth.com
30. Strawberry Cucumber Spinach Salad
A healthy and fresh spring salad that is filling enough to be a meal or a great side dish.
A homemade apple cider vinaigrette brings this flavourful salad together!
From: yayforfood.com
31. Avocado Blt Quinoa Salad
Avocado BLT Quinoa Salad recipe is full of avocado, bacon, tomatoes, spinach and Ranch dressing.
It is an easy, gluten-free lunch, dinner, or potluck dish recipe.
From: evolvingtable.com
32. Candied Almond & Mandarin Salad
A great holiday entertaining salad.
Mandarin orange, apples, cranberries, feta cheese, and easy stovetop candied almonds all covered in a delicious orange poppyseed dressing.
From: bloglovin.com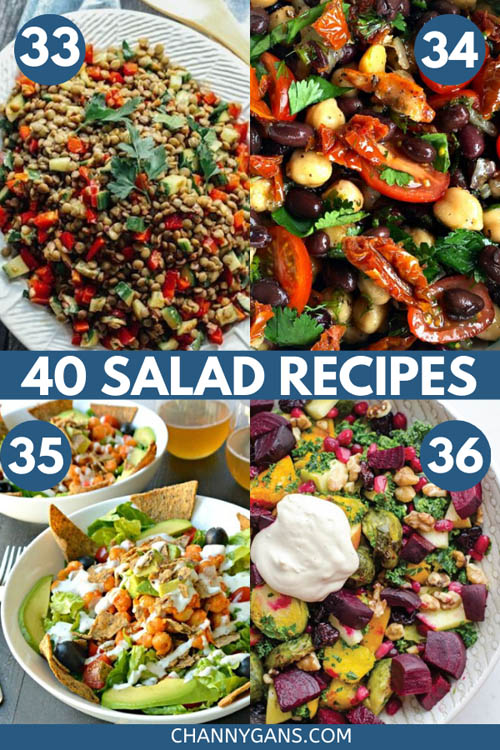 33. Balsamic Lentil Salad
An easy salad or side dish of hearty lentils and fresh veggies, tossed in a balsamic vinaigrette dressing.
From: destinationdelish.com
34. Balela Salad
Balela Salad is a delicious Middle Eastern salad, gluten-free and vegetarian.
Great served as a black bean salad or dip, optional to add feta cheese.
From: reluctantentertainer.com
35. Buffalo Ranch Chickpea Taco Salad
This salad combines tangy and spicy flavors with crunchy chips and hearty chickpeas for a satisfying meal.
This recipe is vegan and gluten-free.
From: veggiessavetheday.com
36. Fall Harvest Salad
This Salad is made with all the best Fall ingredients.
This salad is vegan, gluten-free, oil-free and absolutely loaded with nutrition.
This beautiful, Fall salad would be lovely served with your Thanksgiving meal.
From: runningonrealfood.com
37. Tuscan Pasta Salad
Tuscan Pasta Salad is an easy pasta salad with sun dried tomatoes, peppers spinach, and olives tossed in a tangy dressing.
This pasta salad is perfect for your next potluck!
From: therecipecritic.com
38. Greek Lemon Garlic Chicken Salad
Greek souvlaki flavors are smothered all over this salad, thanks to this incredible dressing that doubles as a marinade.
From: cafedelites.com
39. Three Pepper Salad
This three pepper salad recipe is the perfect bell pepper side dish for summer barbecues.
From: thebewitchinkitchen.com
40. Easy Almond Apple Quinoa Salad
A simple quinoa salad with toasted almonds and sunflower seeds, a chopped apple, and dried cranberries.
From: chelseasmessyapron.com
Related Posts
Enjoyed these healthy salad recipes? Then pin it for later!
Make sure to pin it to your Salad Recipes board on Pinterest so that you can easily view all of these delicious salad recipes later.