These hearty curry recipes make for some great comfort food!
25 Curry Recipes
We've rounded up 25 scrumptious curry recipes for you to try if you are in the mood for a hearty meal.
To view the full instructions for any of these curry recipes, please follow the links below.
1. Goan Fish Curry
This Goan fish curry is really easy to make, packed with flavor & spice, and ready in less than 30 minutes.
A delicious dish that's way better than take out.
From: carolinescooking.com
2. Cauliflower And Potato Curry
Unlike some Indian dishes, cauliflower and potato curry comes together quickly.
It is also a one-pot meal, so clean-up is a breeze. What's not to love about that?
From: twoofakindcooks.com
3. Coconut Curry Chicken
This dish is very easy to prepare. This recipe cuts chicken into chunks.
The chunks of chicken are first cooked in a mix of curry powder, oil, garlic, and onions.
Then they are simmered along with the coconut milk and tomatoes.
From: salu-salo.com
4. Lentil Spinach Curry With Coconut Rice
This lentil spinach curry is a weeknight dinner that I've been enjoying recently.
It's got a pretty short and easy ingredients list for a curry, and a lot of the work is hands-off which makes it easy to clean as I go.
From: yupitsvegan.com
5. Easy One-Pot Cauliflower Curry Recipe
It's made with cauliflower, green peas, diced tomatoes, curry, and coconut milk.
This recipe is also gluten-free, vegan. If you don't add green peas, it's low-carb too.
From: primaverakitchen.com
6. Butter Chicken
Did you know that Butter Chicken is actually one of the easiest curries to make?
Short ingredient list and you can get everything from the supermarket.
From: recipetineats.com
7. Coconut Shrimp Curry With Red Pepper And Spinach
This curry uses full fat coconut milk because it's absolutely delicious but you could use lite coconut milk if you're watching the fat and calories.
Other than that, it's made with vegetables, shrimp and spices.
From: stuckonsweet.com
8. Beef Masala Curry
Fragrant spices and tender meat can be on the table in less than an hour.
This is one of those outrageously delicious curries, which will make you mop your plate clean and ask for more.
From: gastrosenses.com
9. Mango Chicken Coconut Curry
A little bit spicy and creamy, and a whole lotta delicious, this Thai-inspired curry is loaded with chicken and mango.
From: thecompletesavorist.com
10. Coconut Chickpea Curry
This Creamy Vegan Coconut Chickpea Curry is the BEST curry I've ever had!
All it takes is one pot, it's loaded with homemade ground spices and incredibly flavorful!
From: jessicainthekitchen.com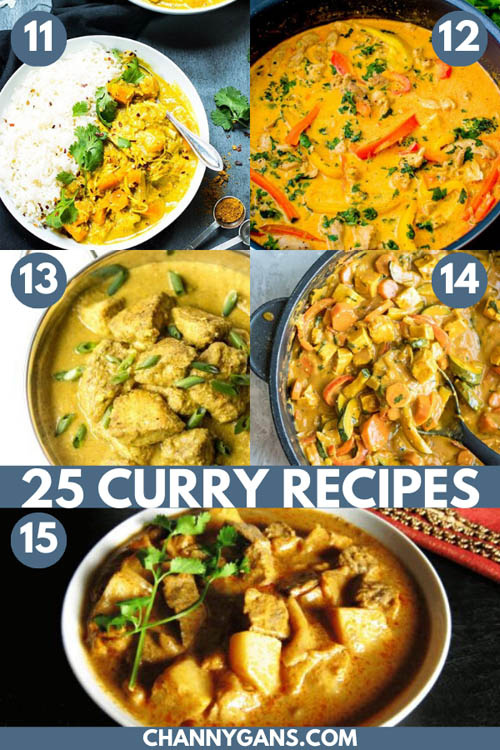 11. Slow Cooker Chicken Curry With Coconut Milk
Slow Cooker Chicken Curry that is made with coconut milk and sweet potatoes!!
This curry chicken recipe is naturally gluten-free and makes a delicious lunch or dinner when served with rice.
From: evolvingtable.com
12. Thai Red Chicken Curry
If you are a Thai food lover, you must try out this Thai Red Chicken Curry.
Very simple to prepare and Thai paste gives it an authentic taste.
From: poojascookery.com
13. Indian Chicken Korma
Creamy, spiced Chicken Korma is the stuff dreams are made of.
Loosen up those pants and make this delectable Indian dish at home!
From: thewanderlustkitchen.com
14. Vegan Panang Curry With Tofu
The rich, curried tomato peanut sauce has just the right amount of spice and always tastes incredible.
This recipe is easy to make with simple pantry ingredients like tomato paste, light coconut milk, peanut butter, and curry powder.
From: runningonrealfood.com
15. Thai Instant Pot Massaman Curry With Beef
This fragrant and flavorful Thai Instant Pot Massaman Curry recipe has creamy coconut, tender beef, potatoes, and crunchy peanuts.
This combines to make this a highly satisfying dish that can be put together quickly for a delicious weeknight meal.
From: paintthekitchenred.com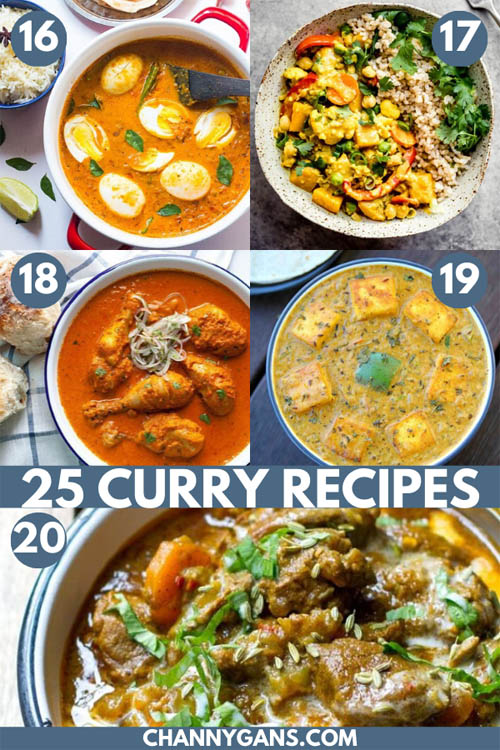 16. South Indian Style Egg Curry
A few spices, onions, tomatoes, and coconut milk make this utterly satisfying and comforting egg curry recipe that tastes best with flatbread and rice.
Make extras because everyone will want seconds!
From: myfoodstory.com
17. Yellow Chickpea Pumpkin Curry
This vegan curry recipe is packed with plant-based protein and perfect for meal prep!
From: ambitiouskitchen.com
18. Malwani Coconut Chicken Curry
This Malwani Coconut Chicken Curry recipe has the sublime earthiness that comes from dry roasting fresh coconut and blending it together with spices.
From: foodienfabulous.com
19. Paneer Capsicum Curry Masala
A simple and creamy north Indian cuisine gravy is mainly made with cottage cheese and capsicum.
It is an easy and quick paneer curry which is ideal for serving with rotis and chapati.
From: hebbarskitchen.com
20. Coconut Lamb Curry
his hearty paleo lamb curry is a bit of a fusion but is primarily Indian in flavour.
It's very easy to make and can be done in a slow-cooker and frozen. Serve with cauliflower rice!
From: eatdrinkpaleo.com.au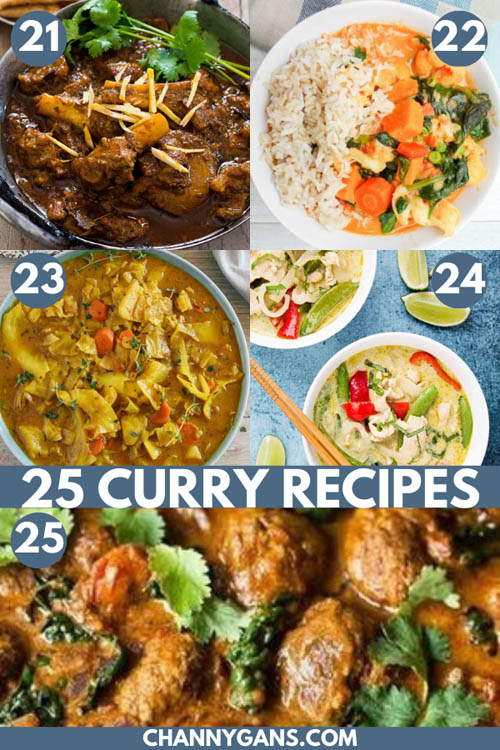 21. Indian Mutton Curry
This easy, homemade Indian mutton curry will become your go-to recipe every time you want to cook with lamb.
Tender, succulent pieces of meat are cooked in a spicy gravy that makes it the perfect bowl of comfort food with basmati rice.
From: myfoodstory.com
22. Sweet Potato And Cauliflower Thai Curry
Curries make the best dinner as they are stuffed with healthy ingredients, deliciously creamy coconut milk, and amazing spices.
From: heavenlynnhealthy.com
23. Curry Cabbage
This quick and easy Curry Cabbage will be a sure hit! It is not only healthy but astonishingly full of flavor and easy to prepare.
From: healthiersteps.com
24. Thai Green Curry Chicken
Blend together sweet coconut milk and spicy green curry paste.
The mixture then gets strips of chicken, red bell peppers, sugar peas, and fresh basil added to it
Making it a real quick fix for a comforting and beautiful looking weeknight meal.
From:  valerieskeepers.com
25. Indian Spiced Meatballs In Curry Sauce
These Indian-inspired meatballs in curry sauce need nothing but rice and a big spoon!
From: vikalinka.com
Related Posts
Enjoyed these curry recipes? Pin it for later!
Pin these curry recipes to your Curry Recipes board on Pinterest so you can easily view it later.