Keto bacon egg cups are the perfect low carb recipe breakfast or even an on the go snack. You can easily prepare these bacon and egg cups ahead of time and pop them in the microwave if you are in a hurry!
These keto bacon egg cups really couldn't get any easier!
Easy Keto Bacon Egg Cups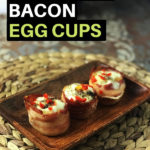 Print This
Ingredients
12 eggs

12 streaks/slices of bacon

Red pepper (optional)

Salt and pepper (optional)
Instructions
Preheat your oven to 350 degrees
Spray a muffin tin or silicone muffin molds with non-stick spray
Wrap each piece of bacon inside each muffin cup
Break one egg into each cup
Salt and pepper to taste
Sprinkle on chopped up red pepper
Bake for 25 – 35 minutes, until the eggs are firm and the bacon is crisp
Notes
You can use chives or green onion as well.