Looking for some easy bite size appetizers for your next event? These bite size appetizers make a great addition to any dinner party or event you might have.
50+ Easy Bite Size Appetizers
Not only will these appetizers make a great starter, but you can also make a few of them for an entire meal and call it a day. They are easy to make and there is something for everyone!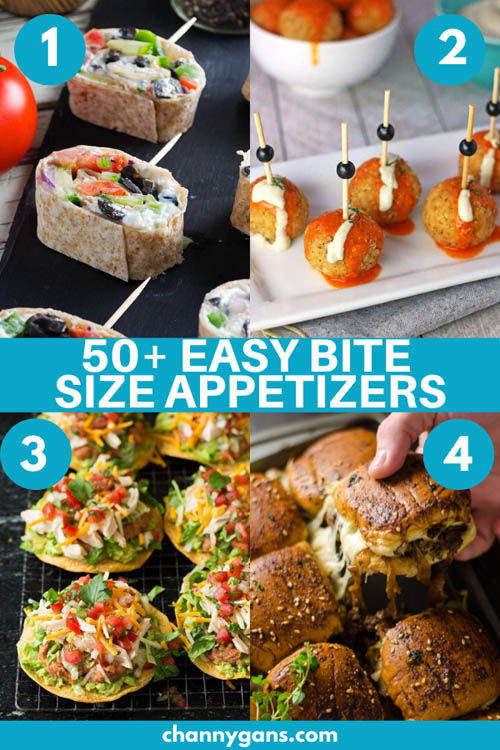 1. Greek Tortilla Pinwheels
Many of us scramble around for party appetizer ideas at this time of year.
But let's face it, we really don't want to spend long making them. Enter these easy peasy and mighty tasty Greek tortilla pinwheels!
From:  scrummylane.com
2. Buffalo Quinoa Balls With Ranch Dipping Sauce
These Buffalo Quinoa balls are a great vegan option to get that hot sauce fix without any meat.
They're perfect for game day, parties or anytime you want a little kick!
From: vnutritionandwellness.com
3. Chicken Tostadas
These Tostadas with Chicken Beans and Guacamole are perfect for an easy weeknight dinner!
These are piled high with layer after layer of deliciousness and you'll be savoring every bite.
From: cookingclassy.com
4. French Onion Beef Sliders
From: hostthetoast.com
5. Tuna Cucumber Tea Sandwiches
From: momlovesbaking.com
6. Cheesy Ground Beef Empanadas
Cheesy Ground Beef Empanadas packed with veggies and meat and wrapped in flaky pie crust make for an irresistibly fun and filling meal the whole family will appreciate.
From: neighborfoodblog.com
7. Olive Cheese Bread
This Olive cheese bread combines a gooey cheese filling, on top of crusty bread.
From: homeinthefingerlakes.com
8. Ham And Cheddar Crescent Roll-Ups
Ham and Cheddar Crescents Roll-ups are such an easy family favorite weeknight dinner and they are ready in just 20 minutes.
From: recipessimple.com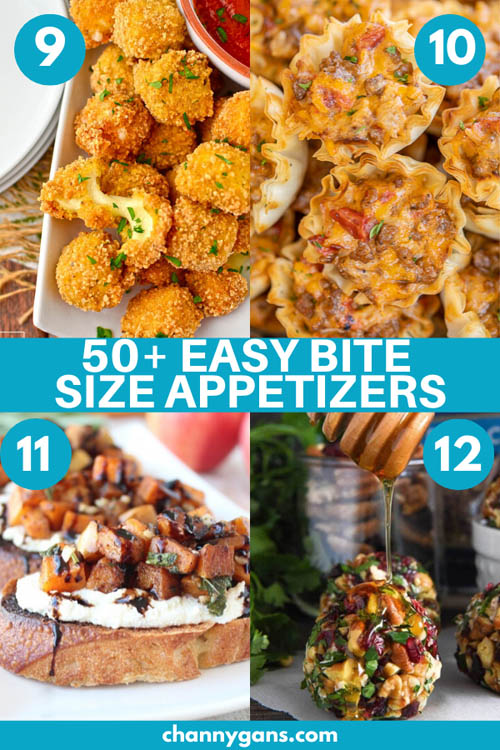 9. Gluten-Free Mozzarella Bites
These crispy, ooey-gooey bites are great for game day, kids' sleepovers, or anytime you're craving a cheesy treat!
From: iowagirleats.com
10. Taco Ranch Bites
You can make these bites ahead and refrigerate or freeze for later.
They are great for a quick snack!
From: plainchicken.com
11. Butternut Squash Apple Bruschetta
Butternut squash & apples are roasted in fall spices for a delicious twist on bruschetta, making this vegetarian recipe the perfect appetizer for fall!
From: whitneybond.com
12. Cranberry Pecan Goat Cheese Truffles
These festive mini cheese balls only take 15 minutes and are loaded with creamy goat cheese, cranberries and crunchy pecans!
From: thenovicechefblog.com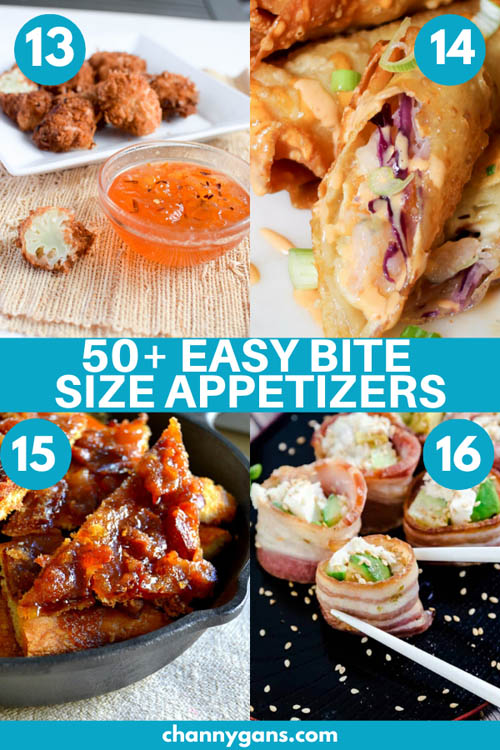 13. Vegan Coconut Cauliflower Bites
From: specofgold.com
14. Bang Bang Shrimp Egg Rolls
Bang Bang Shrimp Egg Rolls are filled with delicious shrimp, slaw, and the super popular Bang Bang sauce!
Perfect game day snack or appetizer!
From: domesticsuperhero.com
15. Maple Caramel Bacon Crack
From: thedomesticrebel.com
16. Bacon Wrapped Cream Cheese California Roll
From: lowcarbingasian.com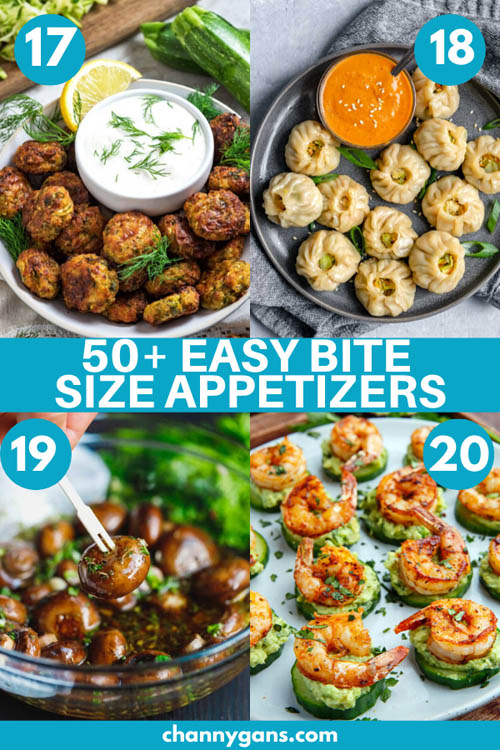 17. Cheesy Garlic Zucchini Bites
From: hostthetoast.com
18. Tibetan Vegetable Momos
These handmade Tibetan vegetable momos are served with a spicy tomato sesame chutney and make a delicious appetizer or snack!
From: thecuriouschickpea.com
19. Easy Marinated Mushrooms
Learn how to make these marinated mushrooms in less than 15 minutes.
Great for appetizer platters and parties. Restaurant-style, very easy to make at home.
From: cookinglsl.com
20. Blackened Shrimp Avocado Cucumber Bites
Light and tasty blackened creole seasoned shrimp on crisp and juicy cucumber slices with cool and creamy avocado and flavor packed remoulade sauce!
From: closetcooking.com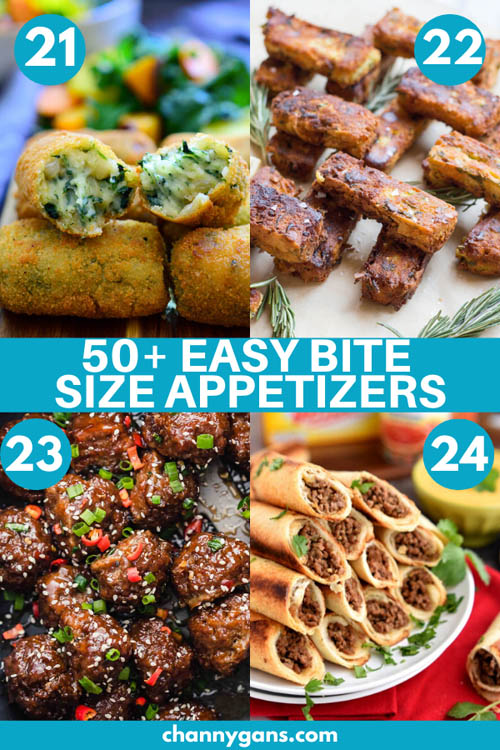 21. Spanish Spinach Croquettes
These Spanish spinach croquettes are a typical tapa in bars all around Spain.
They're simple to make, packed with flavor and make a great vegan party finger food or appetizer!
From: cilantroandcitronella.com
22. Italian Chick Pea Fritters With Veggies
This easy recipe for Chick Pea Fritters uses chickpea flour and lots of veggies!
They're crispy, salty, and also vegan and gluten-free!
A great way to get kids to eat their vegetables.
From: coleycooks.com
23. Sticky Thai Meatballs
These Thai meatballs are incredibly juicy and packed with flavor.
The key ingredient is a few spoonfuls of Thai green curry paste which adds all the flavor.
From: myfoodstory.com
24. Baked Beef Flautas
These Baked Beef Flautas with Queso Dip are sure to please the entire crowd at your next party!
An easy flauta recipe that is perfect for a quick and easy dinner or game day appetizer.
From: momontimeout.com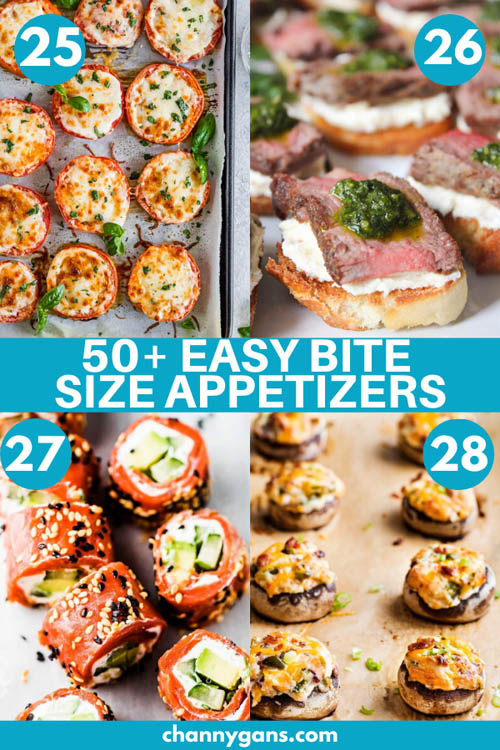 25. Baked Tomatoes With Mozzarella & Parmesan
Baked tomatoes are a super quick and super easy side dish or appetizer for any occasion!
These cheesy oven-roasted tomatoes with mozzarella and parmesan cheese are so simple yet incredibly delicious.
From: thecookierookie.com
26. Beef Tenderloin Crostini
From: domesticate-me.com
27. Tzatziki Avocado Salmon Rolls
Tzatziki Avocado Salmon Rolls are the perfect party appetizer.
They're totally delicious, easy to make, super pretty, and healthy.
Bonus: they can be made ahead of time!
From: theendlessmeal.com
28. Jalapeno Popper Stuffed Mushrooms
Spicy jalapeno poppers and creamy stuffed mushrooms combine in this fun party appetizer!
Jalapeno popper stuffed mushrooms are THE game day food this Fall!
From: thechunkychef.com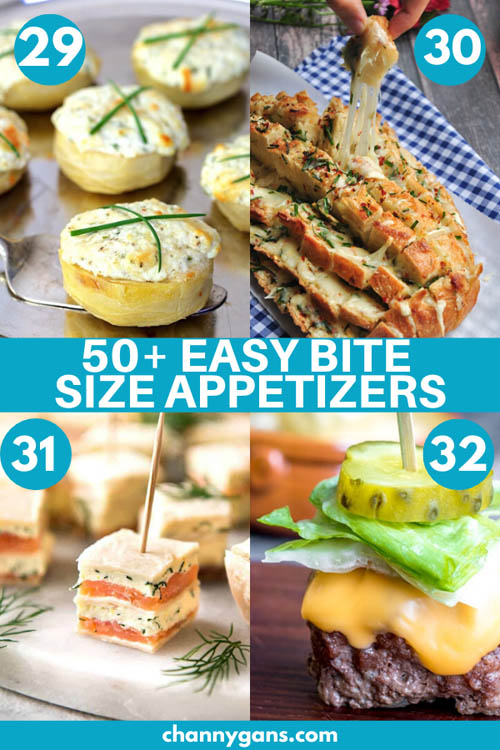 29. Goat Cheese Stuffed Artichoke Bottoms
Goat Cheese Stuffed Artichoke Bottoms are easy, impressive and so delicious!
Best of all, they can be made well in advance! Soon to become your favorite hot appetizer!
From: fromachefskitchen.com
30. Garlic Pull-Apart Bread
Looks impressive? It's really easy to make.
6 ingredients and 30 minutes are all you need for this cheesy garlic pull-apart bread.
Serve it as a side, an appetizer, or a snack. Bring it to a potluck or tailgate party to knock everyone's socks off!
From: streetsmartkitchen.com
31. Smoked Salmon Appetizer Bites
From: recipetineats.com
32. Low Carb Big Mac Bites
These Low Carb Big Mac Bites are a keto recipe for mini bunless burgers that make a great low carb appetizer or game day food that everyone will love!
From: homemadeinterest.com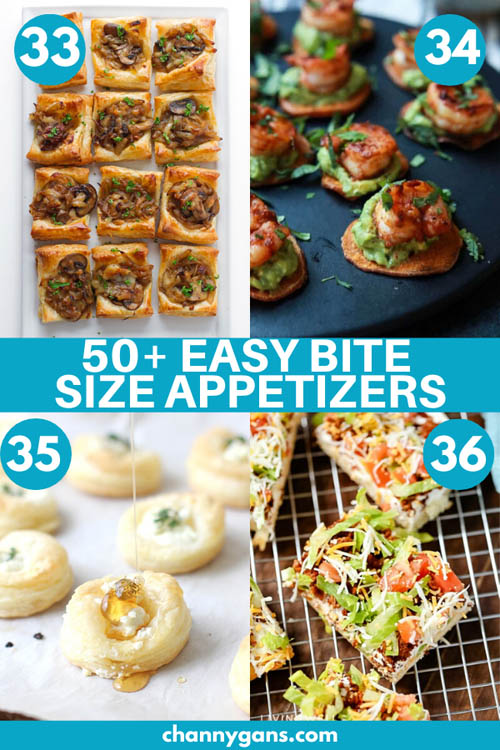 33. Gruyere, Mushroom, & Caramelized Onion Bites
Thee perfect little appetizers!
They're made with puff pastry and take no time at all to whip up!
These are the perfect appetizers to serve your guests this holiday season.
From: littlespicejar.com
34. Cajun Shrimp Guacamole Bites
From: joyfulhealthyeats.com
35. Easy Goat Cheese and Honey Bites
Savory Goat Cheese and Honey Bites are the perfect appetizers for your next gathering or holiday party.
Flaky pastry topped with creamy goat cheese, sweet honey and thyme make an easy entertaining idea!
From: suburbansimplicity.com
36. Easy Taco Pizza
A family-favorite dinner, this delicious taco pizza recipe is made with a crescent roll crust and simple ingredients.
It's quick and easy too; you can whip up this filling meal in 30 minutes or less!
From: livingwellmom.com
37. Cranberry Cocktail Meatballs
From: everydayshortcuts.com
38. Dilly Cucumber Bites
These fresh Dilly Cucumber Bites make a great healthy appetizer.
Cucumber slices are topped with a fresh dill cream cheese and yogurt mixture and finished with a juicy cherry tomato.
From: jessfuel.com
39. Baked Thai Chicken Wings
Cheer on your favorite team and keep your party guests entertained with these scrumptious Baked Thai Chicken Wings with Peanut Sauce!
From: sweetandsavourypursuits.com
40. Baked Zucchini Chips
From: dancingthroughtherain.com
41. Crispy Baked Potato Skins
Crispy Baked Potato Skins are easy, cheesy and the perfect family favorite appetizer for game day or any day!
Made in just 30 minutes, these Crispy Baked Potato Skins are crispy on the outside and piled high with melted cheddar cheese, crunchy bacon and sharp green onion on the inside.
From: awickedwhisk.com
42. Chili Lime Baked Shrimp Cups
Wonton wrappers are baked in the oven until crisp, filled with arugula, a lime sour cream, and then topped with a big juicy chili-lime baked shrimp.
From: inspiredtaste.net
43. Deep Fried Mac And Cheese
Creamy macaroni and melty cheese coated in a crispy, crunchy batter.
Satisfy your craving with this tasty appetizer!
From: bakingbeauty.net
44. Individual Healthy 7-layer Dips
This dip recipe is perfect for Christmas, New Year's Eve, or even Game Day parties.
From: evolvingtable.com
45. Crab Cream Cheese Wontons
Crab Cream Cheese Wontons Super crispy wontons stuffed with a juicy and flavorful crab filling.
Cheaper and faster than takeout!
From: bakingbeauty.net
46. Bacon Cream Cheese Crescent Rolls
If you crave the combination of soft, buttery crescents, creamy herbed cheese, and smoky bacon– look no further.
With only three ingredients, Bacon Cream Cheese Crescent Rolls are the easy, delicious and cheap appetizers
From: garlicandzest.com
47. Gorgonzola Pear English Muffin Pizzas
Looking for quick & easy appetizers to serve at holiday parties during the cooler months?
Bake a batch of these simple, yet elegant Gorgonzola Pear English Muffin Pizzas in only 20 minutes from start to finish.
From: therisingspoon.com
48. BBQ Chicken Wonton Cups
From: amagicalmess.com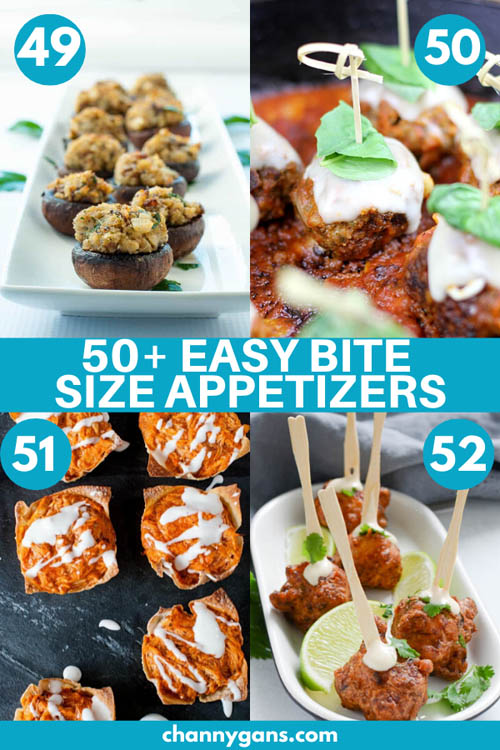 49. Blue Cheese Stuffed Mushrooms
Bite-sized mushroom caps, stuffed with garlic, herbs, blue cheese (or other strong cheese) make these Blue Cheese Stuffed Mushrooms a crowd-pleasing appetizer.
They are easy to make gluten-free.
From: flavourandsavour.com
50. Meatball Parmesan Bites
Tender beef meatballs, infused with garlic, breadcrumbs, and parmesan, smothered in Italian red sauce and topped with melted mozzarella and fresh basil.
From: suburbansimplicity.com
51. Buffalo Chicken Wontons
From: tammileetips.com
52. Island-Style Conch Fritters
From: garlicandzest.com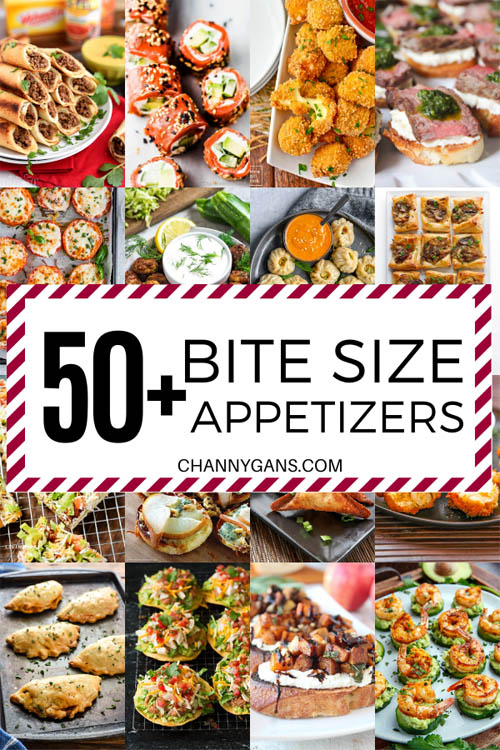 Enjoyed these easy bite size appetizers? Then pin it for later!
Pin these easy bite size appetizers to your Food Ideas or Appetizer Recipes boards on Pinterest.
That way you can easily view them later!