Appetizers and finger foods are great to have on game day or for a party. Try some of these 22 pinwheel roll ups for your next game day party.
22 Pinwheel Roll Ups
Below we've rounded up 22 pinwheel roll ups.
To view the full instructions for any of these pinwheel roll ups, please follow the links below.
1. Turkey Roll Ups
These easy turkey roll ups are filled with smoked turkey, swiss cheese, avocado and spinach, all wrapped up and sliced into pinwheels. The perfect easy lunch or party snack!
From: dinneratthezoo.com
2. Jalapeño Popper Pinwheels
An easy recipe for Jalapeño Popper Pinwheels filled with cheese, diced jalapeños, and crumbled bacon.
Perfect for a snack, lunch or appetizer!
From: motherthyme.com
3. Copy Cat Costco Turkey Swiss Pinwheels
These Copy Cat Costco Turkey Swiss Pinwheels are a perfect make-ahead lunch option.
Creamy, easy and with a perfect blend of Swiss cheese, sliced turkey, and sandwich veggies– they make a gorgeous holiday appetizer or great game day grub.
From: 4sonrus.com
4. Greek Salad Pinwheels
These Creamy Greek Salad Pinwheels are a delicious appetizer any time of the year and everyone loves them!
Add a bit of oregano and a splash of red wine vinegar and you have pinwheel perfection!
From: yellowblissroad.com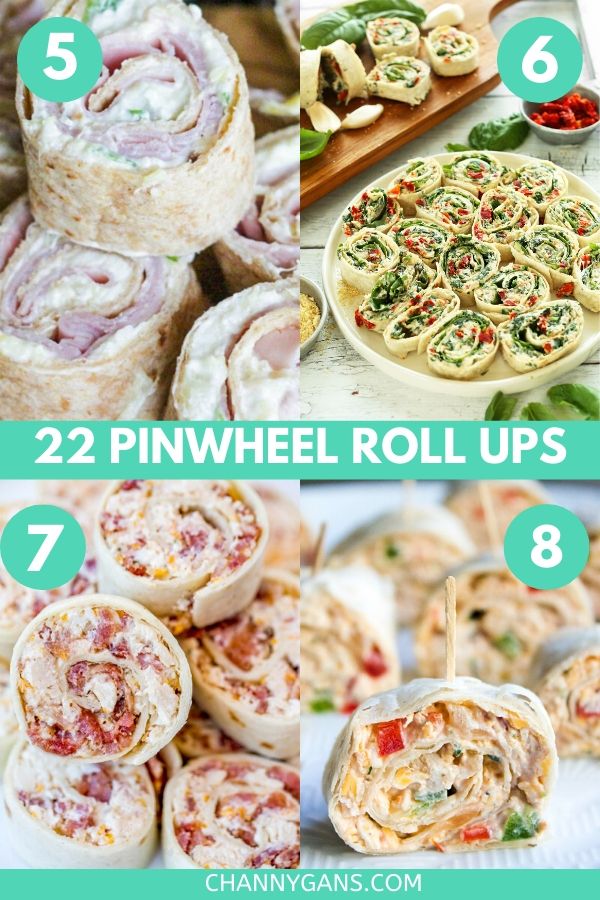 5. Hawaiian Tortilla Roll Up
These simple Hawaiian Tortilla Roll Ups are crazy delicious!
With layers of cream cheese and sweet pineapple topped with flavorful ham and rolled up into the perfect bite-sized appetizer or lunch, the sweet and salty combination makes these an easy favorite you can whip up in no time flat!
From: thepinningmama.com
6. Sun-dried Tomato And Basil Pinwheels
This recipe is simple, requiring just 8 ingredients and 15 minutes to prepare! Just stir filling ingredients, spread into a tortilla, roll, and slice!
From: minimalistbaker.com
7. Chicken Bacon Ranch Pinwheels
Chicken bacon ranch pinwheels are an easy wrap your party guests will love with chicken, bacon, cheese and ranch seasoning.
They're delicious hot and cold!
From: therecipecritic.com
8. Mexican Pinwheels Recipe
This easy Mexican Pinwheels Recipe is a party favorite that's full of bright, bold flavors you'll crave!
Your guests will ask for seconds and thirds!
From: breadboozebacon.com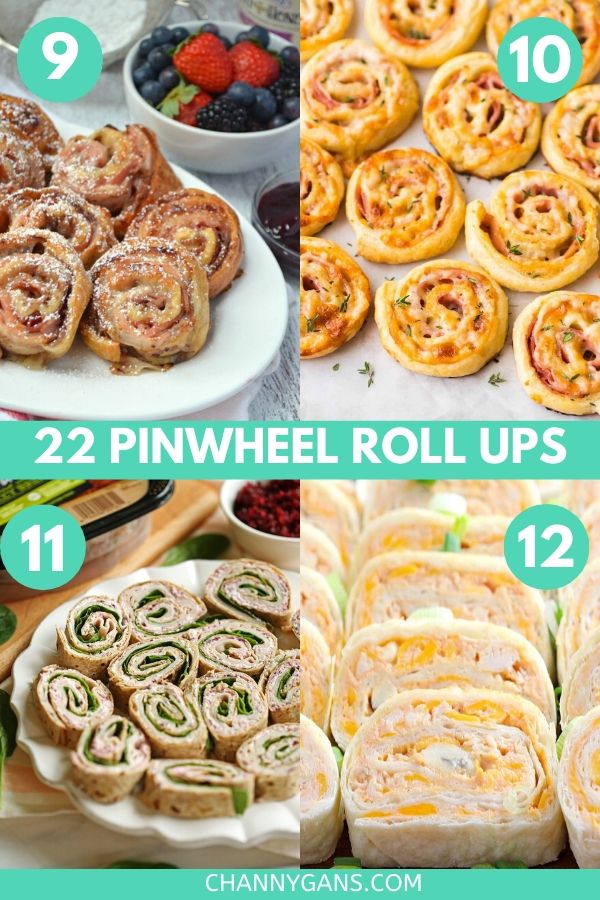 9. Monte Cristo Pinwheels
Inspired by a popular sandwich, these baked Monte Cristo Pinwheels, are sweet and savory and will definitely be your go to appetizer recipe all holiday season long!
From: kitchen-concoctions.com
10. Ham and Cheese Pinwheels
Easy Ham and Cheese Pinwheels with Puff Pastry. Just FOUR ingredients!
Everyone loves this simple and delicious appetizer recipe. Easy to make ahead and perfect for holiday parties too!
From: wellplated.com
11. Turkey Pinwheels With Cranberry Spread
Healthy turkey pinwheels layered on a sweet yet spicy cranberry spread with fresh spinach wrapped all together on a whole wheat tortilla!
From: eatyourselfskinny.com
12. Buffalo Chicken Tortilla Roll Ups
Okay football fanatics, here is an appetizer that always scores a touchdown!
From: sugarapron.com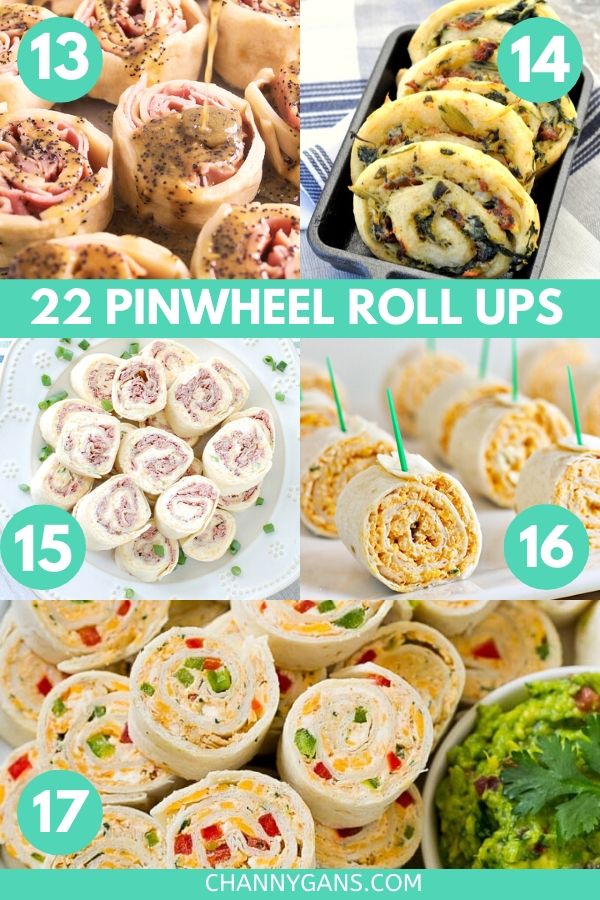 13. Baked Ham And Cheese Rollups
These Baked Ham and Cheese Rollups, are an easy appetizer or dinner recipe that are always a crowd favorite.
They are made with crescent dough, Boar's Head SmokeMaster™ Black Forest Ham, swiss cheese, and then topped with a delicious mustard glaze.
From: highheelsandgrills.com
14. Bacon Spinach Roll Ups
These bacon spinach roll ups are absolutely perfect for any type of party or if you are just feeling a little finger food for lunch or dinner!
From: mysuburbankitchen.com
15. Roast Beef Tortilla Roll Ups
Roast beef tortilla roll ups are a great make-ahead appetizer or lunch.
Fast to make and filled with delicious flavors like roast beef, horseradish, cream cheese, cheese, and green onion.
From: foodlovinfamily.com
16. Buffalo Chicken Tortilla Pinwheels
Love buffalo wings? If you do, you'll love these!
This Buffalo Chicken Tortilla Pinwheels recipe makes a delicious party food with all the flavors of buffalo wings + blue cheese, but without the mess.
From: homecookingmemories.com
17. Taco Pinwheels
These taco pinwheels are made with chicken, taco seasoning, cream cheese, and peppers, all rolled up inside tortillas.
An easy make-ahead party appetizer!
From: dinneratthezoo.com
18. Spinach Artichoke Pinwheels
Tender flatbread filled with creamy spinach and artichoke dip and rolled into bite sized pinwheels.
This easy appetizer is the perfect addition to your next party, family gathering or luncheon!
From: spendwithpennies.com
19. Baked Taco Pinwheels
Oh, Taco Pinwheels, I can't stop, won't stop!!
All you need is puff pastry, taco meat, tomatoes, and cheese plus a few bowls of toppings like guacamole!
From: ohsweetbasil.com
20. Cranberry And Feta Pinwheels
The sweet cranberries with the tangy feta and onions make this 5 ingredient appetizer not only easy but delicious.
I like to use spinach tortillas for an extra holiday touch.
From: the-girl-who-ate-everything.com
21. Dill Pickle Rollups
Dill Pickle Rollups are the ultimate party food!
They are so yummy, and they are best when they are made ahead! Can't beat that for party food!
From: littledairyontheprairie.com
22. Turkey Bacon Ranch Pinwheels
Turkey Bacon Ranch Pinwheels are an easy wrap with turkey, bacon, ranch, and cheese and are perfect for an appetizer or lunch!
They are delicious served hot or cold and are sure to please your taste buds.
From: therecipecritic.com
Enjoyed these pinwheel roll ups? Then pin it for later!
Pin these pinwheel roll ups to your Appetizers and Snacks or Recipes boards on Pinterest.
That way you can easily view them later!