Halloween parties are always so much fun and with these 20 Halloween party appetizers, the guesswork about what to make is gone! These Halloween party appetizers and snacks are great for any Halloween get-together you've got planned this year!
Below we've rounded up 20 spooky  Halloween party appetizers
To view the full recipe and instructions for any of these Halloween appetizer recipes, please follow the link below each picture.
1. Halloween Jalapeño Popper Mummies
These little mummies will win over your heart and your stomach!
They are just so darned cute you don't want to eat them but trust me, once you have one you will be heading back for more!
From: thehopelesshousewife.com
2. Spider Hotdogs
Only 3 ingredients for these festive Halloween hotdogs! Assemble ahead of time and pop in the oven after trick-or-treating.
Everyone LOVES these fun spider hotdogs! Perfect Halloween party recipe!!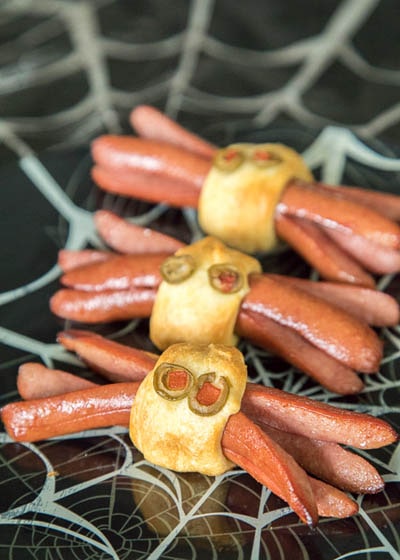 From: plainchicken.com
3. Meatball Mummies
These Meatball Mummies are a fun, easy, and delicious Halloween finger food idea.
They are store-bought meatballs, wrapped in crescent down, and topped with marinara and olives.
From: highheelsandgrills.com
4. Shrimp On The Brain Cracker Spread
A fun, spooky addition to any Halloween party, this 'Shrimp On The Brain' Cracker Spread is simply 'boo'-tiful.
It looks just like a fresh, bloody brain, but it tastes like a creamy, flavorful shrimp dip that the whole family will love.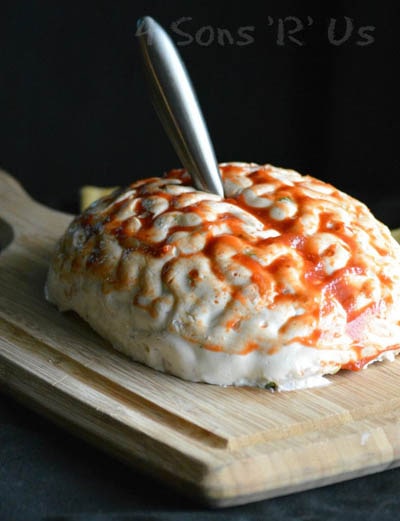 From: 4sonrus.com
5. Bones and Cheese Dip
So fun…and yummy too!
They are easy enough to add to your Halloween Dinner for your family, and also perfect for a large party or even a spooky dinner party.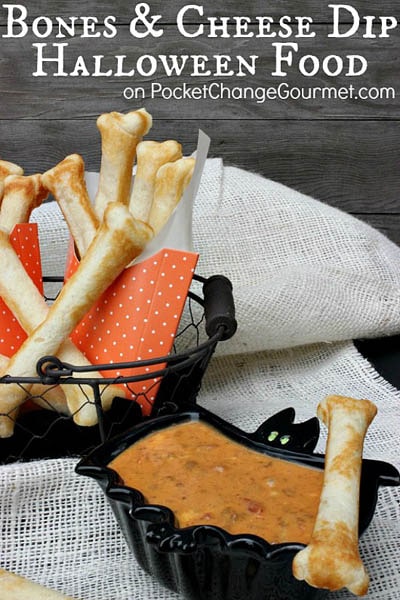 From: pocketchangegourmet.com
6. Mummy Mini Pizzas
These adorable mummy mini pizzas are so easy to make, and are a perfect dinner or lunch for the Halloween season! Great for kids and adults alike!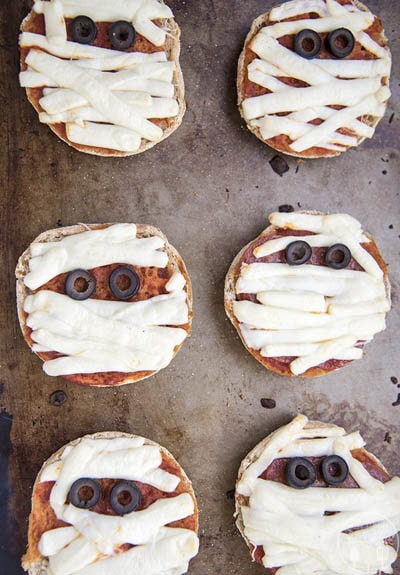 From: lmld.org
7. Monster Fingers
These creepy monster fingers take a bit of work but are well worth it.
Ready-made breadstick dough is shaped, tinted with spray color and then topped with an almond "fingernail" and poppyseeds.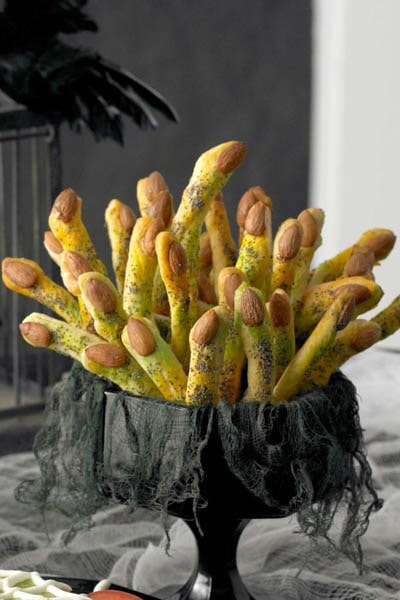 From: womansday.com
8. Pumpkin Mini Cheese Balls
Make a delicious bacon ranch cheese ball and shape them into adorable pumpkins for the perfect Halloween and Thanksgiving appetizer!
These Pumpkin Mini Cheese Balls are cute, tasty and easy to serve!
From: thelovenerds.com
9. Ghost Pizza Bagels
The scariest thing about these pizza bagels is how fast we're going to eat them.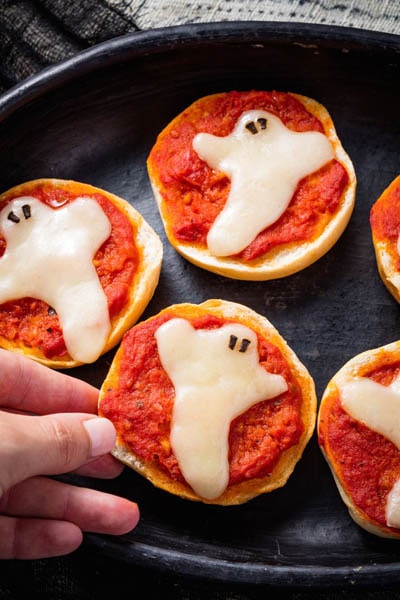 From: delish.com
10. Frankenguac
A fun Halloween Party Idea using fresh California Avocados to make a quirky and cute guacamole dip shaped like Frankenstein.
From: dineanddish.net
11. Pepperoni Pizza Pockets
These homemade pepperoni pizza pockets are a great make-ahead meal or snack.
Serve them with a side of marinara sauce for dipping!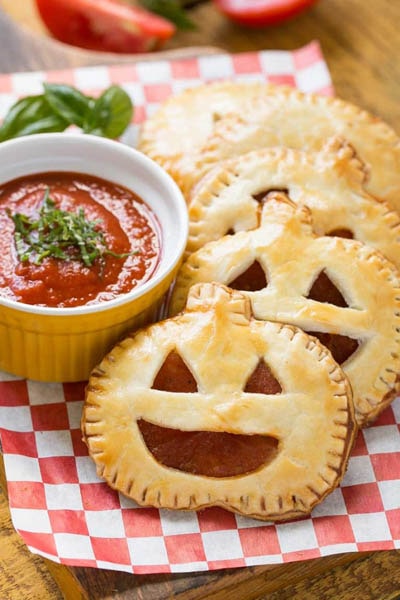 From: dinneratthezoo.com
12. Halloween Witch Hat Calzones
These Halloween Witch Hat Calzones will be a hit on Halloween!
They make the perfect appetizer or side dish to serve at Halloween parties or just for fun at home!
From: jeanniestriedandtruerecipes.com
13. Halloween Deviled Tea Eggs
Serve these Halloween Deviled Tea Eggs at your Halloween party. I'm pretty sure they would magically vanish.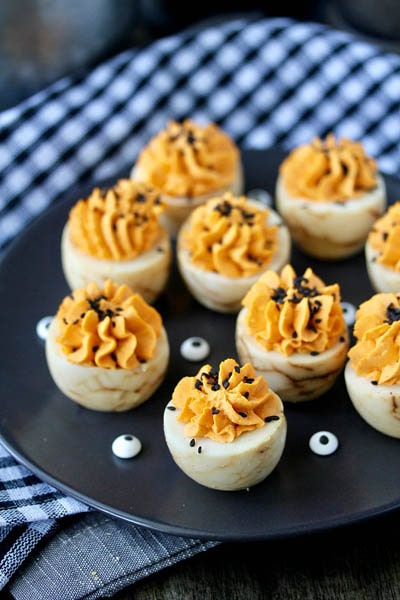 From: karenskitchenstories.com
14. Graveyard Taco Dip
Need a spooky and fun Halloween recipe? How about graveyard taco dip with gravestone tortilla chips!
From: chickabug.com
15. Halloween Pull-Apart Bread
Let's celebrate Halloween this year with the super fluffy and soft purple and yellow pull-apart Japanese bread with cute Halloween decorations!
From: chopstickchronicles.com
16. Monster Meatball Sliders
Monster Meatball Sliders make for the perfect spooky meal or appetizer to celebrate the Halloween season with.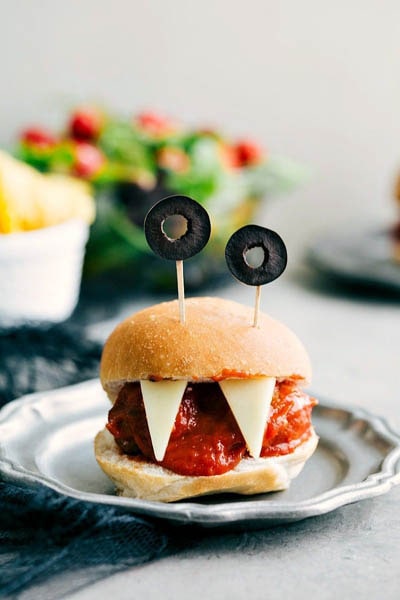 From: chelseasmessyapron.com
17. Flatbread Halloween Recipes
A simple, spooky and delicious recipe that the kids will love!
From: lilluna.com
18. Graveyard Taco Cups
Layered with black beans, homemade guacamole, black olives, and green onions, these individual cuties are topped off with edible tombstones and creepy trees made from FlatOut pizza crusts.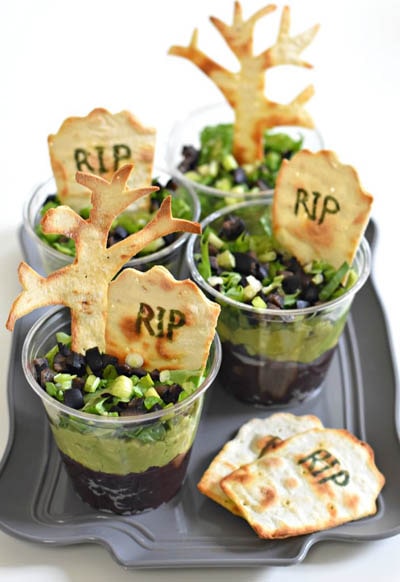 From: forkandbeans.com
19. Cheddar Witches' Fingers
Savory sharp cheddar cheese straws are made spooky thanks to clever shaping and the addition of black (food coloring-painted) almonds.
Halloween just got tastier.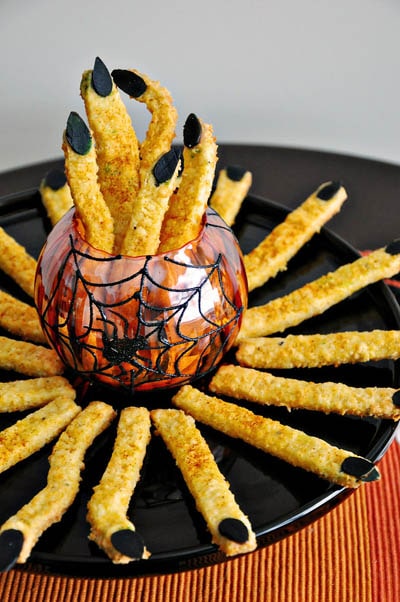 From: cooklikeachampion.com
20. Mashed Potato Monsters
These little mashed potato monsters are not only creepy, but they are delicious to snack on as well!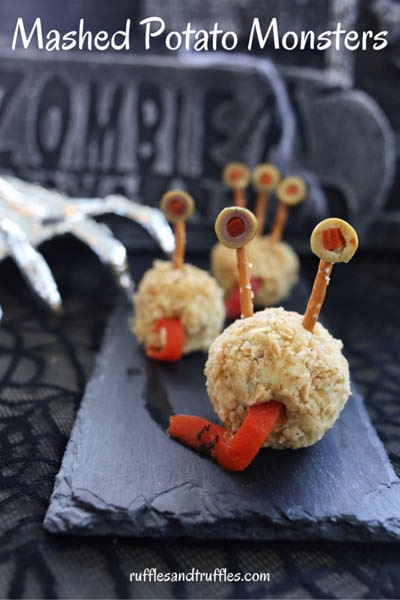 From: helpfulhomemade.com
Enjoyed these Halloween party appetizers? Then pin it for later!
Pin these Halloween snack recipes to your Halloween Ideas or Recipes boards on Pinterest.
That way you can easily view them later!