Changing your eating habits doesn't have to be so difficult. For me, following a keto diet is the best way to do this since you still eat super delicious meals! With keto, you have to eat below a certain amount of carbs each day and all of these keto recipes contain less than 18g of carbs per serving.
Please note that this post contains affiliate links, which means if you buy from my link I receive a small commission at no extra cost to you.  For more information, please check out my full affiliate disclaimer here.
10 Keto Recipes To Try Today!
With this way of eating you have a lot of variety to choose from, not only when it comes to the food but also the recipes. There are a ton of different recipes just waiting for you to try out, so you definitely won't get bored of making the same meals every day!
---
P.S. If you are new to the keto diet and want to know what the hype is about, I highly recommend checking out this keto beginner ebook. It provides you with all the resources you need and includes numerous delicious recipes! If reading is not your thing, this keto beginner audiobook might be more up your alley.
---
Shredded Harissa Chicken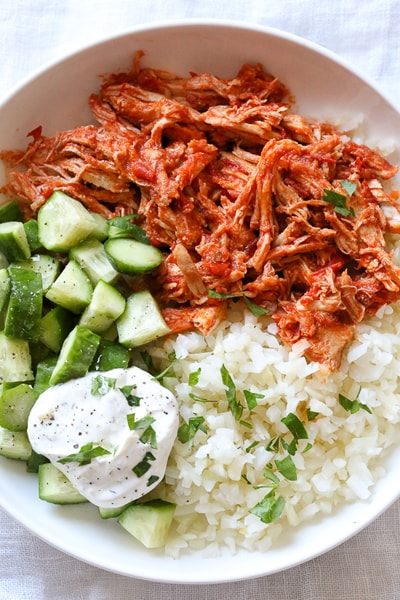 Image courtesy of Skinnytaste
This recipe really couldn't be any easier and is basically made with just TWO ingredients, harissa, and chicken (with some spices of course). You can make the chicken in either a slow cooker or pressure cooker, whichever works best for you.
Harissa is a Moroccan red pepper sauce that you can serve with pretty much anything. And needless to say, it goes great with chicken.
You can serve this delicious chicken in a variety of ways, I recommend that you serve it with some cauliflower rice.
Per Serving:
Calories: 178
Fats: 7g
Protein: 26g
Carbs: 4g
Get the recipe here.
Ricotta Stuffed Salmon Rolls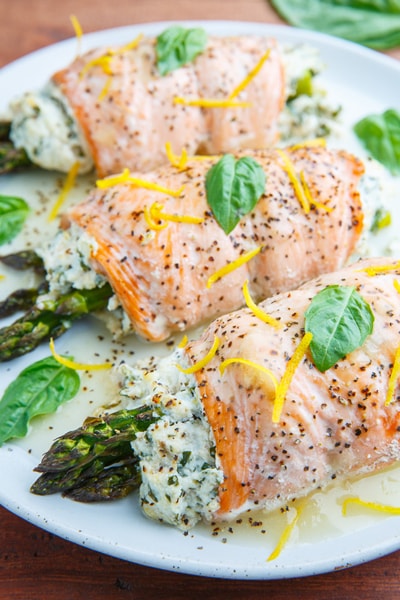 Image courtesy of Closet Cooking
Doesn't this just look divine? It is asparagus, lemon, and basil ricotta stuffed salmon rolls with lemon sauce.  That is quite a mouthful.
This is a great way of incorporating healthy fats into your diet – and a delicious way too. If you want some extra flavor you can top these rolls with some homemade basil pesto.
Per Serving:
Calories: 400
Fats: 21.7g
Protein: 43.8g
Carbs: 8.8g
Get the recipe here.
---
BTW, if you are not sure whether or not you are in ketosis, you might want to get yourself some ketone testing strips.  These strips are easy to use and give you the results in seconds.
---
Loaded Cauliflower Nachos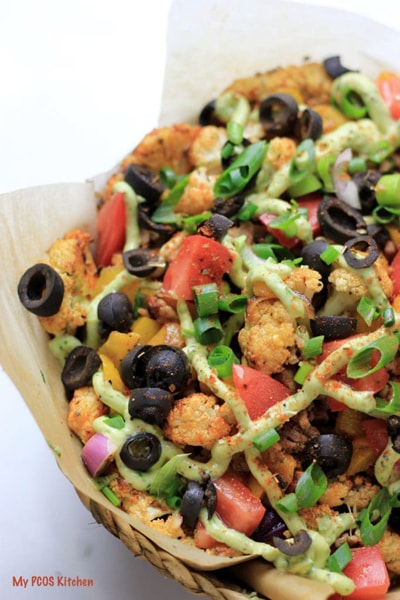 Image courtesy of My PCOS Kitchen
These are nacho regular nachos. Sorry, I had to.  But seriously, you won't even miss your tortilla chip nachos when you try this healthy alternative.
I absolutely love nachos, and I'll take any low carb version of it that I can get. With this cauliflower nachos recipe, you will still get all of the great flavors that you know and love, just without all the carbs.
Per Serving:
Calories: 397
Fats: 33.27g
Protein: 13.22g
Carbs: 17.56g
Get the recipe here.
Sesame Chicken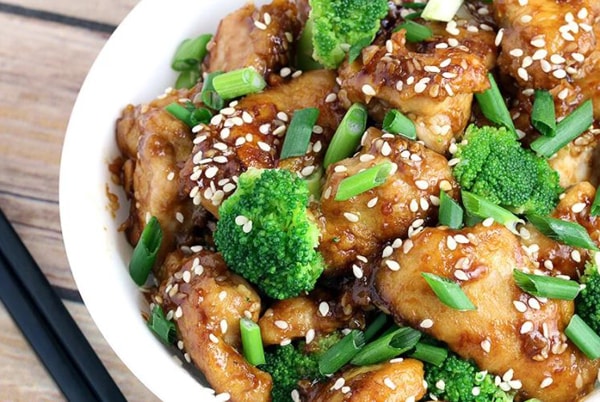 Image courtesy of  Tasteaholics
Take out at home has never been easier. This recipe is a must try to get your Chinese takeout fix right in the comfort of your own home, without guilt and extra carbs.
One of the key ingredients in this recipe is toasted sesame seed oil, which is used to give that distinct flavor we all know and love.
Per Serving:
Calories: 520
Fats: 36g
Protein: 45g
Carbs: 4g net carbs
Get the recipe here.
Stuffed Eggplant Rolls Wrapped in Bacon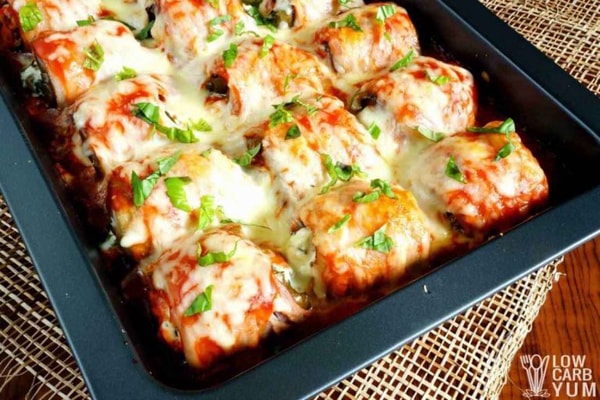 Image courtesy of Low Carb Yum
These eggplant rolls are stuffed with ground meat, wrapped in bacon, and then topped with tomatoes and yummy gooey cheese.
Eggplants are great to use instead of lasagne sheets or ravioli and you can really use them with any filling. A great addition to these rolls will be stuffing them with some ricotta as well.
Per Serving:
Calories: 236
Fats: 18g
Protein: 11g
Carbs: 10g net carbs
Get the recipe here.
Lemon and Thyme Butter Salmon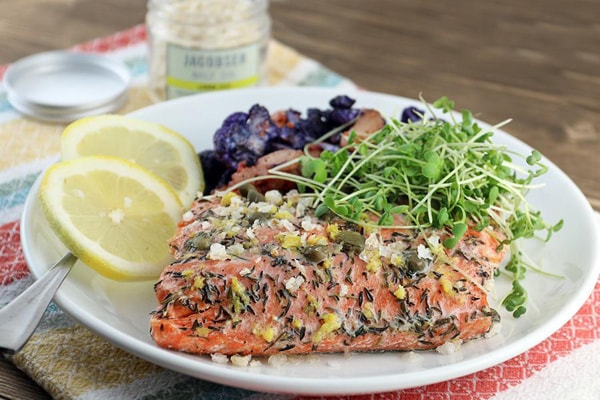 Image courtesy of Keto Delivered
Salmon is such a great way to get all some healthy fats into your diet. It is a great protein source, a good source of potassium and is of course very rich in omega-3 fatty acids.
This recipe will take about 30 minutes to make and it makes 2 servings.
Per Serving:
Calories: 266
Fats: 19g
Protein: 22g
Carbs: 0.4g
Get the recipe here.
Spicy Sausage and Cabbage Skillet Melt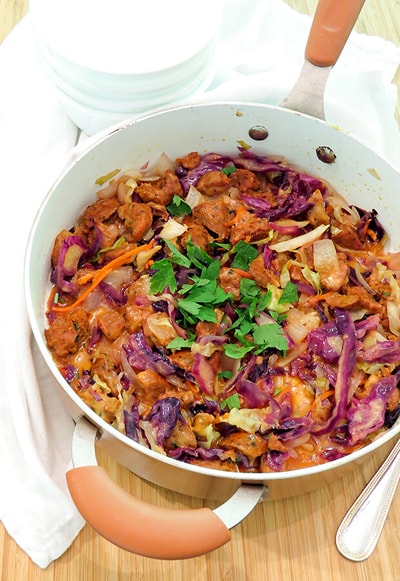 Image courtesy of Ruled.me
This is a great meal that you can put together in no time at all. This recipes calls for spicy sausage but can be replaced by a more mild sausage if you don't like spicy foods.
One thing you need to make sure of, however, is that the sausage you use is free from any added fillers and sugars. Those hidden ingredients can increase the carbs and calories in your meal.
Per Serving:
Calories: 231
Fats: 14.62g
Protein: 18.26g
Carbs: 4.87g (3.52g net carbs)
Get the recipe here.
King Crab Cauliflower Fried Rice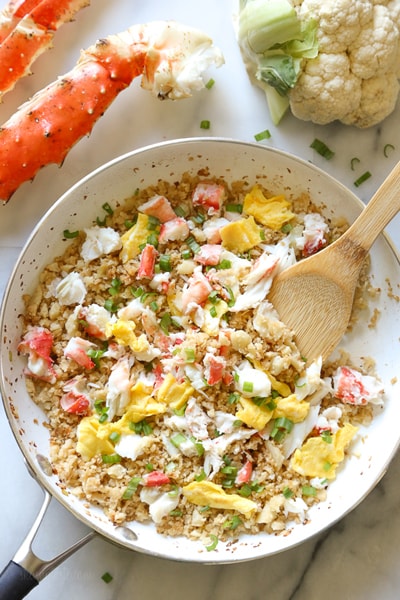 Image courtesy of Skinnytaste
For this recipe, you can use cauli-rice from the store or easily make your own in a food processor. So not only is this recipe delicious, it is super easy to make too!
Simply boil crab, make some scrambled eggs, add it to the cauli-rice and there you have it.
Per Serving:
Calories: 237
Fats: 8g
Protein: 29.5g
Carbs: 13g
Get the recipe here.
Southwestern Shepherd's Pie
Image courtesy of Keto Delivered
Cauliflower is such a wonderful and versatile vegetable. In this recipe, cauliflower is used instead of potatoes to create delicious cauliflower mash.
If you are craving some comfort food then this is the perfect solution.  The added cheddar cheese in the cauliflower mash really makes it extra delicious – and you can even add some cheddar cheese on top of the finished pie as well.
Per Serving:
Calories: 494
Fats: 42.2g
Protein: 21.3g
Carbs: 6.8g (4.4g net carbs)
Get the recipe here.
Stuffed Beef Rolls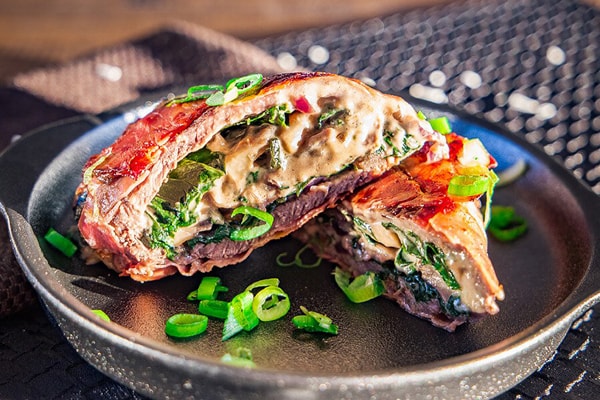 Image courtesy of Ruled.me
I don't know why but stuffed rolls always seem so fancy to me. And this one is no exception.  These yummy stuffed beef rolls are stuffed with mushrooms, onions, spinach and cream cheese and wrapped in prosciutto. And it looks amazing!
You can use any steak you want, so long as it is big enough. Make sure to cut the beef thinly and pound all your frustrations out until it is 1/2 – 1/4 inch thick.
Per Serving:
Calories: 423.5
Fats: 31.79g
Protein: 25.39g
Carbs: 7.13g (5.63g net carbs)
Get the recipe here.
---
Absolutely love keto? Check out these posts
8 Cauliflower Keto Recipes That Are Actually Tasty
25 Delicious Low Carb Recipes
8 Keto-Friendly Desserts That Will Satisfy Your Sweet Tooth
Pin for later!