These caramel desserts are chewy, heavenly and full of flavor! Perfect for an after dinner treat!
25 Caramel Desserts
Below we've rounded up 25 chewy and delicious caramel desserts just for you!
To view the full instructions for any of these caramel desserts, please follow the links below.
1. Salted Caramel Bars
Salted Caramel Bars have a buttery shortbread base and a topping of rich, chewy caramel.
A crunchy dusting of flaked sea salt on top is the perfect finishing touch!
From: sugarhero.com
2. Crack Rice Krispies
An addiction version of Rice Krispies that will leave you wanting more.
From: lilluna.com
3. Salted Caramel Cookie Cheesecake
You can make the cheesecake with just a few items that can easily be found in supermarkets.
There is no baking and very little preparation.
You just need to make sure that you have enough time to chill them overnight. Other than that, they could not be easier.
From: someonesmum.co.uk
4. Chocolate Caramel Oreo Bars
Chocolate Caramel Oreo Bars are an easy decadent dessert recipe perfect for the holidays.
Oreo Thins topped with creamy caramel and a mixture of semi-sweet and white chocolate are a rich treat that will impress all your guests.
From: thisisnotdietfood.com
5. Salted Caramel Turtle Brownies
Easy Salted Caramel Turtle Brownies – The very BEST homemade fudge brownies topped with gooey caramel, sea salt, lots of chocolate chips and chopped pecans!
From: backforseconds.com
6. Easy Salted Caramel Fudge Truffles
You'll want to make these buttery Salted Caramel Fudge Truffles again and again.
Dipped in chocolate, these melt-in-your-mouth truffles are so easy to make (and eat).
From: sweetestmenu.com
7. Salted Caramel Pretzel Cupcakes
A chocolate cupcake with salted caramel frosting and pretzels make a fun salty-sweet treat.
Salted caramel Pretzel cupcakes are made from scratch but are still an easy cupcake recipe that is perfect for birthdays and weddings.
From: chocolatewithgrace.com
8. White Chocolate Caramel Fudge
Looking for holiday fudge recipes?
Look no further than this beautiful & delicious 7 ingredients white holiday fudge recipe!
From: freebiefindingmom.com
9. Chocolate Caramel Marshmallows
Chocolate Caramel Marshmallows are a delicious treat, especially when sprinkled with chocolate sea salt!
But no matter how you top them or eat them these Chocolate Caramel Marshmallows are a perfect sweet treat to add to any dinner or party!
From: domesticallyblissful.com
10. Salted Caramel Cups
Homemade buttery caramel in a shell of dark chocolate.
So good.
From: yammiesnoshery.com
11. Caramel Snickerdoodles
Caramel snickerdoodles may change the way you bake snickerdoodles forever.
These cinnamon sugar-coated goodies are soft, chewy, and all kinds of gooey.
From: halfscratched.com
12. Salted Caramel Crème Brûlée
This dessert recipe is next level decadence!
Salted caramel vanilla bean custard with a burnt vanilla sugar crust.
From: cookingactress.com
13. Salted Caramel Sauce
It's that time of year where I want salted caramel EVERYTHING.
It's such a cozy treat! Be it drizzled over your coffee… or straight into your mouth.
If you've been looking for an easy way to slip into the salted caramel game, this recipe is here for you.
No thermometer needed, no fancy ingredients, no hours of waiting and waiting and waiting.
All you need is six minutes!
From: bakerbynature.com
14. Caramel Pecan Lasagna
Caramel Pecan Lasagna is melt-in-your-mouth layered dessert with buttery, pecan shortbread cookie crust, cheesecake layer, caramel pudding, whipped cream and (my favorite) sugared pecans on top, drizzled with caramel.
From: omgchocolatedesserts.com
15. Salted Caramel Chocolate Fudge Cookies
Soft Batch Chocolate Fudge Cookies with a gooey pocket of salted caramel inside!
Pure decadence.
From: bakerbynature.com
16. Salted Caramel Shortbread
Buttery shortbread crust layered with thick, chewy, rich caramel and topped with sea salt for irresistible flavor!
From: lecremedelacrumb.com
17. Caramel Pretzel Bars
What I love about these bars is just how easy they are to make – no big pile of dishes in the sink to wash afterward.
They're also the perfect mix of salty and sweet and jam-packed with flavor.
Every bite just explodes with caramel, chocolate, coconut and pretzel-it's fantastic!
From: thehappierhomemaker.com
18. Salted Caramel Rolo Muddy Buddies
This Rolo muddy buddies recipe is made with a salted caramel topping, dark chocolate, and Rolo mini bites.
That's the great thing about muddy buddies you can mix just about anything in, cookies, candy, caramel..anything and they're always delicious.
From: apumpkinandaprincess.com
19. Caramel Apple Turnovers
These flaky turnovers are so easy to make. Simply stuff with homemade cinnamon apple filling and generously top with caramel sauce.
From: sallysbakingaddiction.com
20. Caramel Apple Cake
Caramel apple cake is filled with apple pieces and cinnamon flavor. Each bite is soft and drizzle with homemade caramel—a delicious dessert for fall!
From: ifyougiveablondeakitchen.com
21. Gooey Salted Caramel Vanilla Butter Cookies
The vanilla butter cookie is decadently soft and buttery. It melts in your mouth!
The luxurious pools of gooey salted caramel join in to send these Gooey Salted Caramel Vanilla Butter Cookies over the top!!
From: kevinandamanda.com
22. Sea Salt Vanilla Caramels
Super soft and chewy sea salt caramels loaded with delicious vanilla bean!
From: sallysbakingaddiction.com
23. Salted Caramel Milkshake
Salted Caramel Milkshakes made with vanilla bean ice cream, salted caramel sauce and dark salted caramel chocolate.
They're the perfect way to chill out and indulge!
From: mybakingaddiction.com
24. Sea Salt Caramel Chocolate Chip Cookies
These delightful cookies have it all. Sea salt caramel chips and chocolate chips in a delicious chocolate chip cookie dough.
Yes, caramel chips and chocolate chips blend together in a heavenly way in this scrumptious cookie.
Everything about the cookie is perfect.
From: cantstayoutofthekitchen.com
25. Salted Caramel Pecan Turtles
Salted Caramel Pecan Turtles are delicious candy that is so much easier to make than it looks.
You'll need ten minutes. And no candy thermometer and no boiling sugary syrups.
Use store-bought caramel candy (or block caramel), toasted pecans and dark chocolate disks for a quick and easy gourmet treat to gift to your loved ones at the holidays!
From: throughherlookingglass.com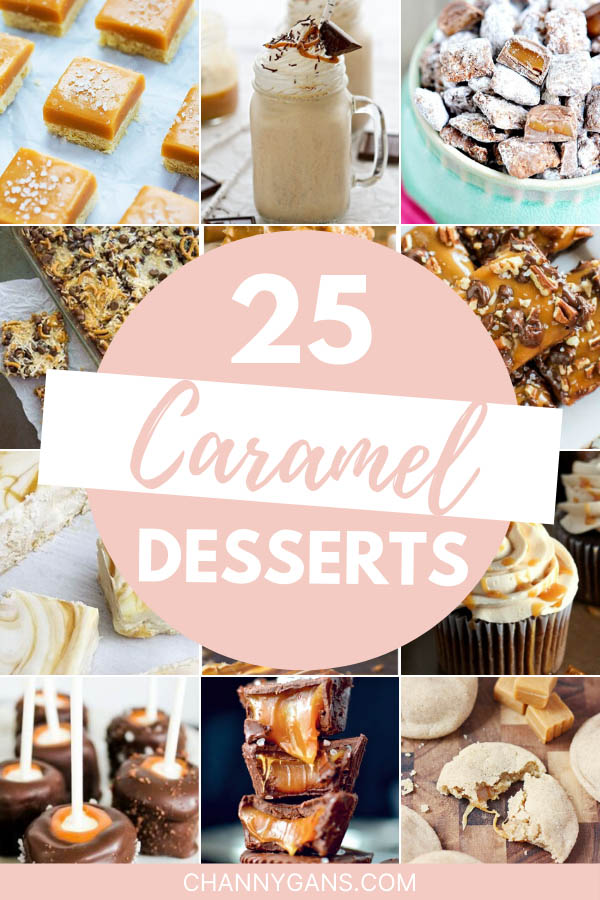 Related Posts
Enjoyed these caramel desserts? Then pin them for later!
Pin these caramel desserts to your Desserts board on Pinterest. That way you can easily view them later.