Halloween is just around the corner and if you are like me you probably want to make the best Halloween food and you are already searching up a storm.  Since Halloween is all about spooky things I will include some scary/ gross food ideas as well.
Be the talk of the party with these 10 awesome Halloween food ideas.
Spooky Eyeball Tacos
From Food.
Tacos are always great no matter what the occasion. To transform a normal taco into a spooky Halloween taco all you need to do is add a pair of eyeballs. Luckily these eyeballs are made with meatballs, sour cream and olives.
Frankenstein Rice Krispie Treats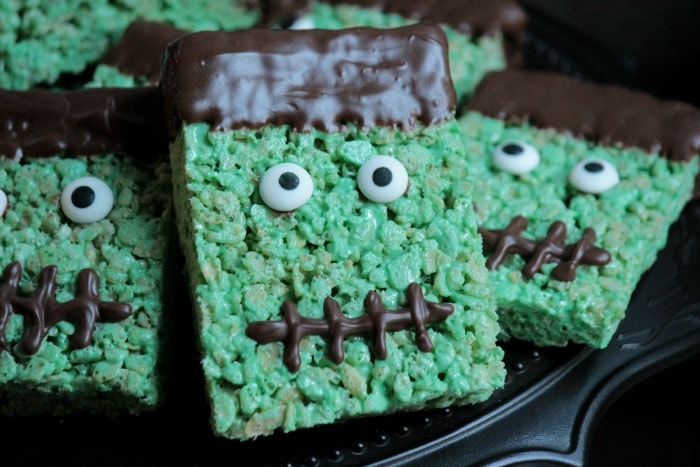 From Big Bear's Wife
Rice krispie treats are great because you can basically make any character you want, and what goes better with Halloween than Frankenstein. These marshmallow treats are super cute and will look great on your party table.
Mummy Loaf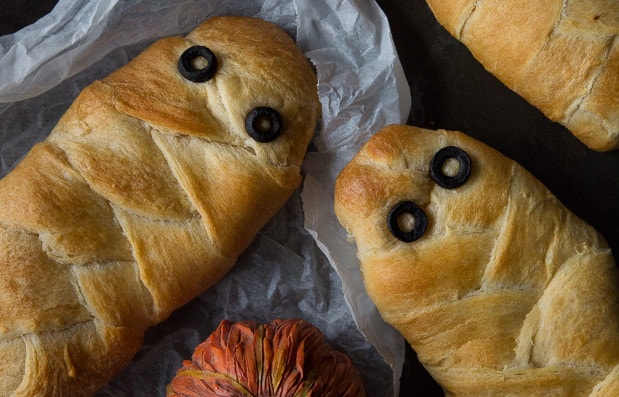 From Food.
With only 4 ingredients this mummy loaf is super easy to make. All you need is some pepperoni, mozzarella cheese, some packaged crescent rolls and olives for the eyes. You can even go a step further and add so pizza sauce to make one delicious mummy.
Spiced Chocolate Bat Cookies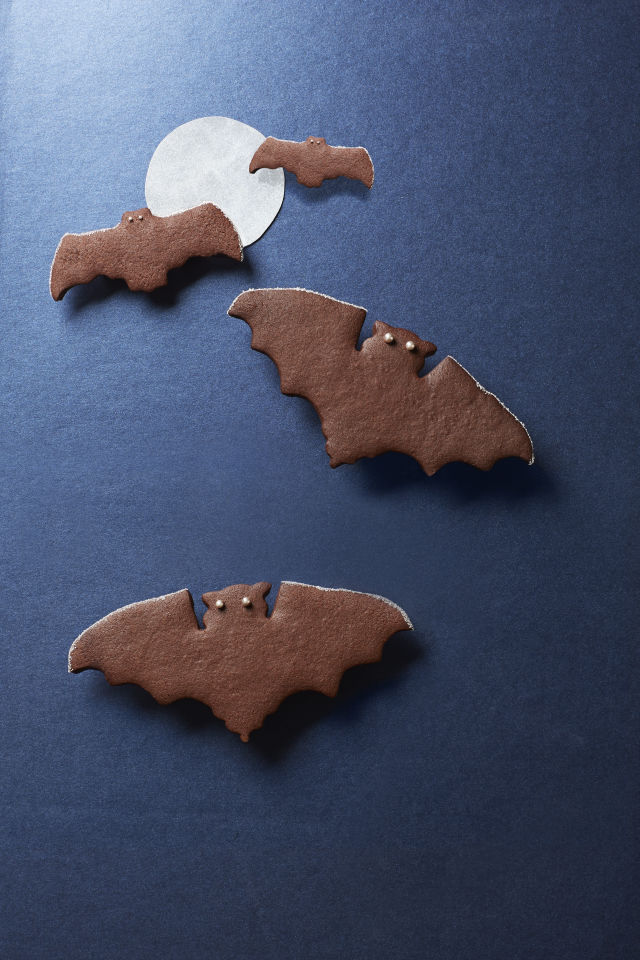 From Country Living
You can use this  versatile recipe for almost any holiday if you have the right cookie cutters.. A bat cookie cutter will give you these adorable cookies for Halloween.
Pork Dumpling Brains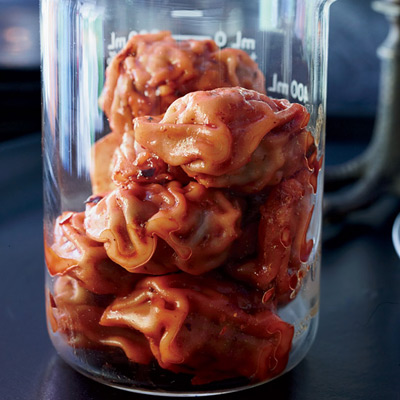 From Delish
Okay these dumplings definitely look gross – and they are perfect for Halloween. You can make these dumplings from scratch and soak them in dipping sauce to achieve this bloody look.  Serve them in a science-lab beaker to add to the effect.
Broken Glass Bloody Cupcakes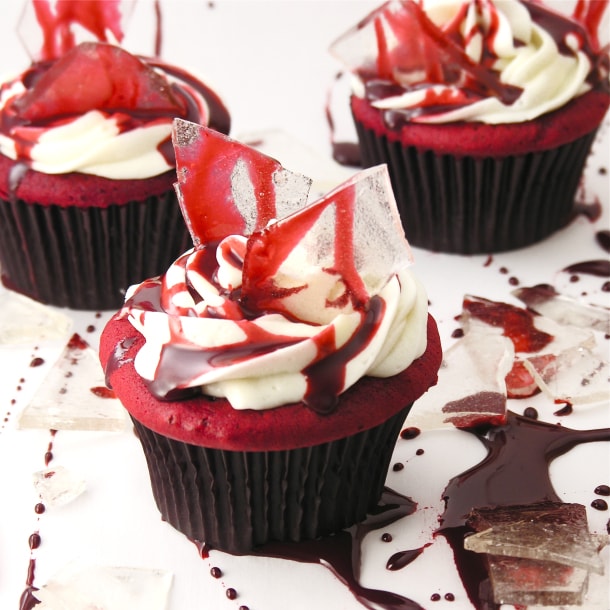 From Easybaked
Fake blood is a necessity on Halloween. So why not include it in your food for some bloody delicious cupcakes. With this recipe you won't need a candy thermometer and you can use a boxed cake mix.
Zombie Guts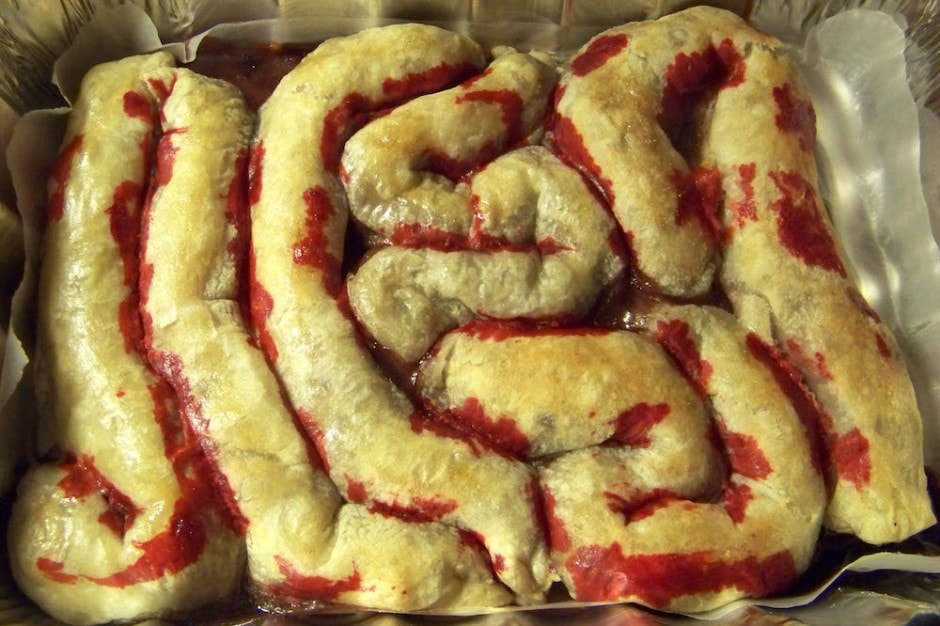 From Healthy For Two
Gross your family and friends out with these tasty zombie intestines. They might look disgusting but they are filled with strawberries, bananas and Nutella. Yum.
Stuffed Jalapeno Mummies
From Grits and Pinecones
Are these stuffed jalapenos cute or what?  Simply fill one half of the jalapeno with cream cheese and wrap them with strips of crescent roll dough, making sure to leave some space for the eyes of your mummy.
Halloween Spaghetti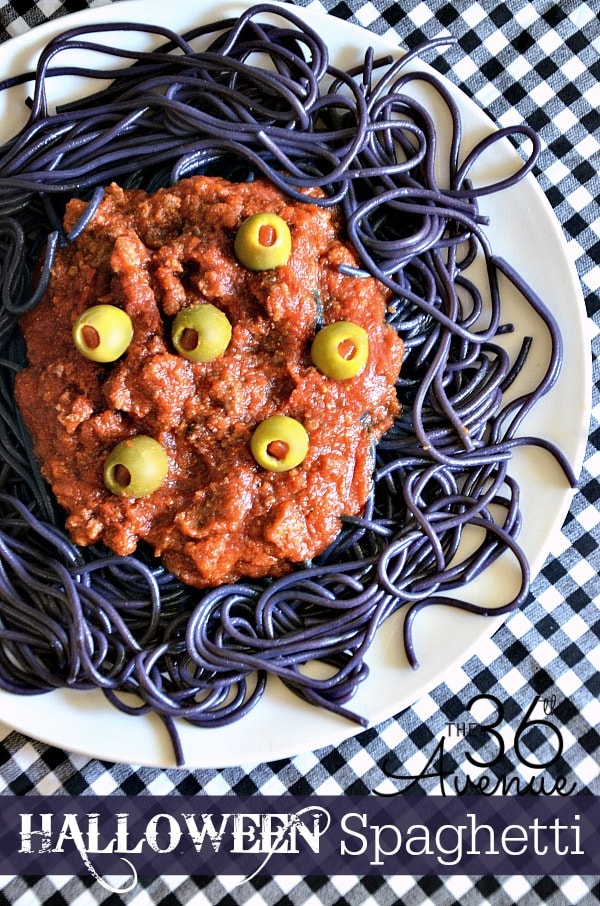 From The 36th Avenue
You don't need to make special dishes just for Halloween, you can take everyday dishes and transform them from normal to something spooktacular. Put a spin on spaghetti with some some food color to achieve this Halloween spaghetti.
Pastry Voodoo Dolls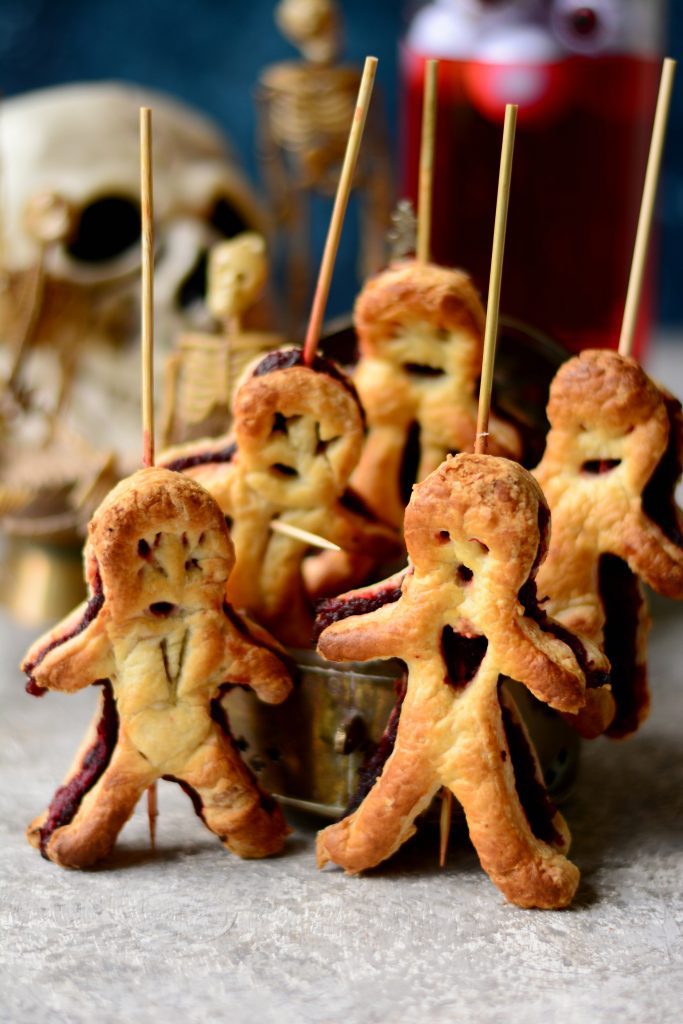 From Love Is In My Tummy
I'm not sure whether these pastry voodoo dolls are cute or creepy. But I do know that I want to eat them. You will need puff pastry for the voodoo dolls, and since this recipe is vegan, some beetroot halwa.
Enjoyed these Halloween Food Ideas? Then pin it for later!
Pin these Halloween food ideas to your Halloween Ideas or Recipes boards on Pinterest.
That way you can easily view them later!