Why buy Christmas gifts this year when you can easily DIY some awesome Christmas gifts for family and friends.
Homemade gifts not only save you money but will make the receiver feel pretty special too!
20 DIY Christmas Gifts
Below we've rounded up some awesome Christmas gifts you can make this year.
Follow the links for the full blog post and directions.
1. Diy Mint Sugar Scrub
You only need a few simple ingredients to make a basic sugar scrub: your oil of choice (I used coconut), sugar, and an oil extract to scent your scrub.
From: lovegrowswild.com
2. 10-Minute Diy Milk & Honey Soap
This easy DIY Milk and Honey soap can be made in just 10 minutes, and it boasts lots of great skin benefits from the goat's milk and honey!
A wonderful quick and easy homemade gift idea!
From: happinessishomemade.net
3. Easy & Cheap Diy Gift Idea: Photo Gift Box
This is so, so easy, and turns out really cute.
Wallet size prints are adhered to accordion folding paper with a little ribbon on top and tucked inside a simple wooden box.
Tie it up with a pretty ribbon and give it to someone special.
From: itsalwaysautumn.com
4. Upcycled Mason Jar Lid Magnets
Mason jars are one of my favorite things to use in the home and party decor.
Don't throw the lids away because you can always use them for fun craft projects!
From: unoriginalmom.com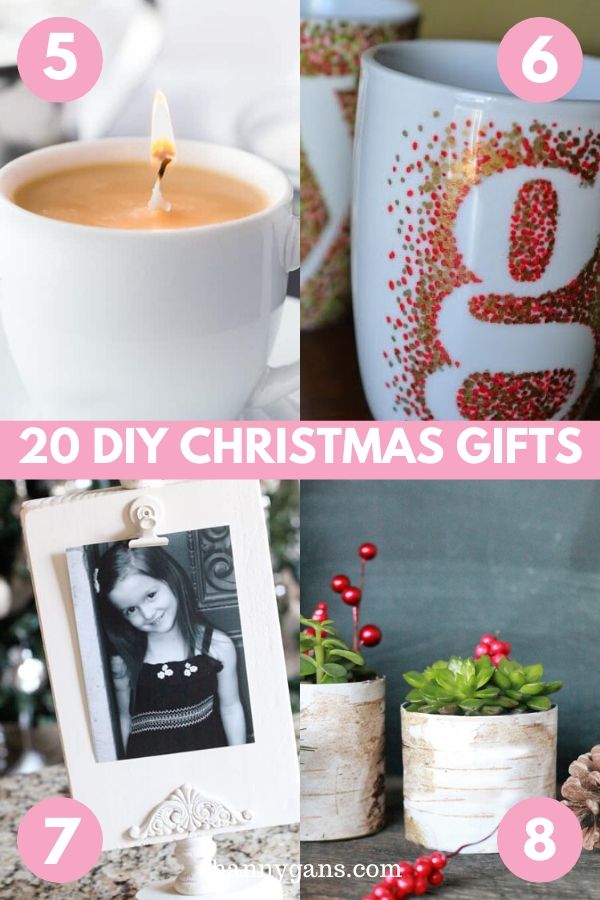 5. Caramel Latte Tea Cup Candle
This Caramel Latte Tea Cup Candle makes a lovely gift for a coffee drinker on your holiday gift list.
The best part is that you can make it easily and in a short amount of time.
From: simplystacie.net
6. DIY Sharpie Painted Mugs
How many of you have seen those Sharpie painted DIY mugs all over Pinterest?
It's such a popular idea right now, especially around the holidays!
From: gluedtomycraftsblog.com
7. DIY Clip Frame
This is a super simple photo, recipe or memo display!
All of these supplies can be found at craft stores and hardware stores.
From: shanty-2-chic.com
8. Faux Birch Wood Succulent Planter
Since birch wood is all the rage right now, we simply blended the two styles for a simple, yet festive, faux birch wood succulent planter.
From: iheartnaptime.net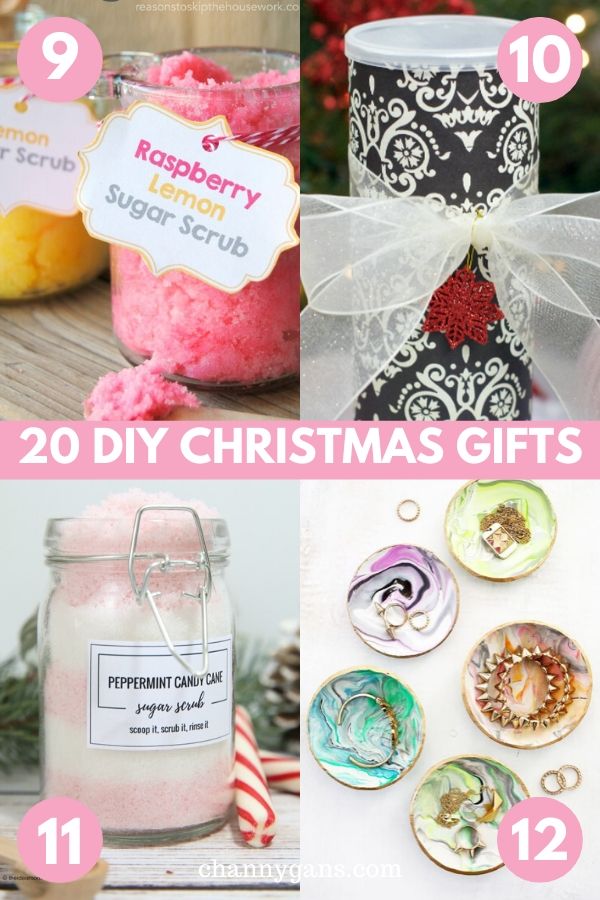 9. Simple 5 Minute Sugar Scrubs
Sugar Scrub Recipes are easier to make than you'd think and the best part is that you can make them with any scent you'd like, so you can personalize them as gifts for those you love.
Sugar Scrub Recipes make the best gifts because they're pretty and oh so fun to receive!
From: reasonstoskipthehousework.com
10. Fun & Creative Christmas Cookie Containers
If you're looking for a fun and unique way to package up your Christmas cookies to take to friends this year, try these creative Christmas cookie containers…in a Pringles can!
From: fun-squared.com
11. Peppermint Candy Cane Sugar Scrub
Sugar Scrubs are a great way to add some moisture and soften up winter-dry skin.
And who doesn't need that this time of year? It is also a great way to relax during this crazy busy season.
From: theidearoom.net
12. Marbled Clay Ring Dish
This DIY marble ring and jewelry dish is a great Christmas gift idea for family or friends who always have their jewelry lying around!
From: abeautifulmess.com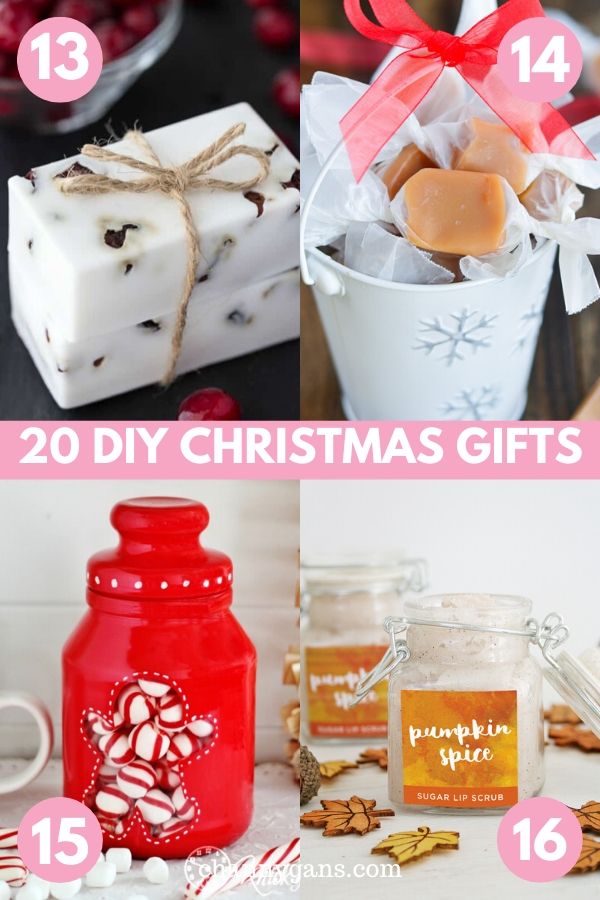 13. Cranberry Vanilla Shea Butter Soap
Are you planning to give any DIY gifts this year?
If so, try this Cranberry Vanilla Shea Butter Soap, an easy homemade soap recipe perfect for gift giving!
From: simplystacie.net
14. Homemade Caramels
Soft, buttery, melt-in-your-mouth Homemade Christmas Caramels are the perfect holiday gift!
Package them up and enjoy all season long.
From: garnishandglaze.com
15. Gingerbread Man Painted Jar
The wonderful thing about this jar, is the contents inside the jar are visible, so all those pretty cookies and candies aren't hidden.
From: knickoftime.net
16. Diy Pumpkin Spice Sugar Lip Scrub
If you're finding your lips doing the same thing, look no further!
This lip scrub will help remove all the dry skin and replenish them with beautiful new moisturized lips.
From: clubcrafted.com
17. Diy Crushed Glass Coasters
These crushed glass coasters only take 3 steps and involve the most fabulous glue/magic.
Learn how to make these before you get those ring stains!
From: tellloveandparty.com
18. Diy Rudolph Hot Cocoa Holiday Gifts
Have you ever needed a bunch of inexpensive gifts at the last minute, and then racked your brain for hours on what to give?
If you answered yes, this is for you!
From: mommymusings.com
19. Farmhouse Style Christmas Sign
This unique plaid deer Christmas sign will fit in perfectly with your farmhouse holiday decor or with your farmhouse loving friends or family!
This DIY Christmas sign is made in four EASY steps.
From: modpodgerocksblog.com
20. Sweater Sleeve Wine Bottle Gift Bags
These are perfect for those bottles of wine you are gifting this year as well as for host/hostess gifts, housewarming parties, and special occasions!
The Sweater Sleeve just makes it "cozy" for the holidays!
From: thatswhatchesaid.net
Related Posts
Enjoyed these DIY Christmas gifts? Make sure to pin it for later!
Be sure to pin these DIY Christmas gifts to your Christmas boards on Pinterest.