What better way is there to warm up than with yummy soup? Stay warm and cozy on cold nights with these 35 delicious soup recipes.
35 Warm & Cozy Soup Recipes
Below we've rounded up 35 soup recipes to keep you warm this winter.
To view the full recipe and instructions for any of these soup recipes, please follow the links below.
1. Creamy Chicken And Mushroom Soup
So cozy, so comforting and just so creamy. Best of all, this is made in 30 min from start to finish – so quick and easy!
From: damndelicious.net
2. Chicken Pot Pie Soup
This delicious Chicken Pot Pie Soup is a simple recipe made from scratch without the use of canned soup.
It is hearty, rich and soul-warming – not to mention easy to make. Don't skip the secret ingredient!
It's what sets this soup apart; the flavor is absolutely amazing!
From: kitchendreaming.com
3. Broccoli Cauliflower Soup
A super nutritious, hearty and delicious soup ready in 15 minutes.
Paleo/low carb/whole30/gluten free friendly, it is loaded with cheesy broccoli and cauliflower flavors.
Make a double batch and freeze it to have plenty of leftovers for the coming weeks!
From: eatwell101.com
4. Cozy Autumn Wild Rice Soup
This Cozy Autumn Wild Rice Soup is full of hearty seasonal vegetables and wild rice (plus chicken, if you would like), it's wonderfully creamy and comforting, and easy to make in the Instant Pot, Crock-Pot or on the stovetop.
From: gimmesomeoven.com
5. 10-minute White Bean Soup With Parmesan
10-minute white bean soup with parmesan and spinach is ready in 10 minutes and loaded with flavor!
Make a double batch of Bean Soup and have plenty of leftovers for the weekly dinner rush!
From: cafedelites.com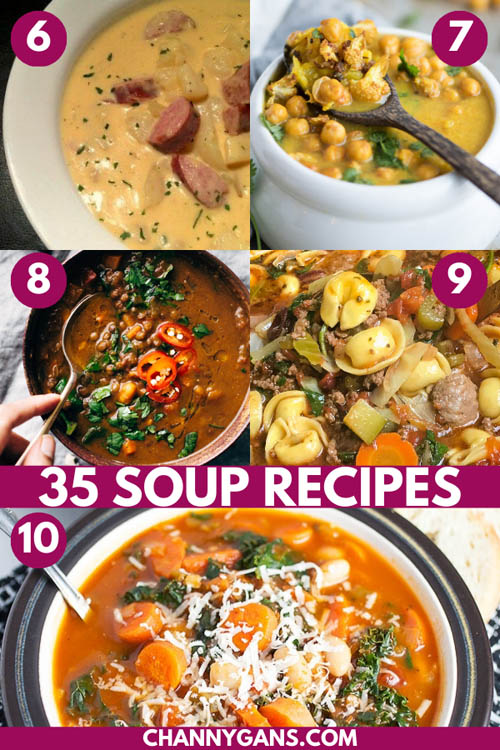 6. Smoked Sausage & Beer Cheese Potato Soup
The best thing about this soup other than the taste is that it's made in around 30 minutes.
This is the perfect winter time, weeknight meal! Yum!
From: auntbeesrecipes.com
7. Cauliflower Sweet Potato Turmeric Soup
This nutritious soup is easy to make in under 30 minutes and is loaded with delicious, curry flavor. Try it topped with roasted chickpeas for a little extra something. Oil-free, vegan and gluten-free.
From: runningonrealfood.com
8. Winter Detox Moroccan Sweet Potato Lentil Soup
A soul-warming Moroccan sweet potato lentil soup recipe.
This soup is made in the slow cooker and requires hardly any work at all. Plus, it makes the whole house smell warm and cozy!
From: littlespicejar.com
9. Hearty Tortellini Soup
Hearty Tortellini Soup is loaded with vegetables, ground beef, Italian sausage and tortellini and simmered in a rich and savoury tomato beef stock.
From: artandthekitchen.com
10. Cannellini Bean, Carrot, And Kale Soup
This Cannellini Bean, Carrot, and Kale Soup recipe is hearty and healthy! It's rustic comfort food full of flavorful veggies. Perfect with crusty bread!
From: therusticfoodie.com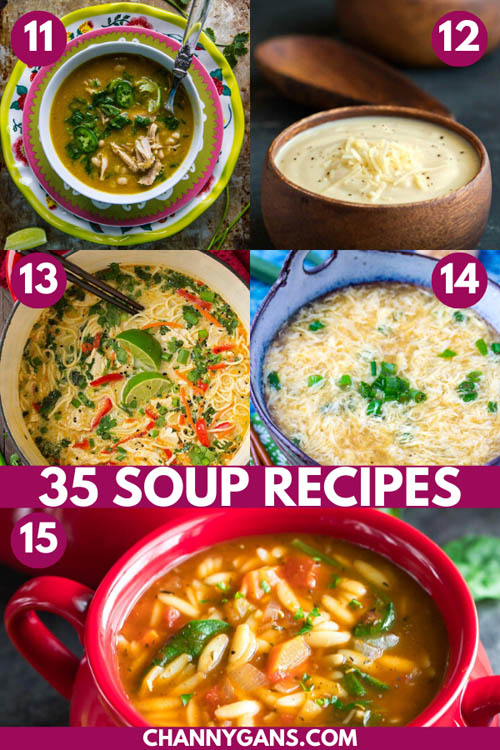 11. Spicy Lime Jalapeno Chicken Soup
This is not only the perfect solution for healthy weeknight dinners it has also been quite popular for Sunday football as well!
From: heatherchristo.com
12. Wisconsin Cauliflower Soup
Creamy, cheesy copycat Wisconsin Cauliflower Soup recipe
From: ihearteating.com
13. Thai Chicken Ramen
This Chicken Ramen so easy to throw and it's packed with flavor! It's a comforting Thai flavored soup that's packed with veggies, tender pieces of chicken and a creamy coconut broth.
Then it's finished with peanuts and sesame seeds for a delicious crunch for contrast.
From: cookingclassy.com
14. Egg Drop Soup
Quick, easy and comforting this Egg Drop Soup Recipe is as simple as they come with great flavor that will warm you up on a cool day!
From: tornadoughalli.com
15. One-pot Orzo Vegetable Soup
This Orzo Vegetable Soup is a quick and easy one-pot wonder and a delicious way to warm up on a cold day!
From: peasandcrayons.com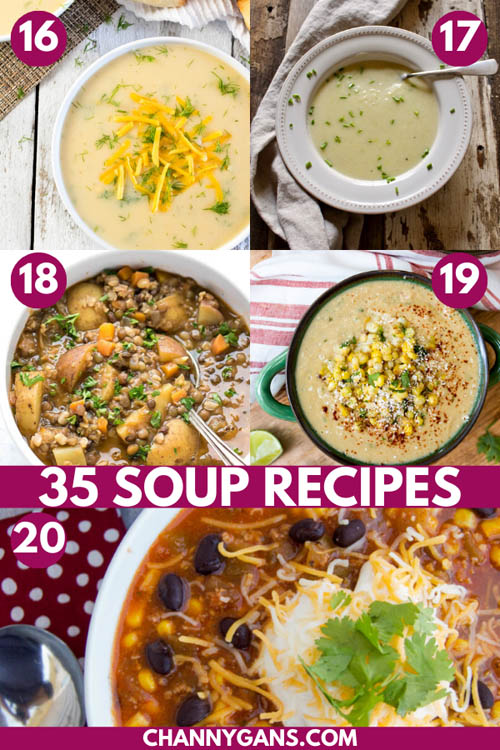 16. Cheesy Potato Dill Soup
This Cheesy Potato Dill Soup will warm the soul and brightens your spirit on cold winter days.
Velvety potatoes make the perfect canvass for the comforting flavor of Cheddar cheese and bright punches of dill to delight your taste buds!
From: foxvalleyfoodie.com
17. Potato Leek Soup
Classic potato leek soup ~ simple and delicious with potatoes, leeks and chicken stock, inspired by Julia Child.
From: thehungrybluebird.com
18. Easy Lentil Potato Soup Recipe
Easy Lentil Potato Soup Recipe – quick and simple to make, chunky, hearty and comforting meal, perfect for the cold weather.
Nutritious lentils, rich in protein and fiber, combined with potatoes for a healthy and flavorful soup.
From: cookinglsl.com
19. Mexican Street Corn Soup
With Cotija cheese, cilantro, sour cream, and lime, Mexican Street Corn Soup is a fun and full-flavored way to serve sweet summer corn. It's easy to prepare, too!
From: stripedspatula.com
20. Taco Soup
My all time favorite soup recipe that you are going to LOVE! Taco Soup, filled with all your taco favorites this one is a must try.
From: thediaryofarealhousewife.com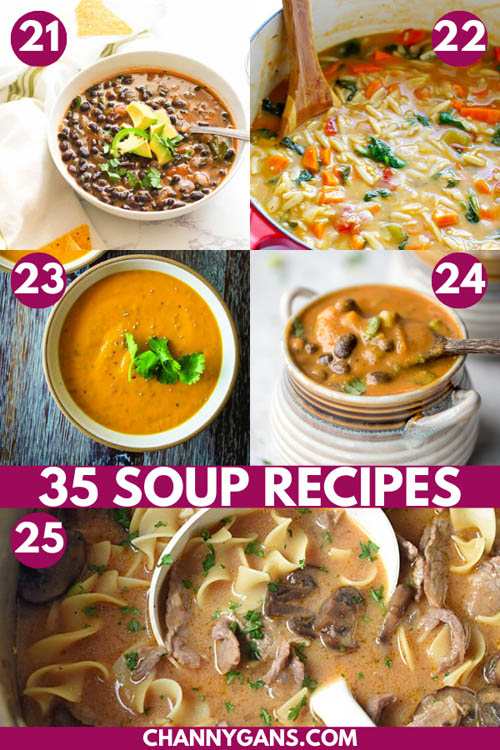 21. Black Bean Soup
Black Bean Soup – healthy, hearty and satisfying black bean soup loaded with layers of flavors and a good dose of beans, potatoes, and other spices.
Can be made completely vegan without sacrificing the taste.
From: africanbites.com
22. Italian Orzo Spinach Soup
This Italian Orzo Spinach Soup recipe is quick and easy to make and so delicious and comforting.
From: gimmesomeoven.com
23. Creamy Coconut Ginger-Carrot Soup
Coconut milk is a staple in Thai cooking, but you don't have to limit it to Asian food; it's a great resource for making anything super yummy and creamy.
From: fitbottomedgirls.com
24. Spicy Vegan Black Bean Soup
This hearty soup is easy to make and comes together in under 30 minutes making it a great recipe for quick weeknight dinners.
It can also be made in advance as it keeps well and the flavors even improve the next day.
From: runningonrealfood.com
25. One-pot Beef Stroganoff Soup
Classic beef stroganoff is transformed into a hearty, yet light soup. And no need to cook the noodles first, because it's all made in one pot. Easy weeknight dinner!
From: bellyfull.net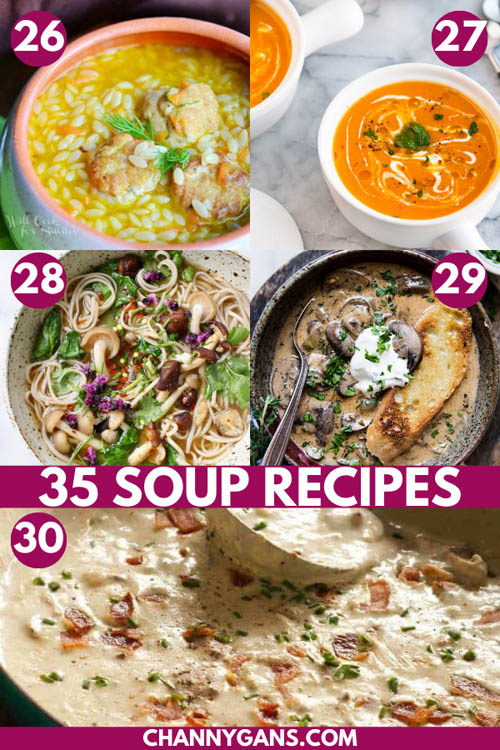 26. Chicken Meatball & Orzo Hearty Soup
A delicious twist on a classic Chicken Noodle recipe, but this particular one has much more flavor and it's much more fun!
It's a delicious soup made with chicken meatballs, veggies, and orzo pasta.
From: willcookforsmiles.com
27. Creamy Butternut Squash Soup
Easy, creamy butternut squash soup sure to keep you warm on a chilly autumn or winter day.
From:aberdeenskitchen.com
28. Vegan Miso Noodle Soup
Simple vegan miso noodle soup with garlic, ginger, mushrooms, spinach, and buckwheat soba. The most delicious, quick and easy bowl of noodle soup to make!
From: veggiesociety.com
29. Hungarian Mushroom Soup
Paprika-tinged and soothing, there's something uniquely cozy about this creamy mushroom soup. There's a wholesomeness to a bowl of soup on a cold, rainy—or snowy—night.
From: themodernproper.com
30. Best Clam Chowder
This delicious, creamy Best Clam Chowder is the perfect soup to serve for a lighter holiday meal.
From: reluctantentertainer.com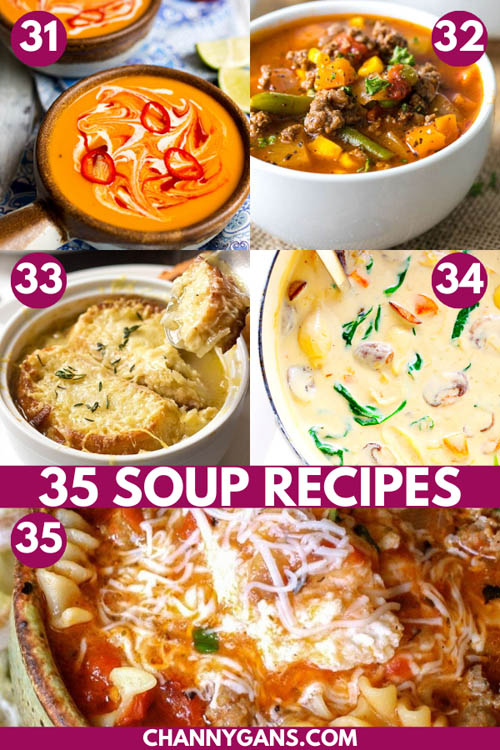 31. Thai Pumpkin Soup
A spicy, comforting soup – perfect for those cold evenings.
From: centercutcook.com
32. Easy Hamburger Soup
Hamburger Soup is a quick and easy meal loaded with vegetables, lean beef, diced tomatoes, and potatoes.
It's great made ahead of time, budget friendly, reheats well and freezes perfectly.
From: spendwithpennies.com
33. Easy French Onion Soup Recipe
This Easy French Onion Soup is a BOMB. Minimal ingredients but so much flavor.
From: lavenderandmacarons.com
34. Creamy Chicken Marsala Soup
This Creamy Chicken Marsala Soup is everything you love about the classic pasta…slow simmered into a cozy, creamy, comforting soup.
Feel free to make yours with any kind of pasta shape or noodles that you have on hand.
From: gimmesomeoven.com
35. Lasagna Soup
Lasagna Soup is truly like lasagna in a bowl. It's packed with the familiar flavors you love, with an ooey-gooey cheesy concoction that gets stirred in right before eating.
From: afarmgirlsdabbles.com
Enjoyed these soup recipes? Then pin it for later!
Pin these soup recipes to your Food Ideas or Dinner Ideas boards on Pinterest. That way you can easily view them later!