Craving a certain type of cookie but they are all non-vegan? Turns out you can totally make a vegan version of your favorite cookies! Try some of these delicious vegan cookie recipes!
30 Vegan Cookie Recipes
Below we've rounded up 30 vegan cookie recipes.
To view the full recipe and instructions for any of these vegan cookie recipes, please follow the link below the picture.
1. Dark Chocolate Peanut Butter Cookies
Dark chocolate peanut butter cookies are fluffy and bite-sized, with a gooey peanut butter center surrounded by a dark chocolate cookie.
They're like chocolate peanut butter cups, but a little heavier on the chocolate and in cookie form – what's not to love?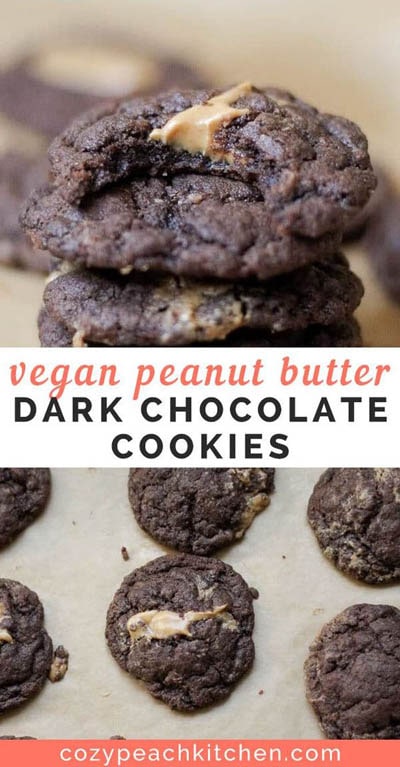 From: cozypeachkitchen.com
2. Frosted Soft Sugar Cookies
Frosted Soft Sugar Cookies – a Vegan and Gluten Free version of a childhood favorite!
Chewy soft with fluffy buttery frosting and sprinkles – just as you remember!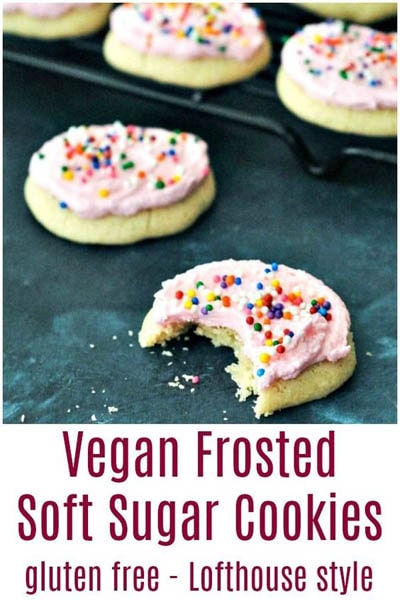 From: spabettie.com
3. Almond Butter Banana Cookies
Easy five ingredient, flourless Almond Butter Banana Cookies with no added sugar, butter, or oil.
This healthy, vegan cookie recipe satisfies your sweet tooth without giving you a sugar crash after eating!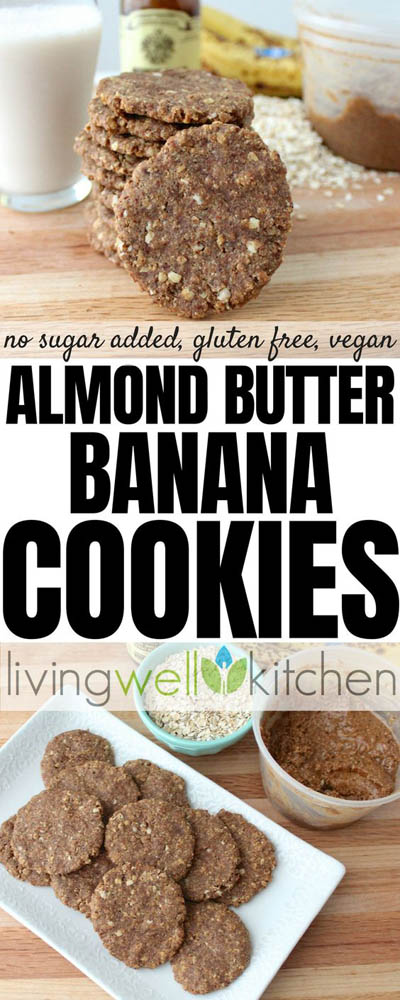 From: memeinge.com
4. Easy Vegan Tahini Cookies
If you have 30 minutes to spare, make these delicious vegan tahini cookies.
They're healthy and easy to make – but more importantly, with their crispy caramelized edges, sweet chewy center, and an amazing tahini flavor.
They're absolutely to die for.
From: theloopywhisk.com
5. Vegan Cinnamon Roll Cookies
It's the best time of the year because cookie season is finally here!
So get ready to make these vegan cinnamon roll cookies for every holiday party, cookie swap, or as a gift for friends because they are that good.
From: shortgirltallorder.com
6. Spice Cookies with Coffee Glaze
Vegan spice cookies with a coffee glaze, take them to your next cookie exchange or keep them all for yourself!

From: heartofabaker.com
7. Peanut Butter Cookies
Chewy and unbelievable soft vegan peanut butter cookies.
Baked to perfection, then dipped in chocolate and crushed peanuts for a delightful sweet treat.

From: mydarlingvegan.com
8. The Ultimate Chewy Chocolate Chip Cookies
These ultimate chewy chocolate chip cookies are sure to be a hit with your friends and family!
They are easy, delicious, and vegan-friendly.

From: veganchowdown.com
9. Bananadoodles
Gluten Free, Vegan Snickerdoodles use bananas, oat flour, apple sauce, and other delicious ingredients to keep this snickerdoodle recipe on the healthier side without losing flavor.
Enjoy these healthy snickerdoodle cookies with your afternoon coffee or a late night treat!
From: hellospoonful.com
10. Chocolate Peppermint Crinkle Cookies
Nothing says Christmas quite like these Chocolate Peppermint Crinkle Cookies.
Impress all your friends with these incredible vegan cookies.

From: mydarlingvegan.com
11. Pumpkin Cookies With Maple Glaze
Beautifully soft vegan pumpkin cookies drizzled with a maple glaze.
This simple recipe is perfectly spiced and perfect for fall!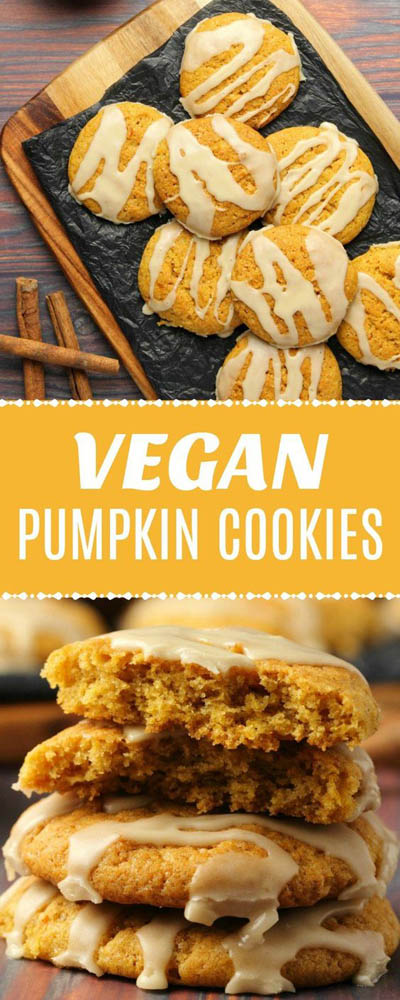 From: lovingitvegan.com
12. Almond Shortbread Cookies
Simple, buttery Almond Shortbread Cookies made with just 6 ingredients – no oil, gluten, or refined sugar.
The perfect easy Christmas (or anytime) cookie!
From: feastingonfruit.com
13. Vegan Old-Fashioned Iced Oatmeal Cookies
The absolutely most delicious vegan old-fashioned iced oatmeal cookies made dairy-free, gluten-free, oil-free and just 8 easy ingredients!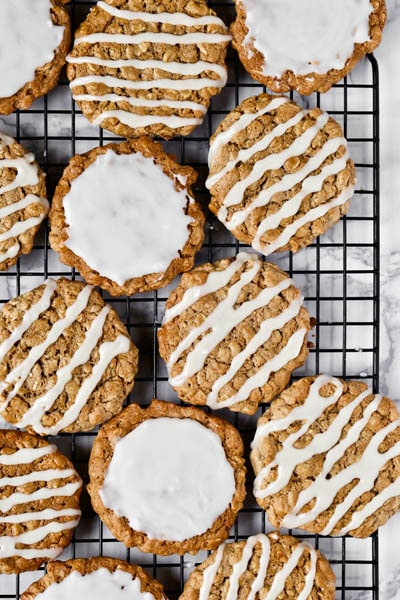 From: thevegan8.com
14. Vegan Flourless Chocolate Hazelnut Cookies
Paleo vegan flourless chocolate hazelnut cookies that are every bit as delicious as a spoonful of Nutella.
And they are made with 6 real and simple ingredients!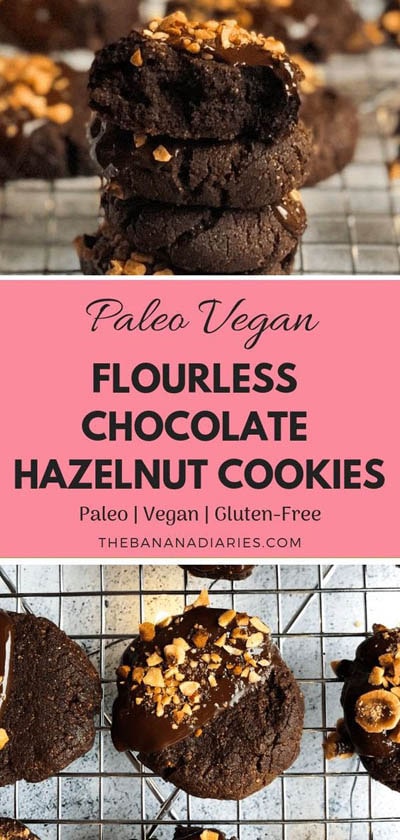 From: thebananadiaries.com
15. Carrot Cake Sandwich Cookies
Ever wanted carrot cake but in easy cookie form?
I got your back with these indulgent carrot cake sandwich cookies.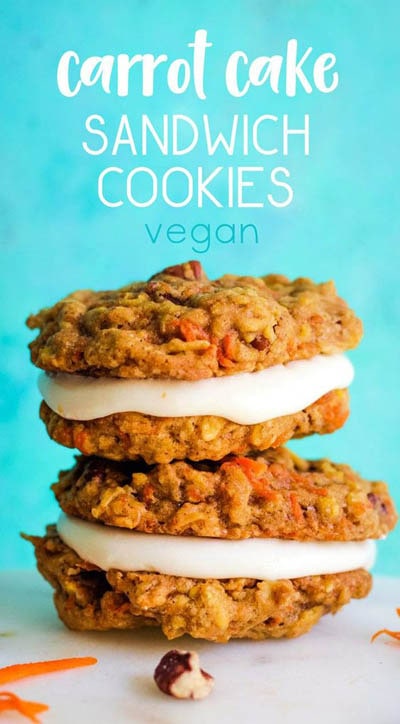 From: karissasvegankitchen.com
16. Banana Chocolate Chip Oatmeal Cookies
A delicious Banana Chocolate Chip Oatmeal Cookies recipe. With 3 ingredients, no added sugar and naturally vegan.
Ready from start to finish in 20 minutes.
From: curlsnchard.com
17. Chocolate Shortbread Cookie Sandwich
Chocolate Shortbread Cookie Sandwich.
This super easy dessert recipe will be loved by your kids… and everyone else!
It is a healthy vegan dessert that is a great alternative to sugary cookies.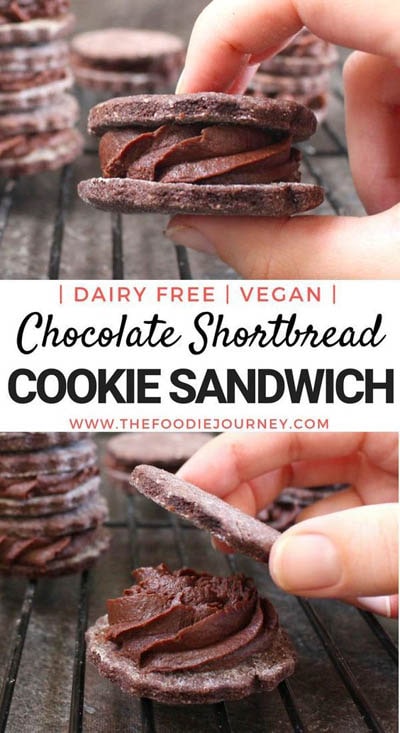 From: thefoodiejourney.com
18. Ginger Cookies
Chewy vegan ginger cookies, full of holiday spices and molasses.
These are everybody's favorite cookie and they are so easy to make! 1 bowl!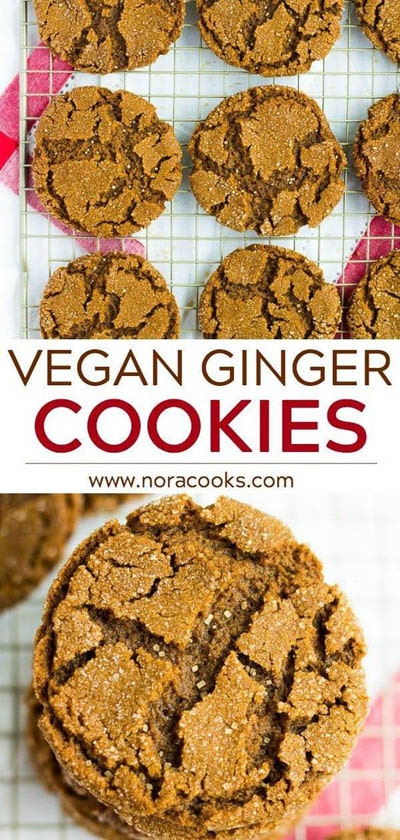 From: noracooks.com
19. Vegan Easter Cookies
These vegan easter cookies have naturally colored icing, they are fun to make and great for the entire family!

From: veganfamilyrecipes.com
20.  Chocolate Mint Cookies
Fair warning, keep an eye on the cooling rack. Or you might come back to the empty rack.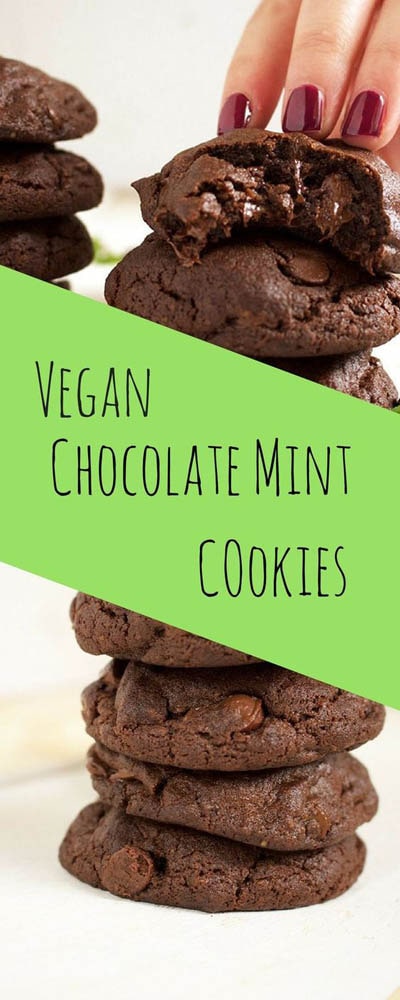 From: brokefoodies.com
21. Chewy Chocolate Fudge Cookies
Extra Chewy Chocolate Fudge Cookies! Rich, chocolatey, vegan goodness.
They are loaded with real chocolate flavor, super chewy, devilishly decadent, and SO easy to make!

From: bakerbynature.com
22. Lemon Knot Cookies
Lovely lemony cake like cookies that are reminiscent of Starbucks' Lemon Knot Cookies that we used to love.
Don't be intimidated by the look of these little cookies, they're actually easy to make.

From: veganosity.com
23. Meringue Cookies
Yes, it can be done, and that's not all.
Vegan Meringue Cookies can happen in your kitchen with ingredients you probably already have in your cupboard!
So what's the secret ingredient? Aquafaba is what it's called.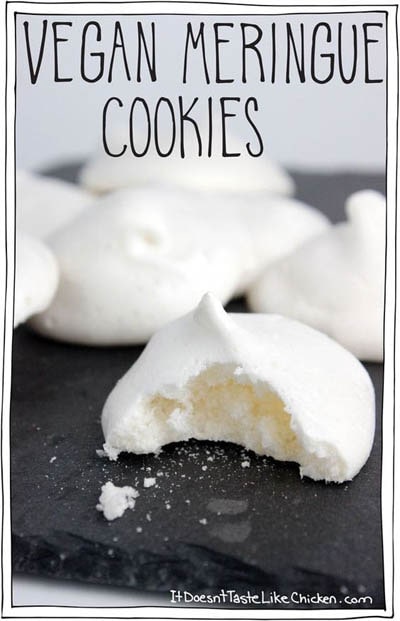 From: itdoesnttastelikechicken.com
24. Double Chocolate Hazelnut Cookies
Chocolatey, Healthy, Sweet and super easy to make!
Say hello, to these Vegan Double Chocolate Hazelnut Cookies!
They are really yummy and chocolatey and addictive, full of nutrients / no butter, no white sugar super easy to make
From: vanillacrunnch.com
25. Red Velvet Cookies
These fudgy Red Velvet Crinkle Cookies are perfect for your holiday parties.
Just look at that snowy white crinkle!
Made in under 30 minutes for a delightfully festive sweet treat.

From: mydarlingvegan.com
26. Soft Cream Cheese Chocolate Cookies
Would you like a healthy sugar-free alternative to cookies that will still satisfy your sweet tooth desires?
Why not try these healthy, light, bittersweet dark chocolate cookies? I guarantee you that they are amazing!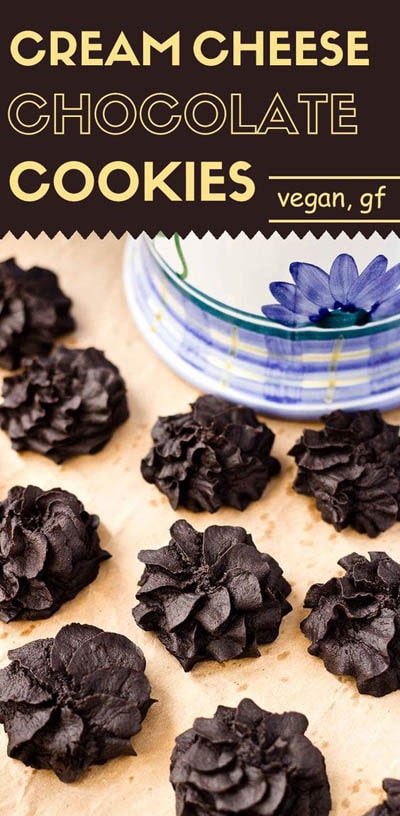 From: lightorangebean.com
27. Chocolate Chip Sprinkle Cookies
These Chocolate Chip Sprinkle Cookies add a little bit color and a lot of fun to your favorite vegan chocolate chip cookie recipe.
Easy and Delicious!
From: namelymarly.com
28. Vegan Samoa Cookies
These homemade Samoa cookies are worth every step. The gluten-free shortbread with the must-have hole in the middle.
The chewy, gooey coconut caramel topping. To die for.
Don't forget about dipping the cookie in dairy-free chocolate and drizzling even more on top.
Every layer of these cookies goes with the next.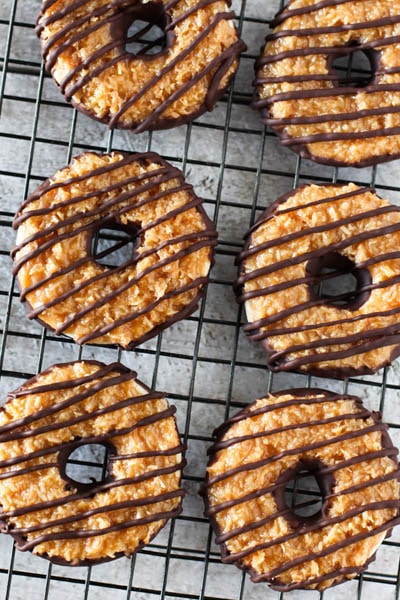 From: sarahbakesgfree.com
29. Sunbutter Chocolate Pumpkin Sandwich Cookies
Sweet spooky Chocolate Pumpkin Sandwich Cookies!
Rich, flourless chocolate cookies and an easy pumpkin spice filling.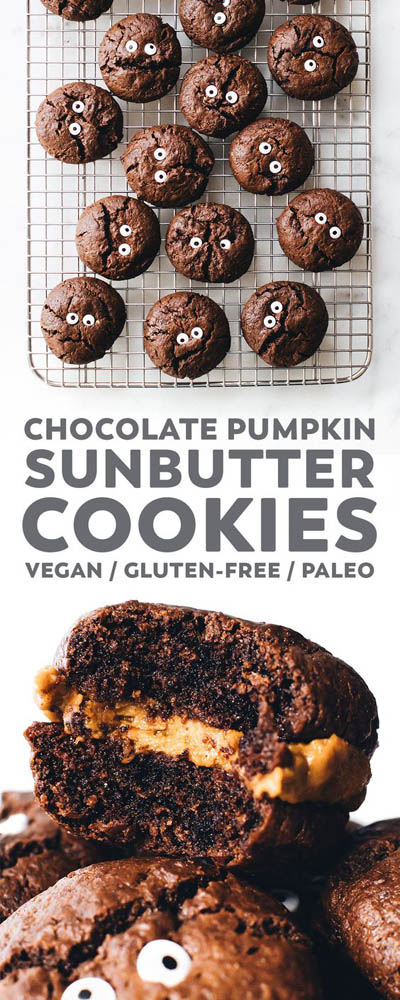 From: feastingonfruit.com
30. Strawberry Chocolate Chip Oatmeal Cookies
Strawberry Chocolate Chip Oatmeal Cookies are loaded with gluten-free oats, dark chocolate chips, and tons of fresh strawberries.
This makes for a gluten-free, dairy-free, and vegan breakfast cookie recipe!
They make a wonderful Valentine's Day dessert recipe!

From: evolvingtable.com
Enjoyed these vegan cookie recipes? Then pin it for later!
Pin these vegan cookie recipes to your Dessert Ideas or Vegan Recipes boards on Pinterest.
That way you can easily view them later!