Sweet potatoes are so versatile, you can have them for breakfast, lunch or dinner and even dessert! Enjoy these 35 delectable sweet potato recipes.
35 Delicious Sweet Potato Recipes
Below we've rounded up 35 sweet potato recipes, from stew to brownies.
To view the full instructions for any of these sweet potato recipes, please follow the links below.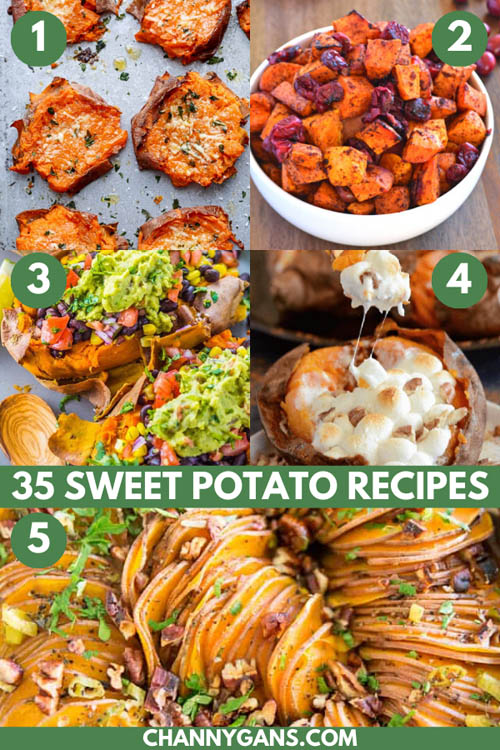 1. Garlic Butter Smashed Sweet Potatoes With Parmesan
Garlic Butter Smashed Sweet Potatoes With Parmesan Cheese is the most delicious and easy snack!
From: cafedelites.com
2. Cinnamon Roasted Sweet Potatoes & Cranberries
Sweet potatoes are a fall staple in my house and dusting them with cinnamon and roasted them with cranberries is the best way to make them come to life!
From: littlebitsof.com
3. Black Bean Taco Stuffed Sweet Potatoes
Make these Vegan Black Bean Taco Stuffed Sweet Potatoes for a satisfying Mexican dish that's healthy, fresh and amazingly flavorful.
From: savorandsavvy.com
4. Fully Loaded Sweet Potatoes
These fully Loaded Sweet Potatoes are filled with butter, brown sugar, cinnamon, pecans, and marshmallows!
From: thenovicechefblog.com
5. Scalloped Sweet Potato Ring
This elegant Scalloped Sweet Potato Ring is much easier to make than you may think and is so good, it's the perfect sweet potato recipe for any occasion!
From: thehealthyfoodie.com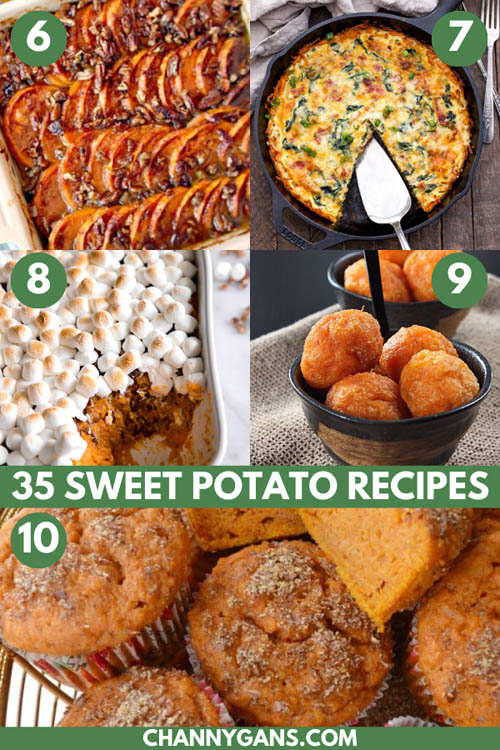 6. Candied Sweet Potato Casserole
Naturally sweetened with honey and orange juice then studded with pecans flavored with cinnamon this delicious Candied Sweet Potato Casserole is the perfect side dish for Thanksgiving, Christmas or any holiday.
From: manilaspoon.com
7. Spinach, Bacon, Cheese Quiche With Sweet Potato Crust
Shredded sweet potatoes are a great alternative to the calorie-heavy pie crust in this Spinach, Bacon, Cheese Quiche with Sweet Potato Crust.
They add a touch of sweetness to this savory and hearty quiche!
From: reciperunner.com
8. Classic Sweet Potato Casserole
A simple yet classic sweet potato casserole made with cinnamon, nutmeg, chopped pecans and then topped with toasted mini marshmallows!
From: asassyspoon.com
9. Sweet Potato Balls
Sometimes traditional snacks can be very satisfying and delicious, like these sweet potato balls, or bola-bola ubi as it is called in Indonesia.
From: vforveggy.com
10. Sweet Potato Muffins
These sweet potato muffins are extremely moist, packed with nutrients, and DELICIOUS!
From: goodinthesimple.com
11. Sweet Potato Fritters With Sriracha Mayo
Sweet Potato Fritters with Sriracha Mayo make an ideal appetizer or side-dish. Heck, I'd even have them for dinner!
From: ciaochowbambina.com
12. Maple Bacon Sweet Potato Hash Recipe
This deliciously sweet and savory Maple Bacon Sweet Potato Hash recipe is a perfect side dish at breakfast, brunch, or even dinner!
From: deliciouslittlebites.com
13. Vegan Sweet Potato Pasta Sauce
This vegan sweet potato pasta sauce is a great way to get the creaminess of a classic alfredo sauce but in a lighter and vegan cheese sauce!
The recipe is easy to make, dairy-free, gluten-free, and so healthy!
From: biancazapatka.com
14. Sweet Potato Burrito Bowls
Easy and healthy sweet potato burrito bowls are full of fresh veggies and bold tex-mex flavors the whole family will love!
From: realhousemoms.com
15. Vegan Sweet Potato Rolls
Soft herb dinner rolls with only 7 ingredients!
1 bowl, almost no kneading, no added sugar freezer friendly. Melt in your mouth sweet potato bread rolls. Vegan soy free nut free recipe.
From: veganricha.com
16. Baked Sweet Potato Chips
Healthy, gluten free, chips, these whole food snacks are REAL sweet potatoes. Homemade with 4 simple ingredients.
From: gatherforbread.com
17. Baked Sweet Potatoes with Almond Butter, Banana & Chia
Breakfast baked sweet potatoes stuffed with creamy almond butter, banana slices, chia seeds & a sprinkle of cinnamon!
An easy to make paleo breakfast that tastes like dessert!
From: ambitiouskitchen.com
18. Vegan Sweet Potato Fajitas
Tender sweet potato and smoky mushrooms stand in for meat in this easy fajita recipe!
From: thewanderlustkitchen.com
19. Instant Pot Sweet Potato Chicken Curry
What's not to love about a big bowl of curry that's made in less than 30 minutes?!
From: therealfoodrds.com
20. Sweet Potato Gnocchi
This is a single serving for a hungry person so feel free to double/triple. Happy gnocchi-making!
From: flashfictionkitchen.com
21. Fudgy Sweet Potato Brownies
Delicious, Fudgy Sweet potato brownies for a healthy dessert. Vegan, Gluten Free, and no refined Sugar.
These sweet potato brownies are soft, gooey, and so chocolatey. They taste so dreamy and are pretty much impossible to stop eating.
From: nourishyourglow.com
22. Healthy Sweet Potato Ground Turkey Chili
weet potato ground turkey chili is a healthy and quick gluten free dinner recipe that is full of black beans, corn, and lots of chili flavor!
From: evolvingtable.com
23. Sweet Potato Salad with Bacon
The BEST Sweet Potato Salad recipe — with bacon, crunchy veggies, and a zippy mustard dressing.
Easy to make, perfect for picnics and barbecues.
From: wellplated.com
24. Vegan Sweet Potato Tortillas
Easy and soft Vegan Sweet Potato Tortillas with only 2 ingredients!
They are ready in 15 minutes and are great for tacos, burritos, quesadillas, enchiladas and more! Vegan, Oil-Free.
From: bloomingnolwenn.com
25. Sweet And Spicy Sweet Potato Fries
These sweet and spicy sweet potato fries are deliciously crisp, super flavorful and seasoned to perfection!
From: eatyourselfskinny.com
26. Spiced Sweet Potato Cheesecake Recipe
Decadent, creamy and perfectly luscious, this sweet potato cheesecake recipe is the best of sweet potato pie but even richer and more delicious!
From: grandbaby-cakes.com
27. Sweet Potato Black Bean Taquitos
Little rolls of crunchy deliciousness, these Sweet Potato Black Bean Taquitos are super easy to make and full of healthy, wholesome goodness.
From: monkeyandmekitchenadventures.com
28. Roasted Sweet Potato Rainbow Salad
This Roasted Sweet Potato Rainbow Salad combines a medley of vibrant colors and flavors, brought together by a bright and creamy dressing.
From: budgetbytes.com
29. Classic Sweet Potato Pie
A Southern Classic Sweet Potato Pie never disappoints.
The pecan-crunch streusel is really what sets this particular sweet potato pie apart, adding a decadent praline layer with a crunchy crumb topping.
Serve a big slice with a generous dollop of fresh whipped cream for a bonafide treat.
From: melissassouthernstylekitchen.com
30. Sweet Potato Cheesecake with Pecan Topping
Sweet Potato Cheesecake with Pecan Topping is a delicious dessert for holiday season, especially Thanksgiving and Christmas!
From: omgchocolatedesserts.com
31. Chorizo Sweet Potato Soup
This guilt-free Chorizo Sweet Potato Soup is made with sweet potatoes, noodles, and chorizo—it'll quickly become your go-to soup recipe!
From: thealmondeater.com
32. Healthy Sweet Potato Waffles
Healthy, gluten-free sweet potato waffles made with oat flour, sweet potatoes, and simple natural ingredients.
A quick, easy, and delicious breakfast!
From: whitneyerd.com
33. Sweet Potato Chicken Pad Thai
This Sweet Potato Chicken Pad Thai has Thai flavors but with healthy sweet potato noodles, creamy cashew butter and coconut aminos instead of peanut and soy.
You will love how tasty and comforting this dish is.
From: realsimplegood.com
34. Sweet Potato Casserole Bites
Sweet Potato Casserole Bites are baked in the oven and have all the flavor of the classic Thanksgiving side dish, in an appetizer!
From: basilandbubbly.com
35. Lentil And Sweet Potato Stew
This hearty Lentil and Sweet Potato Stew is the perfect easy weeknight dinner that is delicious, super filling as well as gluten-free, dairy-free and vegan!
It's also ready in under 30 minutes!
From: eatyourselfskinny.com
Enjoyed these sweet potato recipes? Then pin it for later!
Pin these sweet potato recipes to your Food Ideas or Recipes boards on Pinterest.
That way you can easily view them later!