You can definitely have your vegan cake and eat it too with these delicious vegan cake recipes! From chocolate, vanilla, Funfetti to cheesecake, there is something for everyone.
20 Vegan Cake Recipes
Below we've rounded up 20 delicious vegan cake recipes you can make.
To view the full instructions for any of these vegan cake recipes, please follow the link below the picture.
1. Raw Snickers Cake With Vegan Caramel
A totally indulgent raw, no-bake Snickers cake made with 100% plant-based and gluten-free ingredients.
Think crunchy walnut and coconut base, a chocolate cashew 'ice cream' layer, thick date 'caramel', roasted peanuts, and a creamy 'nougat ice-cream' layer to finish it off.

From: ascensionkitchen.com
2. Vegan Carrot Cake
Carrot cake is pretty awesome! It gives you the feeling that you're eating something pretty darn healthy. I mean you're getting your veggies in!
Topped with lemon buttercream frosting and crushed walnuts, this cake is ideal for any special occasion.
Or just for Sunday afternoon tea.

From: lovingitvegan.com
3. Vegan Funfetti Cake
Colorful and festive vegan Funfetti cake! This gorgeous, light and fluffy, moist and vanilla flavored cake with vanilla frosting is perfect for celebrations!
From: lovingitvegan.com
4. Vegan Banana Cake
This is an easy to follow and super delicious vegan banana cake recipe.
Made with whole wheat, a peanut butter cream this cake recipe is easy enough it may just become your go-to Banana Cake.
From: brokefoodies.com
5. Vegan White Cake
This vegan white cake is light and fluffy, spongey and perfect!
Topped with a simple white buttercream frosting (and sprinkles) it's a super pretty cake that's perfect for a special occasion.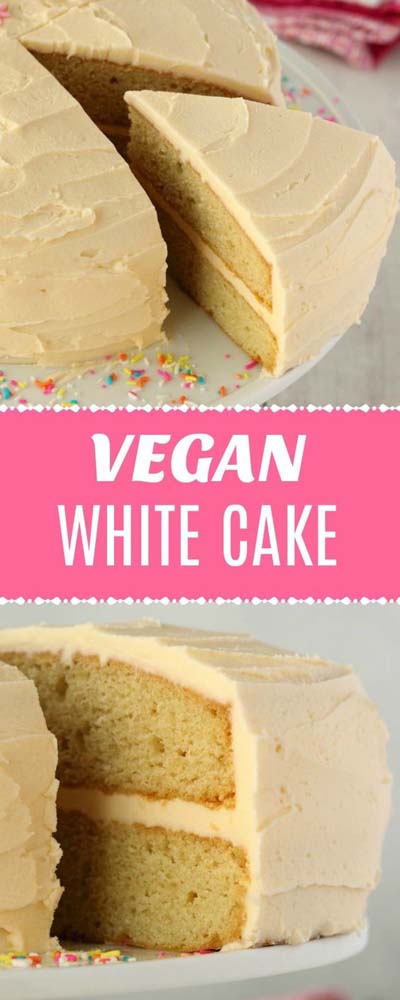 From: lovingitvegan.com
6. Coconut Cake With Coconut Rum Frosting
It has heaps of coconut flavor as well as texture from two cups of desiccated coconut in the cake batter.
And then the frosting has a bit of naughty coconut flavor via a quarter cup of coconut rum!
It's gorgeous and it's super easy to make too!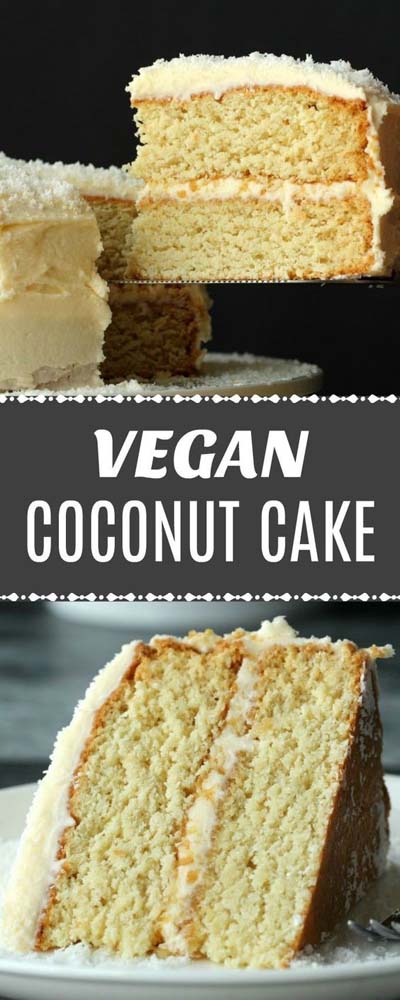 From: lovingitvegan.com
7. Vegan Black Forest Cake
This heavenly Vegan Black Forest Cake is incredibly delicious and made without any dairy ingredients.
The recipe is simple and can also be made sugar-free and gluten-free. It's perfect for a birthday or as a dessert for a cozy afternoon.
From: biancazapatka.com
8. Vegan Coffee Cake With Pumpkin And Pecan Streusel
This vegan coffee cake is an incredibly moist pumpkin cake with a sweet crispy cinnamon pecan streusel topping for a seasonal breakfast the whole family will love.

From: mydarlingvegan.com
9. Vegan Chai Almond Cake
One of my all-time favorite spice blends is Chai spice! It's cozy, sweet, fragrant and spicy at the same time.
From: thehungrywarrior.de
10. Vegan Oreo Cake
This cake is sure to appeal to traditional diets just as much as it does those who are Vegan because of its unique textures and flavors which mirror the OREO cookie experience.
(Some OREO products may be exposed to milk cross-contamination in the production process. 100 Calorie OREO Thin Crisps and other varieties are listed on PETA's approved 'accidentally vegan' list).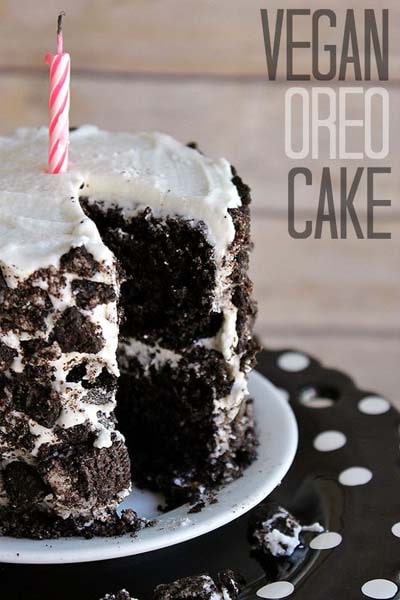 From: mommatoldmeblog.com
11. Vegan Strawberry Cake
This vegan strawberry cake is a dream!
Topped with strawberry buttercream frosting and decorated with fresh strawberries it's a strawberry lovers dream come true!
From: lovingitvegan.com
12. Vegan German Chocolate Cake
This vegan German chocolate cake is two layers of delicious vegan chocolate cake with a coconut pecan filling and a rich chocolate buttercream frosting on top!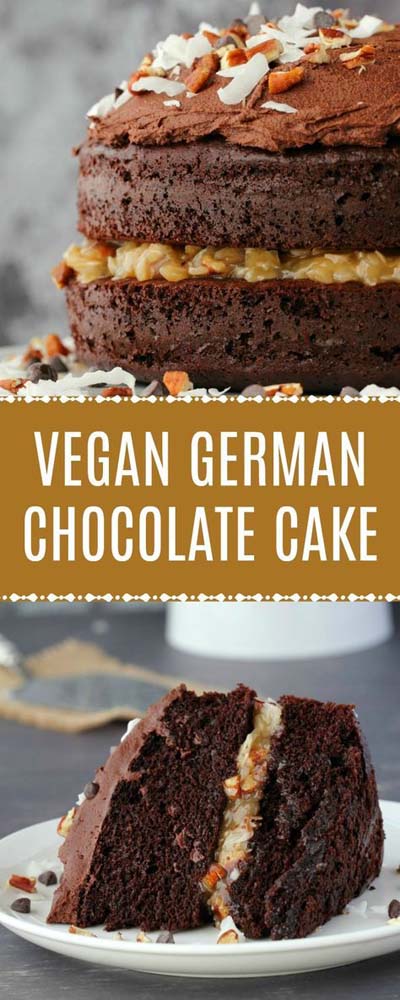 From: lovingitvegan.com
13. Vegan Lemon Curd Layer Cake
Vegan lemon curd layer cake – easy, fluffy vegan lemon cake layered with vegan lemon curd and vegan lemon buttercream, perfect for any occasion!
From: domesticgothess.com
14. The Best Vegan Chocolate Cake
The Best Vegan Chocolate Cake- A quick and easy recipe, made in 1 bowl!
This really is the best chocolate cake ever, vegan or otherwise. It's super moist, rich and full of chocolate.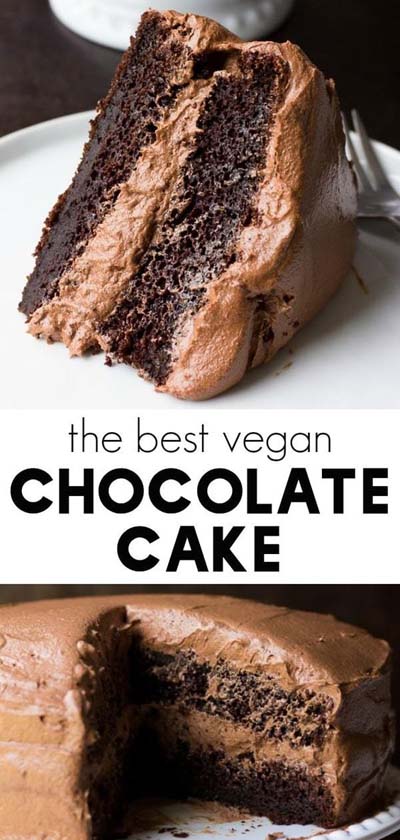 From: noracooks.com
15.  Elderflower Cake With Lemon Curd & White Chocolate Frosting
This recipe uses an unusual ingredient which makes it light and spongy.
It's… MASHED POTATO!
Yes, there is mashed potato in this cake but you would never know it. It tastes just like a traditional vanilla sponge and has the same lightness too.

From: wallflowerkitchen.com
16. Vegan Chocolate Fudge Cake
This vegan chocolate fudge cake is two layers of pure fudgy chocolatey deliciousness topped with an equally fudgy chocolatey frosting!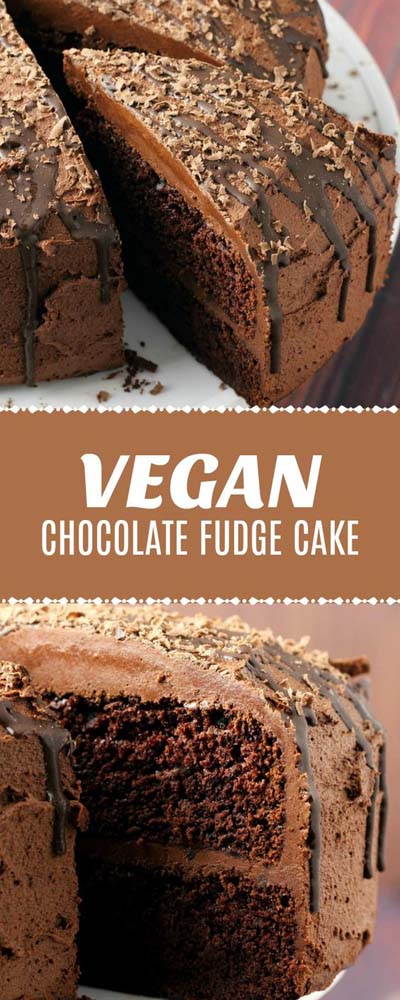 From: lovingitvegan.com
17. Vegan Pumpkin Cake
Enjoy this 3-tier Vegan Pumpkin Cake for breakfast, dinner, and dessert!
It's made with easy-to-find ingredients and topped with a cashew cream glaze and healthy salted caramel sauce.

From: thealmondeater.com
18. Vegan Raspberry Cream Cake
A cute and delicious Vegan Raspberry Cream Cake is perfect for a plant-based celebration.
So pretty in pink with a delicious vegan chocolate base and topped with fresh berries, this Vegan Raspberry Cream Cake screams Summer.

From: vibrantplate.com
19. No-Bake Layered Blueberry Cheesecake
This No-Bake Layered Blueberry Cheesecake is a beautiful and easy-to-make Paleo-friendly + vegan cheesecake made with soaked cashews!
The cheesecake layers are lusciously smooth and creamy with a tart, fruity topping.

From: bakerita.com
20. Vegan Strawberry Cheesecake
This vegan strawberry cheesecake is as smooth and creamy as they get. It's a no-bake cake that comes together quickly.
It's vegan, gluten-free and oil-free.
From: lazycatkitchen.com
Enjoyed these vegan cake recipes? Then pin it for later!
Pin these vegan cake recipes to your Dessert Recipes or Vegan Dessert Ideas boards on Pinterest.
That way you can easily view them later!