Get ready for love at first bite with these cute and delicious Valentines Day Cupcakes!
30 Cute Valentines Day Cupcakes
Below we've rounded up 30 valentines day cupcakes.
To view the full recipe and instructions for any of these valentines day cupcakes, please follow the link below the picture.
1. Easy Valentines Day Mini Cakes
These single-serving Valentine's Day mini cakes are gorgeous, festive, and most importantly, easy!
They're made using chocolate wafers and whipped cream, which means that you can whip up a batch of them in just a few minutes.
From: ohnuts.com
2. Chocolate Valentines Heart Cupcakes
No matter how many cute, or fancy, or delicious treats I bake… chocolate cupcakes are always on my list of favorites!
And when you top a delicious chocolate cupcake with rich chocolate cream cheese frosting, you have a chocolate lovers dream!
From: glorioustreats.com
3. Valentines Day Bear Cupcake Recipe
There is seriously nothing that speaks Valentine's Day in a cuter way than these adorable Bear Cupcakes!
These little brown bears are showing their hearts on their chests as a sweet treat your whole family will love.

From: plumcrazyaboutcoupons.com
4. Strawberry Cupcakes With Cream Cheese Frosting
These Strawberry Cupcakes with Cream Cheese Frosting are perfect! So moist and fluffy!
And they are an amazing copy of one my favorite cupcakes!
From: lifeloveandsugar.com
5. Raspberry Chocolate Cupcakes
Spread the love this Valentine's Day with Raspberry Chocolate Cupcakes topped with two layers of rich ganache and creamy raspberry cream cheese frosting.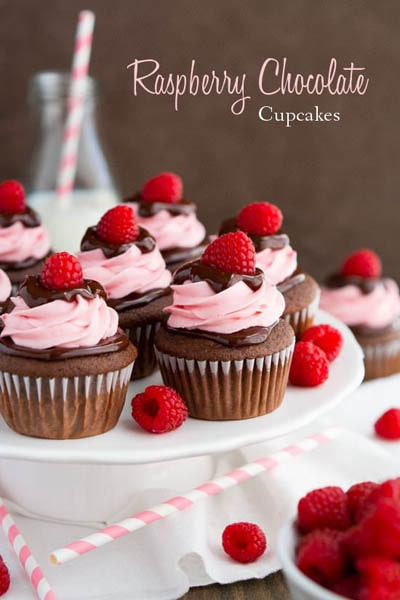 From: handletheheat.com
6. Moist Chocolate Cupcakes with Prague Frosting
These Chocolate Cupcakes are moist, decadent, ultra-flavorful and easy.
From: natashaskitchen.com
7. Cherry Cordial Cupcakes
The cupcake version of a traditional Valentine's Day candy – the cherry cordial!
Dark chocolate cake filled with dark chocolate ganache, cordial cream and topped with sweet cherries.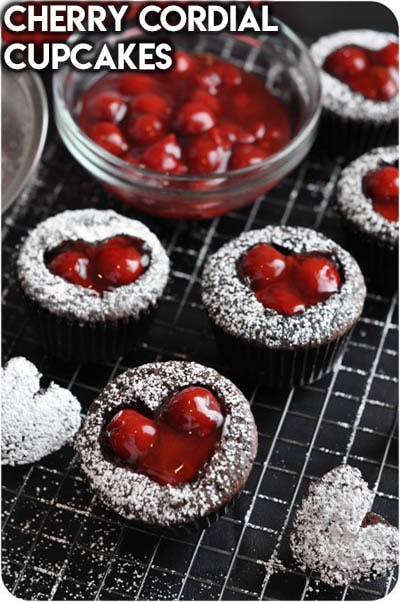 From: lemon-sugar.com
8. Sweet Heart Cupcakes
These adorable and creative Sweet Heart Cupcakes are surprisingly simple to make!
Impress your guests or your sweetheart with these heart cutout cupcakes!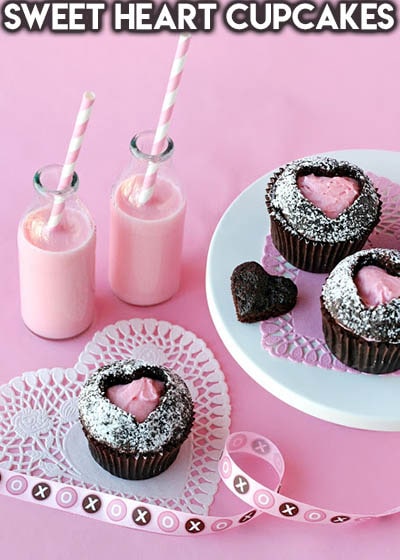 From: glorioustreats.com
9. Chocolate Dipped Strawberry Cupcakes
Everyone could use a little more chocolate in their life.
Enjoy it with fresh fruit in these delectable chocolate dipped strawberry cupcakes!
From: garnishandglaze.com
10. Red Velvet Cake Batter Cupcakes
Red velvet cupcakes topped with cream cheesecake batter frosting.
And decorated with these adorable heart sprinkles and maraschino cherries, what could be better?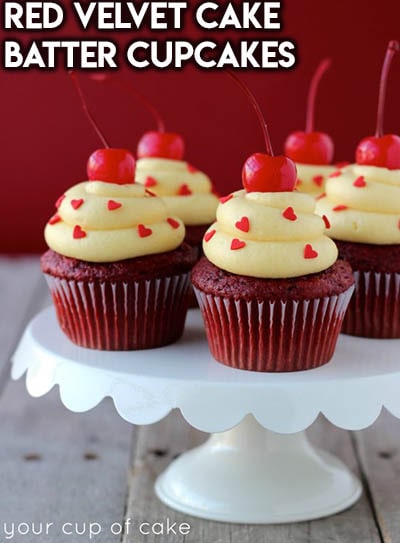 From: yourcupofcake.com
11. Chocolate Sweetheart Cupcakes
Rich, moist chocolate sweetheart cupcakes topped with a thick cocoa buttercream.
Perfectly decorated for Valentine's Day!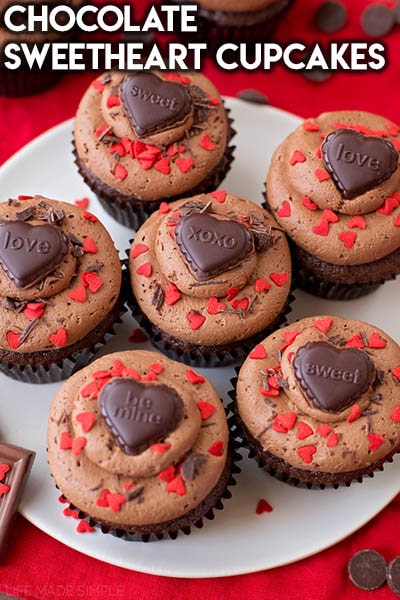 From: lifemadesimplebakes.com
12. Chocolate Cupcake Recipe With Red Velvet Frosting
Dark and decadent chocolate cupcake recipe with creamy red velvet frosting!
These chocolate cupcakes are like a shot of love potion right to the heart.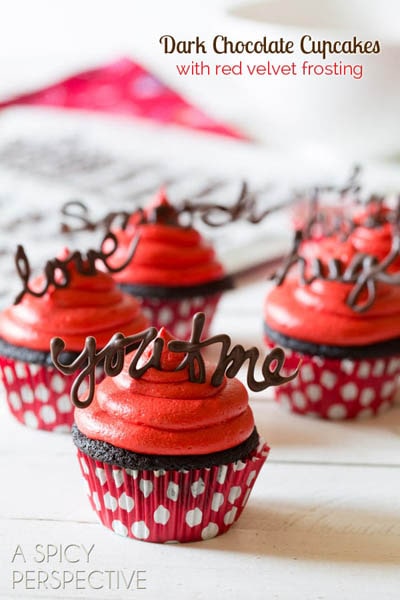 From: aspicyperspective.com
13. Fudgy Chocolate Cupcakes With Two-tone Roses
These beauties are a centerpiece and dessert in one. And you can't go wrong with that!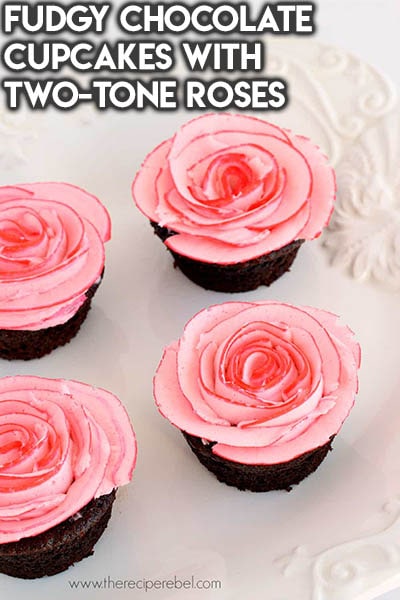 From: thereciperebel.com
14. Valentine Cupcakes
So fun and so easy! Just whip up your favorite cupcake recipe (or a box mix), top with some frosting, add your heart candies, and you have a darling Valentine's Day treat.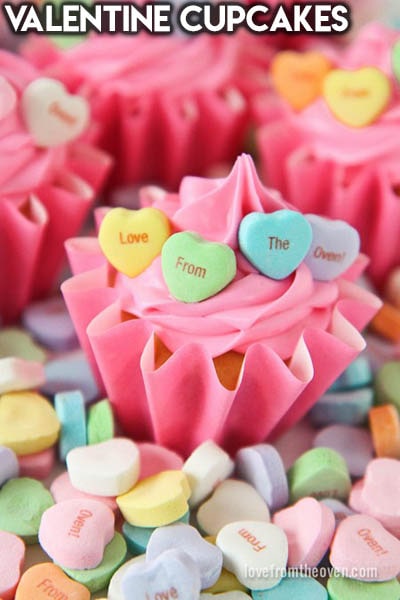 From: lovefromtheoven.com
15. Valentine's Day Mini Beet Root Red Velvet Cupcakes
Pink velvet cupcakes start with soft, tender buttermilk cake.
It's topped with a tangy cream cheese frosting, giving you a delicious pink velvet cupcake, perfect for your Valentine!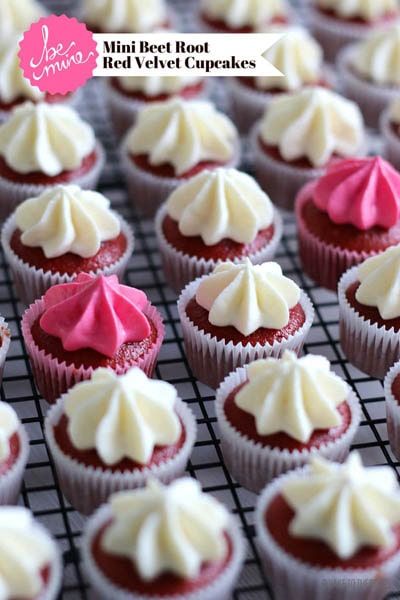 From: aclassictwist.com
16. Champagne Cupcakes With Champagne Buttercream Frosting
Quick, easy pink champagne cupcakes recipe with champagne buttercream frosting.
Soft, moist, fluffy! Great for New Year's party or Valentine's Day.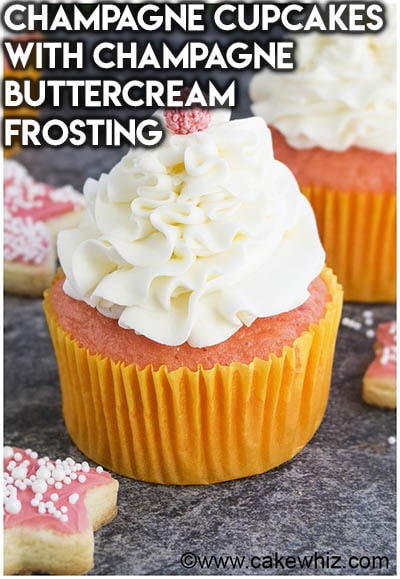 From: cakewhiz.com
17. Chocolate Cherry Amaretto Cupcakes
Everything is better with a cherry on top, especially cupcakes.
These chocolate cherry amaretto cupcakes are the perfect Valentine's cupcakes!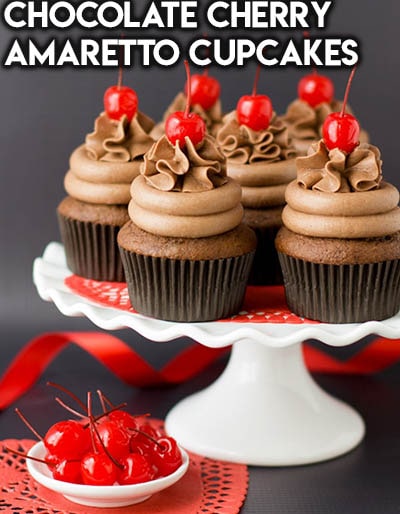 From: thesprinklefactory.com
18. Chocolate Raspberry Cupcakes
Fresh raspberries, framboise, and plenty of dark chocolate come together in these decadent raspberry chocolate cupcakes.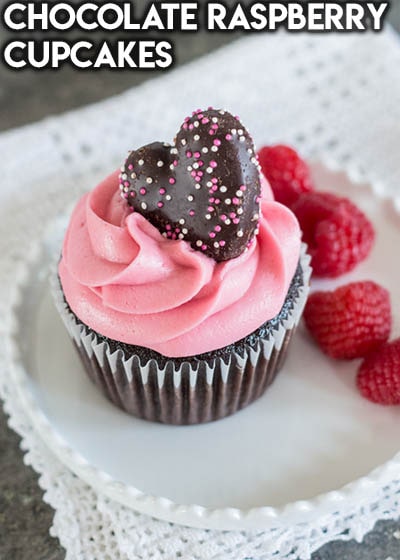 From: flourarrangements.org
19. Neapolitan Bonbon Cupcakes
One thing is for certain, these cupcakes are all about variety.
You get a little of everything – rich chocolate cake, vanilla and strawberry buttercream, and a surprise flavor-filled bonbon on top!
From: sprinklebakes.com
20. XOXO Valentines Day Cupcakes
These simple XOXO valentines day cupcakes are a perfect treat to make with your kids, simple enough for kids to decorate from start to finish and delicious enough for the whole family to enjoy.
From: easypeasyandfun.com
21. Valentines Day Rice Krispie Treat Cupcakes
These Valentine's Day Rice Krispie Treat Cupcakes are super cute to share for Valentine's Day!
They are actually flavored with a strawberry cake mix, but you could use any flavor.
The pink cake mix is what gives them their pretty color. They're topped with vanilla icing and a festive gummy heart.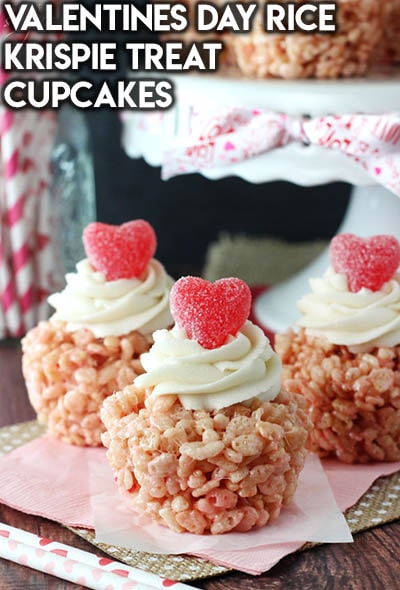 From: lifeloveandsugar.com
22. Lemon Cupcakes With Raspberry Buttercream
Your taste buds are going to go crazy over this one.
Soft and Fluffy Lemon Cupcakes topped with homemade Raspberry Buttercream.
Dessert doesn't get much better than this!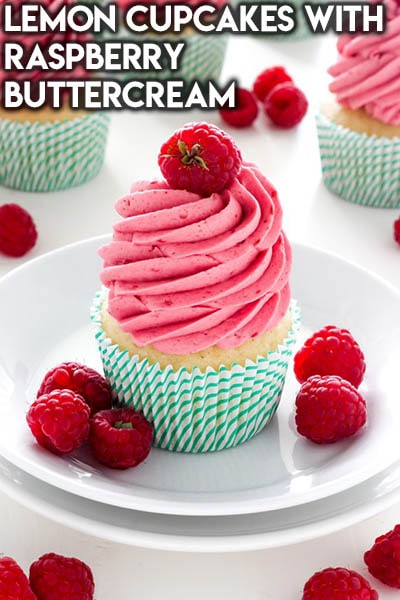 From: bakerbynature.com
23. Chocolate Truffle Cupcakes
Cute little Chocolate Truffle Cupcakes make sweet Valentine's Day treats.
Each bite-size white chocolate cup decorated with red polka dots is filled with a swirl of dark chocolate ganache and topped with a candy coated chocolate.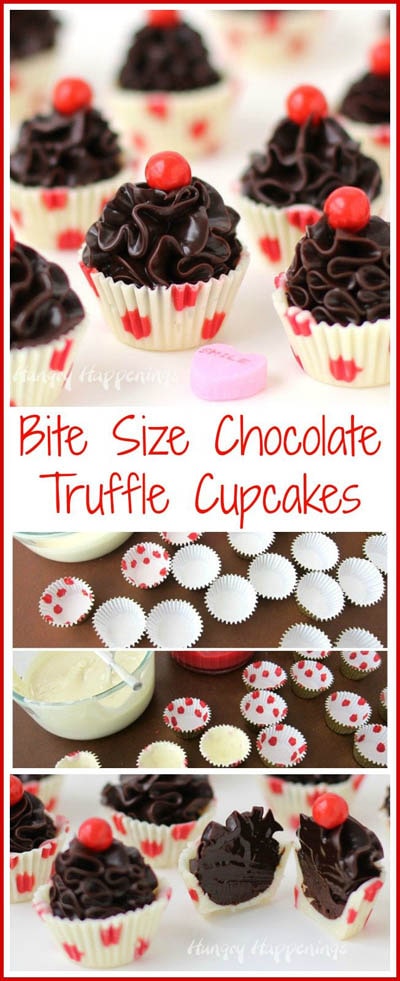 From: hungryhappenings.com
24. Cookie Truffle Cupcakes
What is better than a cupcake? A cupcake topped with a cookie truffle! You will definitely get your cookie fix with this recipe.
Crushed up cookies in the cupcake, topped with buttercream frosting, and then topped with a truffle filled with crushed up cookies.
From: foodlovinfamily.com
25. Valentine's Day Strawberry Mimosa Cupcakes
From: litosupply.co
26. Fresh Strawberry Cupcakes
These Strawberry Cupcakes are soft, fluffy, moist and deliciously strawberry!
There are pieces of chopped strawberry in the cupcake and pureed strawberries in the icing.
No artificial flavor here – all flavor and color is from fresh strawberries. Yum!
From: lifeloveandsugar.com
27. Blackberry Vanilla Cupcakes
Soft vanilla cupcakes made from scratch and piped high with a tangy blackberry buttercream.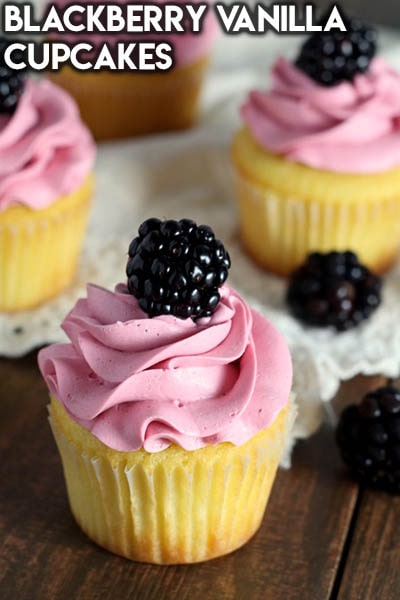 From: chocolatewithgrace.com
28. Love Monster Cupcakes
Make these Love Monster Cupcakes for your Love Monster this Valentine's Day!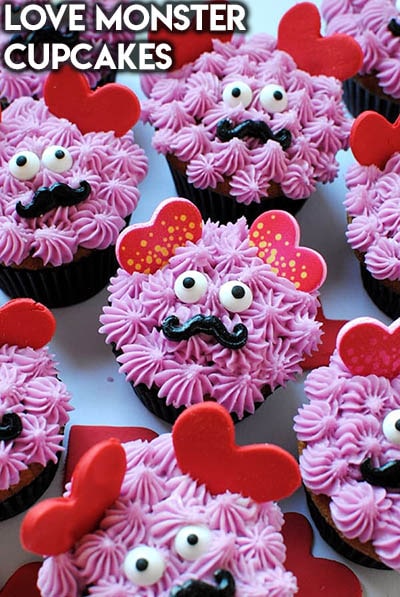 From: letseatcake.com
29. Valentine's Day Heart Cupcakes
Nothing says Valentine's Day like the iconic pink or red heart.
These valentine cupcakes are shaped like hearts and covered in white, pink and red frosting. What could be better?

From: amandascookin.com
30. Chocolate Cupcakes With Strawberry Buttercream
Love is in the air! It's time to start planning that special day, so you can impress your Valentine and these Valentine Chocolate Cupcakes with Strawberry Buttercream will totally do the trick!
From: thebeachhousekitchen.com
Enjoyed these Valentines Day Cupcakes? Then pin it for later!
Pin these Valentines Day Cupcakes to your Valentines Day Ideas or Dessert boards on Pinterest.
That way you can easily view them later!