Need to bring something to a party or just need a quick and easy recipe? These nacho recipes are perfect for a party or dinner and are fairly simple to make. Enjoy these 35 delicious nacho recipes!
30 Nacho Recipes
Below we've rounded up 30 nachos recipes.
To view the full instructions for any of these nacho recipes, please follow the links below.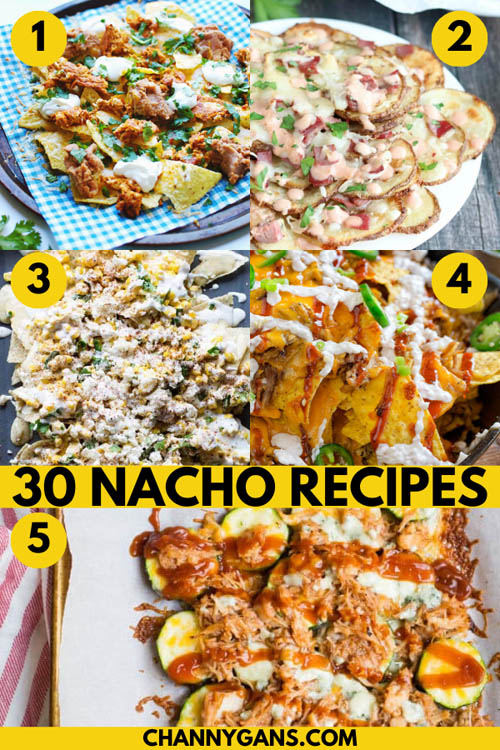 1. Chorizo and Eggs Breakfast Nachos
This serving of chorizo and eggs is nacho average breakfast, and it tastes incredible! Dare I even say eggcellent?
Too much? I don't think so. There's no such thing as food being too punny or yummy!
From: thebutterhalf.com
2. Reuben-Topped Irish Nachos
Typical Irish Nachos swap in potatoes for tortilla chips before being piled high with Mexican-style nacho toppings.
They're topped with the ever-popular flavors of a Reuben sandwich!
Easy to make and seriously delicious (with healthy tweaks all along the way)!
From: twohealthykitchens.com
3. Mexican Street Corn Nachos
Mexican Street Corn Nachos! Chips loaded up with all the flavors of classic Mexican street corn and smothered with a creamy, spicy queso Blanco.
From: houseofyumm.com
4. Pulled Pork Nachos
These Pulled Pork Nachos are an appetizer favorite around here, besides that they are packed with flavor and pull together in minutes!
From: iamhomesteader.com
5. Cheesy Bbq Chicken Zucchini Nachos
Indulge in nachos with these Cheesy BBQ Chicken Zucchini Nachos!
It's a healthy dinner idea that the kids will love just as much as the adults!
From: ohsweetbasil.com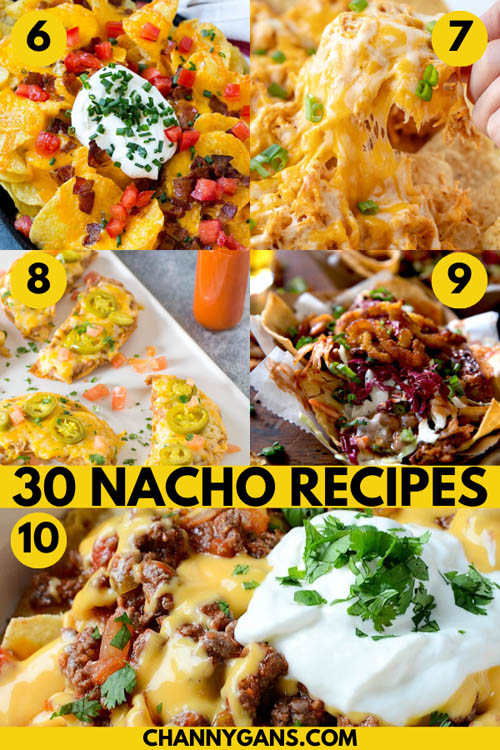 6. Irish Nachos
This recipe for Irish Nachos is potato chips layered with plenty of cheese and toppings.
Potato nachos are a simple yet unique snack that's perfect for parties!
From: dinneratthezoo.com
7. Buffalo Chicken Nachos
Crunchy tortilla chips are loaded with tender chicken, drenched in a spicy buffalo ranch sauce and smothered in cheese for the ultimate game day snack.
These Buffalo Chicken Nachos are easy to whip up and are sure to please your hungry crowd!
From: yellowblissroad.com
8. The Ultimate Texas Nachos
Make your nachos Texas style with this recipe, with crunchy corn tortillas, refried beans, melty cheese, and pickled jalapeno peppers. This is the ultimate snack food.
From: chilipeppermadness.com
9. Southern Bbq Nachos
What exactly is Southern BBQ Nachos? Think all your southern favorites in one cheesy, ooey-gooey, sauce-filled crunchy chip bite!
From: bakersroyale.com
10. Nachos Deluxe
This fast and easy Nachos Deluxe recipe can be eaten as lunch or dinner, or served as a snack!
Great for game day snacking, movie time, or anytime. This delicious treat is ready in under 20 minutes, and is oh so good!
From: annsentitledlife.com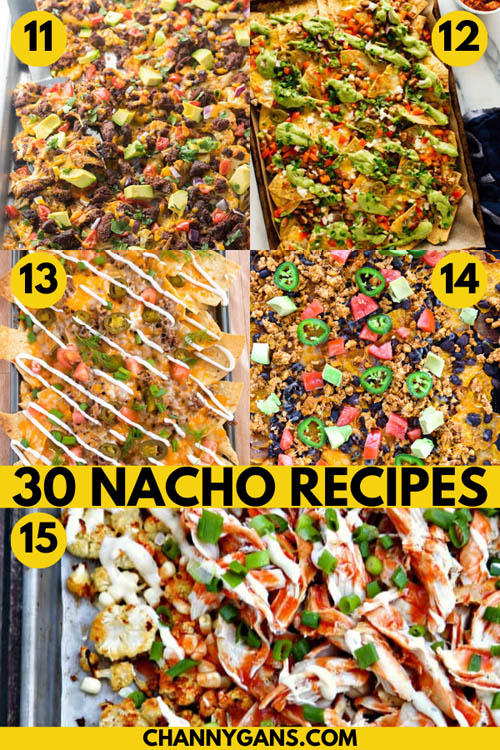 11. Cauliflower Nachos Recipe
For the best healthy nachos recipe, make cheesy cauliflower nachos with ground turkey taco meat!
They are so easy to make, with just 15 minutes prep and simple, common ingredients.
From: wholesomeyum.com
12. Loaded Veggie Nachos
You're looking at the ultimate vegetarian nachos recipe!
No meat here—just tortilla chips, beans, veggies, lots of cheese and simple, creamy avocado sauce.
From: cookieandkate.com
13. Loaded Beef Nachos
These tasty Nachos are loaded with taco-seasoned ground beef, jalapeños, 2 different kinds of cheese and so much more!
Serve them at your Superbowl party, movie night, or any occasion!
From: queensleeappetit.com
14. Sweet Potato Nachos Recipe
This Sweet Potato Nachos recipe is a game-changer!
Who knew nachos could be so healthy and delicious at the same time?!
From: happyhealthymama.com
15. Buffalo Ranch Roasted Cauliflower Nachos
Roasted cauliflower with ranch dressing, fresh corn, shredded chicken and a hearty drizzle of buffalo sauce and a little more ranch. Get your veggies the delicious way!
From: thewickednoodle.com
16. Ahi Nachos With Wasabi Crema
Marinated ahi sits on top of freshly fried wonton chips with melted mozzarella, wasabi crema, avocado, red onion, ginger, cilantro, and jalapeno slices.
From: burrataandbubbles.com
17. Easy Foil Packet Nachos
The Best Nachos Recipe is one that's easy, delicious, and quick.
That's exactly what these Foil Packet Nachos are! Loaded with beef, tomatoes, green chiles (and more), and covered in melty cheese.
From: thecookierookie.com
18. Loaded Vegetable Nachos
Loaded Vegetable Nachos is a quick & simple vegetarian meal that is filled with flavor & that everyone will love!
From: domesticallyblissful.com
19. Sheet Pan Nachos
These nachos are vegetarian but you can easily add shredded chicken or ground beef if you prefer.
From: lastingredient.com
20. Fully Loaded Nachos with Lentils
Salted corn chips topped with melty cheese, meaty lentils and a bright salsa with spicy jalapeño peppers, our ultimate fully loaded nachos are the perfect meatless dish for your game day lineup.
From: chefsouschef.com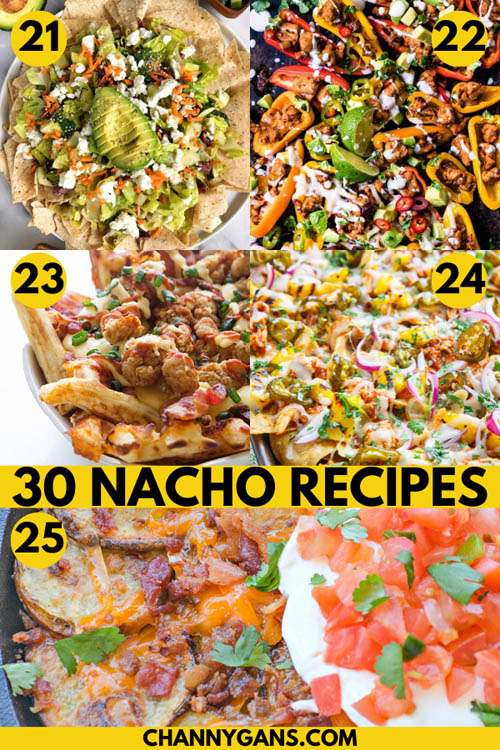 21. Chopped Salad "Nachos"
Zesty Chopped Salad "Nachos" made with gluten-free and dairy-free ingredients for an easy and healthy twist on nachos!
From: rachlmansfield.com
22. Fully Loaded Spicy Turkey Nachos
Spicy turkey, mini bell peppers and gooey melted, bubbly cheese drizzled with lime crema and cilantro.
From: saltedmint.com
23. Chicken And Waffles Nachos
March Madness meets food madness. And by food madness, I mean artery-clogging, finger-licking, double-dipping Chicken and Waffles Nachos.
From: realfoodbydad.com
24. BBQ Chicken and Grilled Pineapple Nachos
BBQ chicken nachos with grilled pineapple, candied jalapenos and plenty of melted cheese!
These nachos are pretty perfect for munchies to snack on while watching football and even for a quick dinner every once in a while!
From: closetcooking.com
25. Irish Pub Nachos
These potato-based nachos feature some of your favorite toppings, making them perfect for sharing at any get together or game day.
From:4sonrus.com
26. Loaded Chicken Fajita Nachos
It's loaded to the brim with almost everything you could dream of having on a taco or inside a burrito.
Better yet, it's all laid on and loaded with melted cheese on top of a tray of crispy warm tortilla chips.
From: bestrecipebox.com
27. Loaded Nacho Fries
Delicious hearty and crunchy loaded nacho fries are bursting with cheesy flavor and so easy to make – perfect for the big game, parties, potlucks, or a busy weeknight dinner everyone loves!
From: sweetcsdesigns.com
28. Greek Nachos
If you are a fan of Greek food then you will be smitten by this recipe.
Instead of tortilla chips, this has pita chips as a base. Building up from there, it's cumin spiced lamb, feta tzatziki sauce and heaps of fresh veggies & zesty olives.
From: marlameridith.com
29. Nachos Recipe With Brussels Sprouts & Beet Crema
This incredible homemade nachos recipe is topped with brussels sprouts, roasted corn queso and beet crema.
From: asideofsweet.com
30. Vidalia Onion Potato Chip Nachos
Vidalia Onion Potato Chip Nachos – yes, that's exactly what I said and they are the easiest, yummiest & fastest recipe you'll come across today. YUM!
From: mrshappyhomemaker.com
Enjoyed these nacho recipes? Then pin it for later!
Pin these nacho recipes to your Food Ideas or Recipes boards on Pinterest.
That way you can easily view them later!