Pasta salads are such a great dish to bring to any party or barbeque. The great thing about them is that they are so easy to make and can be very versatile. Most of these pasta salads can be also be eaten hot, which is a win in my book.
Below we've rounded up 25 pasta salad recipes.
To view the full recipes and instructions for any of these pasta salad recipes, please follow the link below the picture.
1. Deviled Egg Macaroni Pasta Salad
Deviled egg pasta salad with macaroni. Light on the mayo and big on flavor, this dish is a hit at cookouts or summer gatherings!
Also, a great way to use leftover hard-boiled eggs.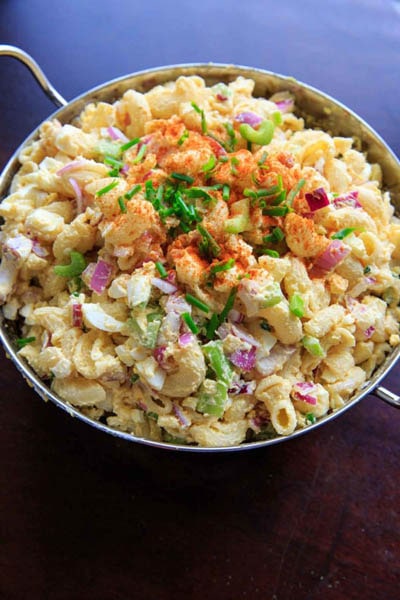 From: trialandeater.com
2. Pistachio Pesto Pasta Salad
This Pistachio Pesto Pasta Salad is the perfect make-ahead dish for summer gatherings.
It's easy to customize with your favorite add-ins, and it tastes SO fresh and delicious.
From: gimmesomeoven.com
3. Southwest Pasta Salad
This southwest pasta salad is the perfect cold pasta salad for potlucks, parties, or a quick and easy meal.
It can be made in advance and your friends and family will love this pasta salad recipe!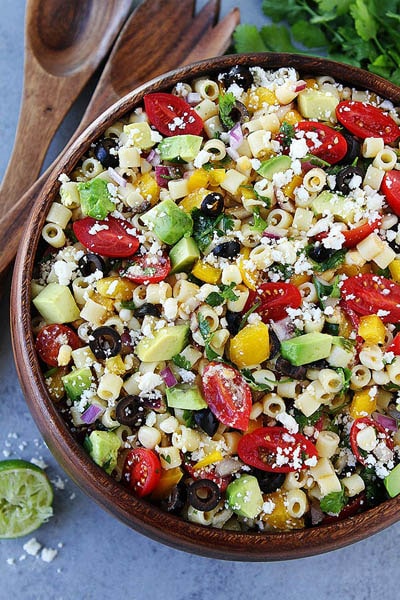 From: twopeasandtheirpod.com
4. BLT Pasta Salad With Avocado
This easy, creamy BLT pasta salad recipe is loaded with tomatoes, arugula, and avocado, plus crispy bacon that's all topped with a super simple Ranch-style dressing made with mayo and Greek yogurt.
From: foodiecrush.com
5. Summer Veggie Pasta Salad
This fresh summer veggie pasta salad is a great way to use up all of those vegetables from the garden.
It's a cinch to make and the perfect side dish to take to BBQs and parties!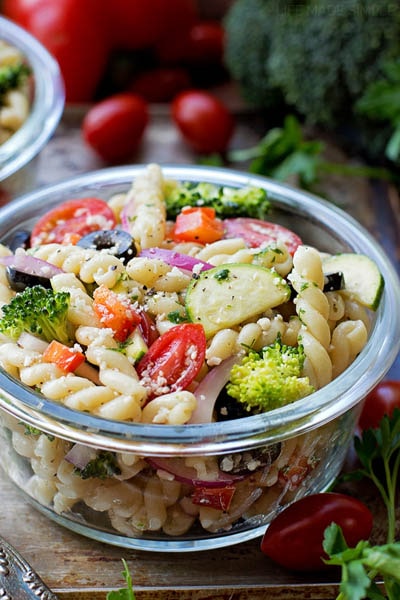 From: lifemadesimplebakes.com
6. Tuscan Tortellini Salad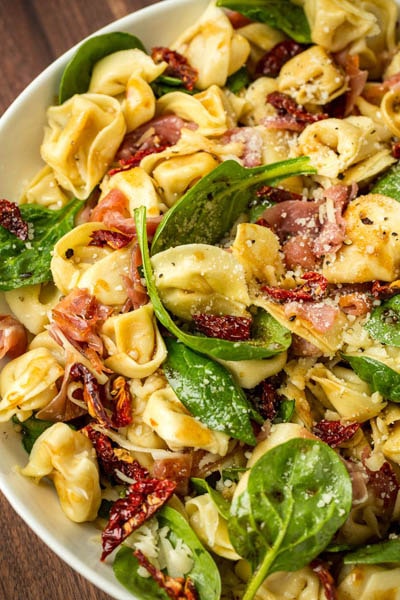 From: delish.com
7. Asparagus Ravioli Pasta Salad
Fresh vegetables, cheesy ravioli, and bottled pesto make for an amazing, easy, and oh so flavorful, asparagus ravioli pasta salad!
Eat it hot or cold.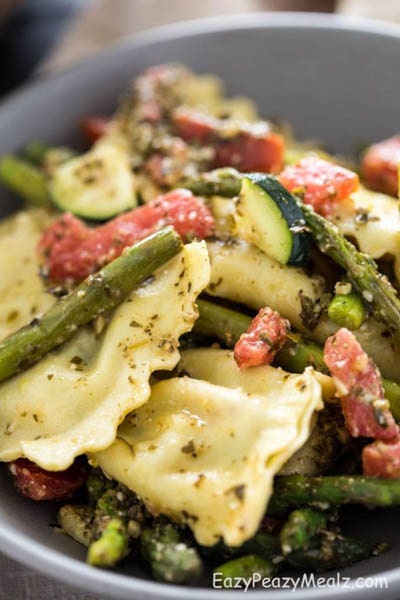 From: eazypeazymealz.com
8. Caprese Pasta Salad
Caprese pasta salad made with juicy tomatoes, marinated fresh mozzarella cheese, fragrant fresh basil, and a mouthwatering homemade Italian herb vinaigrette!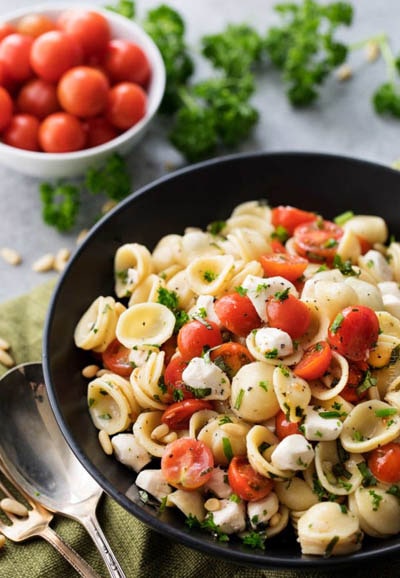 From:thechunkychef.com
9. Mediterranean Pasta Salad
This Mediterranean Pasta Salad recipe is quick and easy to make, it's tossed with a zesty lemon-herb vinaigrette, and it's always a crowd-pleaser!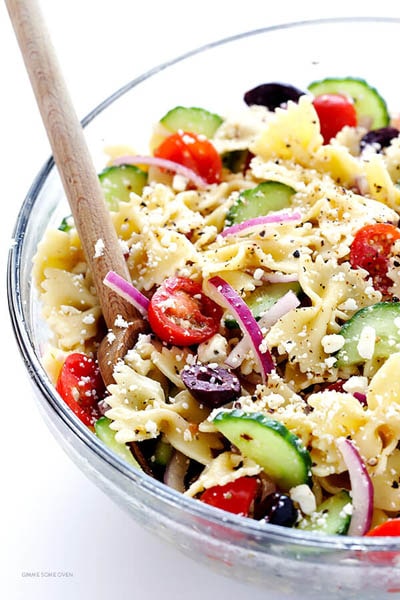 From: gimmesomeoven.com
10. Taco Pasta Salad
Taco pasta salad is a delicious pasta salad made with Mexican flavors, seasoned ground beef, crunchy nacho cheese chips, and a delicious creamy dressing! Perfect for a summer potluck or BBQ!
From:lmld.org
11. Macaroni Salad Recipe
This easy macaroni salad recipe has a secret ingredient that gives it the best flavor.
Plus, this classic recipe is a great addition to any summer gathering and it's crowd-friendly.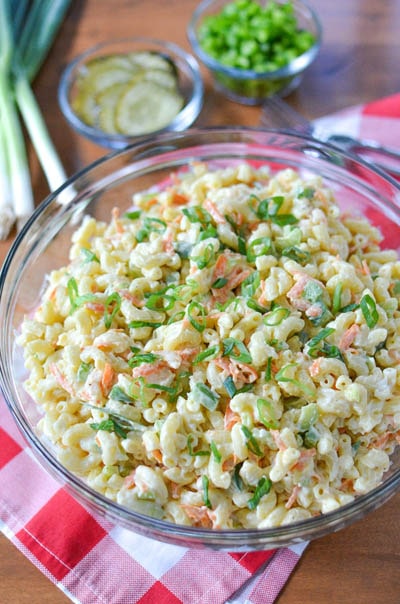 From: simplywhisked.com
12. Pizza Pasta Salad
Pizza Pasta Salad has all the flavors of a delicious pizza in a pasta salad. Mini pepperonis, olives, green bell pepper, cubes of cheese, tomato – all tossed in a vinaigrette.
Warm up the leftovers of this Pizza Pasta Salad with marinara sauce for another meal.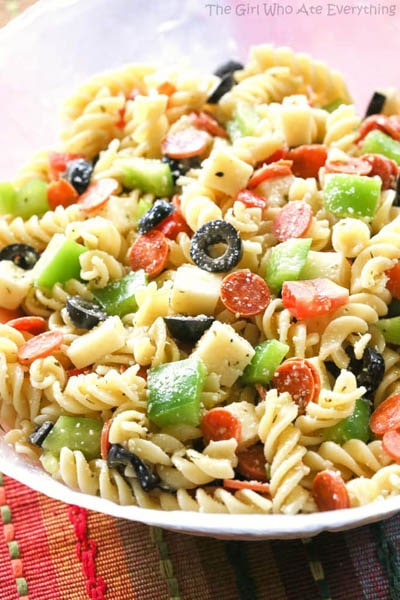 From: the-girl-who-ate-everything.com
13. Bruschetta Pasta Salad
This Bruschetta Pasta Salad is a perfect summer side dish. Loaded with tomatoes, basil, parmesan cheese, and noodles this salad is a must-make dish!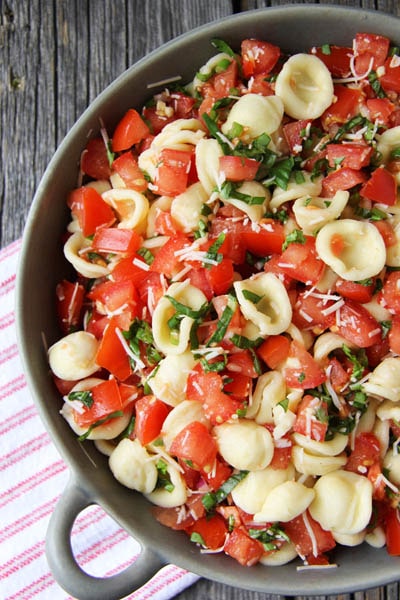 From: aprettylifeinthesuburbs.com
14. Ramen Noodle Salad
Sweet, tangy, crunchy Asian Ramen Noodle Salad is a great side dish for summer potlucks, barbecues, or to serve with your dinner any day of the week.
From: barefeetinthekitchen.com
15. Spicy Thai Spaghetti Salad
This yummy Spicy Thai Spaghetti Salad is a delicious twist on a potluck classic.
It is quick to prepare using common ingredients, the Asian flavors in this colorful pasta salad really pop.
This easy summer side salad recipe will be your go-to for barbecues this season!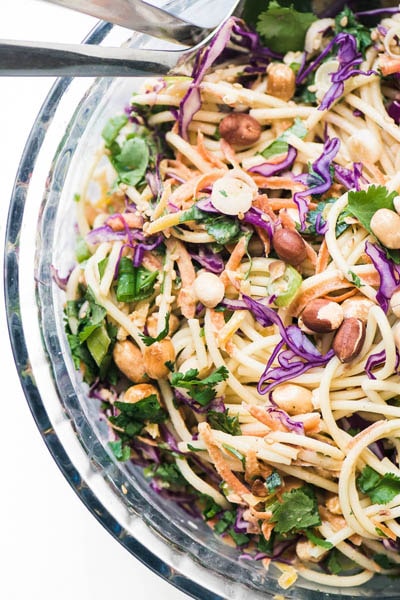 From: theviewfromgreatisland.com
16. Creamy Cheddar Macaroni Salad
This Creamy Cheddar Macaroni Salad is the perfect summer pasta salad.
It's loaded with peppers, celery, onions, chunks of cheddar cheese and elbow noodles, all covered in a tangy sour cream dressing.
Simple, quick and so delicious!
From: aprettylifeinthesuburbs.com
17. Smoked Salmon Pasta Salad with Asparagus
Smoked Salmon Pasta Salad with roasted asparagus and a creamy pesto sauce is a delicious easy dinner or side dish!
You only need a few ingredients and under 30 minutes to make this scrumptious pasta recipe.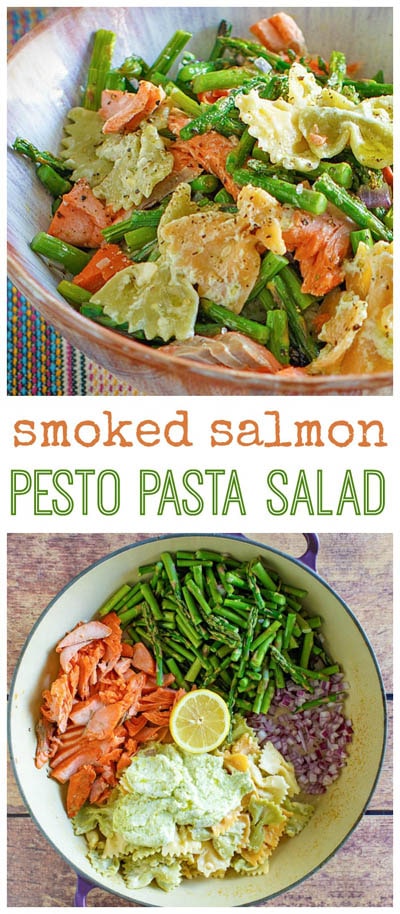 From: wearychef.com
18. Chicken Fajita Bow Tie Pasta Salad
Chicken and bow tie pasta tossed with lime juice, cumin, chili powder, cilantro, olive oil, corn, tomatoes, black beans, salsa, cheese, and Doritos!
Can make without the chicken and serve as a side dish. Great for summer potlucks!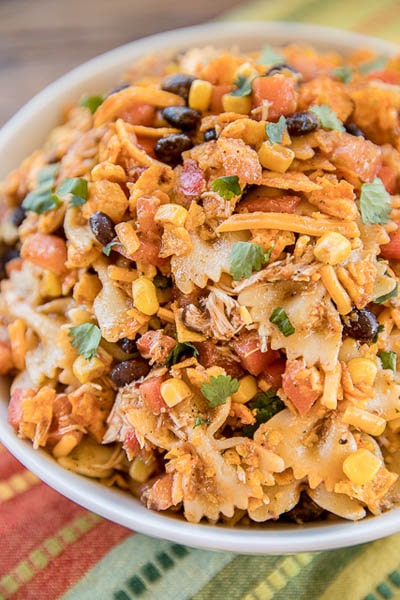 From: plainchicken.com
19. Strawberry Caprese Pasta Salad
This 5-Ingredient Strawberry Caprese Pasta Salad is quick and easy to make, and a delicious sweet and savory addition to any meal.
From: gimmesomeoven.com
20. Grilled Kale And Red Pepper Tuscan Pasta Salad
From: halfbakedharvest.com
21. Mexican Street Corn Pasta Salad
This easy to make pasta salad recipe is loaded with flavor! Charred corn and pasta are tossed in a creamy chili-lime dressing and topped with cotija cheese and crispy bacon!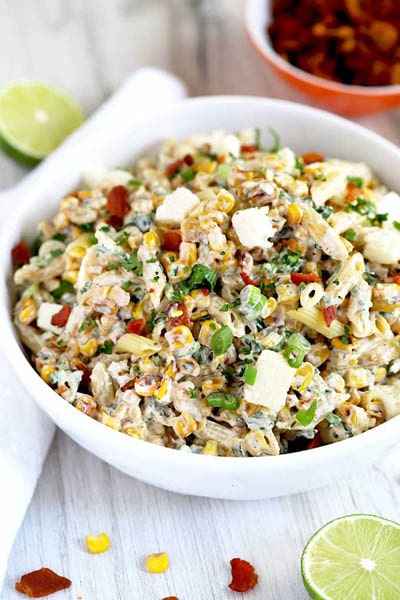 From: lemonblossoms.com
22. Vegan Lemon Tahini Pasta Salad
A delicious Vegan Lemon Tahini Pasta Salad loaded with Fresh Veggies and dressed with a delicious Tahini Lemon Dressing.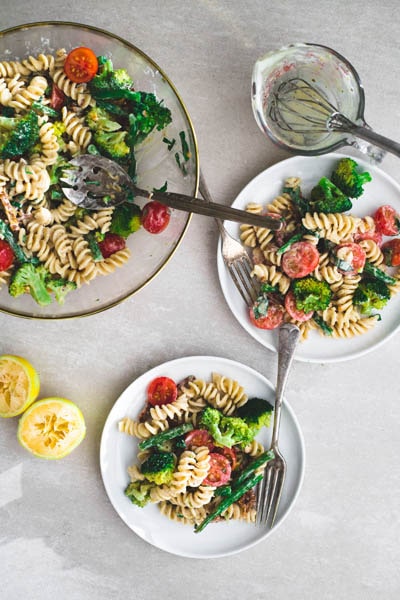 From: crazyvegankitchen.com
23. Antipasto Tortellini Pasta Salad
This packed potluck favorite includes multiple cheeses, meats, olives, peppers, and more to create a hearty Italian-inspired summer side dish.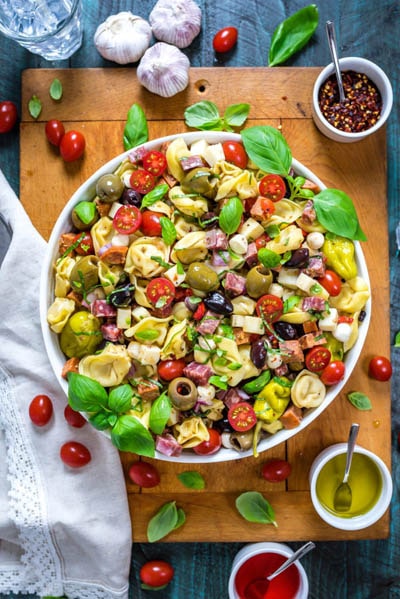 From: hostthetoast.com
24. Spinach Artichoke Pasta Salad
This easy Spinach Artichoke Pasta Salad is always the most popular side dish at parties and potlucks!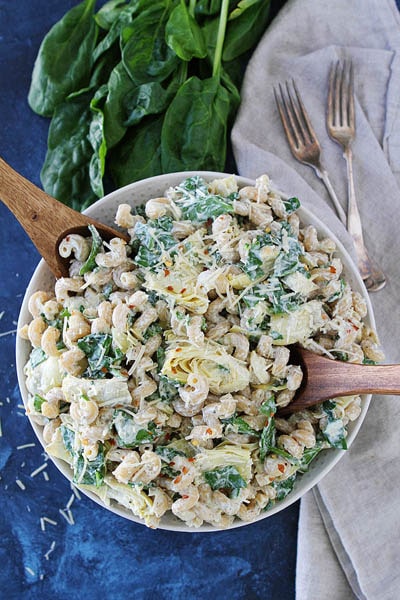 From: twopeasandtheirpod.com
25. Buffalo Chicken Pasta Salad
Buffalo Chicken Pasta Salad is a quick and easy recipe perfect for a game day party or a summer picnic.
Tender pasta is tossed with a creamy buffalo sauce and fresh vegetables all topped off with crumbled blue cheese for a side dish bursting with flavor and crunch!
From: thecreativebite.com
Enjoyed these pasta salad recipes? Then pin it for later!
Pin these pasta salad recipes to your Food Ideas or Recipes boards on Pinterest.
That way you can easily view them later!