Whether you are in the mood for sweet or savory – these tart recipes have your back! These delicious tart recipes are perfect for any occasion and meal, be it breakfast, lunch, or dinner (and dessert, of course!).
20 Tasty Tart Recipes
Below we've rounded up 20 divine tart recipes
To view the full instructions for any of these tart recipes, please follow the link below the picture.
1. Spinach & Tomato Hummus Tart
This Spinach & Tomato Hummus Tart is a simple, tasty dish that's full of flavor and I promise you'll be making it again and again.

From: natalietamara.co.uk
2. French Apricot Tart
This tart dough is easy to make in a food processor.
A special kneading method called fraisage is used to blend the flour and butter together without making the dough tough.
The dough is worked cold and rolled out just like a pie crust.
From: fusioncraftiness.com
3. White Chocolate Raspberry Tart
A deliciously rich and creamy no-bake white chocolate tart recipe that is stuffed full of fresh raspberries, and has a sweet digestive biscuit crust!

From: marshasbakingaddiction.com
4. Lemon Tart
A traditional French-style lemon tart with creamy, dreamy lemon curd filling, that tastes just like the ones in Paris.
From: prettysimplesweet.com
5. Nutella Tart With Toasted Hazelnut Crust
The most unbelievably rich and creamy Nutella Tart!
Complete with a toasted hazelnut crust.
A Nutella ganache cooked on the stovetop in a matter of minutes and poured into a toasted hazelnut crust.
It's rich, but not quite as rich as you would guess.
From: sallysbakingaddiction.com
6. Blueberry Tarts With Lemon Mascarpone Cream
These Blueberry Tarts are as easy as pie, and taste even better!
Topped with a delicious Lemon Mascarpone Cream, these mini-tarts are the perfect dessert for any occasion!
From: delightfulemade.com
7. Spiral Vegetable Tart
Thinly sliced summer vegetables are the visual star of this spiral vegetable tart.
With a layer of homemade sundried tomato pesto and a flaky pie crust, this tart is as delicious as it is beautiful.
From: bunsenburnerbakery.com
8. Easy Blueberry Peach Tart
A fresh and fruity tart loaded with peaches and blueberries.
Topped with a vanilla glaze, this tart is perfection!
Is there anything better than warm, bubbling pie fresh from the oven? Maybe not.
But this super easy blueberry peach tart is sure to give any pie a run for their money.
From: bakerbynature.com
9. Goat Cheese Tomato Tart
This Goat Cheese Tomato Tart is a wonderfully easy, show-stopper recipe.
It' perfect for summer entertaining and for using up in-season cherry tomatoes!
From: foodfolksandfun.net
10. Baileys Chocolate Caramel Tarts
These Baileys Chocolate Caramel Tarts are outrageously good!
With their buttery tart shells, Baileys salted caramel filling, and glossy chocolate topping, these mini tarts are delicious, gorgeous, and great for St. Patrick's Day or any time of year!

From: sugarhero.com
11. Reeses Chocolate Peanut Butter Tart
This Reese's Chocolate Peanut Butter Tart is so delicious! It's made with ganache, so it's super smooth.
No bake, so easy and delicious!

From: lifeloveandsugar.com
12. Grapefruit Tart With A Coconut Crust
This grapefruit tart recipe starts with a crunchy graham cracker crust with toasted coconut and is filled with a sweet, tangy grapefruit curd.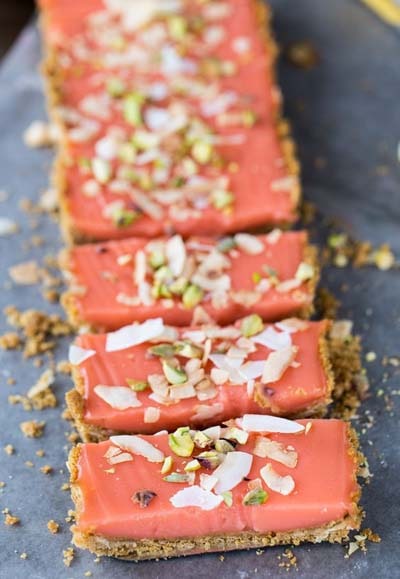 From: aclassictwist.com
13. Rosemary Potato Kale Tart
Crispy and golden brown on top, hearty and filling inside, all nestled in a flakey, tender tart crust.
Perfect as make-ahead dishes, they can be served room temp, and they taste delicious too.
Plus, you can put practically anything in them.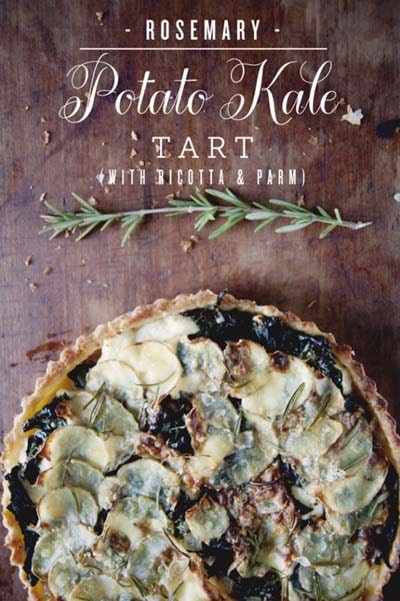 From: thekitchykitchen.com
14. Blood Orange Earl Grey Tarts
little pâte brisée tart shells filled with earl grey pastry cream and topped with blood orange segments and crushed pistachios.

From: thelittleepicurean.com
15. Vegan Vanilla Cream Tart
An almond oat shell with a creamy vanilla filling topped with roasted balsamic strawberries.
Vegan and gluten-free if you can have oats. Perfect for celebrations!
From: amylecreations.com
16. Sugar Cookie Fruit Tarts
Sugar Cookie Fruit Tarts with a cheesecake filling.
These little tarts are so delicious and so easy to make at home, no special pans needed.
From: nobiggie.net
17. Rhubarb Tart
Jaws will drop when you serve your guests this gorgeous rhubarb dessert!
Thin slices of tart, seasonal rhubarb top a sweet almond frangipane filling, nestled into a buttery shortbread crust. It's as delicious as it is beautiful!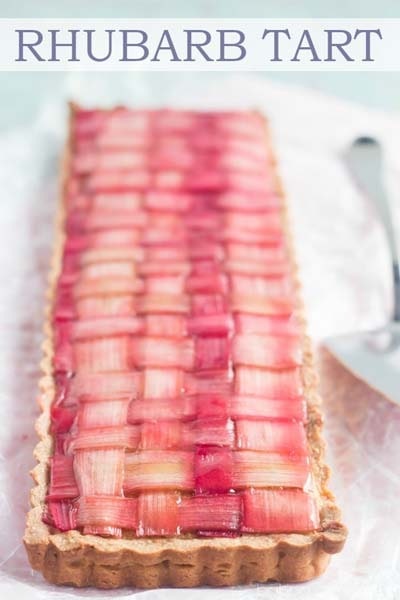 From: bakingamoment.com
18. Irish Cream Tarts
For a more elegant St Patrick's Day dessert, or just a delicious anytime chocolate indulgence, these Irish Cream Tarts are a creamy, rich treat.
From: goodiegodmother.com
19. Coconut Lime Tarts
A light, creamy and refreshing lime filling topped with fluffy coconut cream!
Easily dairy free. Perfect for Spring or Cinco de Mayo!

From: thereciperebel.com
20. French Almond Cream & Pear Tart
This tart recipes has a flaky puff pastry base and is filled with delicious Almond Cream & Amaretto Poached Pears.

From: letthebakingbegin.com
Enjoyed these tart recipes? Then pin it for later!
Pin these tart recipes to your Recipe Ideas or Food Ideas boards on Pinterest.
That way you can easily view them later!