Looking for some fun and creative treat ideas for your Halloween party this year? Try these Halloween cupcake ideas – they are guaranteed to be a hit!
Cupcakes are easy to make, and are very versatile – you can never go wrong with them!
25 Spooky and Delicious Halloween Cupcake Ideas
Enjoy these Halloween cupcake recipes. To view the full recipe and instructions for any of these Halloween cupcake ideas, please click the links below the images.
1. Dirt Cupcakes
Dirt cupcakes are a delicious chocolate cupcake with chocolate frosting "dirt" oreo crumbs and wiggly gummy worms for a delicious spooky treat.
From: lmld.org
2. Caramel-stuffed Chocolate Cupcakes With Caramel Skulls
These Caramel-Stuffed Chocolate Cupcakes are deliciously moist, with big swirls of vanilla buttercream and a gooey caramel center.
The best part? They're topped with homemade gold caramel skulls!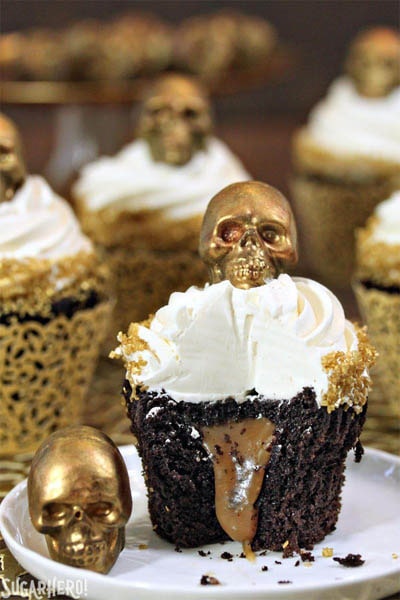 From: sugarhero.com
3. Marshmallow Ghost Cupcakes
These Marshmallow Ghost Cupcakes will make for a super fun and simple Halloween Dessert or treat.
Since we start with a boxed cake mix, they come together so quickly.
The marshmallow buttercream frosting is SUPER tasty.
From: ourfamilyofseven.com
4. Black Cat Cupcakes
These black cat cupcakes are the perfect blend of Halloween creepiness, but mild enough that they are completely G rated and shouldn't invoke any nightmares.
Although, those eyes are pretty creepy…
From: onelittleproject.com
5. Witch Hat Cupcakes
A festive witchy treat that's easy to make!
Made with chocolate cupcakes, colorful buttercream frosting, Oreo Thins, Hershey Kisses, and candy corn pieces.
From: homemadehooplah.com
6. Witches' Brew Halloween Cupcakes
Easy Halloween cupcakes decorated to look like a bubbling cauldron of witches' brew are an adorable trick-or-treat for your little goblins.
Double, double toil and trouble, devil's food chocolate cupcakes with frosting and bubbles make these witches' brew Halloween cupcakes as much fun to make as they are to eat.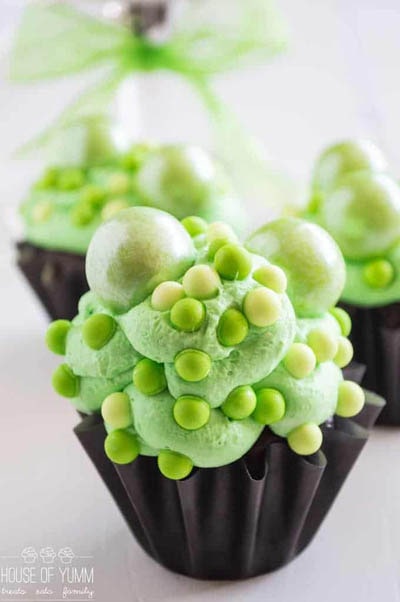 From: cupcakesandkalechips.com
7. Halloween Swirled Cupcakes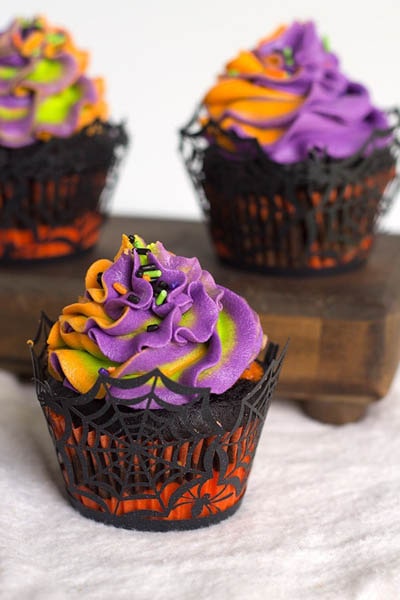 From: cookiedoughandovenmitt.com
8. Zombie Brain Brownie Bites
Zombie Brain Brownie Bites are bite-sized brownies, topped with a bright green zombie brain that oozes green chocolate "slime" when you bite into it!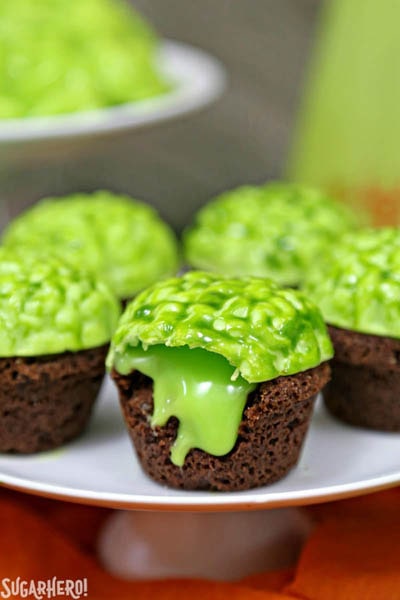 From: sugarhero.com
9. Chocolate Halloween Cupcakes with Cream Cheese Frosting
From: justataste.com
10. Friday the 13th Jason Mask Cupcakes
Jason Vorhees can grace your cupcakes this Halloween, or at least a rendition of his mask made so popular in the Friday the 13th movie series can.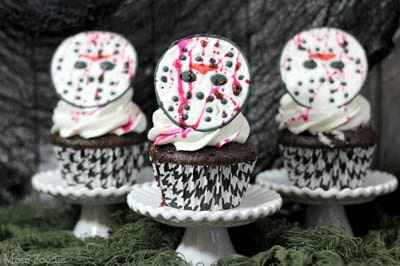 From: momfoodie.com
11. Melted Witch Cupcakes
Melted Witch Cupcakes are the perfect spooky treat for any Halloween party.
These cupcakes are so cute and easy to make. your guests will be so shocked and think you put so much work into them when really they only took a few minutes to put together.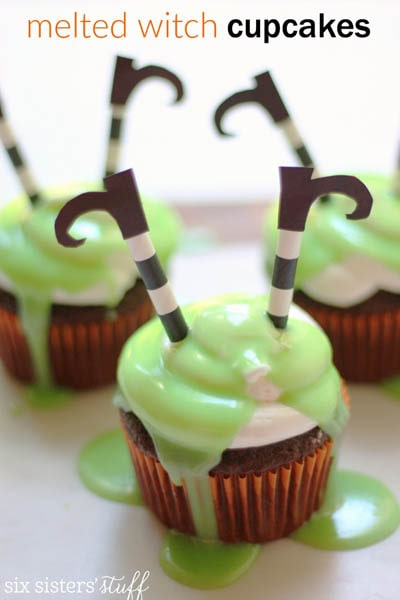 From: sixsistersstuff.com
12. Easy Monster Cupcakes
With Halloween just around the corner, it's time to get baking!
These adorable Monster Cupcakes are a snap to make and are perfect for any Halloween themed occasion!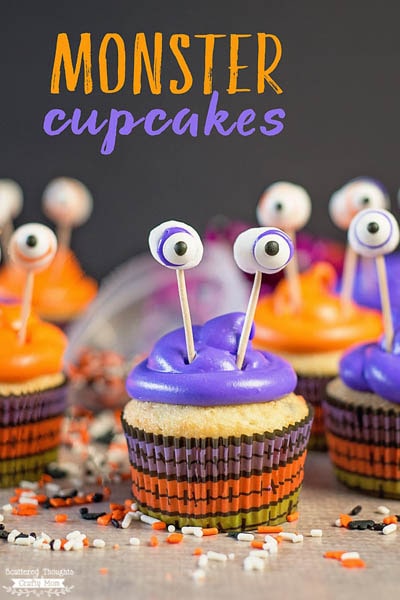 From: scatteredthoughtsofacraftymom.com
13. Halloween Red Velvet Cupcakes
These bloody Red Velvet Cupcakes are perfect for Halloween.
Traditional red velvet cupcakes, topped with a cream cheese frosting and decorated with red icing for a bloody effect.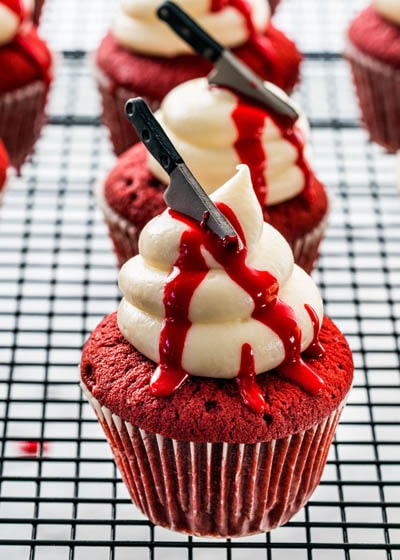 From: jocooks.com
14. Spiderweb Cupcakes
These Spiderweb Cupcakes are a cute and easy Halloween dessert!
The spiderwebs are made from white chocolate and chocolate ganache, so they're as delicious as they are beautiful.
Add a cute chocolate spider on top for the perfect finishing touch!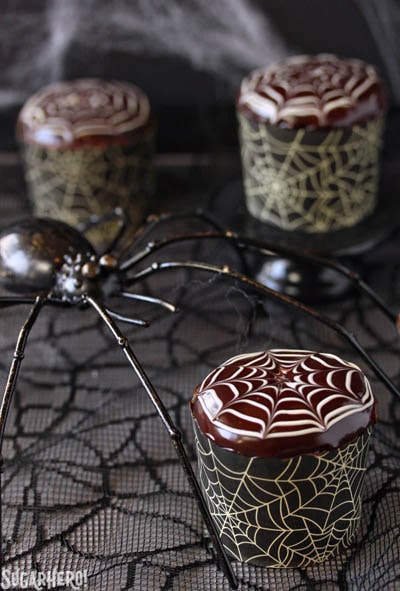 From: sugarhero.com
15. DIY Pretzel & Chocolate Spiders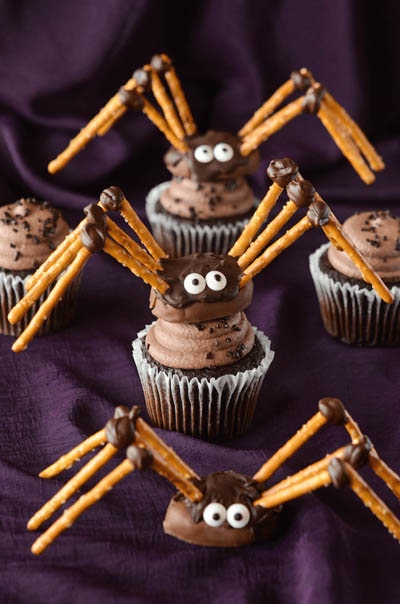 From: thenovicechefblog.com
16. Butterfinger Frankenstein Cupcakes
Butterfinger Frankenstein Cupcakes are going to be a big hit at your Halloween party this year!
From the rich, chocolate cupcakes, to the sweet Butterfinger frosting, these holiday treats are topped with a fun and festive candy surprise!
From: shugarysweets.com
17. Creepy Halloween Cupcakes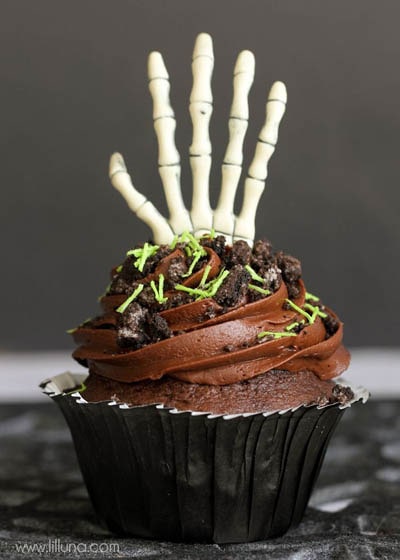 From: eighteen25.com
18. Reese's Cup Werewolf Cupcakes
This Halloween turn store-bought treats into adorably cute and slightly scary cupcake toppers.
It's easy to make a whole pack of these Reese's Cup Werewolf Cupcakes for this fun holiday.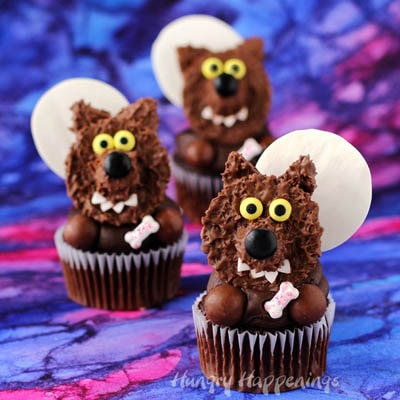 From: hungryhappenings.com
19. Witch's Cauldron Chocolate Cupcakes With Orange Cream Filling
Moist and chocolatey witch's cauldron cupcakes topped with chocolate and vanilla frosting.
Secretly stuffed with a homemade orange "scream" filling!
From: lifemadesimplebakes.com
20. Creamsicle-flavored Mini Orange Halloween Cupcakes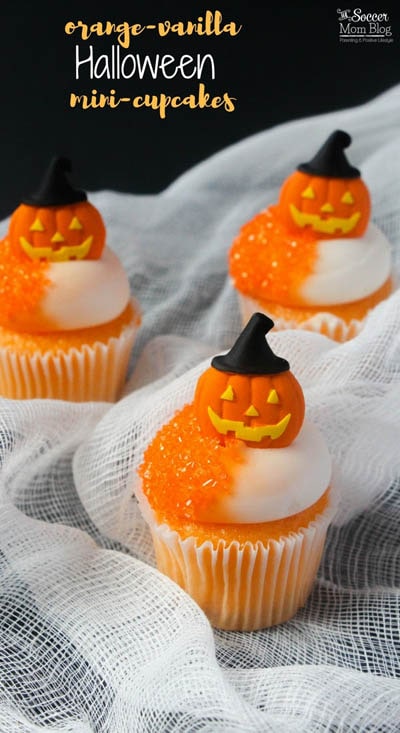 From: thesoccermomblog.com
21. Monster Cupcakes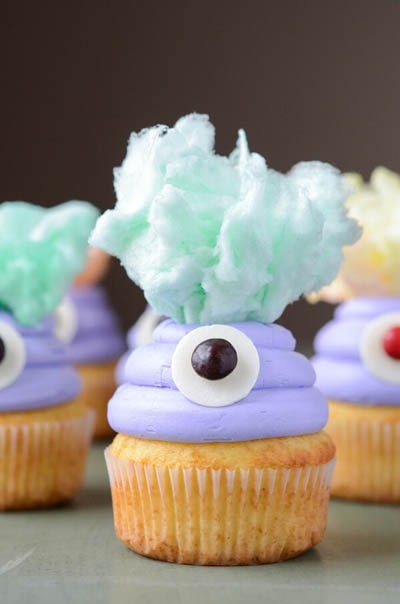 From: thenovicechefblog.com
22. Grim Reaper Halloween Cupcakes
These Grim Reaper Cupcakes are perfect for Halloween and a little bit different.
I think they are mad because they can't find their scythes… so watch out!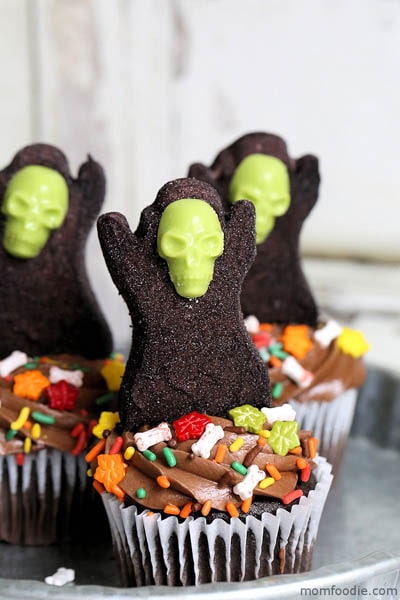 From: momfoodie.com
23. Oreo Spider Cupcakes
The cutest and easiest Oreo Spiders for Halloween!
This treat tops my cookies and cream frosting to make Oreo Spider Cupcakes! Boo!
From: yourcupofcake.com
24. Mummy Cupcakes
These Mummy Cupcakes are a fun and spooky Halloween treat that kids will love.
Perfect for serving at a Halloween party!
From: frugalmomeh.com
25. Halloween Black Cupcakes With Cherry Filling
These Halloween black cupcakes with cherry filling make a scrumptiously spooktacular dessert!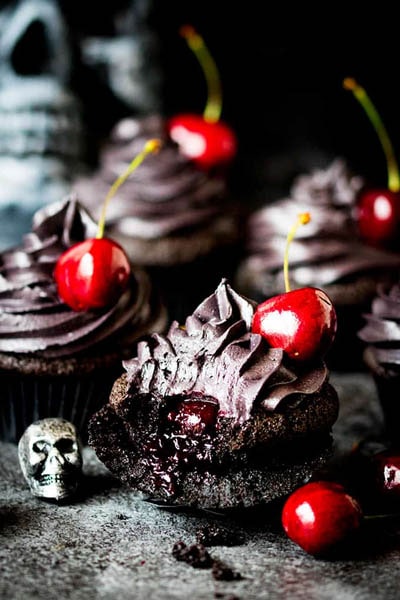 From: kitchensanctuary.com
Related Posts
Enjoyed these Halloween Cupcake Recipes? Then pin it for later!
Pin these Halloween Cupcake Ideas to your HalloweenIdeas or Desserts boards on Pinterest.
That way you can easily view them later!