If you are looking for a super easy yet delicious dessert, you have come to the right place. Popsicles are one of the easiest desserts to make and often require very little ingredients. Here are 50 delicious and refreshing popsicle recipes you can choose from.
50 Yummy Popsicle Recipes
Below we've rounded up 50 popsicle recipes you can enjoy this summer.
To view the full recipe and instructions for any of these popsicle recipes, please follow the link below the picture.
1. Limeade Popsicles
These are so simple to make you guys. Like seriously simple. All you need is some limes, some sugar, and a big pile of water.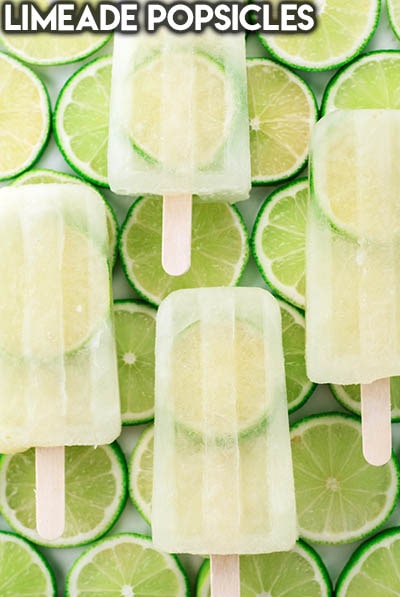 From: asimplepantry.com
2. Mint Chocolate Chip Greek Yoghurt Popsicles
Mint Chocolate Chip Greek Yoghurt Popsicles – Deliciously creamy mint popsicles studded with chocolate chips and dipped in a milk chocolate magic shell!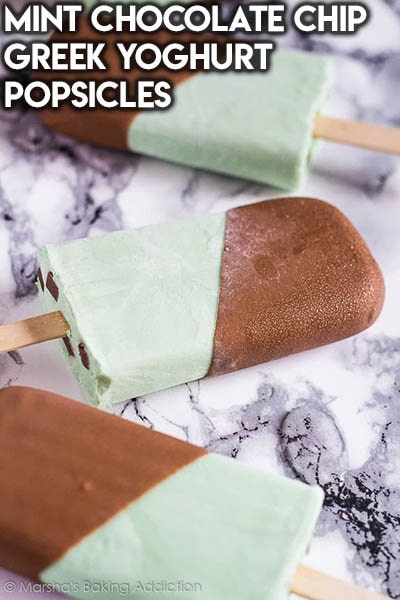 From: marshasbakingaddiction.com
3. Oreo Cookies and Cream Popsicles
Love to dunk your Oreo Cookies in a cold glass of milk? Make that into a favorite summertime frozen treat with these Cookies and Cream Popsicles!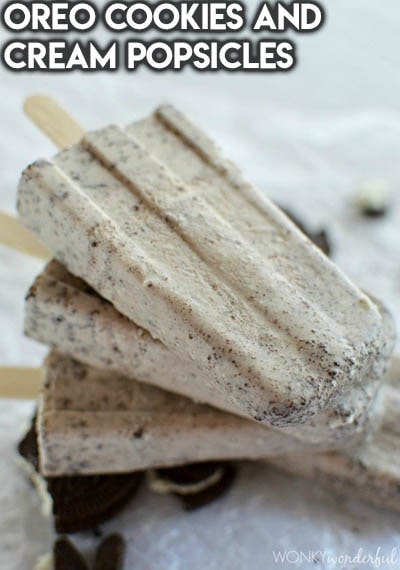 From: wonkywonderful.com
4. Creamy Mango Popsicles
These popsicles are made with Greek yogurt instead of all cream so there is a nice tangy taste to them instead of all sweet.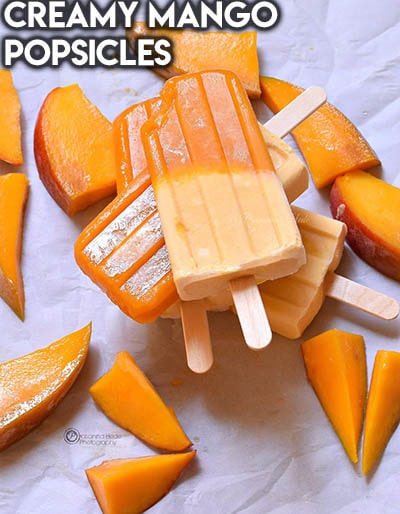 From: savorybitesrecipes.com
5. Caramel Coffee Dairy Free Popsicles
Caramel Coffee Vegan Popsicles made with Bard Valley Natural Delights Medjool Dates!
Packed with 50% more potassium than a banana these are the perfect allergy friendly (dairy free, gluten free, paleo) and healthy way to recover, refuel and cool down after a hot summer run or workout!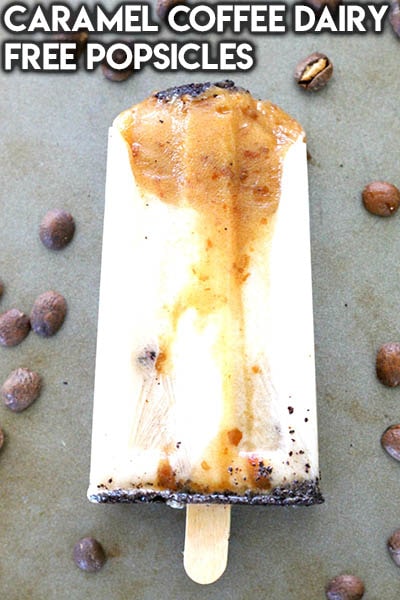 From: thefitfoodiemama.com
6. Mermaid Popsicles
These mermaid popsicles layer a creamy coconut matcha mixture with a sweet coconut cream and honey roasted blackberries.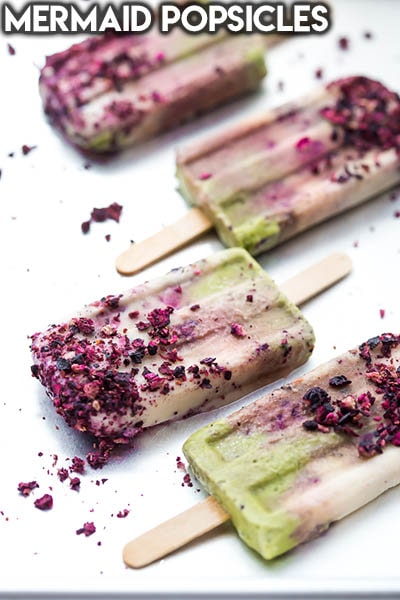 From: 40aprons.com
7. Lime In The Coconut Popsicles
These creamy coconut lime popsicles are such a tasty paleo or vegan treat! Just 3 ingredients and naturally sweetened, these are creamy, dreamy & delicious. Yum!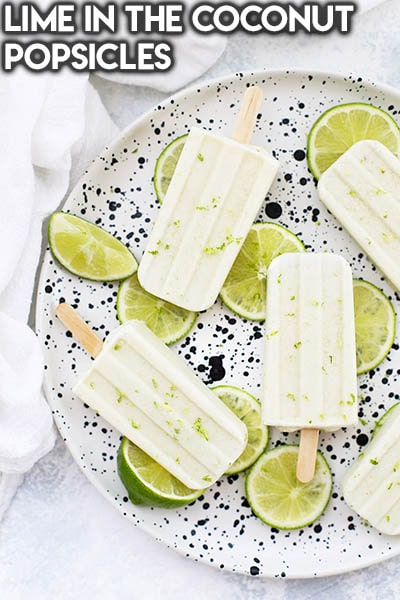 From: onelovelylife.com
8. Blueberries & Cream Popsicles
I am a sucker for 4 ingredient recipes, sweets especially, like these super simple Blueberries & Cream Popsicles. Whip up dessert in just minutes!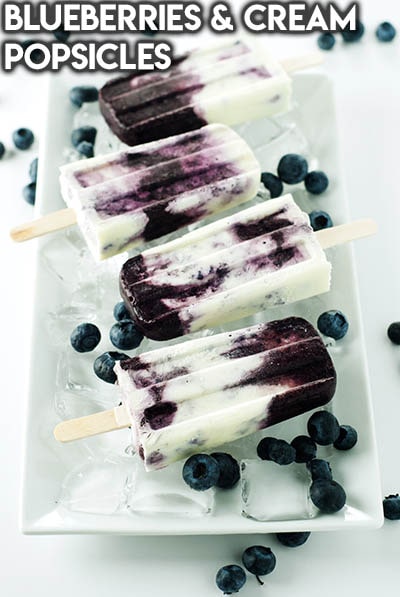 From: asimplepantry.com
9. Strawberry Yogurt Popsicles
Healthy, easy and delicious Strawberry Yogurt Popsicles – a favorite summer treat everyone in the family will enjoy! Only 4 ingredients!
From: yummyhealthyeasy.com
10. 3 Ingredient Blueberry Yogurt Swirl Popsicles
The first ingredient is, you guessed it, blueberries. Yes, actual fresh fruit! None of that artificially flavored fruit stuff; the real deal. You're going to blend the blueberries up into a juicy smoothie consistency.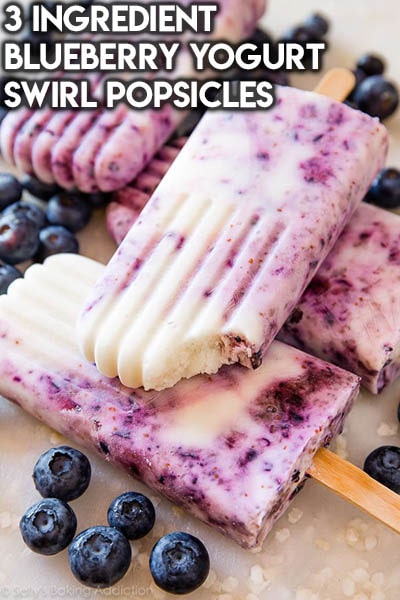 From: sallysbakingaddiction.com
11. Cake Batter Popsicles
Creamy, cake batter flavored popsicles with sprinkles, perfect for any time during the summer.
From: just-add-sprinkles.com
12. Chocolate Peanut Butter Yoghurt Popsicles
Deliciously creamy and fudgy peanut butter yogurt popsicles dipped in chocolate and sprinkled with crushed salted peanuts!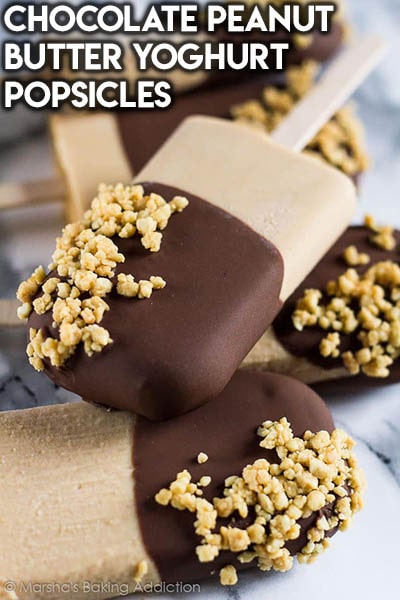 From: marshasbakingaddiction.com
13. Blue Lemonade Margarita Popsicles
They say blue is the color of bliss, and popsicles trigger smiles, and tequila is the stuff of parties, so these pops might be the perfect route to your happy place.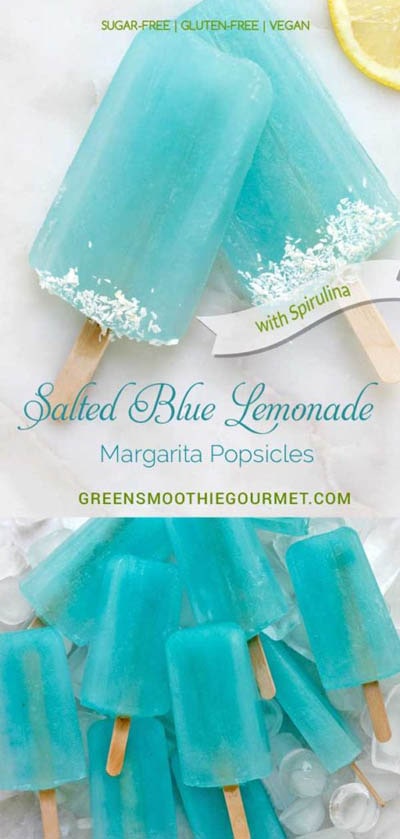 From: greensmoothiegourmet.com
14. Coconut Mango Popsicles
Coconut Mango Popsicles are the perfect vegan summer treat.
Three simple ingredients create this delicious dairy-free popsicle!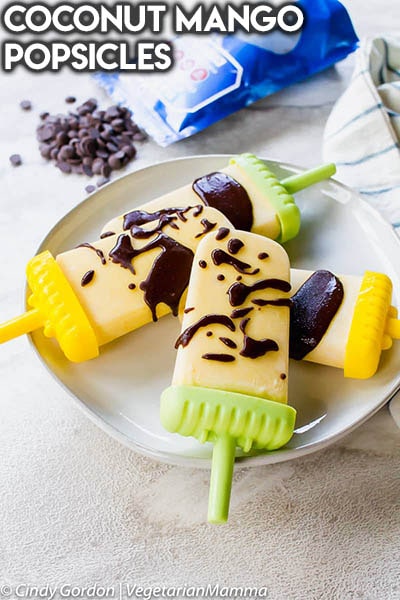 From: vegetarianmamma.com
15. Honeydew Mint Homemade Popsicles
The refreshing taste of sweet honeydew melon and fresh mint will make these easy 4 ingredient homemade popsicles an instant favorite!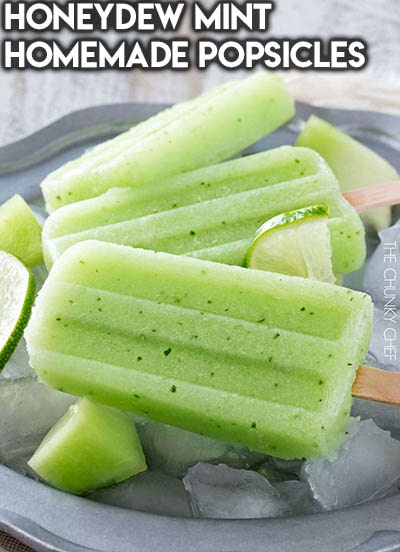 From: thechunkychef.com
16. Raspberry Peach Popsicles
Fresh and fruity, these Raspberry Peach Popsicles are just the cool-off we need this summer!
From: thebeachhousekitchen.com
17. Strawberry Cheesecake Popsicles
Nothing beats a refreshing popsicle recipe on these hot summer days. Of course, you can quickly stock up on store-bought frozen treats, but it's fun to make.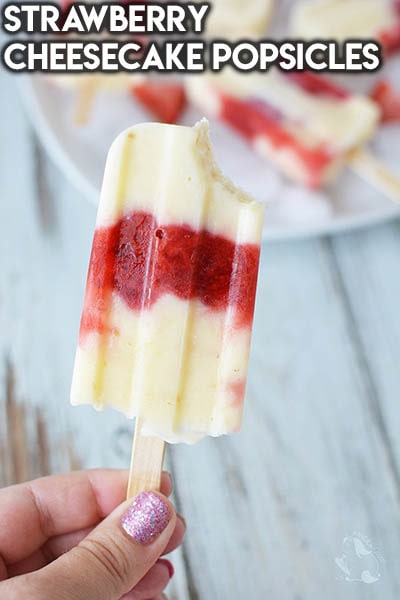 From: amagicalmess.com
18. Watermelon Popsicles
Survive the summer like a pro with these easy magic watermelon popsicles!
They are cold, refreshing, delicious, temper-tantrum taming magic on a stick!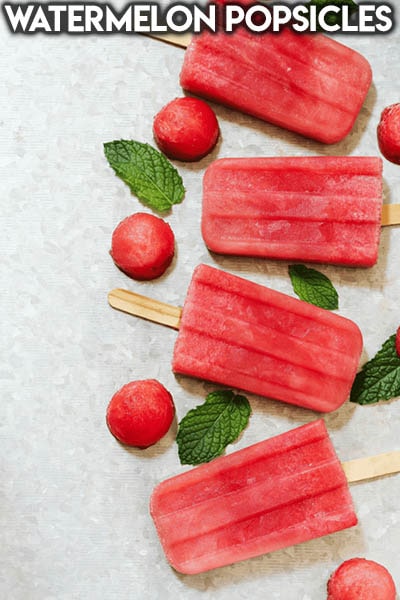 From: thewholefoodsmama.com
19. Smoothie Popsicles
Turn your favorite smoothie into a delicious popsicle for a healthy treat that will keep you cool all summer long!

From: lovegrowswild.com
20. Milk And Cereal Breakfast Popsicles
These Milk and Cereal Breakfast Popsicles are full of Greek yogurt, milk, cereal, and bananas so you'll feel great about serving them up any summer morning!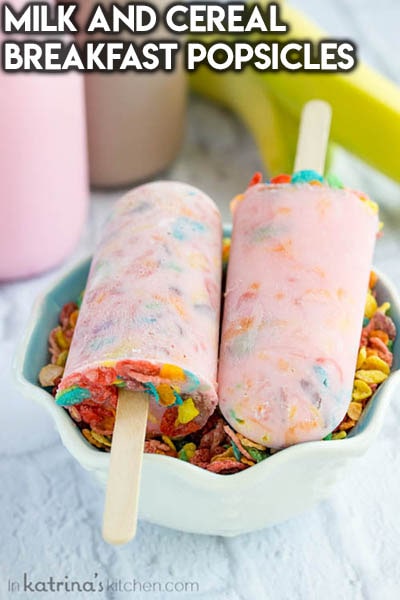 From: inkatrinaskitchen.com
21. Chocolate Passion Fruit Popsicles
This popsicle recipe starts with an orange-hued custard flavored with tangy passion fruit and aromatic vanilla.
The richness of the egg custard helps to balance the vibrant tartness of the passion fruit while the vanilla adds an interesting back note.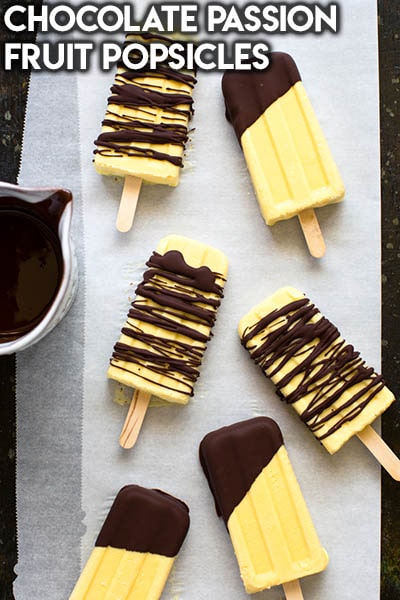 From: kitchenkonfidence.com
22. Peach Pie Yogurt Pops
Peach Pie Yogurt Pops are equivalent to frozen pie on a stick without turning on your oven to bake. It's a great way to celebrate peach season during the summer.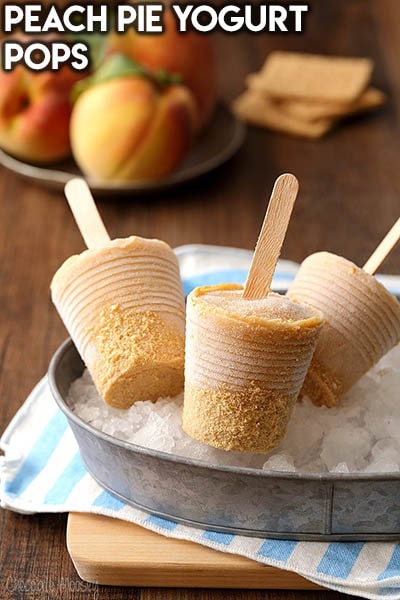 From: chocolatemoosey.com
23. Strawberry Shortcake Popsicles
These Strawberry Shortcake Popsicles are easy to make and SO good!
With layers of delicious strawberry and milky vanilla filled with shortbread, it's truly like eating strawberry shortcake in popsicle form!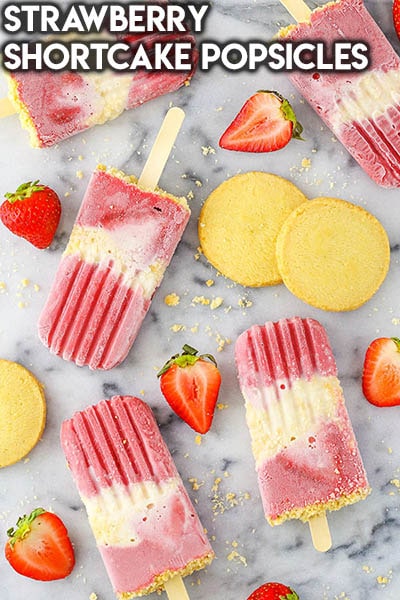 From: lifeloveandsugar.com
24. Rainbow Popsicles
Outstanding 7 layer rainbow popsicles! Make your own homemade rainbow popsicles with lots of fresh fruit!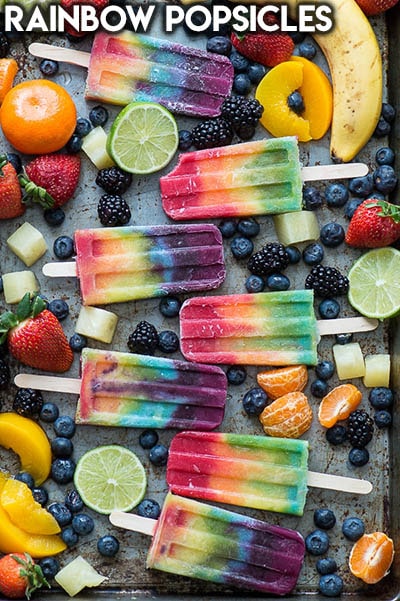 From: thefirstyearblog.com
25. Champagne Popsicles
Yes, friends, you read that right—Champagne Popsicles! These are so easy to pull off, you'll want to make a lot because they go fast.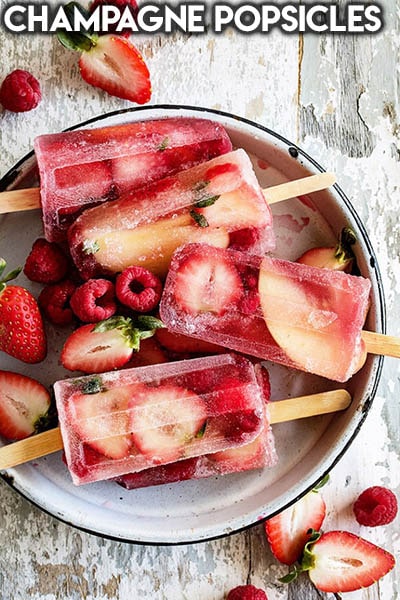 From: bakersroyale.com
26. Peanut Butter Banana Creamsicles
The popsicles are creamy, banana-y and peanutbutter-y all at the same time (they're actually more like creamsicles than popsicles). SO good.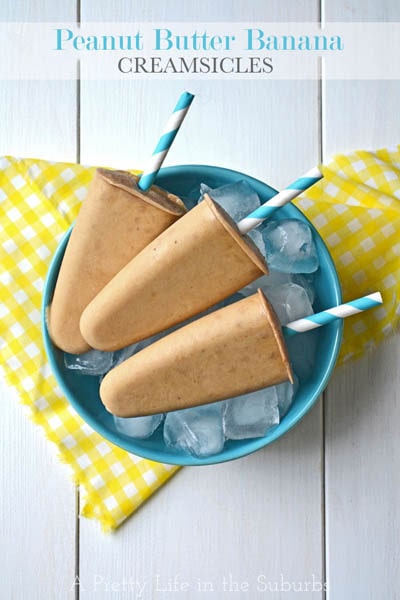 From: aprettylifeinthesuburbs.com
27. Watermelon Kiwi Popsicles
They are made with mostly fruit, a few chocolate chips and then the white portion is coconut milk.
So as long as you use good, ripe fruit the flavors will be utterly delicious and irresistibly refreshing.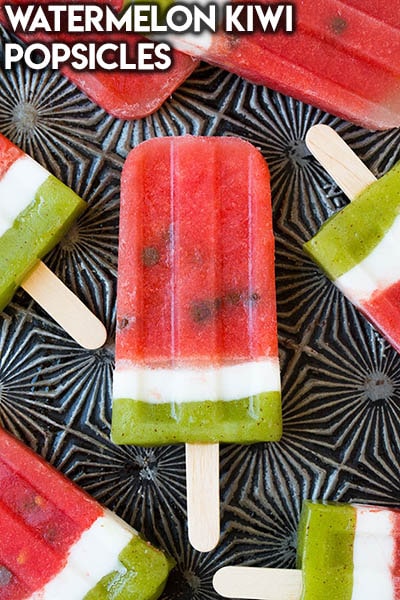 From: cookingclassy.com
28. Boozy Sweet Peach Tea Popsicles
Refreshing sweet iced tea popsicles that are spiked and full of fresh peach puree.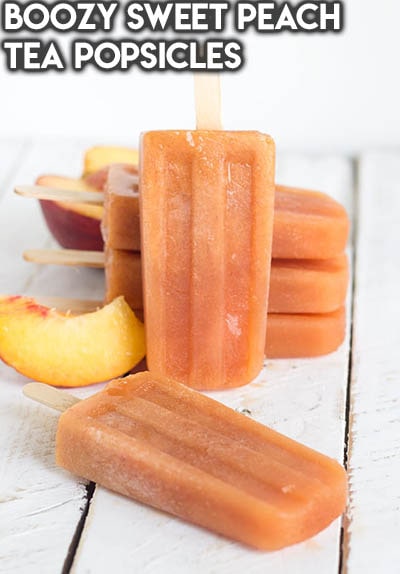 From: cookiedoughandovenmitt.com
29. Homemade Fresh Fruit Popsicles
You can easily make these with fruit from your fridge and it's a perfect snack for those hot summer days.
From: thebestideasforkids.com
30. Pina Colada Popsicles
2-Ingredient Pina Colada Popsicles are the essence of simplicity.
These popsicles, as the name suggests, are made with just two ingredients, or three if you're feeling extra tropical.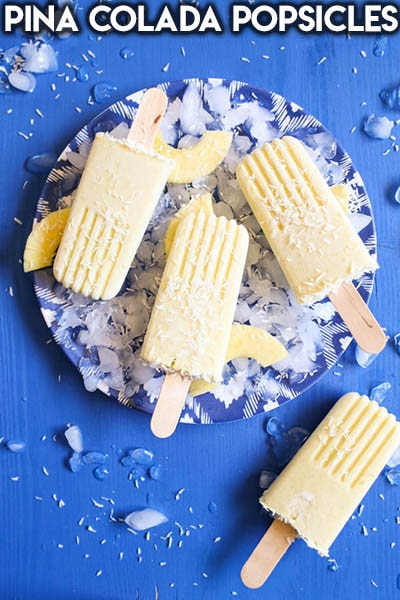 From: livesimply.me
31. Marshmallow Fruity Pebbles Pudding Pops
Three ingredient pudding pops filled with Marshmallow Fruity Pebbles!
These Marshmallow Fruity Pebbles Pudding Pops make an easy and delicious treat!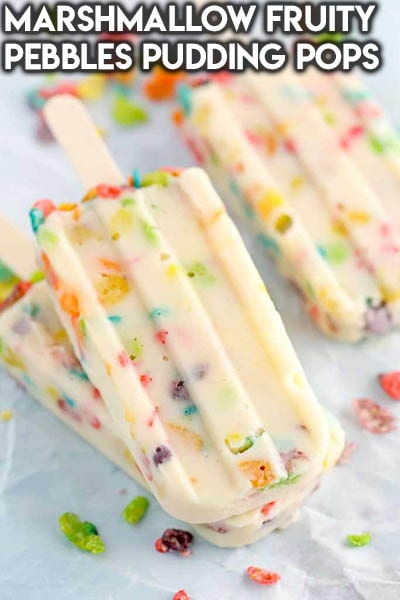 From: livewellbakeoften.com
32. Peach Passion Pops
These easy popsicles, with bold peach and passion fruit flavors, taste just like summer!
Dip them in chocolate for extra indulgence.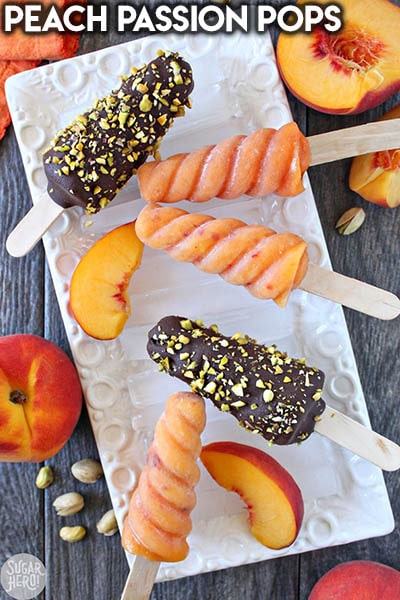 From: sugarhero.com
33. 2 Ingredient Fudge Pops
This recipe super easy – it only has 2 ingredients AND it tastes just like a copycat fudgesicle.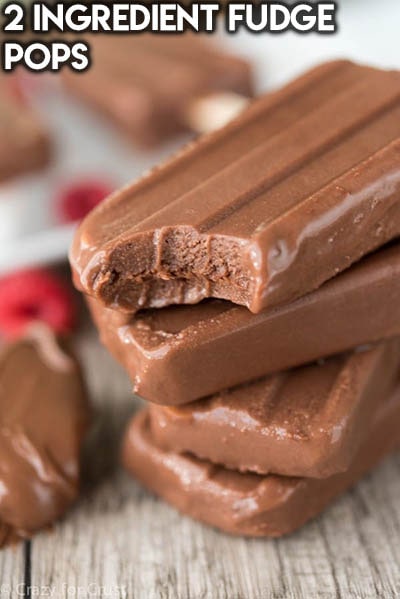 From: crazyforcrust.com
34. Banana Split Pudding Pops
3 layers of creamy, frozen pudding: strawberry, banana, pineapple, and chocolate!
The easy way to enjoy a banana split this summer!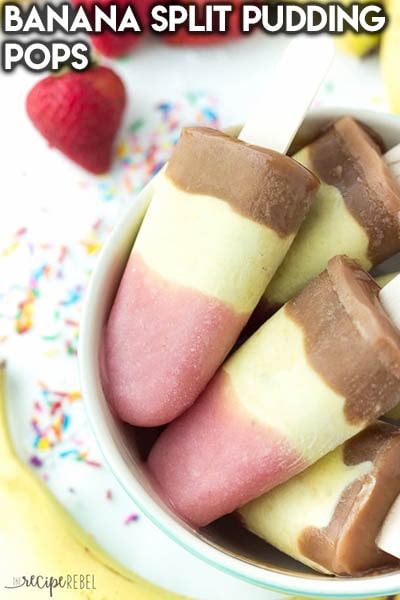 From: thereciperebel.com
35. Blackberry Cheesecake Popsicles
These real food Blackberry Cheesecake popsicles are a delicious, refreshing treat!
Perfect for a hot summer day, these irresistible, creamy berry cheesecake flavors in popsicle form are so easy to make with only 6 simple whole food ingredients.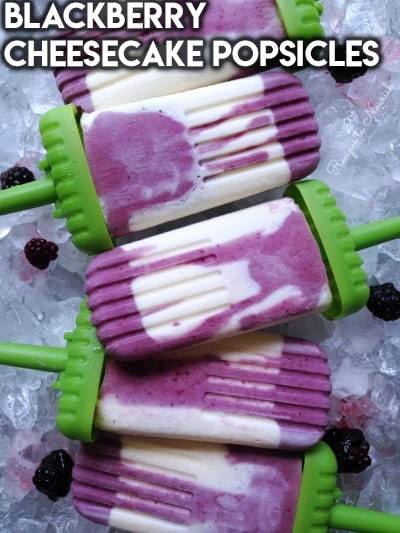 From: recipestonourish.com
36. Pumpkin Pie Popsicles
Pumpkin Pie Popsicles or Creamsicles are a perfect cool treat. These dairy free popsicles taste like pie on a stick but are no bake, Vegan and dairy free!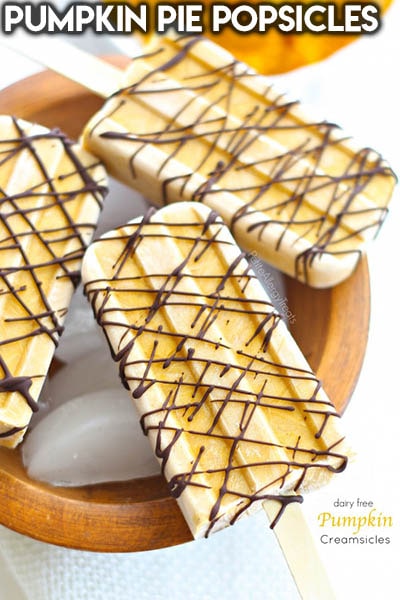 From: petiteallergytreats.com
37. Mango Kiwi Popsicles
Super refreshing mango kiwi popsicles are really creamy, healthy and perfect for a hot summer day!
A perfect treat when you have kids around.
From: eazypeazymealz.com
38. Strawberry Rhubarb Pie À La Mode Popsicles
These strawberry rhubarb pie à la mode popsicles have strawberry rhubarb compote layered up with luscious vanilla bean cream and crumbles of pie crust on top.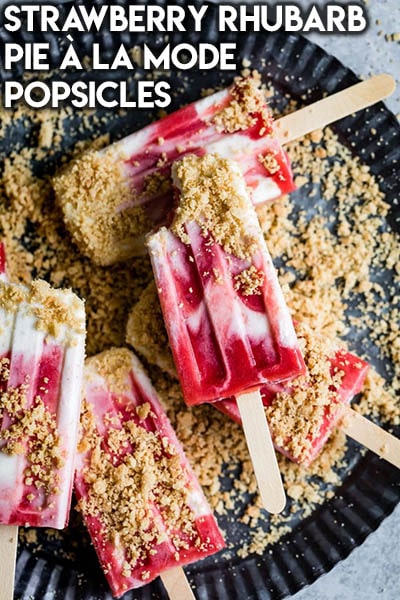 From: snixykitchen.com
39. Vegan Strawberry Coconut Popsicles
A 4 ingredient, plant-based recipe for creamy, refreshing popsicles bursting with strawberry and coconut flavor.
Vegan, Dairy-Free, Paleo, Gluten-Free.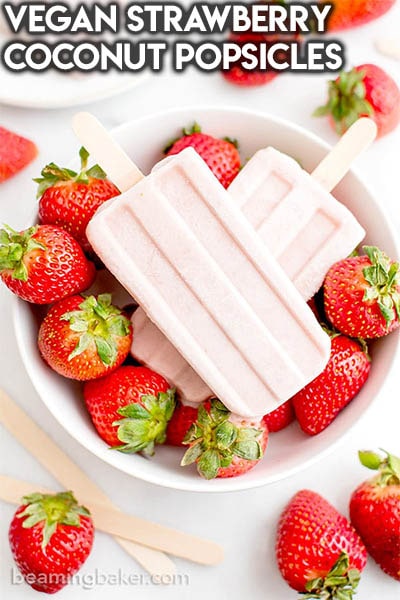 From: beamingbaker.com
40. Peanut Butter and Banana Yogurt Pops
Calling all peanut butter fans! This Peanut Butter and Banana Yogurt Pops recipe is healthy, easy-to-make, and you'll only need 4 simple ingredients.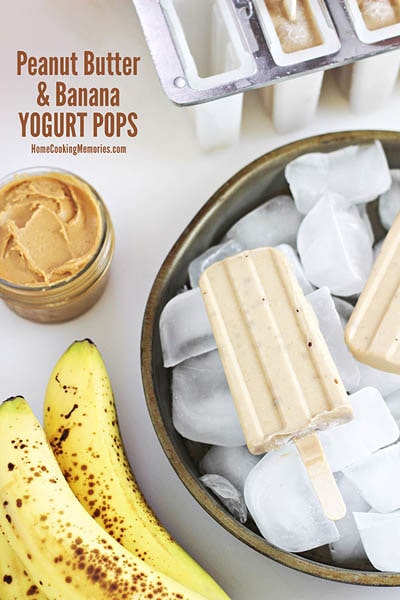 From: homecookingmemories.com
41. Chocolate Orange Fudge Pops
First off, who doesn't like fudge pops? Especially sassed-up fudge pops with a chocolate orange kick from fresh orange zest?
Now top off the awesome with the fact that if you don't freeze the fudge pop mixture, it comes out as a delicious creamy chocolate orange mousse and it's obvious that this one is a complete keeper!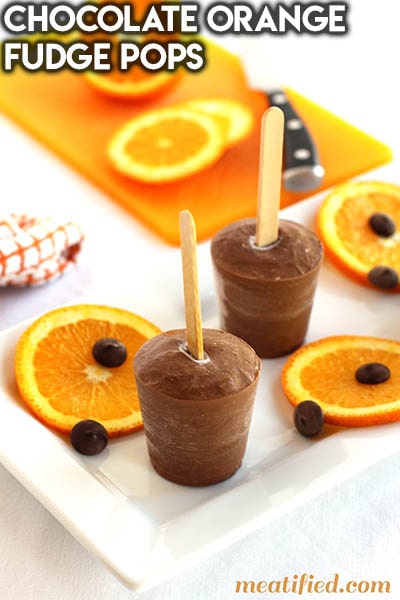 From: meatified.com
42. Gummy Bear Coconut Ice Pops
These fun popsicles are made with coconut water and gummy bears.
It's the perfect summer treat that will also help you stay hydrated!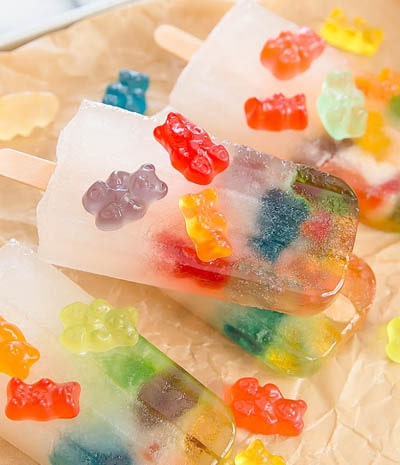 From: kirbiecravings.com
43. Roasted Blueberry & Speculoos Cookie Yogurt Popsicles
Tangy, creamy Greek yogurt is lightly sweetened and swirled with vibrant roasted blueberries and a sweet speculoos cookie crumble, then frozen into a delicious popsicle.
It's the perfect high protein treat to enjoy for breakfast, dessert or any time you need to keep your cool when the temperatures rise.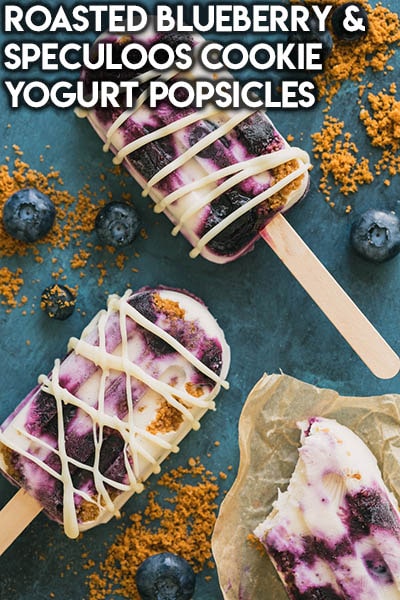 From: theroadtohoney.com
44. Mango Lassi Popsicles
Mango Lassi Popsicles are a great summertime treat! They are made with healthy ingredients such as fresh mangos and plain yogurt.
From: binjalsvegkitchen.com
45. Salted Caramel Mocha Popsicles
These Salted Caramel Mocha Popsicles are proof you can enjoy your favorite morning beverage any time of day.
A mocha popsicle flavored with caramel and chocolate syrups, caramel creamer and whipped topping.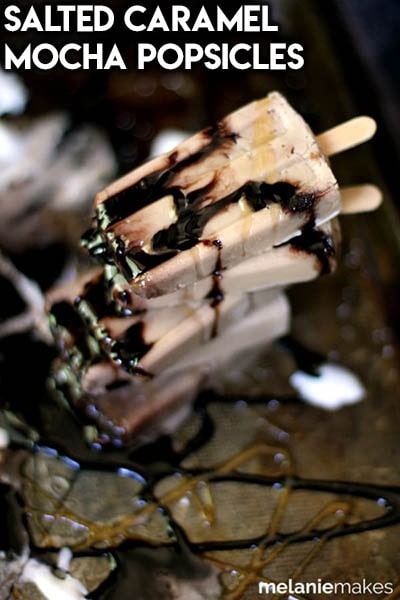 From: melaniemakes.com
46. Tiramisu Popsicles
These tiramisu popsicles have two distinct sections.
There is an icy and sweet coffee layer spiked with a splash of rum layer.
The other layer is a creamy mascarpone layer with the consistency of frozen cheesecake.
From: cupcakeproject.com
47. 3-ingredient Banana Nutella Popsicles
Fudgy banana Nutella popsicles made with only 3 ingredients!
From: prettysimplesweet.com
48. Lemon Pie Popsicles
These popsicles are made using nonfat vanilla Greek yogurt. Turning pie into popsicles makes for a super easy recipe, one that your kids can even do all on their own.
From: crazyforcrust.com
49. Raspberry Cheesecake Yogurt Popsicles
Cool off this summer with one of these frozen, sweet Raspberry Cheesecake Yogurt Popsicles!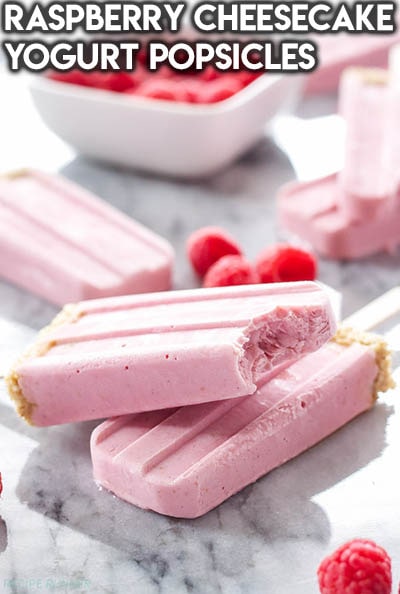 From: reciperunner.com
50. Chunky Monkey Popsicles
Chunky monkey popsicles are an explosion of chocolate peanut butter banana flavors in your mouth
From: glitternspice.com
Loved these popsicle recipes? Then pin it for later!
Share these popsicle recipes to your Dessert Ideas or Desserts boards on Pinterest. That way you can easily view them later!