Surprise your loved one with these cute valentines desserts! Or you know, just make them for yourself!
45 Valentines Desserts
Below we've rounded up 45 super cute valentines desserts you can make this valentines day!
To view the full instructions for any of these valentines desserts, please follow the link below the picture.
1. Oreo Cheesecake Cookies
The most amazing and moist pink Oreo Cheesecake Cookies.
Made with only 6 ingredients and perfect for Valentine's. These Oreo Cheesecake Cookies are yummy!

From: nestofposies-blog.com
2. Red Velvet Sugar Cookies
Small batch sugar cookies: red velvet sugar cookies with hearts for Valentine's Day!
This recipe yields 6 cookies.

From: dessertfortwo.com
3. Caramel Brownies
Caramel brownies recipe made from scratch with chocolate caramel hearts on top for a cute Valentine's day dessert for two.
From: dessertfortwo.com
4. Red Velvet Cake Bites
These Red Velvet Cake Bites are the perfect festive dessert, all year long, but especially during the holidays.
If you are looking for a rich and delicious dessert, this is the one you need to try. They are out of this world.

From: sixsistersstuff.com
5. Raspberry Nutella Puff Pastry Heart
You only need 5 ingredients for this pretty raspberry Nutella puff pastry heart – a perfect easy Valentine's Day dessert or sweet breakfast!
From: itsalwaysautumn.com
6. Cupid's Cloud
This Cupid's Cloud Raspberry & Cream Dessert is a simple & delicious whip cream and raspberries dessert that's perfect for Valentines Day!
From: aprettylifeinthesuburbs.com
7. Valentine's Day Cookie Bars
Valentine's Day Cookie Bars are a fun, easy dessert perfect for parties!
Soft, chewy chocolate chip cookie bars dunked in chocolate and decorated with love!
From: backforseconds.com
8. Pink White Chocolate Fudge
Pink White Chocolate Fudge is incredibly easy to make and very festive.
3 Ingredients, 5 minutes to get a creamy and irresistible fudge.

From: sweetandsavorymeals.com
9. Chocolate Covered Valentine's Day Oreos
There isn't a recipe for this. It was as simple as melting some chocolate, dipping an Oreo sandwich cooking in it, adding some sprinkles and letting them harden.
Really, folks, it is that easy!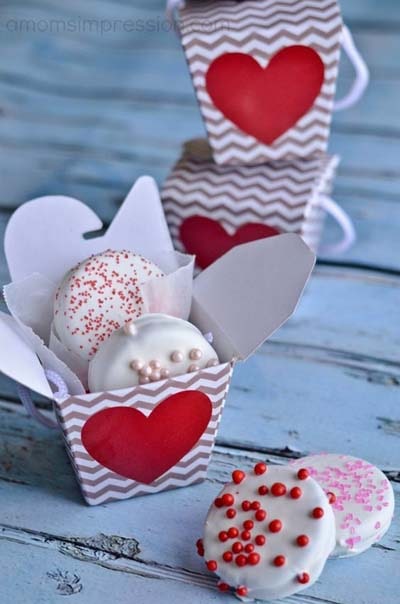 From: amomsimpression.com
10. Raspberry Chocolate Swiss Roll
Show your loved ones how much you care about them this Valentine's Day with this decadent yet simple to make Raspberry Chocolate Swiss Roll.

From: spendwithpennies.com
11. Valentine's Day Ladybug Oreo Treats
These Ladybug Oreos are the perfect Valentine's day snack to pass out in the class, at home to siblings, or from parents to kids.
Just have fun making them!

From: formodernkids.com
12. Valentine's Chocolate-Dipped Heart Cookies
This Valentine's day – share some (gluten-free) chocolate-dipped heart cookies.
Buttery, crumbly heart-shaped cookie sandwiches, filled with a pretty (and tasty) raspberry frosting and dipped into dark chocolate – what's not to love?
Easy to make and yet so ridiculously adorable – these heart cookies are the perfect Valentine's dessert.

From: theloopywhisk.com
13. Chocolate Valentine Kiss Cookies
A chocolate, sprinkle-adorned Valentine version of classic peanut butter blossom cookies.
So pretty, and so delicious.

From: thekitchenismyplayground.com
14. Chocolate Dipped Cookie Dough Hearts
Chocolate Dipped Cookie Dough Hearts for the Valentine Season.
Easy recipe, no eggs.

From: frugalcouponliving.com
15. Candy Hearts
These delicious Valentine candy hearts with layers of white and dark chocolate are the perfect way to show someone how much you care!
Make them for your sweetie or for your friends and neighbors. They make a perfect teacher gift too!
From: funmoneymom.com
16. Custard Cream Hearts
The recipe itself is easy to follow but requires some time if you wish to decorate the biscuits with a dotted border.
However, this quiet, repetitive activity is curiously calming.

From: eatlittlebird.com
17. Valentine Teddy Bear Oreos
How adorable are these Valentine teddy bear Oreos? I love their little heart noses!
These would be super cute at a class Valentine's Day party.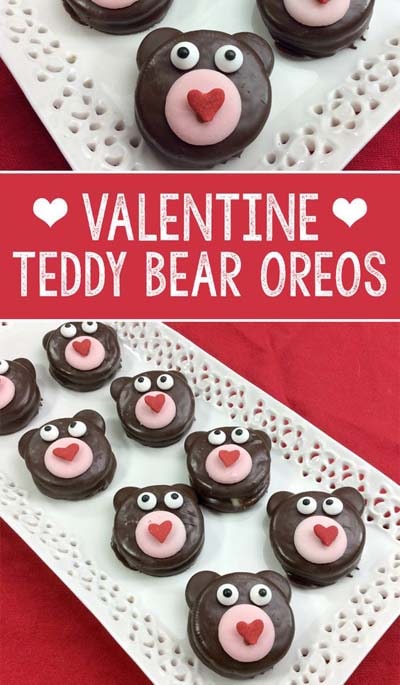 From: kitchenfunwithmy3sons.com
18. Valentine Donuts
If a way to a man's heart is through his stomach, then make him these Valentine Donuts and he'll be yours forever!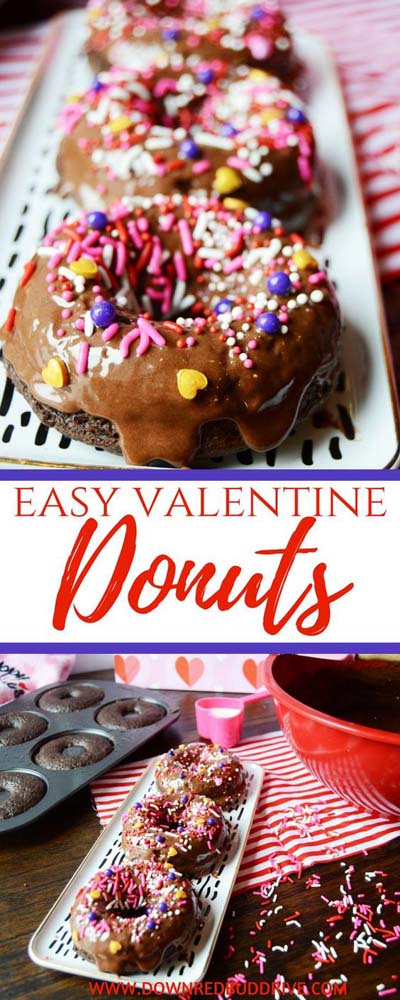 From: downredbuddrive.com
19. Valentine's Day Popcorn Pops
If you are looking for a fun and easy Valentine's Day treat, make up a batch of these Valentine's Day popcorn pops.
Shape them into whatever design you would like, and then just add a stick.

From: cleanandscentsible.com
20. White Chocolate Pretzels
Give someone you love these White Chocolate pretzels this Valentine's Day!
We call them Pretzel Kisses, and they are a huge hit around Valentine's Day.

From: eatingonadime.com
21. Chocolate Mousse Cup Hearts
Nothing makes Valentine's Day dinner sweeter than a decadent dessert like these Chocolate Mousse Cup Hearts.
Each dark chocolate heart cup is filled with the very best chocolate mousse and is topped with a vibrantly fresh raspberry and some red heart sprinkles.

From: hungryhappenings.com
22. Stained Glass Shortbread Cookies
These Valentine's Day Stained Glass Shortbread Cookies are made with buttery shortbread and a hard candy center.
They are perfect for gifts this Valentine's Day.

From: wildwildwhisk.com
23. Red Velvet Cinnamon Rolls
Start with a box of cake mix and add flour, water, and yeast. Bake and top with an amazing homemade cream cheese frosting! Makes 24 rolls.
One pan for you and one for your Valentine!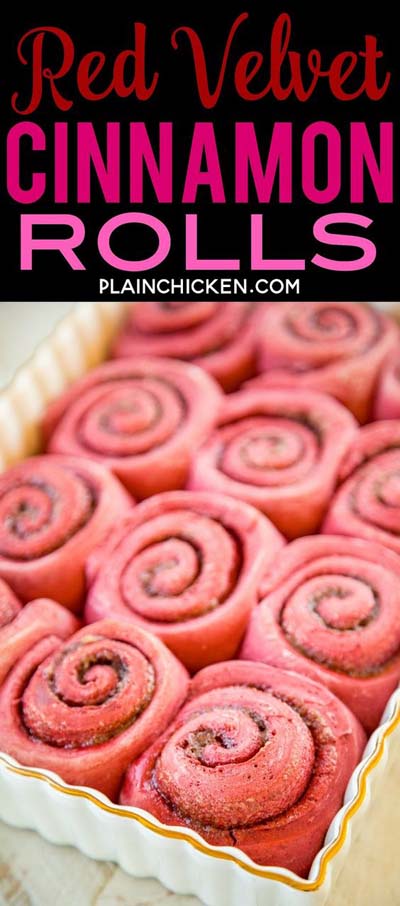 From: plainchicken.com
24. Sweetheart Swirl Bark
Super simple chocolate bark swirled with pink white chocolate and topped with lots of candy hearts!

From: sallysbakingaddiction.com
25. Marbled Valentine's Day Pretzels
Wow your guests, co-workers, and friends with these easy to make fun and elegant Marbled Valentine's Day Pretzels!
Don't be fooled by how amazing these pretzels look! They are super easy to make.

From: ladybehindthecurtain.com
26. Valentine Shortbread Cookies
It is Valentine's day, so let it be magical and romantic! Make these delicious Valentine Shortbread Cookies and spend perfect moments with your partner!

From: yummiestfood.com
27. Swedish Fish Heart Cookies
Swedish Fish Heart Cookies are buttery thumbprint cookies dipped in sprinkles and topped with a heart-shaped Swedish Fish candy.
From: momlovesbaking.com
28. Cherry Almond Bread
Cherry Almond Bread is so quick and easy to make and perfectly moist!
The cherry almond flavor is incredible and you won't be able to get enough!

From: therecipecritic.com
29. Raspberry Chocolate Cupcakes
Enjoy your sweet summer berries in these Raspberry Chocolate Cupcakes topped with two layers of rich ganache and creamy raspberry cream cheese frosting.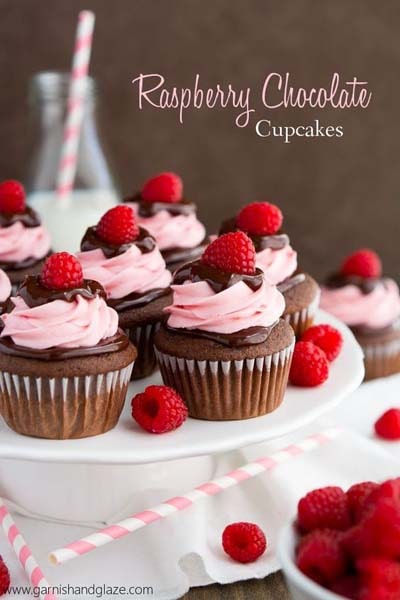 From: garnishandglaze.com
30. Pink Velvet Hot Chocolate
This quick and easy pink velvet hot chocolate recipe is the perfect treat for Valentine's Day!
It takes just a few minutes and is a fun twist on traditional hot chocolate.
From: savorandsavvy.com
31. Pink Lemonade Fudge
This Easy Pink Lemonade Fudge is the perfect treat for Valentine's Day when festive sprinkles are added.
It also makes a yummy no-bake summertime treat!

From: backforseconds.com
32. Love Monster Cupcakes
Make these Love Monster Cupcakes for your Love Monster this Valentine's Day.

From: letseatcake.com
33. Raspberry Swirl Brownie Sundae For Two
Make this one bowl Raspberry Swirl Brownie Sundae for Two.
It's the best small batch fudgy brownie for two ever!

From: foxandbriar.com
34. Heart Shaped Cinnamon Rolls
So cute! Heart shaped cinnamon rolls for Valentine's Day or any other special breakfast!
Fast and easy recipe.
From: itsalwaysautumn.com
35. Mixed Berry Pot Pies
Mixed Berry Pot Pies for the Valentine's Day win!
You're going to love this easy and delicious dessert recipe.
From: inspiredbycharm.com
36. Brownie Kabobs
These brownie kabobs could not be any easier to make!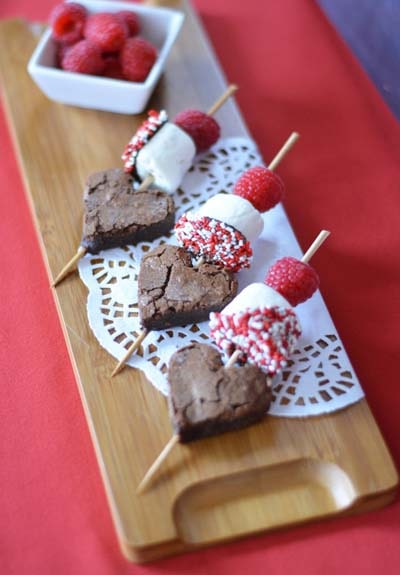 From: mommyjenna.com
37. Valentines Chocolate Crunch Hearts
This could make a great gift for your Valentine … or to share with your girlfriends over coffee.
From: bitofthegoodstuff.com
38. Red Velvet Dip
Perfect for any red velvet fan, this creamy dip is easy to make and tastes just like the iconic dessert.
Decorate it with fun sprinkles and customize it with different cookies and fruit for dipping!

From: homemadehooplah.com
39. Heart Sugar Cookies
Decorated conversation heart sugar cookies that are perfect for Valentine's Day!
From: sallysbakingaddiction.com
40. Love Bug Cookies
How adorable are these love bug cookies?
These yummy Nutter Butters dipped in pink chocolate will be your new favorite Valentine's Day treat.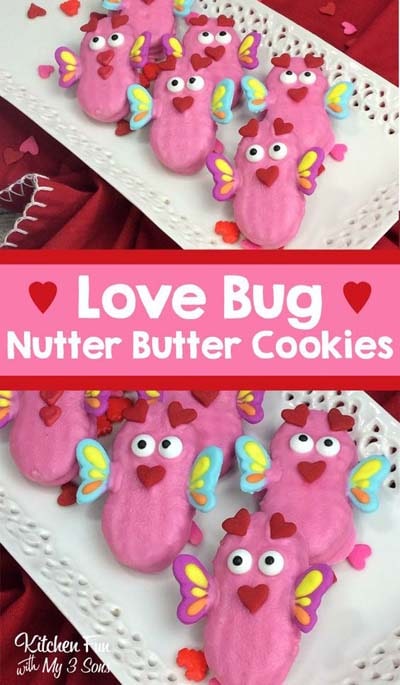 From: kitchenfunwithmy3sons.com
41. Strawberry Chocolate Chip Heart Cookies
This recipe only takes about 15 minutes and yields 14-16 cookies!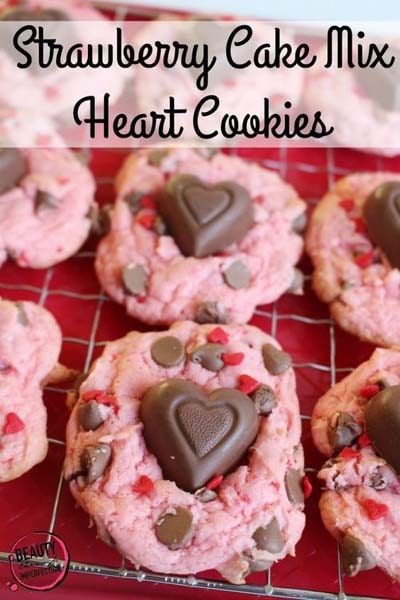 From: beautythroughimperfection.com
42. Rice Krispies Treats Mice
Mice are cute when they're not real!
These Valentines Rice Krispies Treats Mice are the cutest ever! They are so simple to make, too.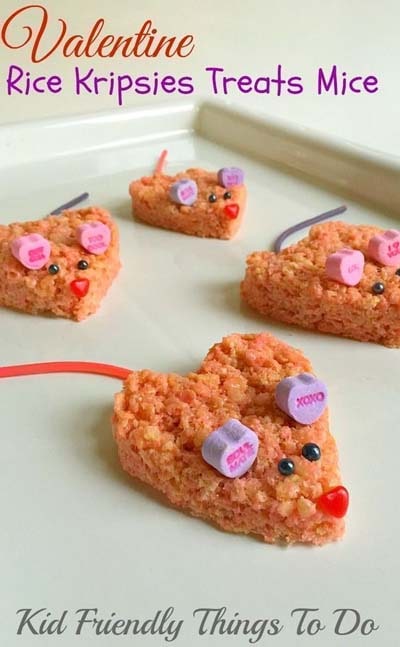 From: kidfriendlythingstodo.com
43. Molten Chocolate Lava Cakes
These Molten Chocolate Lava Cakes for Two are the perfect small batch dessert!
These lava cakes are incredibly easy to make and ready in less than 30 minutes.

From: livewellbakeoften.com
44. Dirt Cake Parfaits
A simple and delicious dessert every Oreo lover will enjoy!
Layers of cream made from pudding, cream cheese, cool whip, and milk with crushed Oreos in between each layer.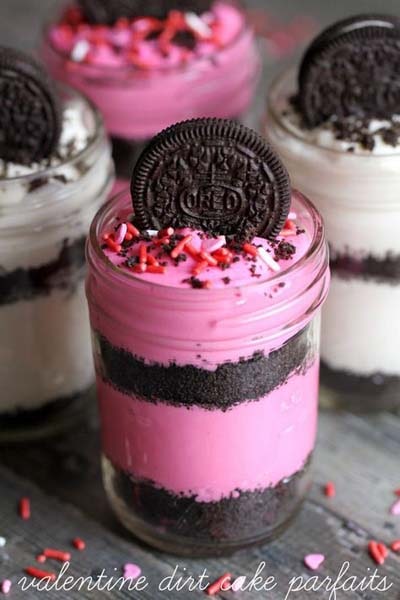 From: lilluna.com
45. Mini Chocolate Eclairs
If you ever wanted to make chocolate eclairs, but hesitated, start with this recipe of Mini Chocolate Eclairs.
They are easier and faster to make than traditional eclairs and taste absolutely scrumptious.
Although the recipe makes a huge batch of mini eclairs be warned – they will be gone before you know it.
From: lavenderandmacarons.com
Related Posts
Enjoyed these valentines desserts? Then pin them for later!
Pin these valentines desserts to your Valentines Desserts board on Pinterest. That way you can easily view them later.