So I've been seeing the term "Whole30" floating around on Pinterest a lot, and have also stumbled upon some great Whole30 dinner recipes.
So what exactly is Whole30?
Basically this diet is a 30 day diet where you eliminate certain food groups, like sugar, dairy, legumes, alcohol, grains and of course processed food. During the 30 days there are PLENTY of other foods available so you won't be depriving yourself (from the good stuff anyway).
This diet consists of eating real foods like seafood, meat, veggies, some fruit and healthy fats. If you are used to eating a lot of take out or ready made meals then this may be challenging to you. But this a challenge after all.
To minimize some of the challenges you may face during your 30 days, I've rounded up 10 amazing Whole30 dinner recipes to make your life easier and help you prepare DELICIOUS and HEALTHY dinners! Be sure to check out the recipes by clicking on the links below the pictures.
1. Spicy Stuffed Peppers
Spicy Southwest Whole30 Stuffed Peppers loaded with savory ground turkey, wholesome spinach, and sweet pine nuts. This recipe is easy to make and perfect to take on-the-go! – Jar of Lemons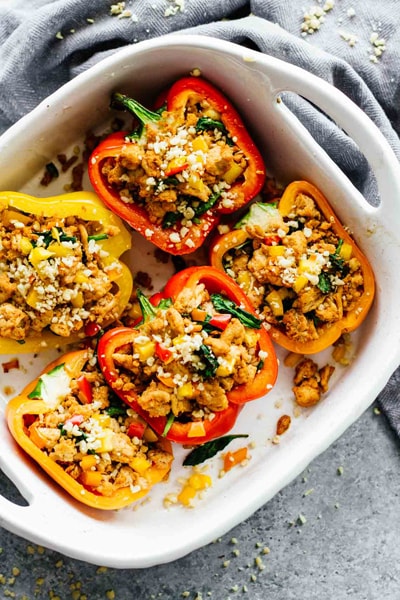 From Jar of Lemons
2. Egg Roll in a Bowl
This Whole30 egg roll in a bowl with creamy chili sauce is a wonderfully flavorful, quick Whole30 dinner, packed with protein and protein and is budget-friendly. – 40 Aprons
From 40 Aprons
3. Turkey Stuffed Sweet Potato
20 minute meal! These Turkey Taco Stuffed Sweet Potatoes are a fantastic option when you need a quick dinner recipe. – Cookin Canuck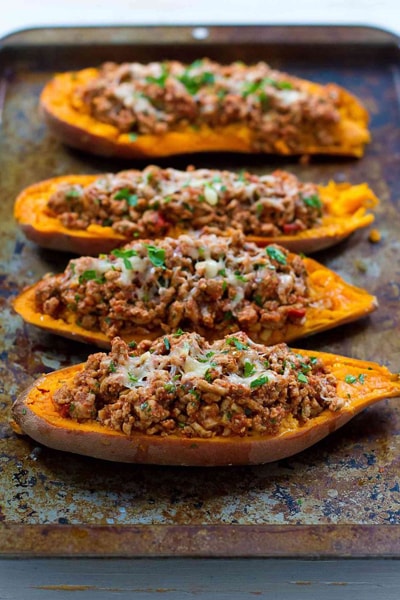 From Cookin Canuck
4. Grilled Salmon with mango Salsa
Grilled Salmon with Mango Salsa – perfectly grilled flaky pink salmon topped with sweet and spicy mango salsa. – Creme De La Crumb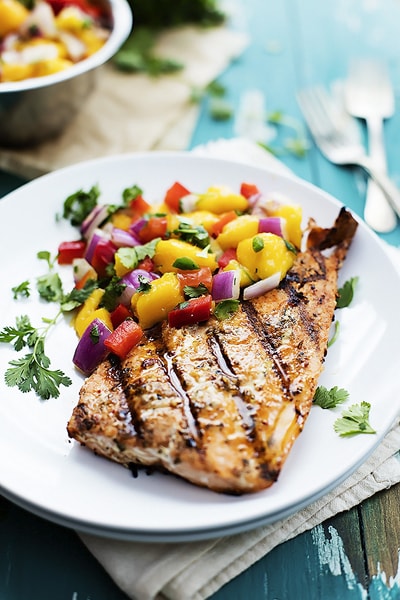 From Creme De La Crumb
5. Zucchini Noodle Bowl
Balsamic glazed Asian zucchini noodles! Super easy whole30 and paleo meal. A healthy dinner recipe for the whole family! Kid friendly noodles with a tempting Asian sauce. – Paleo Gluten Free Eats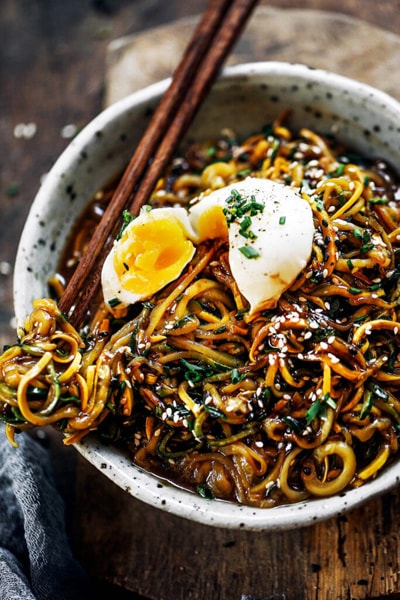 From Paleo Gluten Free Eats
6. Cauliflower Rice Kale Soup
Curried Cauliflower Rice Kale Soup is one flavorful healthy soup recipe to keep you warm this season. An easy paleo soup recipe for a nutritious meal-in-a-bowl. Roasted curried cauliflower "rice" with kale and even more veggies to fill your bowl! – Cotter Crunch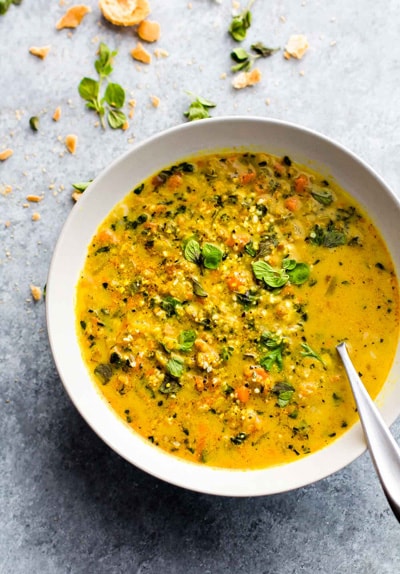 From Cotter Crunch
7. Slow Cooker Basil Chicken in Coconut Curry Sauce
Slow cook your way to one of the best chicken curries I've ever had! The sauce has coconut milk, jalapeno, and red onion. It's not too spicy, but has tons of flavor! – The Food Charlatan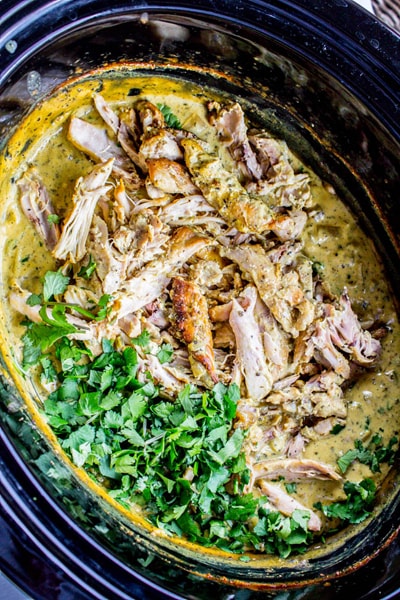 From The Food Charlatan
8. Skillet Beef Fajitas
Paleo Skillet Beef Fajitas is a one pot dinner dynamo, with flavors of sautéed peppers, onions, mushrooms and perfectly seasoned and seared steak. – A Healthy Life For Me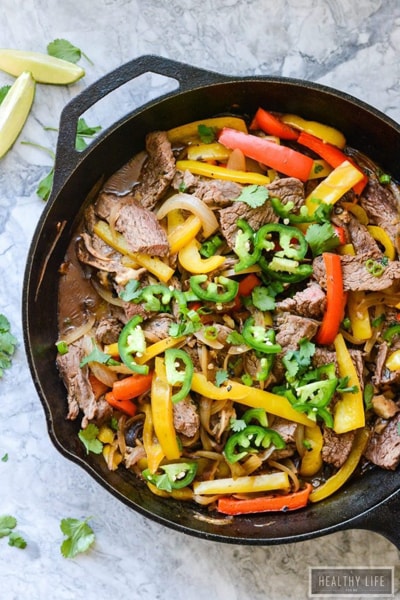 From A Healthy Life For Me
9. Burger with Caramelized Onion & Avocado
Who says burgers can't be healthy!? Burgers served on a slice of tomato topped with Caramelized Balsamic Onions that will make you swoon and of course Avocado! A quick 30 minute meal you're family will want on repeat! – Joyful Healthy Eats
From Joyful Healthy Eats
10. Fish Taco Bowl with Cauliflower Rice
These Whole30 fish taco bowls with mango salsa and chipotle aioli make an absolutely wonderful Whole30 dinner. It is loaded with guacamole, mango salsa, red cabbage slaw, coconut-lime cauliflower rice, and spicy chipotle aioli. – 40 Aprons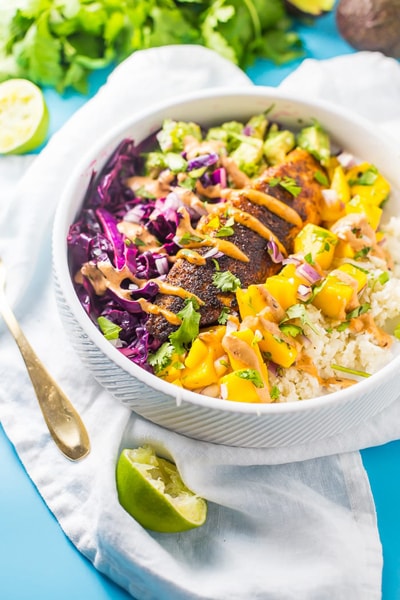 From 40 Aprons
---
Are you going to try some of these Whole30 dinner recipes? Let me know which one you like most!
Related Posts: