If you are craving some comfort food on a cold day, then look no further than these tasty chili recipes to keep you warm.
40 Chili Recipes
Below we've rounded up 40 chili recipes.
To view the full instructions for any of these chili recipes, please follow the link below the picture.
1. Instant Pot Chicken Pumpkin Chili
Since this pumpkin chili recipe is made in the Instant Pot you can enjoy your healthy, dairy-free, and gluten-free dinner recipe in a fraction of the time.
From: evolvingtable.com
2. Taco Ranch Chicken Chili
You'll love this taco ranch chicken chili that cooks in the slow cooker all day!
Tender chicken loaded with vegetables, beans, and plenty of flavors.
Only a few pantry staple ingredients are all you need for a satisfying dinner that is so comforting. Be sure and load it up with all your favorite toppings.
From: togetherasfamily.com
3. Slow Cooker Buffalo Chicken Chili
Slow Cooker Buffalo Chicken Chili is delicious, simple and award winning!
This is the go-to when you are tired of boring chili recipes!
From: slowcookergourmet.net
4. Butternut Squash & White Bean Chili
This Butternut Squash & White Bean Chili is cozy, hearty, and made from only 10 plant-based ingredients! A yummy Vegan & Gluten-Free entree for chilly days.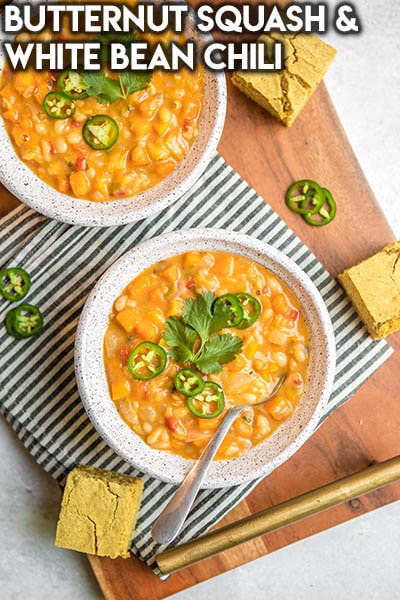 From: frommybowl.com
5. Skillet Chili With Jalapeño Cheddar Cornbread Crust
An easy skillet chili recipe topped with a jalapeño cheddar cornbread crust baked right on top!
It's warm and hearty and perfect for fall or winter. No one's going to be mad that there are fewer dishes to clean!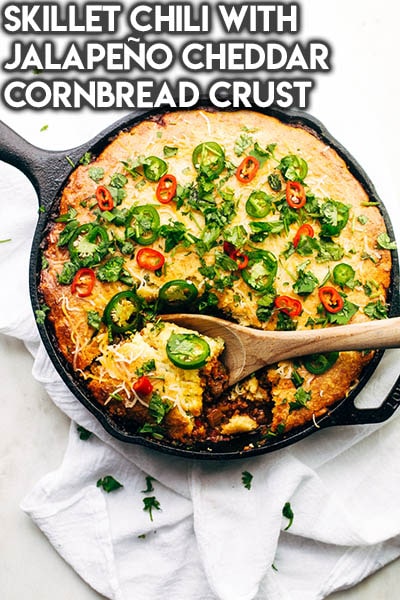 From: littlespicejar.com
6. Easy Crockpot Creamy Chicken Enchilada Chili
A simple and tasty creamy slow-cooked chicken enchilada chili. No cream of "x" soups needed!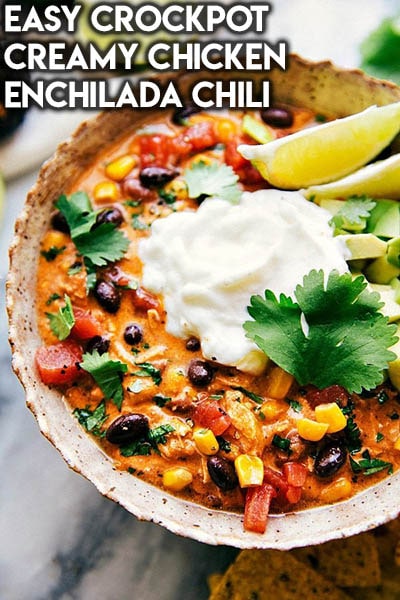 From: chelseasmessyapron.com
7. The Best Healthy Turkey Chili
Healthy turkey chili made with lean ground turkey, kidney beans and corn.
This version is simply the BEST! Can be made on the stovetop or in your slow cooker.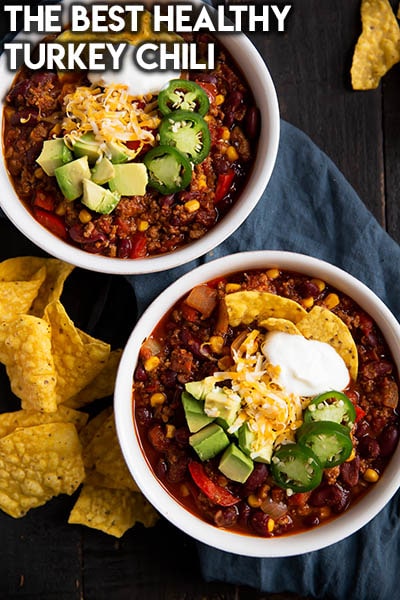 From: ambitiouskitchen.com
8. Smoky Beef And Poblano Pepper Chili
This chili is made with ground beef and smoky poblano peppers… it's a meal that will truly make your mouth water!
Perfect for game day or a cold night!
From: thechunkychef.com
9. 8 Can Chicken Chili
8 can chicken chili is a quick & easy dinner that is ready in no time at all.
You literally dump 8 cans into a soup pot plus seasonings!
This is surprisingly so delicious and comforting. Top with sour cream, shredded cheese, tortilla chips, and avocado slices.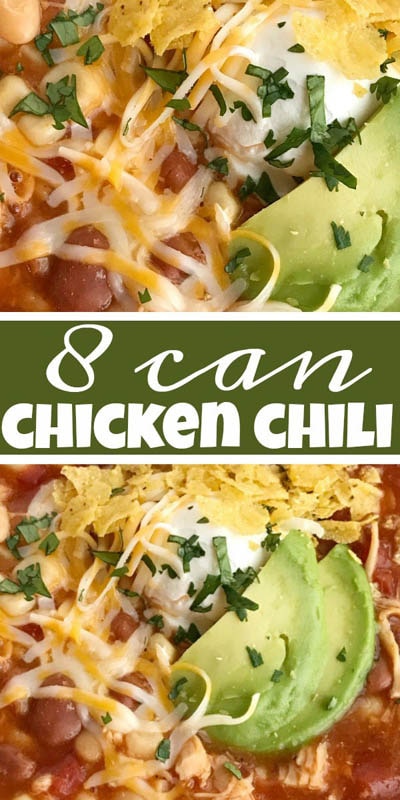 From: togetherasfamily.com
10. Creamy Vegetarian White Chili
Creamy Vegetarian White Chili recipe that is cozy and filling (with vegan option). Ideal for healthy weeknight meals or chilly afternoons.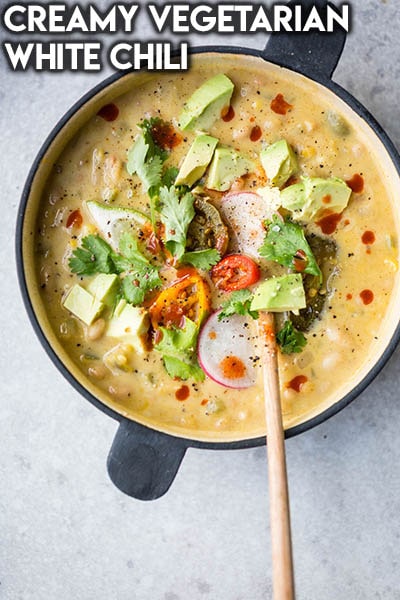 From: vegetarianventures.com
11. Easy Crock Pot Cream Cheese Chicken Chili
Throw this Crock Pot Cream Cheese Chicken Chili recipe into your slow cooker in the morning and you'll have a delicious chili at dinnertime your whole family will love!
From: yummyhealthyeasy.com
12. Pumpkin Chili
Pumpkin Chili is extra hearty with a delicious sweetness and earthy undertone that takes chili to a whole new level of good.
The perfect way to knock off the chill and satisfy hungry bellies.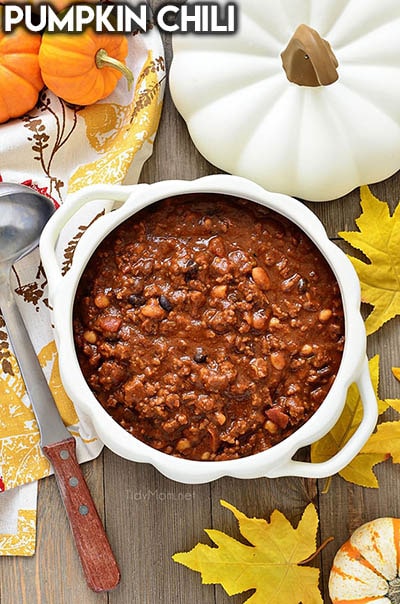 From: tidymom.net
13. White Chicken Chili
This easy White Chicken Chili recipe is made with white beans, a trio of chiles, and lots of seasonings for maximum flavor.
By using rotisserie chicken or chicken that you've already batch prepared, this can be on the table in just 45 minutes, making it a perfect weeknight dinner option.
From: browneyedbaker.com
14. Clean Eating Chili Recipe
This is a super easy homemade clean eating chili recipe.
You can be eating it 30 minutes after you start making it, that's how easy it is. You literally just throw everything into a pot and cook it for 20 minutes until the flavors meld together.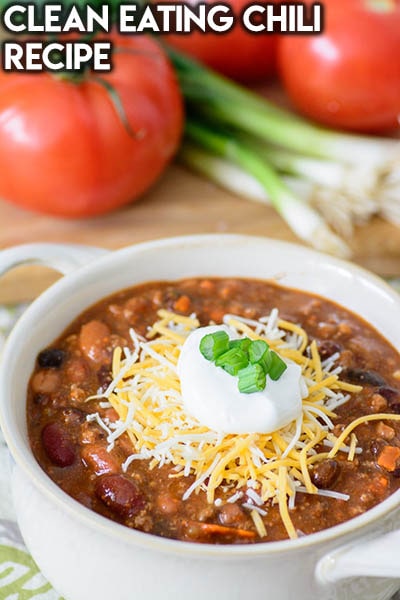 From: cleaneatingrecipes.com
15. Crock Pot Sweet Potato Chipotle Chili
This beanless chipotle chili recipe is healthy but hearty, with an extra kick of spice!
Made with simple ingredients you probably already have in your fridge!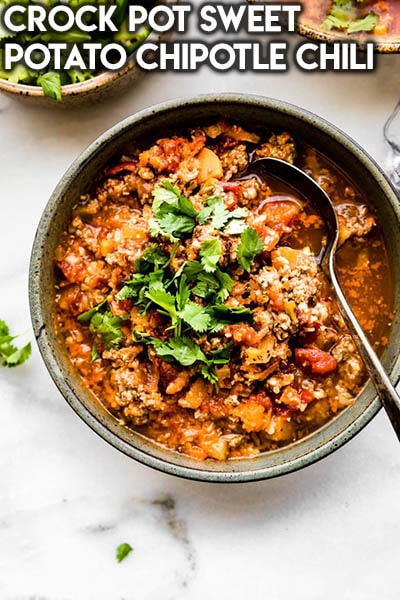 From: cottercrunch.com
16. Mexican Chorizo Chili
This Mexican Chorizo Chili is a warm and comforting one-pot meal perfect for the fall and winter months! (freezer friendly, gluten free)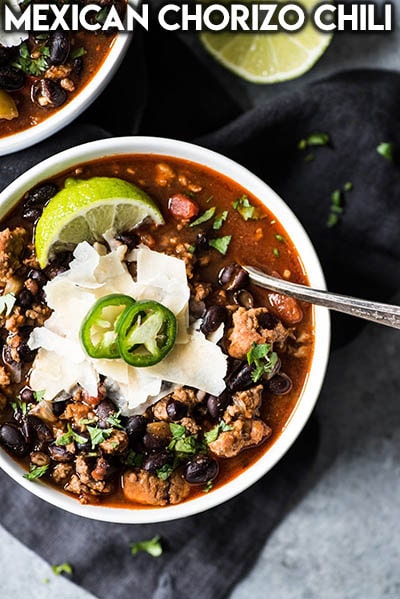 From: isabeleats.com
17. No Bean Turkey And Sweet Potato Chili
This Turkey Sweet Potato Chili is so good, you might want to double the recipe!! It's made with no beans, but you can, of course, add them if you wish!
From: skinnytaste.com
18. One Pot Chili Mac
Quick and easy this One Pot Chili Mac is one of our favorite cold weather foods.
Merging two of our favorite comfort dishes together in one hearty meal.
From: tornadoughalli.com
19. Rancher's Texas Chili
Learn how to make real, Texas chili! This is a bowl of chili made with chunks of beef and is so hearty and filling! Perfect for fall!
From: littlespicejar.com
20. Keto Chili
Beef stew meat and ground beef combine in this easy keto chili without beans. Instructions are given for stove top, Instant Pot, and Crockpot.
From: jenniferbanz.com
21. Jerk Chicken Chili
This recipe has everything that is right in the world.
Jamaican jerk chicken chili is full of flavor and a good amount of heat and spice.
From: cookingmaniac.com
22. Slow Cooker Three Bean Chili
This Slow Cooker Three Bean Chili recipe also happens to be vegetarian, and EASILY vegan if you skip the sour cream and cheese garnish.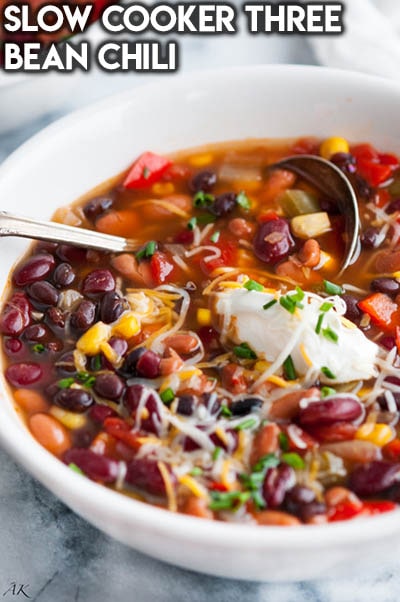 From: aberdeenskitchen.com
23. Queso White Chicken Chili
Int his recipes half of the beans get mashed up, which adds a deliciously creamy consistency to the chili.
From: lydioutloud.com
24. Fool Proof Loaded Slow Cooker Santa Fe Chili
This homemade Loaded Slow Cooker Santa Fe Chili recipe is sure to be a crowd pleaser because it's hearty, full of beef and beans with a smoky flavor and just a hint of natural flavored sweetness.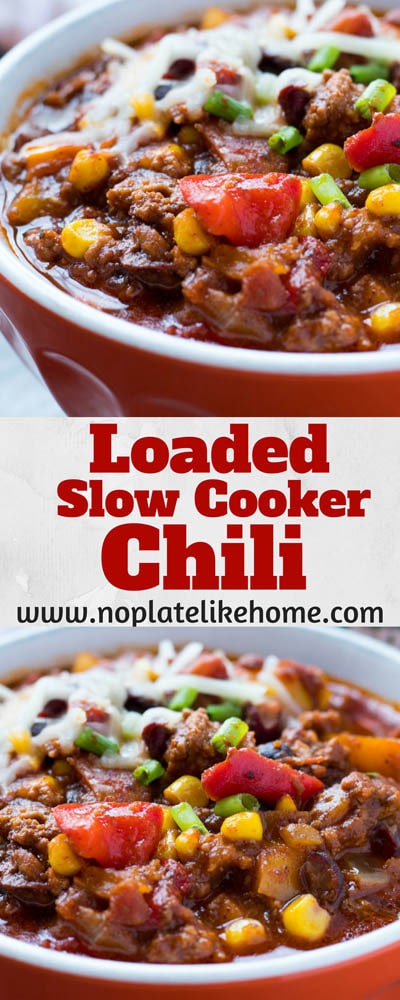 From: noplatelikehome.com
25. Slow Cooker Beef Chili
An EASY, classic Slow Cooker Beef Chili that takes no effort at all and is a perfect winter meal your family will love!
Make crockpot chili for dinner or for a game day treat!
From: dinnerthendessert.com
26. Texas Chili Recipe
Texas Chili Recipe! This Texas-style chili is bursting with meat and spice and only takes 20 minutes to come together.
Perfect for game days or an easy weeknight family dinner!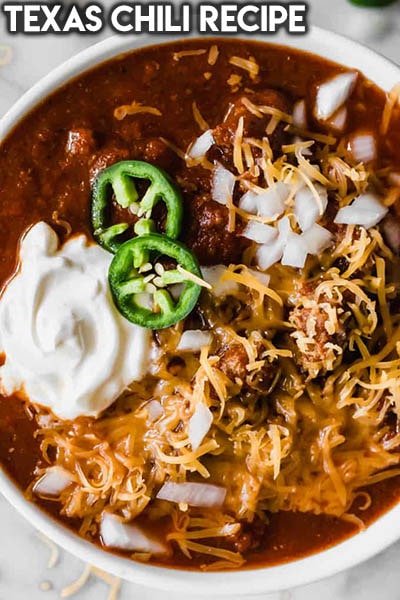 From: houseofyumm.com
27. Spicy Crock Pot Chili
There's nothing better than a good crock pot chili recipe. You get the ingredients prepped, throw it all in the crock pot and by the time everyone is home from their day you have a wonderful batch of chili on the table in a matter of minutes!
From: dadwithapan.com
28. Easy Farro Chili
Prep this Easy Farro Chili recipe and have your slow cooker do the rest! Filled with vegetables and farro, it's a delicious, filling, vegetarian chili recipe that you'll want to make again and again.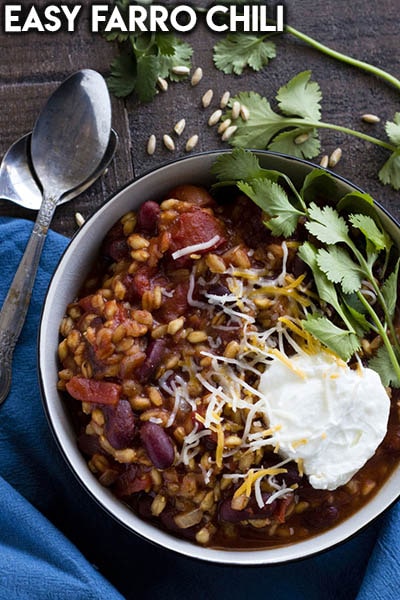 From: thealmondeater.com
29. Slow Cooker Chipotle Chicken Tamale Chili
Basically a cross between tamales and chicken tortilla soup, and it is DELICIOUS!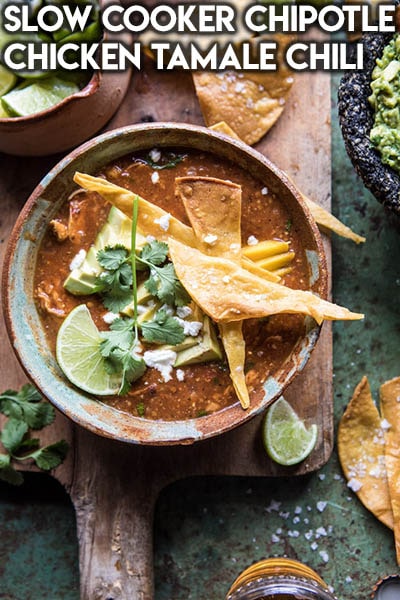 From: halfbakedharvest.com
30. Turkey & Vegetable Chili
Turkey & Vegetable Chili Over Quinoa is delicious, healthy, and super simple to make!
It is also a great meal for anyone doing the Clean Gut Cleanse.
From: spinach4breakfast.com
31. Pineapple Black Bean Slow Cooker Turkey Chili
A healthy, hearty, and comforting bowl of sweet heat with simmered-all-day flavor.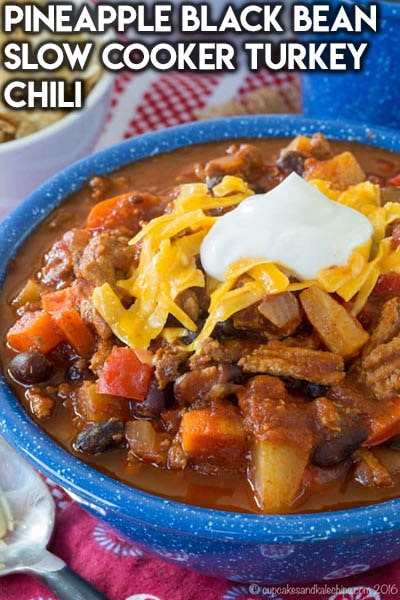 From: cupcakesandkalechips.com
32. World's Second Best Chili
When you are sick of the hype and just want a dang good chili to warm your soul, this is the recipe for you!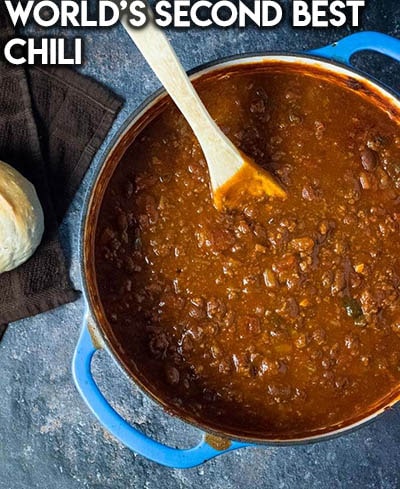 From: foxvalleyfoodie.com
33. Whole30 Turkey Sweet Potato Chili
You are absolutely going to love this chili if you follow a whole30 diet!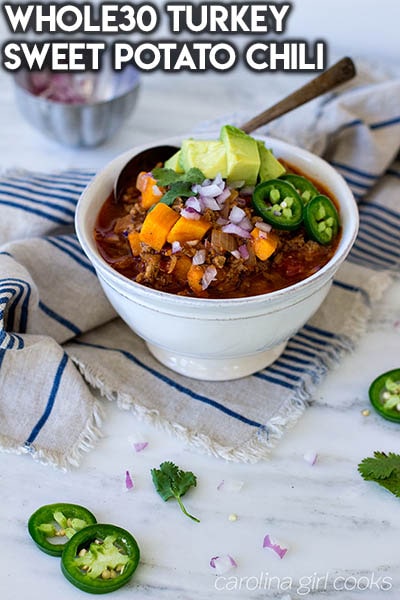 From: carolinagirlcooks.com
34. Braised Beef Short Rib Chili
Braised Beef Short Rib Chili + Horseradish Sour Cream is a unique and elevated spin on your traditional chili that is full of flavor and complimented with a horseradish sour cream.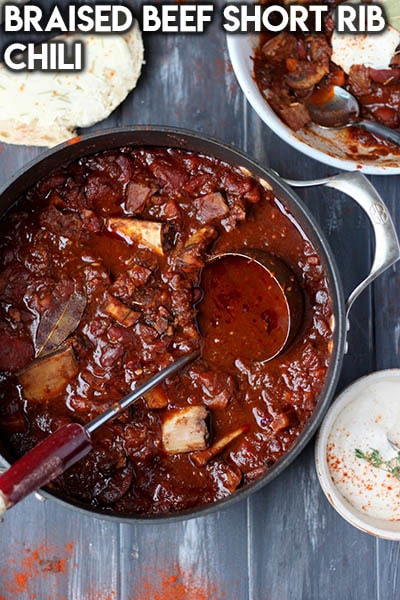 From: thewoodenskillet.com
35. Sweet & Smoky Pineapple Chipotle Chili
A sweet and smoky pineapple chipotle chili with 2 secret ingredients.
Cocoa powder & Gochujang paste that gives it a full-bodied more rounded and nuttier flavor!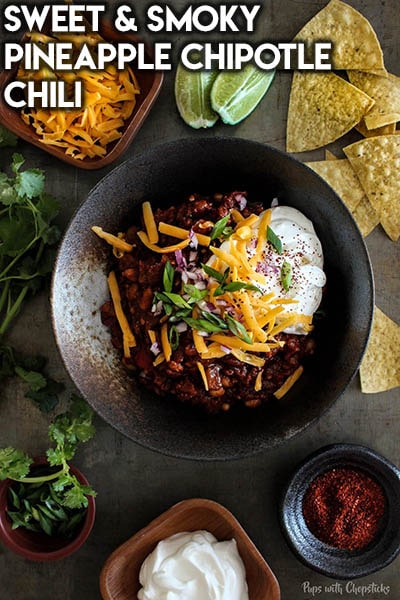 From: pupswithchopsticks.com
36. Hatch Green Chili Colorado Style
Hatch Green Chili Colorado Style features roasted pork shoulder and plenty of warming spices.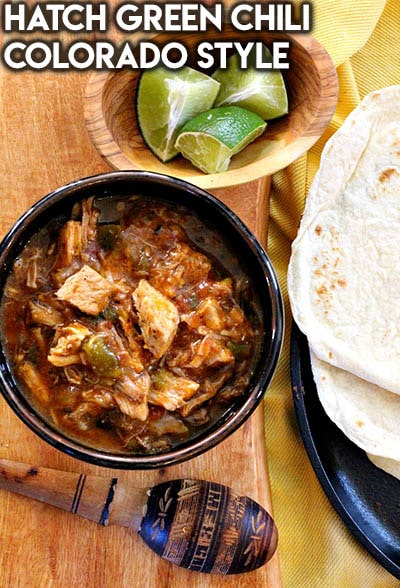 From: highlandsranchfoodie.com
37. Fajita Chili
A delicious Fajita Chili recipe that is so simple and flavorful!
From: lilluna.com
38. Buffalo Chickpea Chili With Mushrooms
The Buffalo sauce, fire-roasted tomatoes, and miso in his recipes make it so satisfying and instantly crave-able.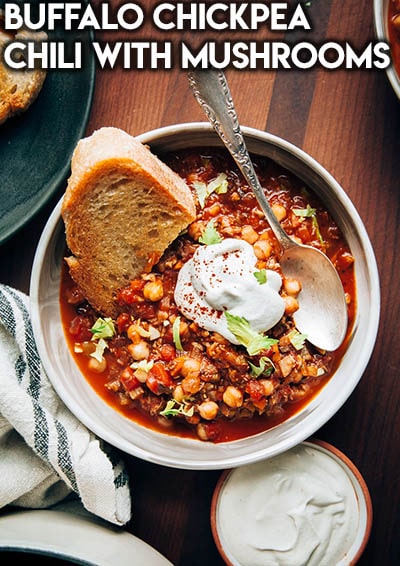 From: thefirstmess.com
39. Healthy Sweet Potato Ground Turkey Chili
Sweet potato ground turkey chili is a healthy and quick gluten free dinner recipe that is full of black beans, corn, and lots of chili flavor!
From: evolvingtable.com
40. Vegan Tempeh Chili
This Vegan Tempeh Chili will warm your bones with delicious plant-based protein this winter (and in under 30 minutes!)
With fresh veggies, beans, and a blend of spices, this is a simple chili that you would never believe is meatless.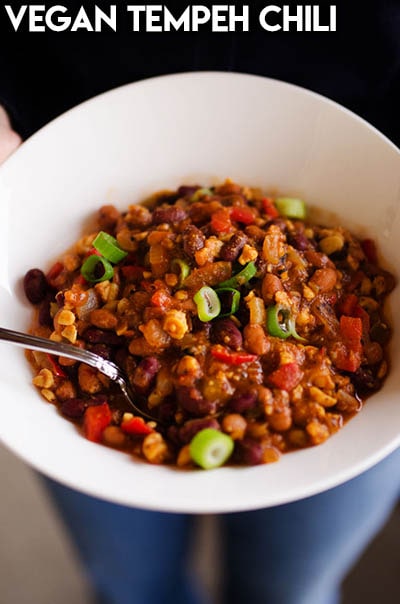 From: liveeatlearn.com
Enjoyed these chili recipes? Then pin it for later!
Pin these chili recipes to your Food Ideas or Recipes boards on Pinterest.
That way you can easily view them later!