If you haven't tried magic cookie bars yet, you are missing out. If you want to make a delicious dessert, here are 28 magical magic cookie bars you can choose from.
28 Magic Cookie Bars
Below we've rounded up 28 magic cookie bars for you to enjoy.
To view the full instructions for any of these magic cookie bars, please follow the link below the picture.
1. 7 Layer Magic Cookie Bars
Graham cracker crust, shredded coconut, pecans, semi-sweet and white chocolate chips drowned in a sea of sweetened condensed milk: 7 layers of pure heaven!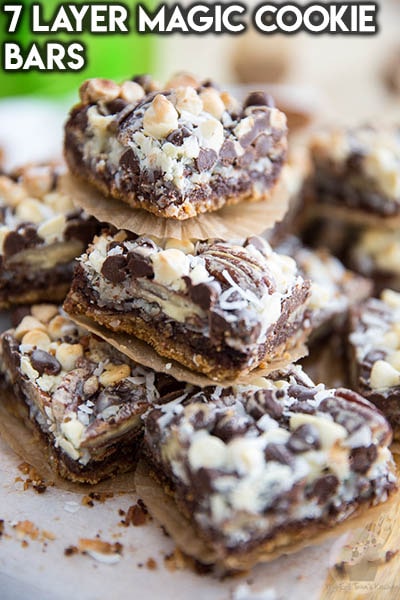 From: eviltwin.kitchen
2. Gingerbread Magic Cookies
Love magic cookies? Then you'll go crazy for this gingerbread Christmas version of the classic!
That's right, it's Gingerbread Magic Cookies, complete with a gingerbread crust, cinnamon chips, and white chocolate.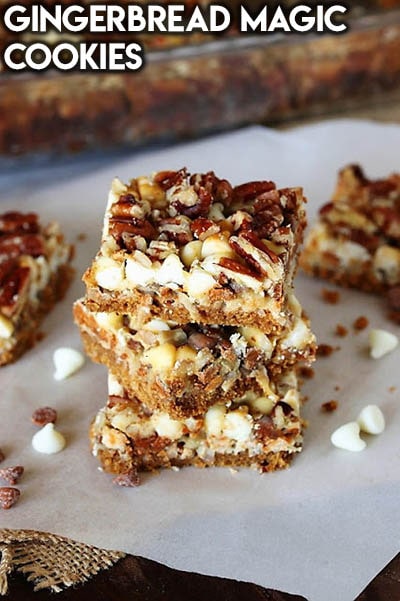 From: thekitchenismyplayground.com
3. Walt Disney World Magic Cookie Bars
The crust is a little thicker than other bars the pecans give it the perfect amount of flavor, and the sprinkles-well it is Disney. Did you expect anything else?
If you like magic cookie bars you are going to LOVE these!!!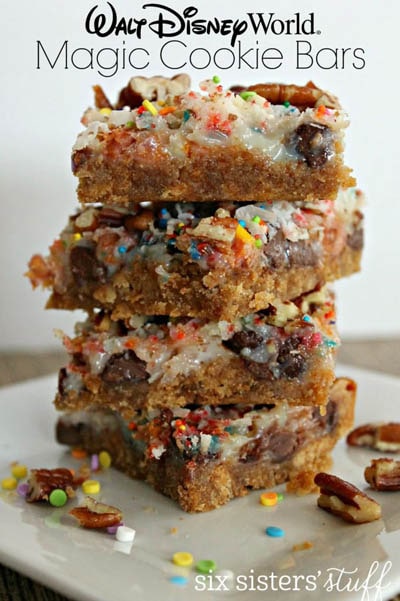 From: sixsistersstuff.com
4. S'mores Magic Cookie Bars
S'mores magic cookie bars are gooey magic bars with a s'mores twist.
They've got all the flavors of a toasty s'more without the fire!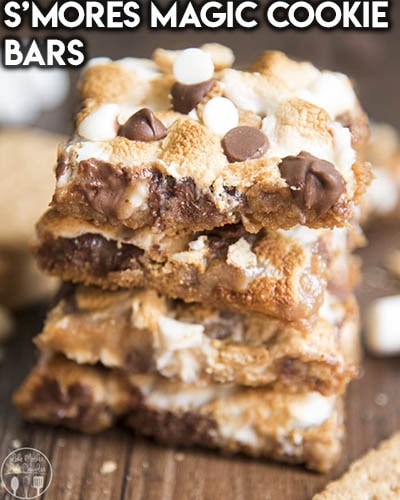 From: lmld.org
5. Milky Way Magic Bars
Milky Way Magic Bars! These Magic Bars come together so easily and they are so ooey gooey delicious!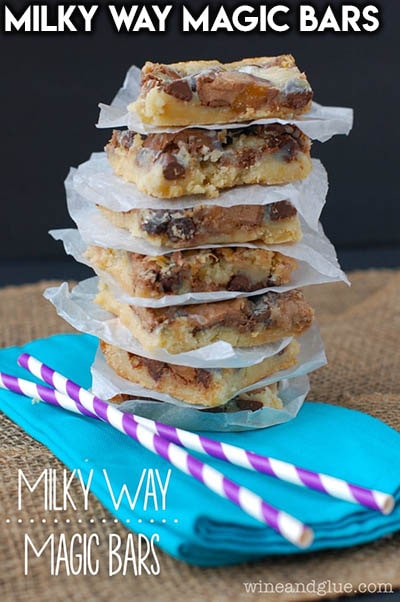 From: wineandglue.com
6. Death by Chocolate Magic Cookie Bars
Chewy, Chocolate Magic Cookie Bars are a huge hit with my family!
These are topped with a delicious fudge sauce and can be prepared and baked in just half an hour. It is one of the most amazing rich chocolaty things you will ever make!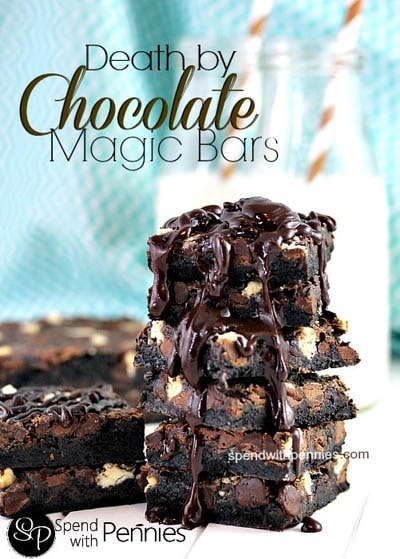 From: spendwithpennies.com
7. Paleo Magic Cookie Bars
These Paleo Magic Cookie Bars are just as rich and delicious as the classic seven layer bars you know and love!
This gluten-free, vegan, and refined sugar-free version has an almond flour crust and homemade coconut milk caramel.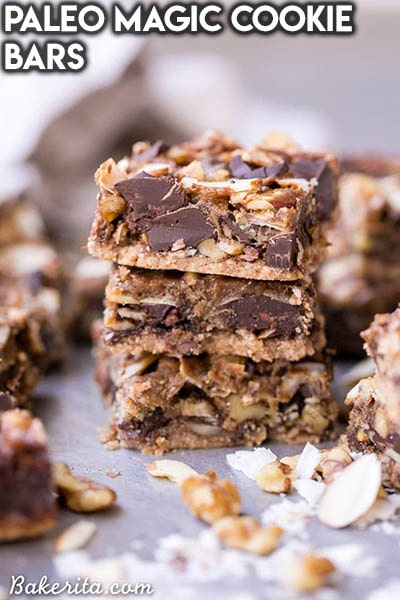 From: bakerita.com
8. Chocolate Paleo Magic Cookie Bars With Strawberry
These chocolate paleo magic cookie bars have a sweet strawberry swirl and are so easy to make!
They're a healthy, gluten-free remake of the classic recipe that everyone will love!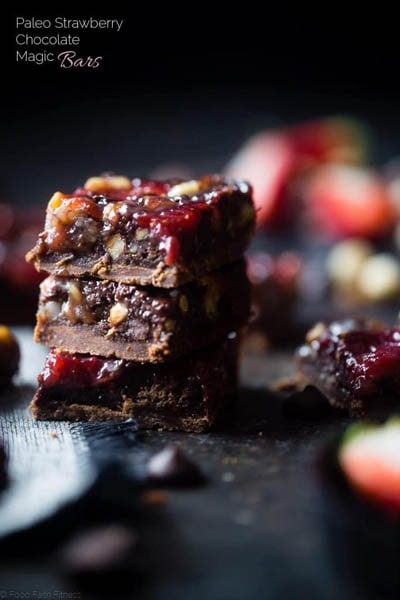 From: foodfaithfitness.com
9. Strawberries And Cream Magic Bars
These Strawberries and Cream Magic Bars are pure magic. Made with fresh strawberries and a sugar cookie layer, they are seriously amazing!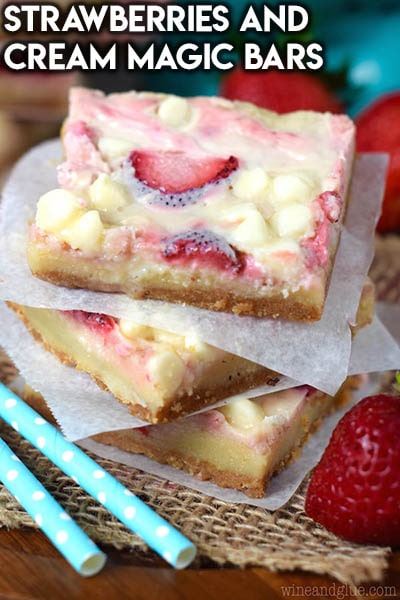 From: wineandglue.com
10. Dark Chocolate Cranberry Magic Bars
Dark Chocolate Cranberry Magic Bars are a symphony of flavors and textures, perfect for the holiday baking season!
Easy to make and beyond delicious!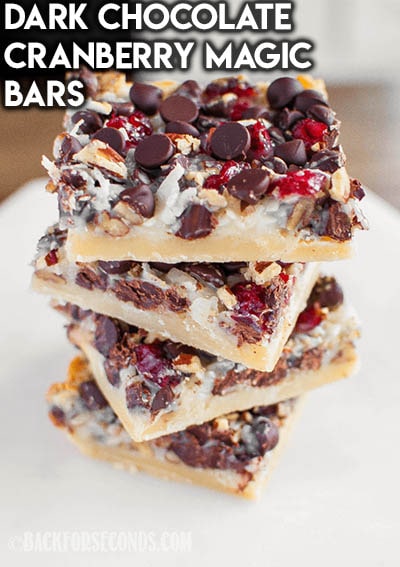 From: backforseconds.com
11. Peanut Butter Cup Magic Cookie Bars
These gooey and addicting bars are a peanut butter lovers dream!
Check out all SIX layers of chocolate and peanut butter! These are the best Magic Cookie Bars you will ever sink your teeth into.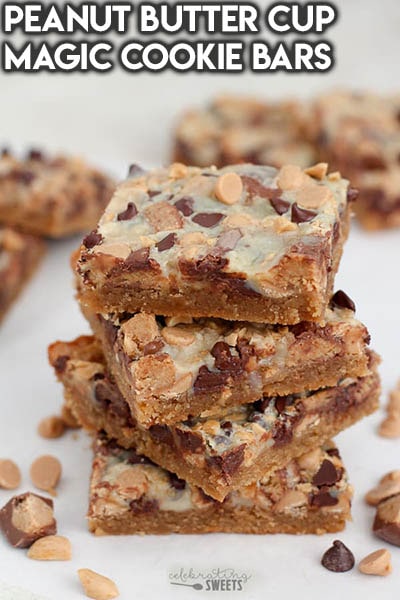 From: celebratingsweets.com
12. Oreo Magic Bars Recipe
If you need an easy dessert that is sure to be a hit, try Oreo Magic Bars Recipe.
These Magic Bars are a tasty twist on traditional magic bars.
From: eatingonadime.com
13. Chocolate Raspberry Magic Bars
These Chocolate Raspberry Magic Bars are a little slice of heaven!
They are really easy to make, and the variety of flavors and textures is irresistible!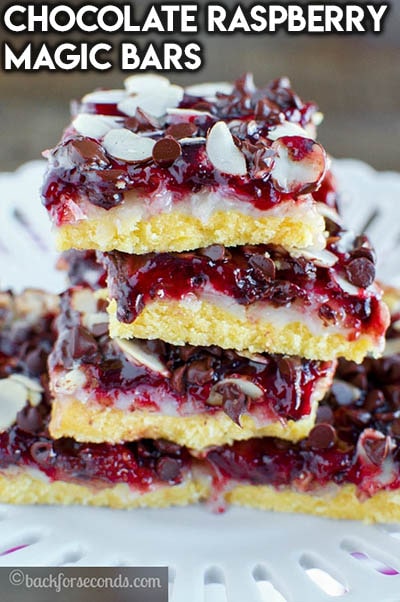 From: backforseconds.com
14. Carrot Cake Magic Bars
Do you like Carrot Cake? These Carrot Cake Magic Bars are a quick and easy treat to serve after Easter dinner.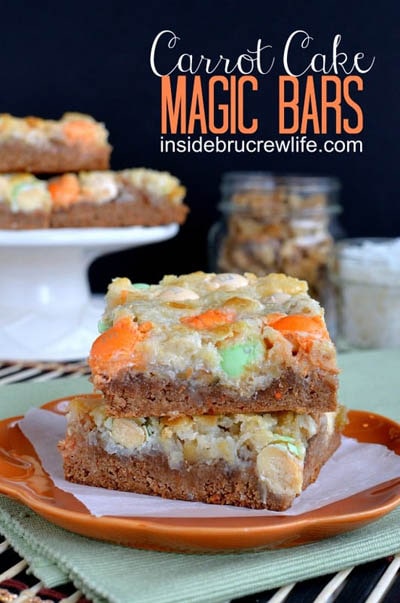 From: insidebrucrewlife.com
15. Chocolate Brownie Magic Bars
These brownie magic cookie bars are not only divine but colorful too!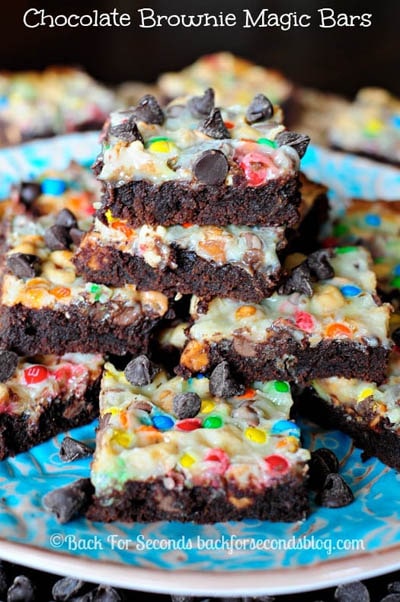 From: backforseconds.com
16. Dude Food Magic Bars
The bottom crust is made with crushed pretzels, then they're layered with crispy bacon, dark chocolate, peanut butter chips, and crushed potato chips, then finally they're drenched in salted caramel sauce.
From: sugarhero.com
17. Lucky Charms Magic Bars
These Lucky Charms Magic Bars are a magical dessert for everyone!
Filled with Nilla wafers, marshmallows and coconut, these make for a quick snack and the perfect way to catch a leprechaun.
From: lemontreedwelling.com
18. Pretzel Magic Bars
Similar to those retro seven-layer magic bars we all love and easily devour, this version is made with favorite bar snacks, like salty pretzels and crunchy peanuts, instead of coconut and graham crackers.
From: familybites.ca
19. Oatmeal Cookie Magic Bars
Sometimes you just crave a magic bar: the gooey sweetened condensed milk and chocolate and sweet flavors.
Sometimes you just crave an oatmeal cookie: sweet and chewy, cinnamony and soft.
Now? You can have both. Because I made you Oatmeal Cookie Magic Bars!
From: crazyforcrust.com
20. Red Velvet Cookies n Cream Magic Bars
They're totally dreamy red velvet bars topped with crushed Oreos, melty cookies n cream chocolate, and sprinkles.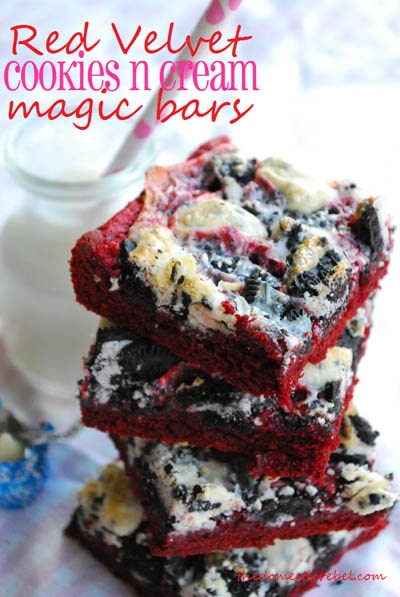 From: thedomesticrebel.com
21. Snickers Seven Layer Bars
Magic bars with an Oreo crust, caramel, peanuts, and chocolate all covered with the always heavenly sweetened condensed milk.
From: wellfloured.com
22. Thin Mint Magic Cookie Bars
These thin mint magic cookie bars are inspired by girl scout cookies.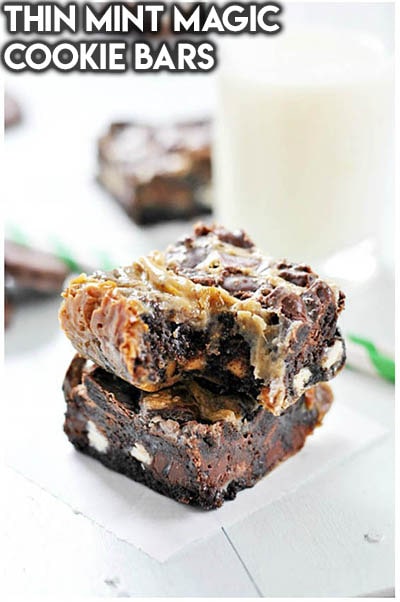 From: somethingswanky.com
23. York Mint Magic Bars Recipe
York Mint Magic Bars are easy to make with a mix cake crust.
This cookie bars recipe is sweet and gooey with a bit of crunchy mint on top.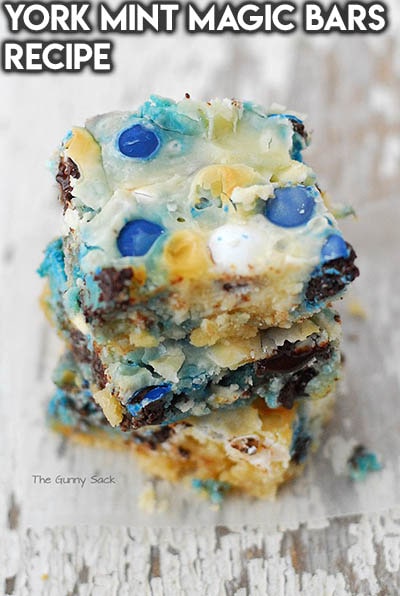 From: thegunnysack.com
24. Cinnamon Sugar White Chocolate Crunch Bars
They are filled with so much cinnamon and sugar it is delightfully sinful.
If you like cinnamon toast crunch, you will love these.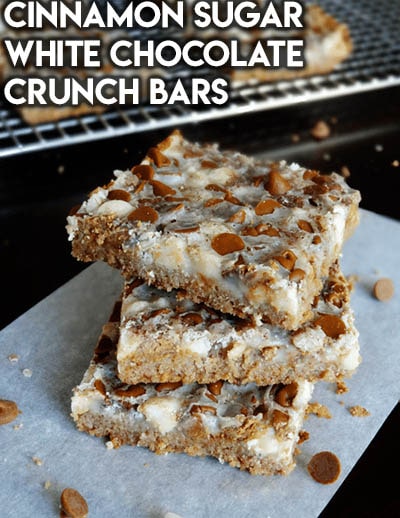 From: lifeloveandsugar.com
25. Pumpkin Magic Bars
7 layers bars are given a fun pumpkin twist with this delicious recipe for pumpkin magic bars.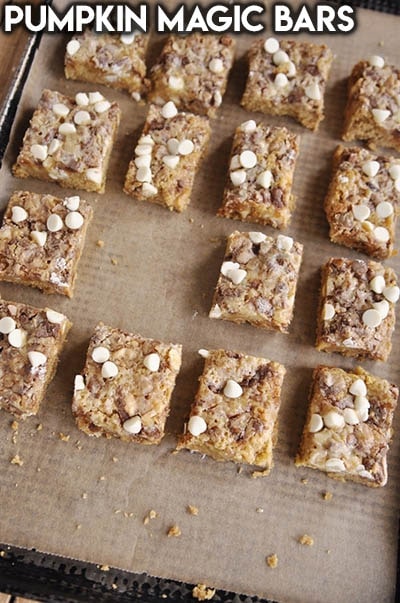 From: yourhomebasedmom.com
26. Candy Corn Magic Bars
These Candy Corn Magic Bars are perfect for Halloween!
They have a graham cracker crust and are topped with white chocolate and peanut butter chips, coconut, and candy corn!
From: crazyforcrust.com
27. Lemon Magic Bars
These magic bars start with a lemon cake mix dough that is pressed into a pan.
Then in true magic bar fashion, there are five layers of ingredients baked into the cake mix crust.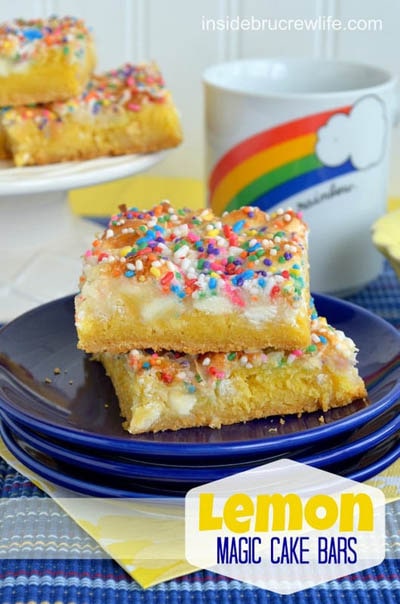 From: insidebrucrewlife.com
28. Magic Eight Bars
These magic cookie bars have 3 kinds of chocolate chips. Yum!
From: averiecooks.com
Enjoyed these magic cookie bars? Then pin it for later!
Pin these magic cookie bars to your Desserts, Cookie Recipes, or Dessert Ideas boards on Pinterest.
That way you can easily view them later!